VIDEO Taylor Swift Gives Surprise Performance At Couple's Engagement Party.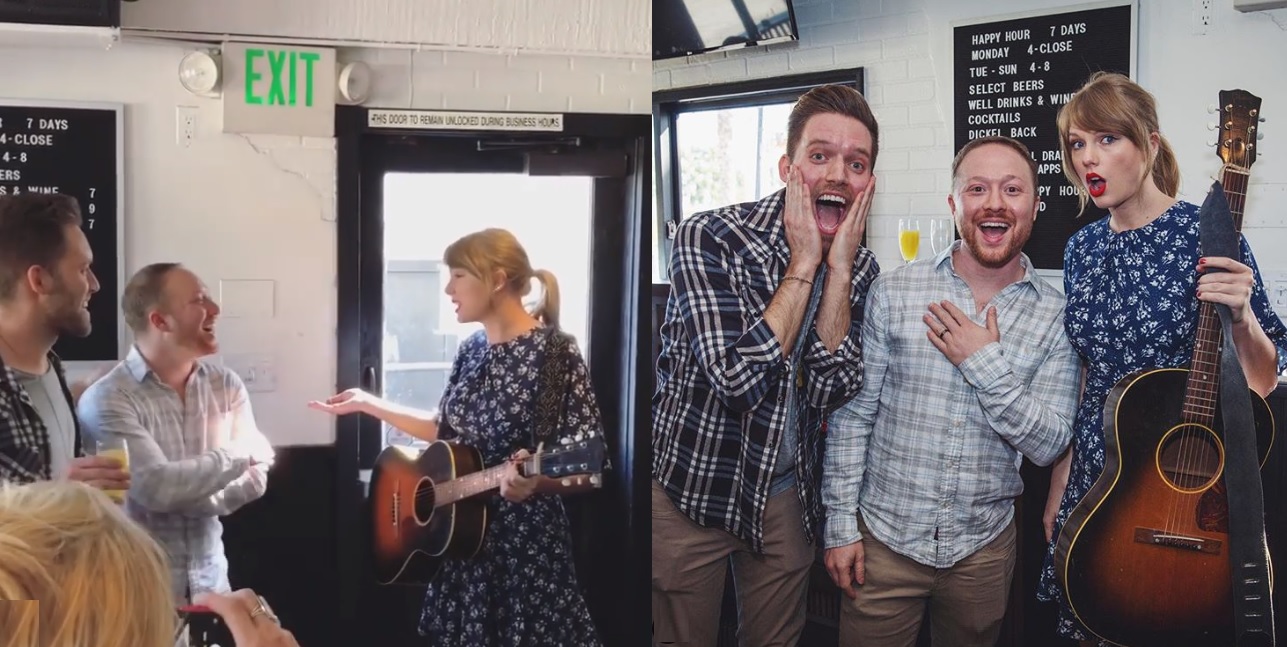 Well, no couple can ever life up to this. Plus, if you didn't love Taylor already, love her now.
Alex Goldschmidt, 30 wanted to do something special for his partner Ross during their engagement party, so he looked back at how they got engaged in the first place. He said on Instagram, "I decided to propose to Ross listening to this song in my car."
The song that was playing at the time was Taylor Swift's "King Of My Heart."
And so, while throwing a party at the Sycamore Tavern in Los Angeles, Goldschmidt had a surprise up his sleeve. He had written to Swift to let her know of his intent, and she agreed to come sing the song. Even MORE shocking, HE KEPT THE WHOLE THING A SECRET!!!!
Taylor walked in, everyone went nuts, and she sang the song.
"Alex emailed me and said he was going to do this, that there was a song that was really special for you, too, called 'King of My Heart,'" Swift said.
"So I've come prepared," she added, motioning to her guitar. "I've been off tour for a while, but hopefully it's alright. This is from Alex but sung by me."
CUTE VIDEO: This Little Girls Reaction To Her Dad's Gift Will Leave You Tickled
This little girl's reaction to getting "Elmo Shoes" on her birthday makes me wish I was a kid again.
McDonogh School's Head Varisty Basketball Coach, T.J. Jordan, just helped to make his daughter's 2nd birthday the happiest one yet. According to his Twitter post, his little girl is a big Elmo fan and judging by her reaction to her gift, I'd say that's an understatement!
Check out the adorable clip below!
My daughter turned 2 years old. She LOVES Elmo, so on her Birthday we got her some "Elmo Shoes" and this was her reaction…Love this girl! pic.twitter.com/cxcb4cl6pm

— T.J. Jordan (@PhenomTJ) March 14, 2019
Like what you read? Follow @ChrisSiretz on Twitter and Instagram
FUNNY VIDEO: When You Buy Your Child A Trampoline, Explain How To Use It
You have to give her credit for trying.
Watch this poor little kid who received a trampoline as a gift – trouble is, she has no idea how to play with i!.
CUTE AND FUNNY! Baby Pretending To Talk On Phone Has Seriously Nailed It
Someone in this house clearly talks like this.
This adorable little girl could be the best part of your day! A little girl named Daisy can be made out saying things like "I'm not doing it," rolling her eyes, laughing and clearly having the time of her life. It's seriously the cutest thing I've seen in a long time!

Source: A Call to Charms: Adorable Toddler Has So Much to Talk About by Storyful