MUST WATCH VIDEO: Monica Lewinsky Shares Her Experience With Public Shaming On A Global Scale
This video should be required viewing for anyone who takes it upon themselves to troll someone on social media.
Please watch – and then vote in our poll about whether you think Monica got a raw deal.

WHAT DO YOU THINK? VOTE IN OUR POLL!
WTH?!? VIDEO: Anthony Scaramucci Recreates His White House Tenure Through Interpretive Dance
I don't even know where to begin. Is this being 'cool and accessible' or willingness to do anything for attention? You be the judge. Anthony "The Mooch" Scaramucci has a book coming out on October 23. In the vein of 'all publicity is good publicity' (and face it, since we're posting it, it apparently worked) he agreed to memorialize his time as White House communications director by recreating key moments through interpretive dance.
What this accomplishes is now you know his book comes out tomorrow. And that he's a terrible dancer.
How Roy Moore Provided His Own Punchline
When you ride a horse to the polls to get attention, be prepared for what happens when you lose. Check out the best responses to Roy Moore's horse show.
When you ride a horse to the polls to get attention, be prepared for what happens when you lose. Check out the best responses to Roy Moore's horse show.
I'm sure it all happened with the best of intentions. Or rather, attentions. Roy Moore, whom I would call embatted Senator Roy Moore if it weren't for the fact that so many people – for reasons I cannot explain, support him – rode into election day on a horse. (Named Sassy, no less!) The intention, I suppose, was to drive home what a down-home, southern fried, salt-of-the-earth lovin' all-American country guy he was. By now you know his opinions and the scandalous accusations of predatory behavior that surround him.
The horseback performance was every bit the circus act that we have come to grow accustomed to in the current political climate. There was Roy Moore, in the center ring, and he loved it.
Then he lost the election, and the perfect joke presented itself.
Newspapers, particularly the New York Post and The Daily News, (who were writing memes before there was a name for it, I might add…) took the story by the, er… reigns:
It was the perfect – and obvious joke to throw at a man who thought the joke was on all of us. Even before the newspapers printed these gems (and kudos to the Daily news for taking it all the way,) twitter had already leaped at the perfection that was this response.
Folks were not only quick with a punchline, but also a little critique of the 70 year old's horseback riding skills were also on deck. Here's some of the best tweets that came out since the election day sideshow:
I would rather leave my kid with Roy Moore's horse

— Bloodsucka Jones (@BloodsuckaJones) December 13, 2017

Even though Roy Moore lost, his horse Sassy won the Gallop poll.
— Laurie Crosswell (@lauriecrosswell) December 13, 2017
"It's only fitting that #Roymoore road in on a horse, he knows little girls love pony's"- @RealDLHughley
— The DL Hughley Show (@DLHughleyRadio) December 13, 2017
Is it just me or is there something about the way Roy Moore rides a horse that doesn't seem right?

(Sidebar: This coming from someone with 0 horse-riding experience) pic.twitter.com/TBAavao6ai

— Dizzasta, the King in the Northeast (@Dizzasta141) December 13, 2017
Lastly, folks in-the-know had a lot to say about his form in the first place.
Horse twitter – yes, there's a twitter community of horse lovers and riders, had lots to say.
Every time I see a clip of #RoyMoore on that poor horse I wanna yell: Put your damn heels down, stop yanking your horses mouth, tuck your legs in and FIGURE OUT HOW TO HOLD THE REINS. Riding a gaited horse is like riding in a self driving car. IT'S NOT AS HARD AS YOU'RE MAKING IT

— Constance🐿 (@Sunshine_525600) December 13, 2017
⚡️ "Horse Twitter baffled at Roy Moore's attempt to ride a horse"https://t.co/gcSZbucWIz
— Peter W Stocking (@peterstocking) December 13, 2017
Ultimately, the lesson is – if you decide to make a spectacle of yourself – it's a hell of a lot less embarassing if you win.
So can Roy Moore on a horse replace Dukakis in the tank now?

— (((Kyle Huckins))) (@KyleHuckins213) December 13, 2017
Omarosa Is Leaving The White House.
Now the real life reality show that is the White House has one less cast member. Will it even make a difference?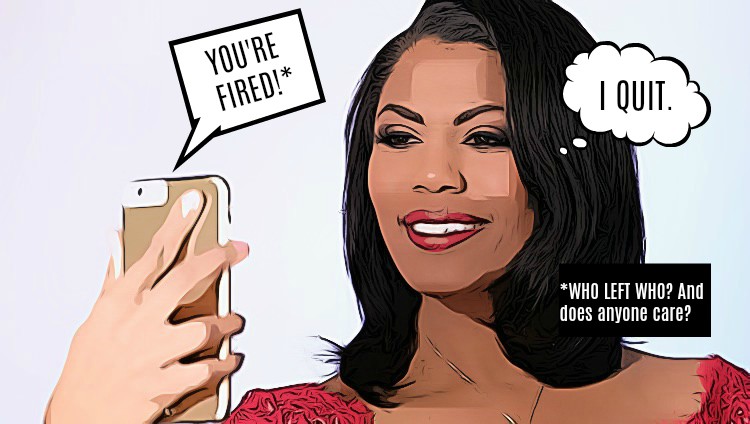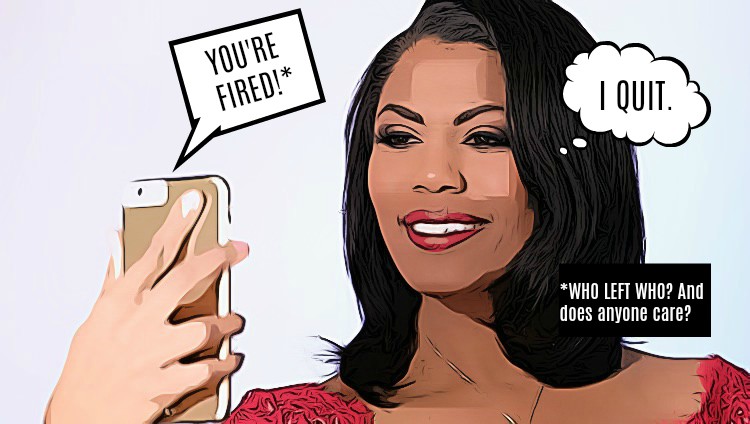 In phrases I never thought I'd write, Former "Apprentice" reality star and White House Office of Public Liaison Omarosa Manigault Newman is leaving her gig that included doing very little but ruffle feathers.
For clarity, the part I never thought I'd write was 'White House' and 'Omarosa' part. The 'leaving' development, which is less surprising to me, was released in a White House statement as a resignation "to pursue other opportunities." By the way, plenty of folks who have worked anywhere ever might recognize that the phrase "resigned yesterday to pursue other opportunities" leaves the faint scent of being asked to leave a job but given the opportunity to spin it as a resignation as an act of good will. Her departure "will not be effective until January 20, 2018." Translation: she will continue to do very little until January 20, 2018. Sources told American Urban Radio Networks' April Ryan that White House Chief of staff John Kelly fired her and that Manigault "acted very vulgar and cursed a lot and said she helped elect President Trump."
The most glaring problem with all of this is that Trump has done so little to staff his administration with non-white people that this departure leaves one wondering if he has anyone of color left in his circle. He has actually made news as having the most white and male cabinet since Reagan.
It's hard to see what the motivation behind hiring a reality show villain was. Manigault Newman joined the administration as director of communications for the White House Office of Public Liaison, working on outreach to various constituency groups, but mostly served as an additional element of the administatration to pull your hair out over. She infamously signed a letter inviting The Congressional Black Caucus to the White House with the name "The Honorable Omarosa Manigault." In an interview with "Frontline" prior to the election, she predicted that Trump would win and that "every critic, every detractor will have to bow down" to him.  In Aprilk she reportedly brought members of her 39-person bridal party to the White House for an extended wedding photo shoot that took the security team by surprise. Feel gross yet?
What Omarosa truly represented, though, was another example of the blurring of pop culture and politics. Omarosa became famous for being a troublemaker on a competition show. But a 'breakout' star on a reality series doesn't always translate to success in the real world. If you look at the minute-to-minute ratings of a TV show, sometimes a person popping up on a TV screen for a scene can result in a spike up in the numbers… a plot development involving that character can sometimes pique viewer curiousity. Or in social media, a polarizing TV personality can drive interest in a show and bring in viewers. But real life – and in particular, politics, has yielded different results for Omarosa. Rather than bringing in eyeballs for reality TV viewing, Omarosa simply brought eye ROLLS. There is already no shortage of people watching the reality show that is this administration, so an additional polarizing walk on character isn't needed. Omarosa may have had good intentionsn but her task of reaching out to the black community was a formidable one, given the President's consistent habit of disillusioning them with his policy and support of conservative (and in some cases racist) political allies. He has notoriously low approval ratings from the black community, and Trump's failure to get Roy Moore re-elected to the Alabama Senate was largely due to the overwhelming response from black voters, proving that as a liason, Manigault Newman may have been over her head, or simply not even wanted by the Trump administration anymore.
Whatever the case, whether Omarosa was asked to leave, or quit on her own. Both ends of this working relationship are better off.