Chris Brown Launches His Latest Apology Campaign, Provides Media With A New Line Of Questioning He Can Be Uncomfortable With.
After spending two years repenting for his 2009 attack on Rihanna which led to his arrest, Chris Brown is back on the apology trail, this time for the incident earlier this week when he flew into a rage and broke an office window at ABC's Good Morning America studios. Brown had been upset about questioning that he felt focused too sharply on the Rihanna incident, and apparently (as we are learning,) Chris Brown has anger management issues.
Brown went on BET's 106 & Park and explained in detail why he's apparently a crazy fool:
"First of all I want to apologize to anybody who was startled in the office, anybody who was offended or really looked disappointed at my actions because I was really disappointed in my actions" Brown told show hosts Rocsi and Terrance. "A lot of people don't know what went down. When I do shows or I do interviews we always send out a talking points sheet and if the network or whomever doing the interviewing isn't complying with what we want to do so we can equally accomplish a goal we usually back out until its a better situation."
Journalism 101: As a longtime news producer myself, I think it's pretty lame that he and people on his team think for one second that one of the three major news organizations is going to honor a 'talking points sheet'. The stark reality is, you're making matters worse by reacting this way. The incident has now been officially added to a news organizations OWN list of 'talking points' that they will want to make a point of asking about.
Oh, but he had more to say:
"When we actually did this event everything was cool. We was suppose to perform, the talking points were positivity, creative, and everything that was sent to me, everything was about the album. So as the interview proceeded it was thrown off, i was kind of thrown off by it. I felt like they told us this so that they can just get us on the show just to exploit me. That's what I thought. And so I took it very, very hard. I kind of kept my composure throughout the whole interview although you can see me upset. I kept my composure and did my performance and when I got back I let off steam in the back. I didn't physically hurt anyone I didn't try to hurt anyone. I just wanted to release the anger I had inside me cause I felt like I worked so hard for this music. And i love my fans and I love to be able to make positive music that I felt like people kept, just trying to take it away from me, take away from me. So yes, I got very emotional and I apologize for acting like that."
Thankfully, not everyone that gets emotional breaks windows that could send panes of glass falling towards the ground where pedestrians are walking to work. I tend to get emotional myself when a shard of glass has just impaled me.
But in any case, the apology is here:
AWKWARD: Ross Didn't Like His Pet Monkey On 'Friends'?!?
Remember back in the 90's on Friends when Ross got a pet monkey while living in New York City and no one batted an eye? Those were truly simpler times. Here in the jaded 2019, we just discovered that David Schwimmer didn't like working with that monkey and now I don't know what to believe anymore.
Last night, Matt LeBlanc stopped by Jimmy Kimmel Live! to promote his latest sitcom, Man With A Plan, but it was his chat about a particular Friends star that has the internet buzzing. When Jimmy Kimmel coyly asked if Matt keeps in touch with Marcel the monkey (who is actually named Katie in real life), Matt shared a nugget of information that I wasn't prepared to ingest. David Schwimmer did not like working with the monkey!
"I liked the monkey! I like animals, and the monkey was really cool. Schwimmer… Not so much. He's the one that had to work with it the most, so he was like, 'Again with the monkey?' But I got along great with it."
Ouch. Right in the nostalgia. Apparently Katie the monkey wasn't always the most cooperative co-star as Matt recounted the time she forced taping to come to a complete halt when she climbed above the lighting grid to hang out on the ceiling. It took about thirty minutes and a few mealworms to finally get the monkey back down to the set! Talk about a diva.
Check out the fun interview below! Click ahead to 3:05 mark to hear all about the monkey business.
Like what you read? Follow @ChrisSiretz on Twitter and Instagram
VIDEO: The 38 Seconds Of Video Lori Loughlin's Daughter Olivia Jade Is Regretting Right Now.
In a video from last year, Loughlin's daughter says she will balance trips to Fiji and NYC into her school calendar, "doesn't know how much of school (she is) going to attend" but she wants the experience of game days, partying, and "doesn't really care about school, as you know."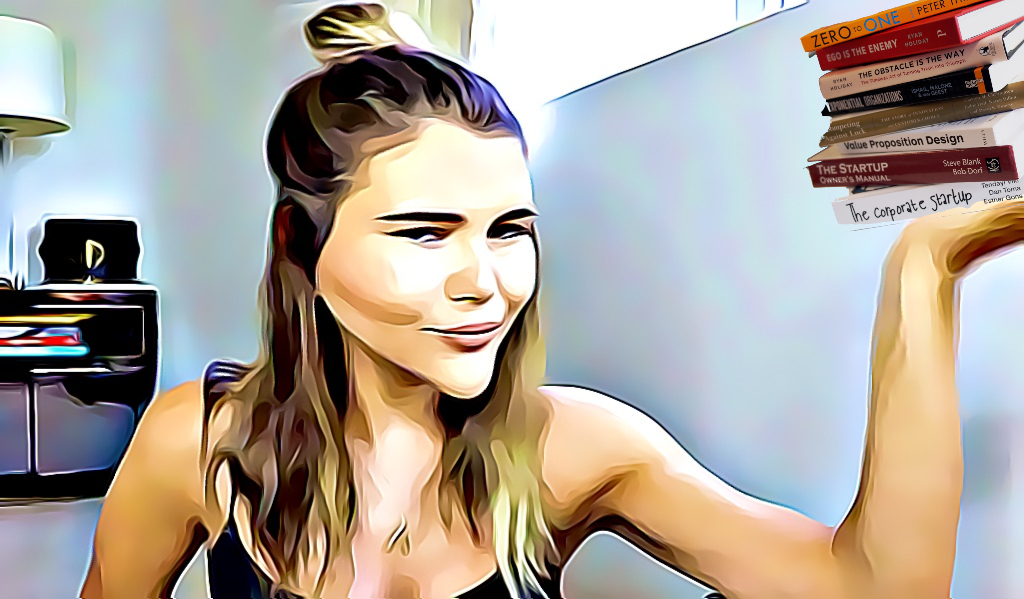 As mom Lori Loughlin faces allegations she paid 500,000 to help get her daughter Olivia Jade into college as a member of the crew team – even sending photographs of her daughter on a rowing machine to create the impression she was an athlete – a video made by her daughter in August is making the rounds again for the embarrassing references she makes to not even caring about getting an education in the first place.
Follow @brianbalthazar on twitter.
In the video, an entitled Olivia Jade, a YouTuber followed by 2 million people on the video platform, says she will balance trips to Fiji and NYC into her school calendar, "doesn't know how much of school (she is) going to attend" but she wants the experience of game days, partying, and "doesn't really care about school, as you know."
Why she hasn't taken this video down yet completely escapes me.
Naturally, social media has unleashed upon her, although it is unclear whether Olivia Jade even know her entrance into college was a result of bribes, (if the allegations are proven correct.)
In either case, the social media celebrity had to apologize days after this video first came out, and is more than likely wishing she had taken it down entirely now…
WATCH: This Champagne Tower Video Does Not End Well
This guy will have a story to tell for the rest of his life.