A Man Reuniting With His Donkey For The First Time Since Quarantine Is The Sweetest Thing You'll See Today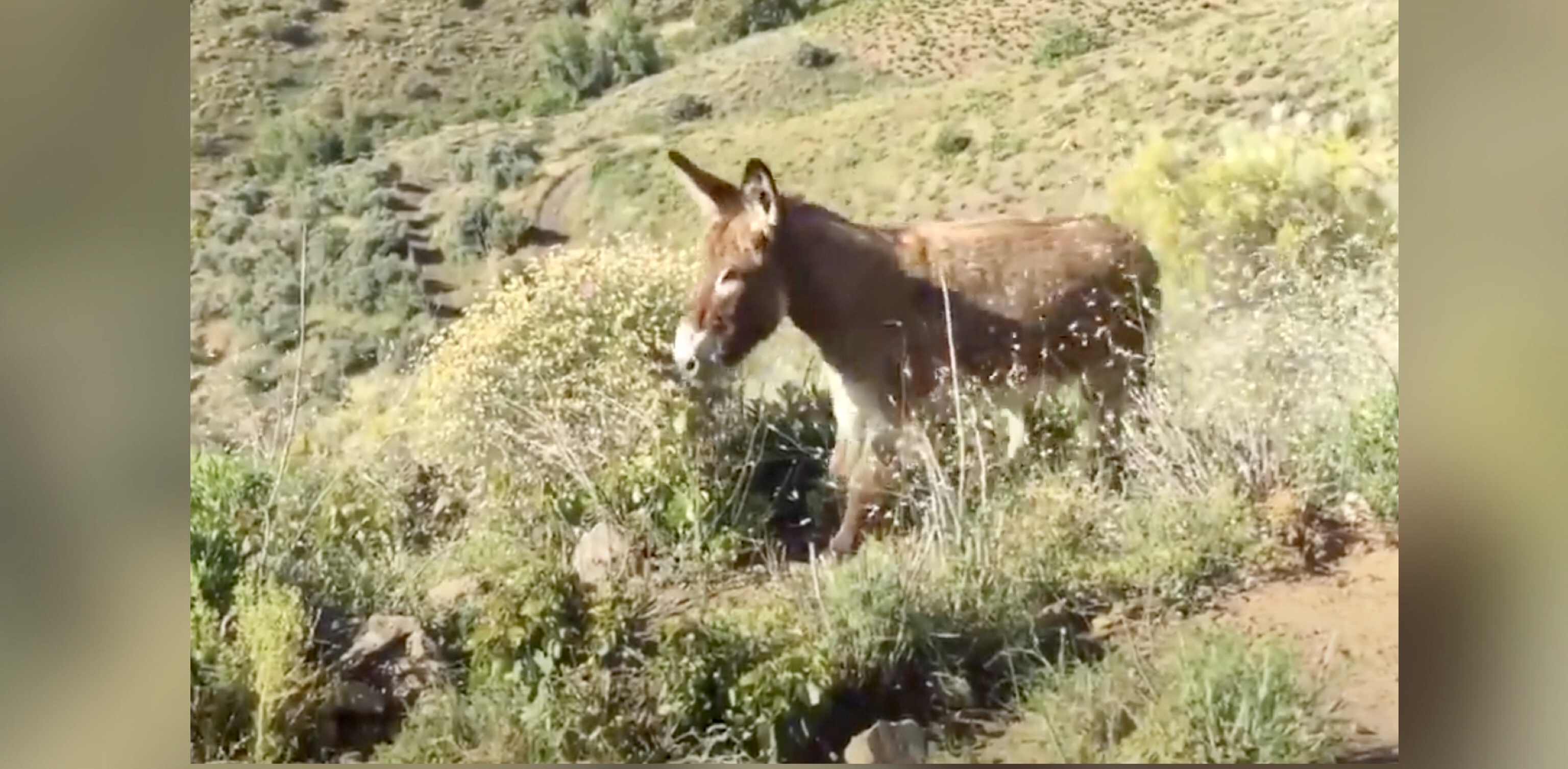 We haven't gushed over a donkey like this since Shrek hit theaters.
Quarantine has been hard for a number of different reasons. Some of us have been separated from our family. Others haven't seen their friends in months. And then there's this guy who's love for his donkey has made me question every serious relationship I have ever had.
In the now viral video, Ismael Fernández from Malaga, Spain reunited with his donkey after being separated for over two months. The lockdown restrictions were recently lifted and the first thing Fernández chose to do was to visit Baldomera, his adorable donkey, who was being cared for by the Spaniard's sister. Fernandez greets his pet with tears and eagerly pats and scratches the donkey's head while Baldomera returns the love with brays of affection. It tugs on every string in your little, quarantined heart.
The entire video is in Spanish but the love between these two is universal. Check out the entire video below and just remember, someday soon we too will be reunited with our loved ones.
Like what you read? Follow me on Instagram
You Won't Stop Smiling When You See 59-Year Old Viral Sensation Tammy Ortery's Dance Videos
She dances and everyone is watching.
You know you're in the presence of greatness when someone's Twitter bio mentions they "drink Malibu" and they "just want to make people smile!!" Well the internet's newest, viral sensation Tammy Ortery could not have more greatness even if she tried as proven by the millions of views her dancing videos have garnered.
Talking with Hello50 Tammy spoke about how her journey to viral stardom began. "My daughter and I danced in a video, and my daughter's friend said your mom should go on Tik Tok.  A month later, it took off." And took off it did! Tammy's videos have garnered attention from viewers from all around the world with fans sharing the love from as far as Germany and Bangladesh. As if that isn't impressive enough Janet Jackson…Ms. Jackson if you're nasty…has shared one of Tammy's videos on Instagram AND Miley Cyrus and boyfriend Cody Simpson even recreated one of her dances!
ENJOY!!! pic.twitter.com/vNd2EunTQU

— Tammy Ramsgirl30 (@Tammy59039968) July 4, 2020
https://twitter.com/Tammy59039968/status/1280229446847520769
https://twitter.com/Tammy59039968/status/1281018118350012425
https://twitter.com/Tammy59039968/status/1285176628373594112
Hump Day Happiness!!! pic.twitter.com/JvLwndn783

— Tammy Ramsgirl30 (@Tammy59039968) July 23, 2020
EARLY TUESDAY MORNING ROAD DANCING!! pic.twitter.com/vncICMdwCF

— Tammy Ramsgirl30 (@Tammy59039968) August 25, 2020
Tammy's videos are exactly what we all need right now. Just pure joy, fun and a reminder that we should all dance like nobody's watching…even if everyone is watching!
To follow Tammy on Twitter click here.
Like what you read? Follow me on Instagram
'Pitch Perfect' Barden Bellas Virtually Reunite To Perform Beyonce's 'Love On Top' And Of Course It's Aca-Amazing!
A little aca-quarantine can't stop these bad belters.
A lot of casts have been virtually reuniting during this quarantine with some distant gatherings more memorable than others. Of course, anytime the ladies of Pitch Perfect get together it's a singing spectacular that goes viral almost instantly and this time is no different.
Elizabeth Banks and John Michael Higgins reprised their roles as the hostile hosts of the a cappella singing competitions, Gail Abernathy-McKadden-Feinberg and John Smith respectively, as they introduced the Barden Bellas. The powerhouse singers including Anna Kendrick, Rebel Wilson, Anna Camp, Brittany Snow, Hailee Steinfeld, Chrissie Fit, and Hannah Mae Lee then crush their rendition of Beyoncé's "Love On Top." And you know if you're going to cover Queen Bey it better be good. Oh and streaming the song will not only sound good but it will some good too because proceeds from downloads of the cover will benefit UNICEF's efforts to support children in Lebanon and around the world who have been affected by the COVID-19 pandemic. Aca-amazing!
To donate to UNICEF directly click here.
To stream/download the song click here.
Like what you read? Follow me on Instagram
Gay Couple Sends A Hilarious Video Message To The Thief That Stole The Pride Flag From Their Porch
Oh, rainbow you di'n't.
A gay couple in Chicago became victims of theft when some jerk took the Pride flag from their porch. Rather than admit defeat, the adorable couple decided to fight back in the most hilarious way possible…buy and display more like flags…like a lot more!
Taking to TikTok to share their story, the couple begins by addressing "the person who stole the Pride flag off our front porch," then satirically apologizing with "we're so sorry a rainbow bruised your fragile ego." The couple reassures the thief that there will be plenty more flags to come because they have "next-day Amazon prime." The video goes on to show all the ways the new flags will be displayed on the front porch…including the magic trick in which one of the boyfriends pulls a never ending rainbow handkerchief from his mouth!
The whole video is brilliant and a great reiteration that we should never be ashamed of who we are. In fact, we should embrace it! The video ends with the gentle reminder that "you can keep taking our flag but you can never take our pride." Amen to that!
You can take our flag but you can never take our pride. #gay #pride pic.twitter.com/7nz2ZSJGE7

— BowtieinChicago (@bowtieinchicago) August 14, 2020
Like what you read? Follow me on Instagram