Mandy Moore Sings "Only Hope" From "A Walk To Remember" and I'm Not Crying, You're Crying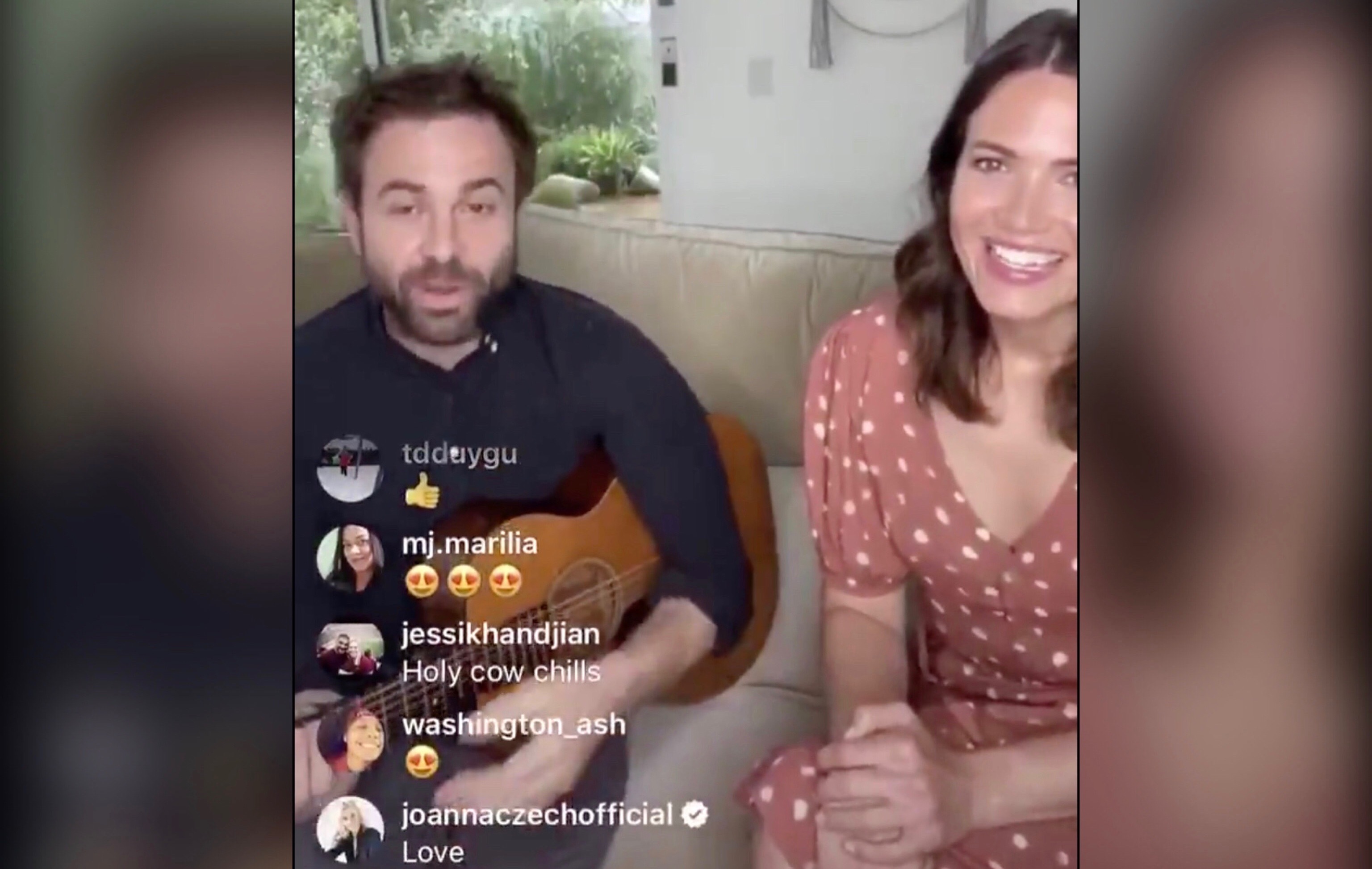 We should have known to turn to Mandy MOORE while we've been feeling so hopeLESS.
The multitalented multi-hyphenate Mandy Moore has managed to tug at everyone's heart strings this past Sunday. While the world is still figuring out how to remain positive during the coronavirus pandemic, Moore took to Instagram to provide a beacon of hope…"Only Hope" that is.
Back in the early 2000's Moore starred in the heartbreaking teen drama A Walk To Remember and gave everyone the feels when she sang "Only Hope" during one of the film's most pivotal moments. During the Instagram Live concert, Moore admits that she has only sang the song twice before, once while recording it for the film and once at a concert in the Philippines. Do you understand the history we are witnessing here?! Accompanied by her acoustic-guiatr playing husband Taylor Goldsmith, Moore belts out the beautiful ballad and suddenly hope is reignited.
Take a look at the performance below…I'm sure you'll want to watch it MOORE than once.
‼️Mandy Moore just sang "Only Hope" from A Walk to Remember for the first time in almost 20 years, and it was perfect. pic.twitter.com/Stxlmw63Pp

— Ashley Spencer (@AshleyySpencer) April 6, 2020
Like what you read? Follow me on Instagram
UPDATE: T'Challa Has Found His Way Back To Bird-Mom Monique Samuels!
Call off the perch and rescue.
Earlier today, we reported that T'Challa, the African Grey parrot belonging to Monique Samuels of Real Housewives Of Potomac fame, had gone missing. After flying off yesterday morning the Potomac pet has finally made his way back to Monique's backyard. In a series of videos posted to Instagram just two hours agp, Monique shared that T'Challa flew into the yard and perched himself onto a chair. The housewife admitted that her bird looked like he had his feathers ruffled last night but shared that he was so happy to be home he allowed Monique to hug him.
We love a happy ending!
Like what you read? Follow me on Instagram
T'Challa The African Grey Parrot Belonging To 'RHOP' Star Monique Samuels Is Missing!
Polly wanna search and rescue?
Sure, we all tilted our heads and raised an eyebrow when Real Housewives of Potomac star Monique Samuels leashed up her African Grey parrot and took him to lunch at cast mate Karen Huger's house but there is no denying that the football wife loves her bird as much as any dog owner would their pup. So you can only imagine how devastated Monique must be now that T'Challa has gone missing!
On Sunday, Monique took to Instagram to share the heartbreaking news that during her morning coffee in the yard her bird, with the Black Panther namesake, had gotten spooked and flew off. In the 8 minute video, the reality star shared her fears that since T'Challa is not an experienced flyer he may injure himself or get stuck in a tree with no way of coming down. Monique shared that her husband, Chris Samuels, took care of their children all day so she could hit the streets to pass out flyers and search for the bird.
While recapping the second episode of season 5 which aired Sunday night, Monique also gave a T'Challa-update in which she thanked her fans for their outpouring support but sadly reported that the parrot is missing. The good news is that T'Challa is microchipped so if someone else should find him and take him to an animal rescue, Monique will be notified.
Fingers crossed!
Like what you read? Follow me on Instagram
Jason Momoa Was Hosed Down After A Dirty Dune Buggy Ride And The Photos Are As Hot As They Sound
We couldn't love him any Momore.
Social media is a bit of a double edged sword. Some days it feels like all there is to scroll through is overused quotes or endless tirades expressing personal opinions that no one cares about. But just when you think you might need to take a little social media sabbatical something like this happens.
Earlier today, Jason Momoa took to Instagram to share photos of himself being hosed off after a particularly messy round of dune bugging riding. And when I say hosed off I mean…shirtless…with a hose. Of the ride the Aquaman star wrote "like a pig in shit. 🤣🤣🤣hard to explain this one. but i had an amazing day. now i need a dune buggy. dune coming soon aloha j. @schaeffersgarmenthotel dirty pink 😭🤣😂" I fully support the idea of Momoa purchasing a dune buggy if it means he will share more content like this.
This slideshow requires JavaScript.
Of course fans went wild for the sizzling pics. One Instagrammer asked "Where do I apply for the hose guy's job?" Another pointed out the obvious by saying "good god that is a man right there." And finally one brought offered this very sage advice and said "wash your hands like you're washing Jason Momoa." Definitely wouldn't mind washing for the full recommended 20 seconds am I right?
To see more of the stars sizzling snaps click here!
Like what you read? Follow me on Instagram