The New Trailer For The 'Saved By The Bell' Reboot Has Us All So Excited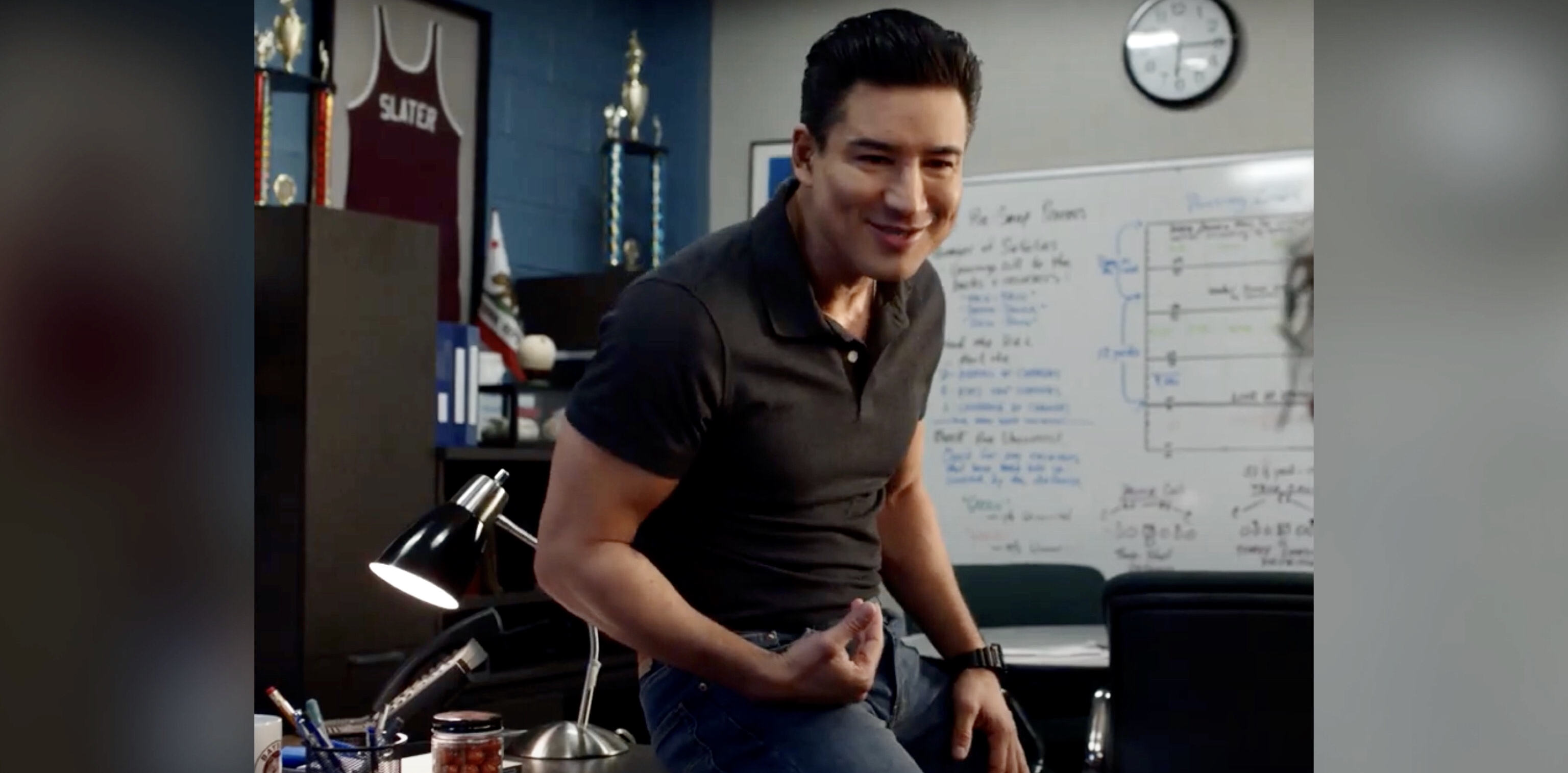 Get ready for some 90's nostalgia.
When I woke up this morning and the alarm gave me a warning I had no idea that I'd be Saved By The Bell today. The beloved 90's sitcom is making a comeback on NBC's upcoming Peacock streaming service and a lot has changed since we last saw Bayside High. In the newly released trailer we see Mario Lopez and Elizabeth Berkley reprise their iconic roles as A.C. Slater and Jessie Spano, who are two of the school's teachers now. The two take a trip down memory lane as A.C asks Jessie if she remembers "how much fun high school used to be" with Jessie aging us all as she responds with "Can you believe that was like 30 years ago?" Suddenly the gray hairs in my beard feel more prominent.
The rest of the trailer shows off some of Bayside's newest faces, including what appears to be the son of Zach Morris (Mark-Paul Gosselaar). One of the students even uses Zach's signature "time-out" causing everything to freeze around her…that's right, Zach's not the only one breaking the fourth wall this time.
No news of a release date yet as production of the series came to a halt due to the coronavirus pandemic. There are reports that Peacock is confident the reboot will still debut sometime in 2020.
Get excited, so excited and watch the trailer below!
Like what you read? Follow me on Instagram
UPDATE: T'Challa Has Found His Way Back To Bird-Mom Monique Samuels!
Call off the perch and rescue.
Earlier today, we reported that T'Challa, the African Grey parrot belonging to Monique Samuels of Real Housewives Of Potomac fame, had gone missing. After flying off yesterday morning the Potomac pet has finally made his way back to Monique's backyard. In a series of videos posted to Instagram just two hours agp, Monique shared that T'Challa flew into the yard and perched himself onto a chair. The housewife admitted that her bird looked like he had his feathers ruffled last night but shared that he was so happy to be home he allowed Monique to hug him.
We love a happy ending!
Like what you read? Follow me on Instagram
T'Challa The African Grey Parrot Belonging To 'RHOP' Star Monique Samuels Is Missing!
Polly wanna search and rescue?
Sure, we all tilted our heads and raised an eyebrow when Real Housewives of Potomac star Monique Samuels leashed up her African Grey parrot and took him to lunch at cast mate Karen Huger's house but there is no denying that the football wife loves her bird as much as any dog owner would their pup. So you can only imagine how devastated Monique must be now that T'Challa has gone missing!
On Sunday, Monique took to Instagram to share the heartbreaking news that during her morning coffee in the yard her bird, with the Black Panther namesake, had gotten spooked and flew off. In the 8 minute video, the reality star shared her fears that since T'Challa is not an experienced flyer he may injure himself or get stuck in a tree with no way of coming down. Monique shared that her husband, Chris Samuels, took care of their children all day so she could hit the streets to pass out flyers and search for the bird.
While recapping the second episode of season 5 which aired Sunday night, Monique also gave a T'Challa-update in which she thanked her fans for their outpouring support but sadly reported that the parrot is missing. The good news is that T'Challa is microchipped so if someone else should find him and take him to an animal rescue, Monique will be notified.
Fingers crossed!
Like what you read? Follow me on Instagram
WATCH: The Opening Scene From 'The Umbrella Academy' Season 2 Looks Amazing But Raises A Bunch Of Questions
Three minutes of gun shots, explosions, superpowers and lots and lots of questions!
The Netflix hit The Umbrella Academy is back for a highly anticipated second season. Just this morning the streaming service shared the opening scene for season 2 and it looks explosive. When we last saw the rag-tag team of superpowered siblings, Number 5 used his time traveling abilities to escape to the past to ensure the gangs safety from the imminent apocalypse. Oddly enough it seems the gang is once again facing an apocalypse but this time it comes in the form of nuclear weapons falling from the sky in 1963. You can never have enough apocalypses, am I right?
The whole gang is back with Ellen Page, David Castañeda, Emmy Raver-Lampman, Tom Hopper, Robert Sheehan, Aidan Gallagher, Cameron Britton and Mary J. Blige returning. This season the siblings seem to have evolved both in their looks and their powers. Donning all black, the superheroes combat the Russian soldiers who are storming the streets after JFK has declared war. It's clear that the petty drama that divided the team last season has been put aside as they now kick butt as a well oiled machine. It wouldn't make for very exciting tv if the group remained happy-go-lucky however, so in the last few seconds we see the aged assassin Hazel return to take Number 5 on another time hop to save his family from the nuclear bombs that are dropping from the sky.
What will happen next?! Are we going further back in time again? Is it possible avoid two apocalypses? How did they adjust to life without cellphones?!?
Luckily we don't have to wait long to find out the answers to these questions. Season 2 of The Umbrella Academy is available for streaming on July 31st.
Like what you read? Follow me on Instagram