YouTube Star Let A 'Murder Hornet' Sting Him And I'm Officially Terrified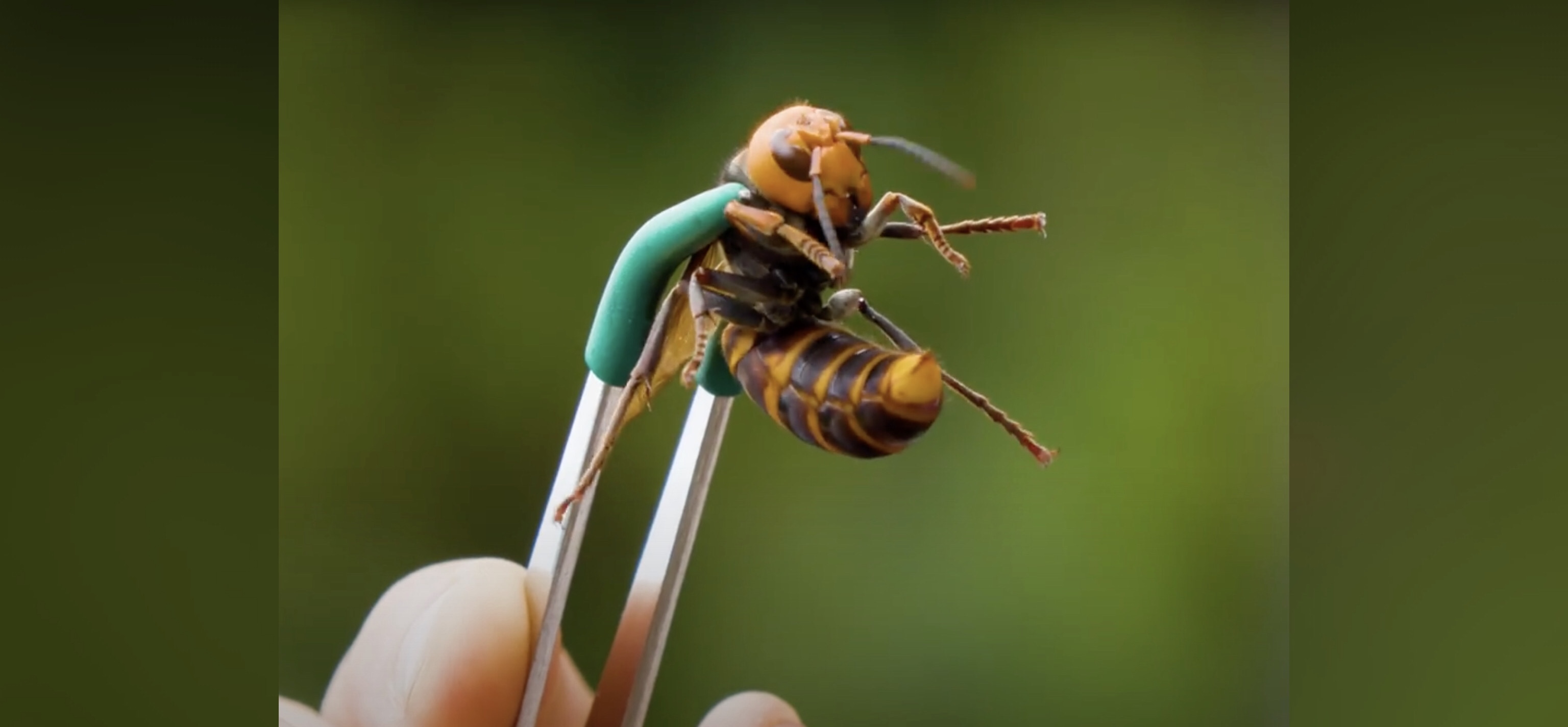 So obviously don't try this home.
As if 2020 hasn't been brutal enough, what with the fears of a third World War, the numerous natural disasters and the global pandemic we are currently enduring, it was just discovered that murder hornets have been spotted in America. As you can probably guess by the terrifying nickname, murder hornets aren't exactly something we should be excited to find in our own backyard. In fact, if you see one of these buzzing baddies flying at you, you should run in the other direction. While a sting from one murder hornet aka Asian giant hornet aka Japanese giant hornet is not likely to kill you, it will leave you with dizziness, agonizing pain and swelling. If you're curious as to what those symptoms might look like you're in luck because YouTuber, Coyote Peterson, actually allowed himself to be stung back in 2018.
For his channel "Brave Wilderness," Coyote and his crew headed to Japan with the goal of finding the giant hornet to show the effects of its sting. Maybe we should introduce Coyote to knitting or adult coloring books because there are definitely safer hobby options out there. In any event, the crew was successful in their hunt and the YouTuber allowed the two-inch terror to sink it's stinger into his arm. As soon as the stinger pierced the flesh, which we get to cringe-watch thanks to a good zoom-in, Coyote recoiled and screamed out that he is in "Searing pain! Absolute searing pain!" Followed by the sting, Coyote also recounted an immediate bout of dizziness and then displayed some horrific swelling. Seriously Coyote, if knitting isn't your thing we can try pottery or tie-dying…
Obviously these big bugs are terrifying to humans but they are also a huge threat to honeybees. The hornets go through a "slaughter phase"…because of course they do…in which they kill honeybees by biting off their heads and feeding them to their young. By now we know just how important honeybees are and we also know how quickly they are declining. If murder hornets thrive here in the states, it could be the final blow to the honeybee population. The shred of silver lining to catching the hornet's introduction so early is that there is a chance to eradicate them before the population grows out of control according to Washington State Department of Agriculture entomologist Chris Looney. Come on 2020, now's your chance to redeem yourself!
Like what you read? Follow me on Instagram
Adorable Kid Dressed As 'Avatar: The Last Airbender' Character Goes Viral And Gets A Sweet Gift From Creator
And when the world needed him most…he went viral!
Earlier this month one of the best cartoons ever became available on Netflix. That's right 12 years after its series finale aired, Nickelodeon's Avatar: The Last Airbender is now streaming and fans everywhere are binging the series in just a matter of days. And I know this personally because I've proudly run through the series already…twice. Well one of the show's biggest little fans has gone viral after a photo posted three years ago resurfaced and everyone's taking notice.
Avatar fan Natasha Townsel Jenkins took to social media to share the news that three year old photos of her son, Noah, have started gaining attention since the animated series is back in the headlines. In the photos, Noah is dressed as the shows protagonist, Avatar Aang, and his costume is amazing! Not only is the clothing spot on but the look is completed with a replica of Aang's staff and miniature version of his flying bison, Appa. Of course social media blew up with users applauding the cute cosplay but one important person in particular took notice. Dave Scheidt, the writer for the canonical comics which were created after the series ended, loved the costume so much he decided to send Noah a gift, a signed copy of the latest comic.
In the post, Natasha thanks everyone for the overwhelming support and jokes that Noah has no clue he is an internet celebrity. Humble just like an avatar!
Like what you read? Follow me on Instagram
'Can You Spot The Predator?' Is The Latest Challenge Driving The Internet Insane
It's an apex puzzle.
Nothing gets my mind churning more than a good internet challenge. Seriously, when I am laying in bed in the middle of the night fixating on some embarrassing thing I said in the third grade, a good internet challenge is just the distraction I look for. Well, the latest one to go viral involves a trick on the eyes and let me assure you, it's greeeeaaaaat!
Twitter user @Joy_Bishnoi posted a photo of a deer and asked followers if they could spot a predator. Now, the deer is in the middle of a heavily wooded area so the answer might not be as easy to find as you may think. I stared at the photo for longer than I'd care to admit and even thought that there could be a deep, existential answer like "humans are the predators to all wildlife," but no there is actually a predator lurking in this photo. Can you spot it?
Eye contact with predator and prey. Can you spot the predator? @aakashbadhawan @NalinYadavIFS pic.twitter.com/XLUN2YyNvw

— Ramesh Bishnoi (@joy_bishnoi) May 27, 2020
Need a hint? Ok the predator is striped and loves Frosted Flakes. Still can't find it? *SPOILER ALERT* It's a tiger and it's hiding in the bushes in the top left corner of the photo! The camouflage of the big cat makes it nearly impossible to see at first glance.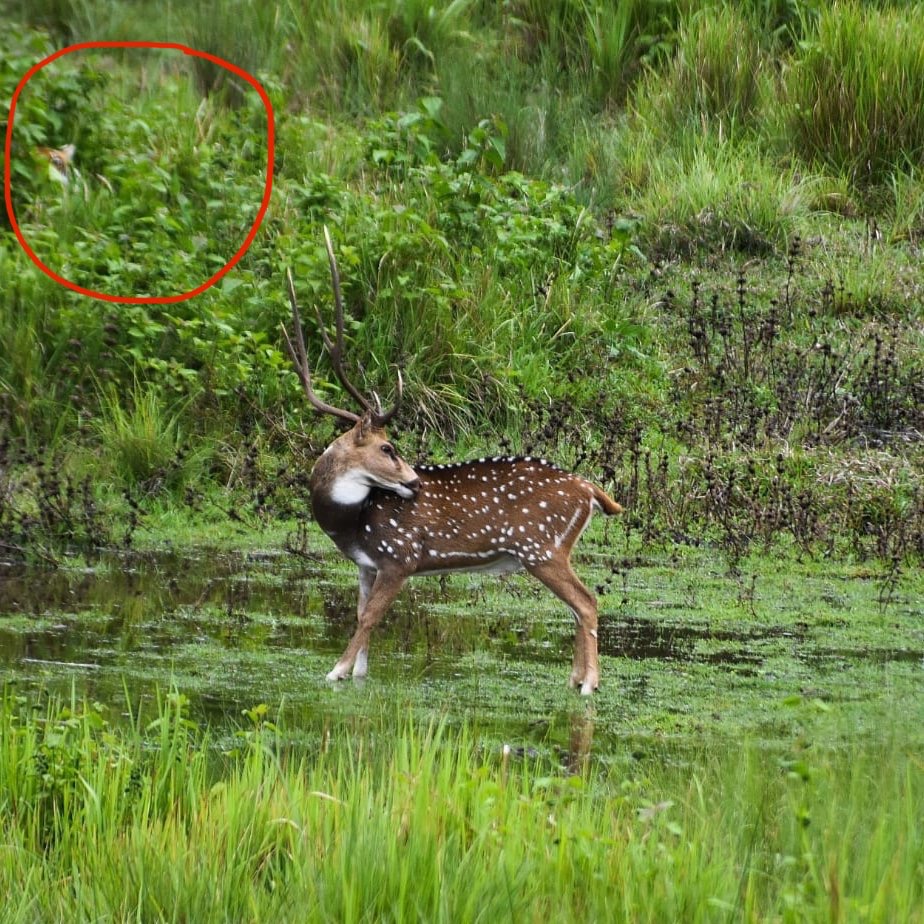 The post has garnered a ton of answers with some hitting the nail on the head and others missing the mark completely. One user figured it out because "the ear gave it away." Another looked a little deeper into the picture and said "the predator is the deer whereas its prey could be the grass I believe." I mean he's not wrong but I don't think deer are considered a threat unless you're driving down the New Jersey Turnpike in the middle of the night and one of these guys challenges you to a game of chicken. And one user who gave up on the search completely wrote "after seeing this picture I didn't get busy searching for a predator, but got lost in the beauty of nature." Still wrong but at least it's a beautiful way to be wrong. 
So, did you spot the predator? Share with your friends and see which one of you has the eye of the tiger!
Like what you read? Follow me on Instagram
Aussie Dad Built A Giant Laughing Kookaburra To 'Cheer Us Up'
What a kook…aburra.
There are days during quarantine where I'll jog twenty blocks and come home feeling super productive. Then I see a Tweet about a man who built a 1,600 pound, giant, laughing kookaburra and I realize I have no idea what productivity really is.
Artist Dr. Farvadin Daliri from the city of Townsville, Australia, began building the giant laughing bird last Christmas. When the quarantine was put into place, however, Daliri really kicked his construction into high gear and used his free time to complete the kookaburra. The massive fowl measures nearly 15 feet tall and 28 feet wide and has become the talk of the town…sville. Daliri told the Guardian "People just adore it. A lot of people overlooked from the roadside and saw this huge monster sitting here and wanted to know what it is."
As for why the doctor built the bird in the first place the answer is quite simple, to spread joy. Daliri told Buzzfeed "I wanted to make something out of the ordinary to cheer us up, relieve our stress and make us optimistic." What better way to cheer people up then by spreading laughter, literally! This isn't Daliri's first time at the giant animal rodeo either as he has constructed giant koalas and snakes to showcase at a cultural festival in his hometown. This is the first time the artist has gone viral, however, as his daughter's Tweet has already garnered over a hundred thousand likes.
Check out and cheer up by checking out the post below!
So my Dad made good use of his time in lockdown and built a huge laughing Kookaburra. pic.twitter.com/UGVC4dZsCL

— Rafaan (@RafaanDaliri) May 26, 2020
Like what you read? Follow me on Instagram