POP INTERVIEW: Joe Wenke Teaches Us How to Become Culture Arsonists!
Comedian Joe Wenke is the author of You Got to Be Kidding, described as a Bill Maher take on religion, shutting down myths and stories as he probably irritates the entire Bible belt. The very second I heard he referred to himself as a "culture arsonist," I wanted to be one. As it turns out, I was sad upon learning setting random things on fire is not involved – the book description says it is actually about "causing trouble" – but pleased I can be at once angry-bitter and living in Hello Kitty Land.
What does a "cultural arsonist" actually do? Is this anything like a help wanted ad put out by Ann Coulter? Why did you want to call yourself this moniker?
A cultural arsonist is somebody who sets fire to stupidity and burns up bigotry, metaphorically, of course. That's what I do, so that's what I call myself. I have lots of rhetorical tools at my disposal, but the primary tool is satire. Ann Coulter? No, she is definitely not a cultural arsonist. In fact, she trades on stupidity and bigotry, so she's the opposite of a cultural arsonist.
Did being a cultural arsonist derive from your years working as a speechwriter, sort of being silent while you told other people what to say, essentially? Or did it strengthen your opinions more so?
It didn't derive from my having been a speechwriter. I've always been very outspoken and questioned everything since I was a kid. I have to say, though, that being a speechwriter is a weird job. You have to have a huge ego to deal with CEO types and other so-called big shots, but then you have to pretend to have no ego when they set about changing what you've written. But you do learn to be very persuasive and adept at arguing different positions. Being a speechwriter also helped me to become a very fast writer.
Is being angry required, or can I be a cultural arsonist too in a Pollyanna sort of way? I kind of want to crack jokes while I'm attacking culture and hand out healthy, low calorie cupcakes I decorated before I grill people. With Sanrio products somehow involved. What steps are involved in my path to being one?
My own style is playful rather than angry. My artistic models are the Beatles early press conferences and Muhammad Ali's rope-a-dope. I mean, sometimes the best way to win a debate is to just let the other person do all of the talking. Actually, being a cultural arsonist is more about pushing limits and boundaries than being angry—sort of like, if you see a line, cross it, or if you think you've gone too far, go further. It's also about how you live, how you present yourself to the world, as much as it is about writing. I'm very girly in how I present myself to the world. I have long hair, wear mascara, eye shadow, pink fingernail polish and girls clothes. That look definitely pushes boundaries and is very edgy and funny. It's very disarming—like handing out cupcakes before grilling your next victim.
Your book info says it "tempts readers to more closely examine the stories they think they know about the Bible." What is an example of a Biblical story that needs to be restudied?
How about Noah's Ark? Scientists have identified more than a million species, so how big was that boat? It's just a guess, but I'm thinking something along the lines of the state of Rhode Island. And just how did Noah round up all of the animals? I mean who went out and picked up the polar bears and penguins. And what about the kangaroos and kiwis? Also, was every insect species on board, or was there a cut off point? Did roaches and mosquitoes make it? How about bed bugs?
Why did you want to focus on Christianity? Why not other religions?
I wrote about the Bible, which is the foundation of the Judeo-Christian tradition, because that's the belief system that I was brought up in. I wanted to expose the absurdity of the Bible. How is the Bible absurd? Well, the most absurd thing about the Bible is that in all probability nothing of importance described in it ever actually happened. Also, Old Testament morality is really more like tribal code like we get today from the Taliban. I also wanted to call out people who use the Bible to justify their own bigotry against gay and transgender people as well as their contempt for women. If God did write the Bible as the fundamentalists contend, then my message to them is just because God is a bigot doesn't make it right.
And while we discuss other religions, what do you want to pick apart from Buddhism or other religions?
Absurd beliefs of any kind are worthy targets of satire. At the same time, I really don't care about what people believe. People believe all sorts of crazy things. That's fine with me. That's what makes the world go round. I object when somebody thinks that their religion is the one, true religion or when they use what they view as scripture to justify their own bigotry against people who are different from them.
What are some great things people have told you about your book? What have the worst critics, or possibly a group of people you may call "haters," told you?
There have been more than 40 reviews of the book, and almost all of them have been very positive. I love that people find the book to be very funny. I think that the humor of the book is very disarming. It opens up people's minds to entertain new ideas. One reviewer said the book should be part of any library, particularly a religious library. I like that. One guy trashed the book, and said it was sophomoric. That was good too since it reminded me of how much I like the word "sophomoric."
I like the book cover art interpretation. Somehow, it speaks a lot for being so subdued. How did you declare this to be what you were thinking? Because people really do judge a book by its cover in the publishing world.
I absolutely love the cover of my book! My good friend, Gisele Xtravaganza, who is a very beautiful and successful transgender model, is the nun on the cover. The original cover designer had proposed the idea of having a laughing, scandalized nun on the cover. I thought the attitude was a little heavy handed and obvious, but I liked the nun idea itself. I bought a nun costume online and gave it to Gisele. She tried it on and took a picture of herself. She looked so beautiful and angelic, very close to the image that we have on the cover, and I though, oh, my God! That's it. Jeffrey Michelson, the ultimate cover designer and the designer of my website, loved the image too but said quite rightly that it also had to be funny. He came up with the idea of having a cartoon balloon with the book's title coming out of Gisele's head. So, to me, the cover art really captures the point of view of the book, which is very funny while at the same time calling out bigotry against gay and transgender people.
Other than religion, how can we find sarcasm, wit and humor in life?
Objects of satire are everywhere around us—politicians, celebrities, our family, friends, people at work—the list goes on. Life is crazy and difficult, but humor is very powerful. It exposes hypocrisy and absurdity, and it makes everybody feel good at the same time. We argue about everything, but if something's funny, it's funny. It's hard to argue about that.
Well Sh-t, Leslie Jordan Has Shared Three Videos Of Himself Dancing In One Week And They're All Perfect
Doing much better now, Leslie.
If you've never believed that "good things come in small packages" then you've never seen Leslie Jordan's instagram. The 4'11" actor known for his iconic roles in shows like Will & Grace and American Horror Story has recently developed a whole new fanbase who loves him for his viral Instagram videos. Usually starting each video by greeting fans with "Well shit, how y'all doing?", viewers have grown to anticipate Jordan's hilarious recounting of stories from his time in show biz or growing up in the south. This week, however, the Tennessee native has shared 3 videos of himself dancing within 5 days and honestly it's precisely what we all need right now.
The first video was posted on August 12th and shows Jordan taking part of the "Git up and dance challenge" which swept the internet about a year ago. Even though he is a little late, the video is still perfection.
On August 13th, Jordan does a dance to "You Can't Stop The Beat" from Hairspray a with special guest dance partner Katie Couric!
Finally, on August 15th, Jordan does an epic "tootsie roll" and challenges Real Housewives Of Beverly Hills star, Lisa Rinna, to do the tootsie roll herself. Of course Rinna commented with a big "ON IT ❤️😂." Who could say no to the viral star?!?
The moral of the story here is that the world is going through some tough times right now but maybe, even for a few seconds, we could all feel better if we'd just dance it out. Thanks for the inspo Leslie Jordan!
Like what you read? Follow me on Instagram
Planters 'Baby Nut' Has Somehow Already Turned 21 And People Are Not Loving The News
2020 keeps getting nuttier.
The world was shocked when the iconic Mr. Peanut was killed during a pre-Super Bowl ad earlier this year. There wasn't much time to mourn, however, before a new nut was thrust onto us like back-to-school commercials in July. Yes, after the 59-year-old mascot met his untimely death consumers were introduced to his reincarnate, Baby Nut. With big, expressive eyes and a tiny stature fans began to swoon over the cute branding revamp and accepted him as the new mascot. Well as if 2020 hasn't been crazy enough, Planters just released a new commercial celebrating Baby Nut's 21st birthday and I'm not sure how to feel about it.
I'm officially 21, my friends! Before you ask, yes, I was just a baby. What can I say? It's been a nutty year. Now someone get this peanut a beer! #MakeMyBirthdayNuts pic.twitter.com/P1UfBIi4N8

— Peanut Jr. (@MrPeanut) August 11, 2020
According to a quick Google search, a peanut plant takes 4-5 months to reach maturity. So with Baby Nut being born in February, he is technically right on track in his growth cycle. The OG Mr. Peanut was the reigning mascot for 59 years so does that mean he was actually over 3,000 peanut-years old? The accelerated aging is not explained in the new ad with Baby Nut (Young Adult Nut?) simply saying "it's been a weird year." Reactions on Twitter are largely negative but as always, hilarious. Here are some of the best: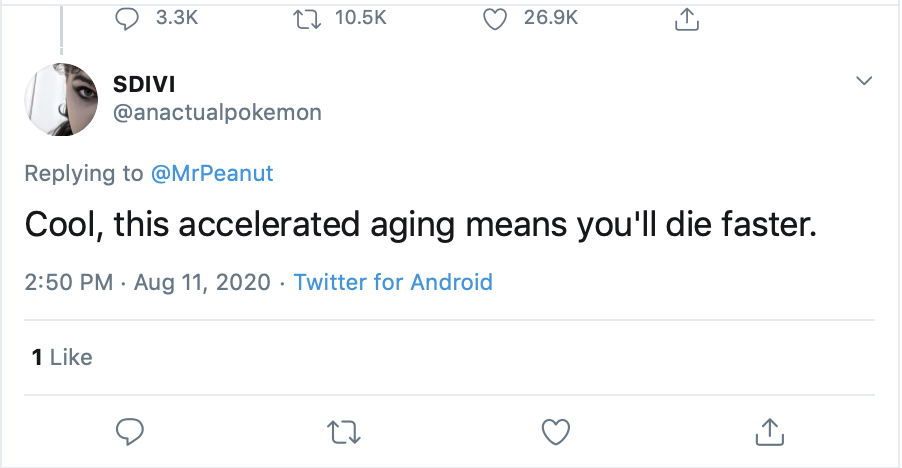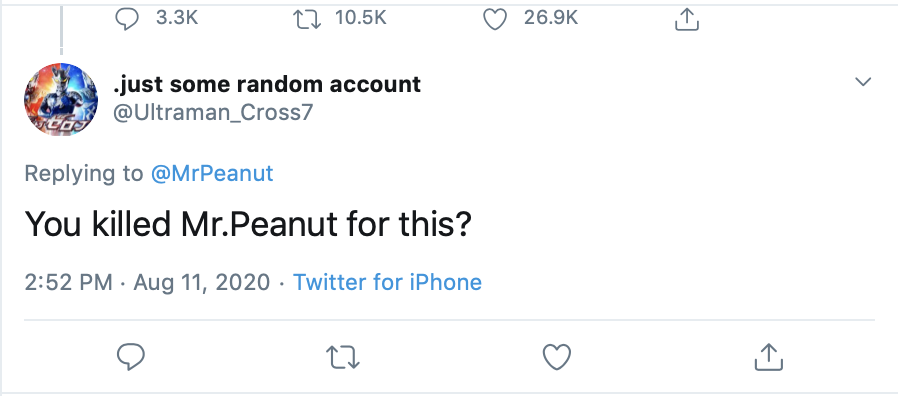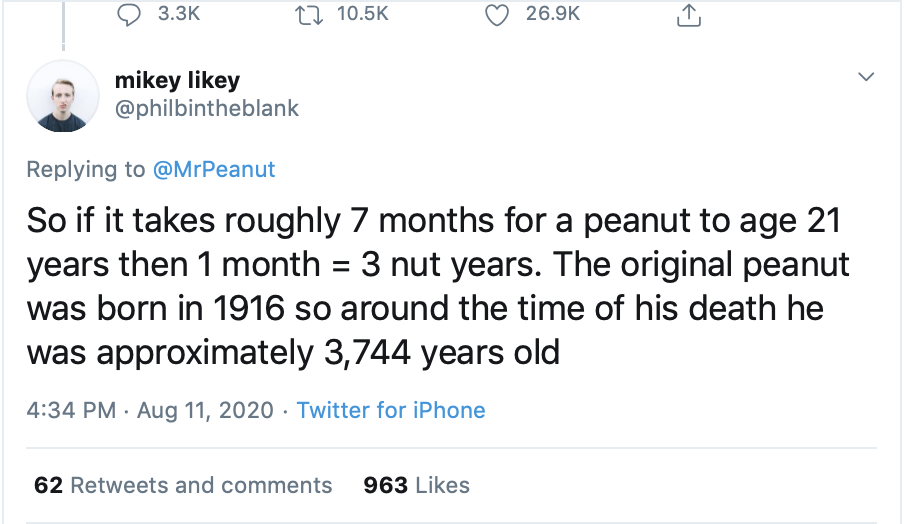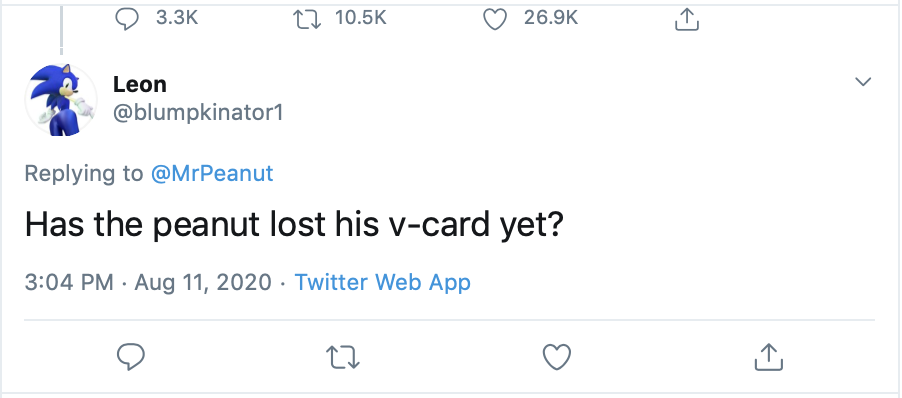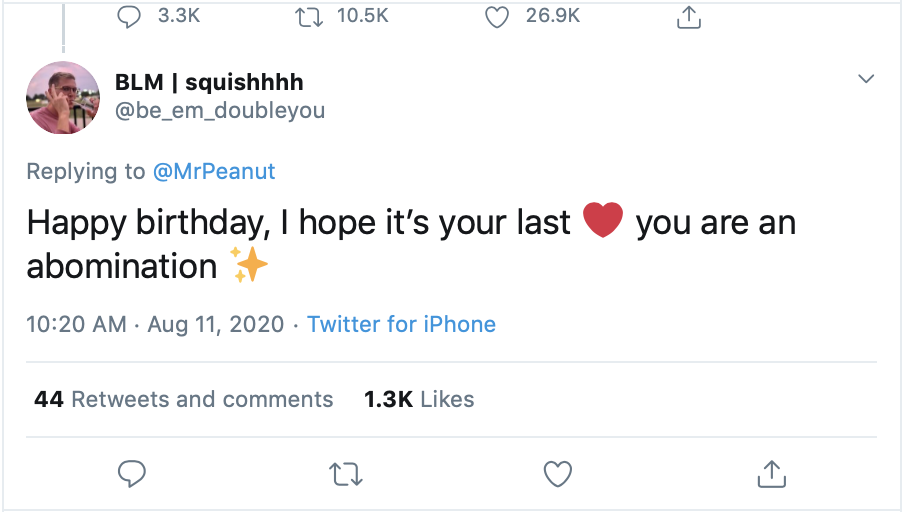 Yikes. Good thing Baby Nut is old enough to drink now…looks like he might need to throw back a few to handle some of these reactions.
To follow Peanut Jr.'s official account click here.
Like what you read? Follow me on Instagram
The Last Blockbuster Store In Existence Is Now Listed On AirBNB
Netflix could never.
Remember how exciting it was to take a trip to Blockbuster back in the 90's? You'd try to get there early enough to rent one of the latest "new releases" before everyone else in the neighborhood got to them. You'd beg your parents for some popcorn and candy which were conveniently placed on the checkout line. And if it was a whole family outing, you'd wander off to look at all the films and games that you were never going to rent but found comfort in knowing you could rent someday. Gosh, it felt like you could spend days inside one of those movie meccas. Well good news, now you can because the last Blockbuster in existence is now listed on AirBNB!
The retailer, located in Bend, Oregon is offering up three one-night stays for up to four guests for folks who want an "end of summer sleepover." The store has added an adorable living room set up which includes a pull out sofa and a big screen tv so guests can binge all their favorite films. Oh and there's snacks! Along with providing ideas for a perfect 90's night the ad also suggests that you should "help yourself to some NERDS, Raisinets and popcorn (heavy on the butter), but make sure you save room for a couple slices."
There is a catch to the whole experience though, the listing is only available to Deschutes County residents. Is it too late to move!?! Manager Sandi Harding explained that the publicity stunt is a response to the newfound economic uncertainty due to the pandemic. "Not much has changed at our store – not even our prices – and that's just how we like it! We think of ourselves as a family, and that includes everyone from the global travelers who come to visit, to the lifelong friends and couples who first met as Blockbuster employees. The Covid-19 pandemic has been a test of our community unlike any other, so we decided to list this stay to keep this tradition alive during these uncertain times."
Such a clever way to keep this iconic 90's treasure trove alive! To check out the AirBNB listing, click here!