Charlie Sheen Blows Away Cleveland…Could the Show Actually Be Getting Better?!
What the hell happened here??  Could Charlie Sheen's show actually be getting better?!?
According to numerous reports, the sold-out crowd at Cleveland's Playhouse Square's 3,200-seat State Theatre greeted Sheen with chants of "Winning" and ended the show with a standing ovation.
This was the third stop on Sheen's "Torpedo of Truth" tour.  Instead of Sheen just walking out on stage this time, he ran down the aisle toward the stage amid a guitar rendition of "Wild Thing".  When he got on the stage, he told the crowd:
"People, that was better than coming out of the bullpen in MAJOR LEAGUE. Thank you."
It really feels like he's still banking on Major League 3, huh?  Well that wasn't the only think Sheen went back to.  Some fan favorites included:
"Winning: You just feel better when you say it…Where did that come from? I just got tired of — well, I shouldn't say losing — being told that I was losing. They basically took everything away, and I said, 'F— you! I'm still winning.'"
and
"Is your tiger blood boiling tonight? Is your Adonis DNA
Sheen made many references to different people throughout the night, especially during his Q&A session that has become a part of the show.  First off, he wanted to "clear up" about former wives Denise Richards and Brooke Mueller:
"I said a couple of things, I stated some facts, and the media got it wrong," he said. "Shocker. It's a shocker. I didn't call Denise a kidnapper. Brooke is the f—— kidnapper. I called Denise a dognapper."
Sheen also joked that he is being stalked by Miley Cyrus, who recently rejoined Twitter and tweeted: "I came back to twitter for 2 reasons. My fans and to follow @charliesheen." He said:

"Apparently Miley got back on Twitter and now she's following me…What the f— does that mean? Did she follow me to Cleveland? Is Miley Cyrus in the house? Stand up, Miley."
Sounds to me more like an old man going "how do you use this thing?  You kids and your tweets!"  However, with all his comments, Sheen did seem like he turned a new leaf when it came to "Two and a Half Men":
"Do I want to be back on it? Well, f— yeah I do. I'm not a complete idiot…I think what everybody needs to understand is … all they've got to do is hire me back. … I made them $5 billion, and I got fired. Imagine if I had made them $10 billion — they would have murdered me."
Sheen also said the show's creator, Chuck Lorre, "still hasn't returned my call." I wonder if he's starting to realize what he did…
Either way, Sheen did say something that made complete sense…his power to spin all this into a money-maker is insane:

"I have been able to spin magic the past couple of weeks…You guys all bought tickets without knowing a damn thing about this show."
It was somewhat mocking, yet at the same time, completely true.  Everything from $15 coffee mugs to $120 "Charlie Sheen Winning" jerseys were for sale at the Cleveland event, and apparently the items were flying off the shelves.
Next stop on the tour is tonight at the Palace Theater in Columbus, Ohio.
AWKWARD: Ross Didn't Like His Pet Monkey On 'Friends'?!?
Remember back in the 90's on Friends when Ross got a pet monkey while living in New York City and no one batted an eye? Those were truly simpler times. Here in the jaded 2019, we just discovered that David Schwimmer didn't like working with that monkey and now I don't know what to believe anymore.
Last night, Matt LeBlanc stopped by Jimmy Kimmel Live! to promote his latest sitcom, Man With A Plan, but it was his chat about a particular Friends star that has the internet buzzing. When Jimmy Kimmel coyly asked if Matt keeps in touch with Marcel the monkey (who is actually named Katie in real life), Matt shared a nugget of information that I wasn't prepared to ingest. David Schwimmer did not like working with the monkey!
"I liked the monkey! I like animals, and the monkey was really cool. Schwimmer… Not so much. He's the one that had to work with it the most, so he was like, 'Again with the monkey?' But I got along great with it."
Ouch. Right in the nostalgia. Apparently Katie the monkey wasn't always the most cooperative co-star as Matt recounted the time she forced taping to come to a complete halt when she climbed above the lighting grid to hang out on the ceiling. It took about thirty minutes and a few mealworms to finally get the monkey back down to the set! Talk about a diva.
Check out the fun interview below! Click ahead to 3:05 mark to hear all about the monkey business.
Like what you read? Follow @ChrisSiretz on Twitter and Instagram
VIDEO: The 38 Seconds Of Video Lori Loughlin's Daughter Olivia Jade Is Regretting Right Now.
In a video from last year, Loughlin's daughter says she will balance trips to Fiji and NYC into her school calendar, "doesn't know how much of school (she is) going to attend" but she wants the experience of game days, partying, and "doesn't really care about school, as you know."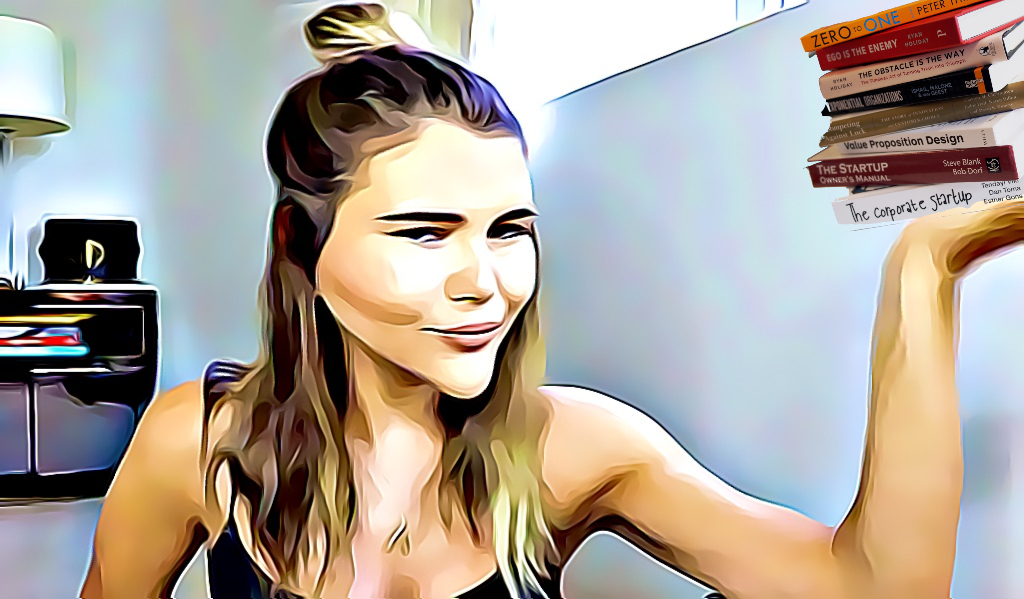 As mom Lori Loughlin faces allegations she paid 500,000 to help get her daughter Olivia Jade into college as a member of the crew team – even sending photographs of her daughter on a rowing machine to create the impression she was an athlete – a video made by her daughter in August is making the rounds again for the embarrassing references she makes to not even caring about getting an education in the first place.
Follow @brianbalthazar on twitter.
In the video, an entitled Olivia Jade, a YouTuber followed by 2 million people on the video platform, says she will balance trips to Fiji and NYC into her school calendar, "doesn't know how much of school (she is) going to attend" but she wants the experience of game days, partying, and "doesn't really care about school, as you know."
Why she hasn't taken this video down yet completely escapes me.
Naturally, social media has unleashed upon her, although it is unclear whether Olivia Jade even know her entrance into college was a result of bribes, (if the allegations are proven correct.)
In either case, the social media celebrity had to apologize days after this video first came out, and is more than likely wishing she had taken it down entirely now…
WATCH: This Champagne Tower Video Does Not End Well
This guy will have a story to tell for the rest of his life.