30 MINUTES OR LESS: Mocking Real Life Pizza Delivery Bomb Tragedy?
30 MINUTES OR LESS, the new movie starring Jesse Eisenberg and Aziz Ansari, is a full blown R-rated comedy.  But is the movie based on some real life events that are anything but funny?
Back in 2003, 46-year-old pizza man Brian Wells was killed when a bomb strapped around his neck exploded after he tried to rob a bank.  Wells insisted that he was abducted during a pizza delivery in Pennsylvania, and the bomber locked an explosive device around his neck and ordered him to rob a bank.
Cops handcuffed Wells, and by the time they actually called bomb control, the bomb had already exploded.  The entire incident was captured by numerous news cameras.
Years later, federal prosecutors alleged that Brian was in on the plan with several other people, but the only thing he didn't realize until it was too late was that the bomb was real.
TMZ spoke with one of Brian's closest friends who tells us he's outraged that Hollywood would mock Wells' death:
"It's stupid the movie is even coming out…producers can go jump in a lake for all I care!  Doesn't Brian have a right to die? They're blowing something up that should never have even happened in the first place and now they wanna make a joke out it…it's really tragic."
A rep for Columbia Pictures says that , "Neither the filmmakers nor stars the stars of '30 Minutes or Less' were aware of this crime prior to their involvement in the film," That statement somewhat conflicted with the rep's second statement, saying "The writers were vaguely familiar with what had occurred and wrote an original screenplay that does not mirror the real-life tragedy. "
So you tell us what you think…sick joke, or innocent comedy?

CAUGHT ON TAPE: Ryan Seacrest Falls Out Of His Chair On Live TV, Goes Viral
Ryan Seacrest was just trying to catch a flying beach ball. What he caught was the stage floor. This is why people watch live TV…anything can happen, and when it does, you can't tape it over again! Let's see how he feels tomorrow because that looked like it could have hurt! (Is it just my imagination or does it look like his ankle might have gotten caught in the chair?)
Video of Taylor Swift On Painkillers, And Her Reaction To It, Is Adorable.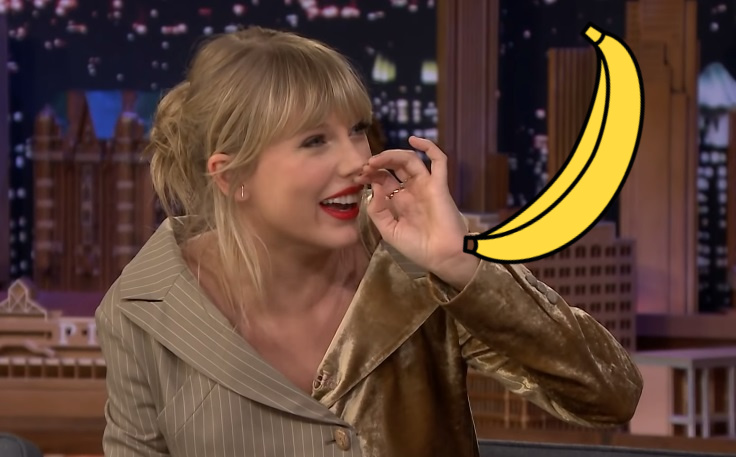 Jimmy Fallon played the ultimate trick on Taylor Swift… somehow managing to get video her own MOTHER took of her after getting Lasik surgery. The result, which captures Swift having an emotional moment over a banana, was played before her eyes on The Tonight Show.
Her reaction is just another reason to love Taylor Swift.
WATCH: Ducks Adorably Eat Peas With The Same Terrifying Fervor As Piranhas Eating Meat
I've never seen ducks eat peas before, but now that I know, I would never get in their way.
Seriously, I've never seen ducks eat peas before, but now that I know, I would never get in their way.
A imgur user named Conniverse has ducks. We're used to feeding ducks when we were kids, things like bread, etc. and that's not a great thing. Ducks need nutrition too, and it turns out peas are just the thing. And GOD do they love them. Get out of their way! They're cute, but holy hell.