Mike Finkelstein will give you five minutes of his time.  No more, no less.  Within those five minutes, anything you need from him is yours.  Afterwards, you're on your own.  So within that span of time, he thinks you could sit down and read his review of "Drive".
PLOT: A Hollywood stunt driver (Ryan Gosling) doubles as a getaway wheel man at night.  When he gets involved with his beautiful neighbor (Carey Mulligan) and her son, he decides to try and help her fresh out of jail husband (Oscar Issacs) on a high-risk job that pits him against two ruthless mob bosses (Ron Perlman and Albert Brooks).
Check out the trailer:
MIKE'S REVIEW:  "I don't sit in.  I don't carry a gun.  I drive."
These are the words that introduce us to the Driver in Nicolas Winding Refn's DRIVE.  It's that simple.  Going into the movie, I knew it'd be something different…a noir film about driving (interesting contrast to say the least), as well as Ryan Gosling's next branch out from his usual dramas after CRAZY, STUPID LOVE.
DRIVE is so much more than just Ryan Gosling branching out.  It is, I dare say, a masterpiece of film noir.  You see the world, you take in the atmosphere, you know something is going to happen at SOME point and are looking for it…and then you get slapped in the face.
Our focus is on a nameless character only known as the Driver (Ryan Gosling).  He is a Hollywood stunt man who doubles as a getaway driver.  He gives you five minutes of his time, no more, no less (and he has a watch fastened to the steering wheel to prove his point), makes sure you're safe, and then walks away. He is a loner.  His only outside connection is to his boss and partner-in-crime…a crippled, fatherly mechanic (Bryan Cranston) who wants him to use his skills as a stock car driver.
Suddenly, our loner meets the beautiful girl next door, Irene (Carey Mulligan), and her son.  With barely any words being said, you see the connection, but the Driver doesn't dare make the tiniest move, because she still has a husband in jail.   Don't get me wrong…it isn't a fear thing.  It's just that the Driver is as respectful as a boy scout.  But he cares about them so much, that when the husband gets out and needs to pull one final job to make sure his family isn't harmed, he offers his help.
DRIVE is downright romantic with its slow burn.  We begin on a high with a slight, very exciting taste of the Driver's capabilities, and then we retreat to the comfortable darkness and solitude.  Layers upon layers are slowly built with every character around him.  All of it is surrounded by the city of Los Angeles, which becomes a character in itself, painted with every bit of grittiness and seediness one could possibly squeeze out, and accompanied by a soundtrack of synthesizers and techno pop that could only be compared to something David Lynch would play.  It is nothing short of gorgeous.
And then, all hell breaks loose.  What was a slow, smooth ride with a breeze through these peoples' lives becomes a six car pile up, and you feel Every. Single. Crash.  We get violent.  Very violent.  It's neither over the top and ridiculous, nor fake and cheesy.  It's real and tasteful, and gratuitous when necessary.  You have no idea what is going to happen, and if you think you have any clue, you'll start to panic again once you realize that this isn't your normal Hollywood flick.  Every piece of action/violence so far snuck up on you like a ghost, and anyone, including our loveable Driver, could die in an instant.
Ryan Gosling is mesmerizing as the nameless Driver.  The man has done plenty of drama, showed he could handle comedy, and now we know he could be a subtle action star.  I don't know how he would have faired in a big budget epic where he'd have to chew the scenery, but here, he oozes Steve McQueen cool, and his quiet, reserved nature lends itself to the character, (very reminiscent of a young Sean Penn).  But that doesn't mean the Driver can't rev up a bit.  We keep getting glimpses of the Driver in his rear mirror, as if it's a window to something deeper.  Turns out, we're right.  When someone threatens the people he cares about, the Driver and his morals come completely unraveled.  I don't know if it was anger or nervousness, but you could almost see his mind snapping in one scene by the way he was shaking.
While Gosling was gripping in the lead, he also had a hell of a supporting cast backing him up.  Carey Mulligan was beautiful and innocent (as always) as the quiet, nervous Irene.  Bryan Cranston continued his streak with excellent supporting character roles as the crippled, riddled by back luck Shannon.  Ron Perlman had some fun chewing the scenery and memorably spitting out curse after curse as the ruthless mobster, Nino.  And Christina Hendricks, while somewhat wasted in such a small part, did what she had to do as Blanche, the in-between for the final job.
But the one man that stole every scene he was in was Albert Brooks as the main baddie, Bernie Rose.  While Perlman was the over-the-top, no sympathy mobster, Brooks was the businessman.  He is rational and compassionate, but if he realizes that he has to, he will kill you in a split second, and gruesomely.  This is not the same Albert Brooks in LOST IN AMERICA and FINDING NEMO, and his simplicity and logical nature makes the role even scarier and more memorable than Perlman's.  Amazing job.
Nicolas Winding Refn's DRIVE is a visual masterpiece.  With it's slow burn first half leading into chaos, the film will keep you on your toes from beginning to end.  Every actor is at the top of their game, and if you find a better, darker, more original gripping film this year, I dare you to say it.
GRADE: A
Mike's LIKES:
1) RYAN GOSLING: I'm starting to think this man could play anything.  He's been only in serious dramas up until this point, and within the last six months, has delivered in both one of the funniest comedies of the year, and a full on action, film noir style.  I don't think there's anything he can't do.
2) ALBERT BROOKS: This man is not Albert Brooks, the comedian we all know and love.  He is ruthless.  He is violent.  And with all that, he is completely sane and knows exactly what he is doing.  He doesn't overact or chew the scenery.  He just is.  And that makes him all the more intimidating.
3) GRITTY FILM NOIR: Nicolas Winding Refn did a beautiful job in bringing out all the dirt and seediness of Los Angeles.  Not the town I'd ever want to live in.
4) SUSPENSE/VIOLENCE: What was at first a slowly paced ride built and built, and then all at once exploded into a violent bloodbath.  It was almost like two separate films, and by the last half hour, I honestly had no idea who would live and who would die.
Mike's DISLIKES:
1) DON'T HAVE ONE: The film is smart and original with a cast that gel perfectly together.  I was engrossed in the world of the Driver.  When a film can do that to me, and I don't know where it's going, it did its job perfectly.
EXTRA FACTS:
1) In preparation for the role, Ryan Gosling restored the 1973 Chevy Malibu that his character uses in the film.
2) Hugh Jackman was original supposed to star as the lead.
Who Is This Brian Balthazar Guy, Anyway?
Did you see Brian on TV today? Wondering who he is? Here's much more than you wanted to know. They leave the part out that he loves a well mixed Dark And Stormy, but let's keep things professional…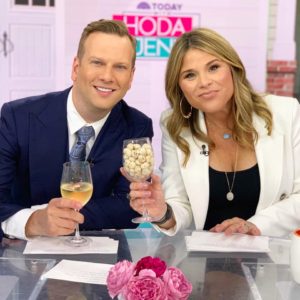 You may have seen Brian Balthazar on television this morning, heard him on the radio, or read about some recent developments in the world of media and pop culture. But who the hell is this guy? Brian Balthazar leads a double – triple – okay, maybe quadruple life. Part journalist, actor and comic, he appears on many TV shows as a guest, but is also a developer and creator of several television shows behind the scenes. This when he's not renovating homes and making snacks for his websites, POPgoesTheWeek.com and Snackist.com.
After launching the fourth hour of the Today Show with Kathie Lee Gifford and Hoda Kotb, he turned his attention to cable television, overseeing the direction and development of several shows on HGTV, including Flip or Flop, Love It Or List It, Christina On The Coast, House Hunters, Hit Properties with Nathan Morris, Flea Market Flip and dozens more.
As a comic he served as the opening act for Russell Brand In New York City and the MTV series Man and Wife featuring hype man Fatman Scoop.  He has performed at The Comic Strip, Caroline's On Broadway, Gotham Comedy Club and more.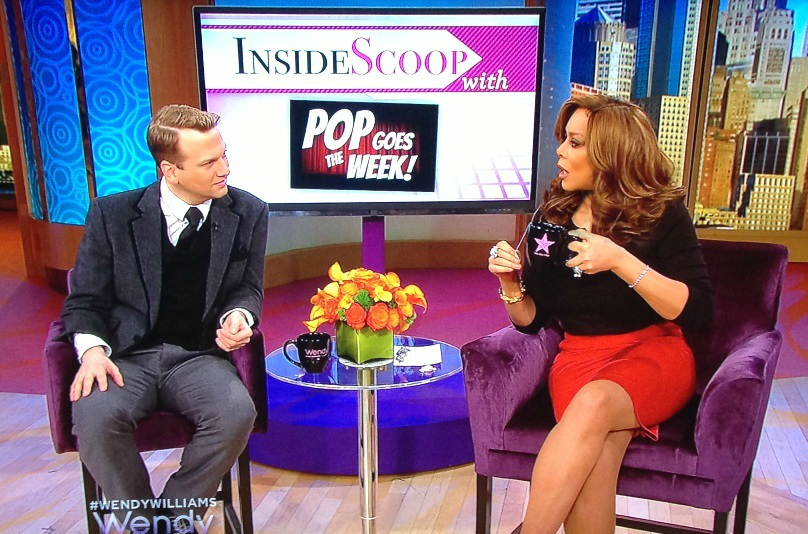 In addition to being a frequent guest on "The Wendy Williams Show," (he co-hosted several times during Williams' three week break) and appearing on the "Today" show, where he guest co-hosted with Jenna Hager-Bush,  Brian has frequently been seen co-hosting the syndicated TV gossip show Page Six TV.
Additionally, he was the sideline reporter for HGTV's Rose Parade Coverage, hosted the HGTV Special I Bought A Famous House, and has appeared on CBS's The Talk, HLN's Showbiz Tonight, MSNBC's Caught On Camera, The Joy Behar Show, and more.
An appearance on the fourth hour of the TODAY show with Kathie Lee and Hoda.
He has also been an emcee for many notable events and sponsors, including work as a brand ambassador for Bombay Company, the co-host of the Miss Tennessee and Miss Mississippi USA pageants, and a red carpet host at the Daytime Emmy Awards.
You may also have seen Brian in some viral videos, most notably a recent parody of Bird Box, and a satirical look at House Hunters' Writers' Room.
HGTV – House Hunters Writer's Room from Buffalo Picture House on Vimeo.
Appearing in a series of videos for Bombay Company.
Brian has provided analysis, interviews and helped co-host the Tony Awards backstage show. He also followed all the backstage madness at the launch of Fashion Week in New York City while co-hosting the Red Dress Event. He has been a roving reporter for the Dr. Oz show. Earlier in his career he was a features reporter and contributor on NBC, MSNBC, United Airlines In-Flight Entertainment and more.
For A&E network, Brian appeared in an episode of Biography about Jim Carrey. He also provided play by play of some of film's greatest car chases for a documentary about, well, car chases. (Ask his family and they will tell you: NO one would have expected to see him in a show about cars. We'll leave it at that.)
Before 'finding himself' professionally, Brian was a singer on a ship, a publicist for a trance medium, an insurance customer service rep, waiter, bartender, activities director, substitute teacher, website programmer, pianist at a camp for spoiled children, and college mascot. None of them worked out. Let's hope this does.
To contact Brian, email BrianBalthazar@aol.com.
To check out his video clips from NBC, HLN, and MSNBC, click HERE…
And – become his friend on facebook! www.facebook.com/brianbalthazar
For a more extensive listing of his TV appearances visit his IMDB page.
And he's apparently getting better about Twitter. So he says. He's @BrianBalthazar.
Thanks for reading POP GOES THE WEEK!
For his TV Appearances, Click on the TV APPEARANCES page.
POP in the Kitchen! The Perfect Snack and Cocktail Pairings.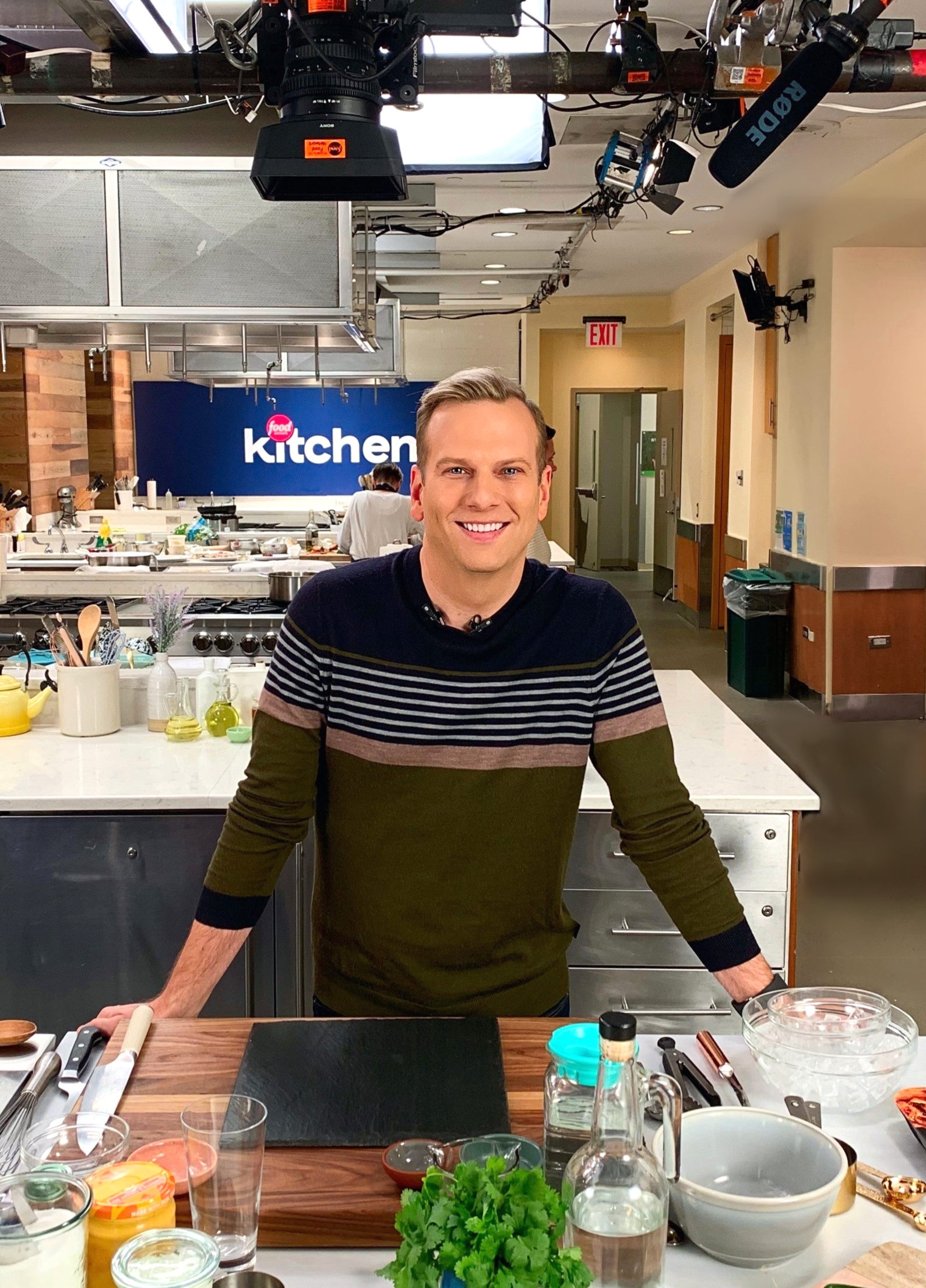 POP Goes The Week's Brian Balthazar is part of the all new Food Network Kitchen App! Cook LIVE alongside Brian as he makes get party food and the drinks that go perfectly with them!
Hey everyone! I'm so excited for this – I was thrilled to be a part of the new app, which is an all new way to cook with your favorite chefs and cooking experts. In the app, you can get the recipe and ingredients and recipe in advance, check the live class schedule, then cook at the very same time as your instructor!
I was fortunate enough to be invited to do a live snack and cocktail pairing, which you can still watch – and cook along with me! Trust me, these all start out as live, which means anything can happen! (I have an adventure with the broiler in one of them!)
For my recipes, I made a pulled pork toast with queso, sour cream radishes and green onions, along with a smoky mezcal paloma.
In another class, I make lavender honey that gets drizzled right on top of baked brie with herbs, then use that same lavender honey for my own interpretation of a "Bees Knees" cocktail that I call a "Bees Knees Breeze." I came up with the variation because the original recipe, simply gin, honey and lemon was just TOO strong for me and I found myself always getting plastered!
Check out the gallery of what I made, all available on the FNK app!
This slideshow requires JavaScript.
I hope you can check them out, AND all your favorite instructors like Bobby Flay, Giada de Laurentiis and Ree Drummond!
'Saved By The Bell' Cast Reunited For 30th Anniversary – And I'm So Excited
If you think your high school experience feels like ancient history then it won't bring you any comfort to know that Saved By The Bell debuted 30 years ago!
Back in 1989, Saved By The Bell hit the small screen and quickly became a television staple. Over the course of its four seasons, the sitcom followed Zach Morris and his unique blend of friends as they navigated the tricky waters of high school. Everyone had a favorite Bayside Tiger and the series spawned many memorable scenes…but you are a liar if you didn't say your favorite scene was where Jessie broke down crying after coming to terms with her caffeine pill addiction while crying out the most iconic line ever, "I'm so excited…I'm so excited…I'm so…scared"
In any event, some of Bayside's most memorable students reunited over the weekend to celebrate the 30th anniversary of the hit sitcom. Mark-Paul Gosselaar (Zach Morris), Tiffany Thiessen (Kelly Kapowski), Mario Lopez (A.C. Slater) and Elizabeth Berkley (Jessie Spano) all gathered together to hit us right in the nostalgia. Notably missing were Lark Voorhies (Lisa Turtle) and Dustin Diamond (Screech). Berkley wrote on her Instagram "FRIENDS FOREVER!!!" along with some sweet and fun hashtags. Lopez upped the ante and posted a video recapping the fun time the gang had as they reminisced on the days way back when. WHY WASN'T THIS TELEVISED?!? Many are speculating the reunion to be the beginnings of a reboot or revival but nothing of the sort has yet been confirmed.
View this post on Instagram
Like what you read? Follow @ChrisSiretz on Twitter and Instagram