Pat Sajak And Vanna White Hosted "Wheel of Fortune" Trashed Back in the '80s!
Pat Sajak and Vanna White. When you hear these names and "Wheel of Fortune", you usually think of your grandparents on any given weeknight, no? Well now, you'll be thinking about going to work drunk.
Pat Sajak and Vanna White.  When you hear these names and "Wheel of Fortune", you usually think of your grandparents on any given weeknight, no?  Well now, you'll be thinking about going to work drunk.
Sajak appeared on the ESPN2 talk show "Dan LeBatard Is Highly Questionable" on Tuesday, and admitted during the interview that he used to host "Wheel of Fortune" while drunk!
"Yes…When I first started and was much younger and could tolerate those things. We had a different show then."
Sajak said that because the show was reliant on "cheesy prizes," it would require long set-up times between shows, allowing he and Vanna White, to take 2½-hour dinner breaks, complete with margaritas.
"At NBC in Burbank we had a place called Los Arcos across the street — which is Spanish, as you know, for 'The Arcos' — and they served great margaritas…Vanna and I would go across and have two or three or six and then come and do the last shows and have trouble recognizing the alphabet."
So does Sajak think anyone realized it?  At this point, it doesn't matter:
"I had a great time…I have no idea if the shows were any good, but no one said anything, so I guess I did OK."
What he does know, however, is that he wouldn't be able to handle that kind of lifestyle today:
"Now, if I were to inhale the cork in a bottle of wine, I'd probably keel over…I'm getting a little older."
Check out the full interview below, as both of us search through YouTube and our old VHS recordings for any old 80s episodes that could possibly even hint at a drunk "Wheel of Fortune"
Laura Dern Honors Her Parents In Touching Academy Award Win Speech
Laura Dern, who has been slaying awards season this year for her role in "Marriage Story," took home the ultimate prize – a Best Supporting Actress Academy Award – and thanked her actor parents in a touching acceptance speech.
Her parents, actors Diane Ladd and Bruce Dern brought her to the Oscars with them when she was just 7 years old.
"Some say never meet your heroes. I say if you're really blessed, you get them as your parents. I share this with my acting hero my legends, Diane Ladd and Bruce Dern. You got game. I love you."
Dern's mother has been nominated three times, her father twice, but neither have won. Her mother can be seen during the speech crying in the audience.
Congrats Laura!!!
POP UPDATE: Justin Bieber, "Friends" For Life, And The Critics Choice Awards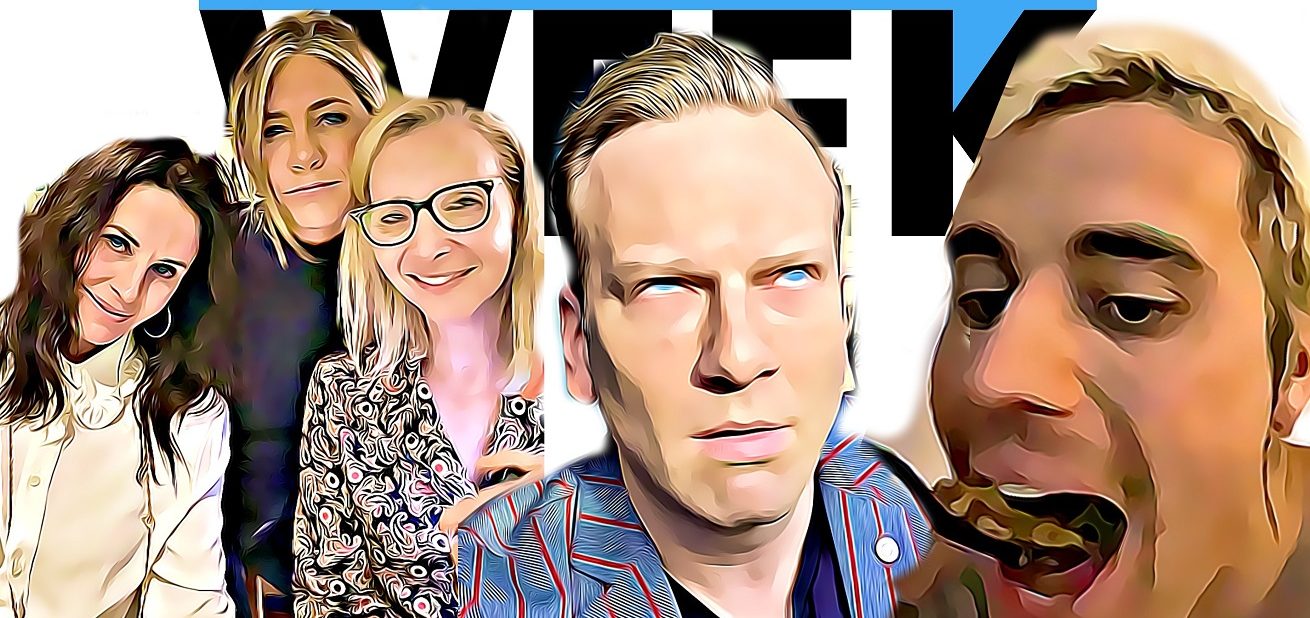 We're going to be doing some quick video updates whenever we can! Here's the latest! Justin Bieber begging for streams, (while you can hear him chew – ew), the ladies of Friends reunited, and mother nature. Take a look!
Courteney Cox's Instagram Caption Is Every Parent With A Teenage Kid
Have you heard? It's 2020 and we're all supposed to music videos on TikTok. Courteney Cox is no exception. The TV star posted an instagram of her and her daughter Coco dancing it out, with the hilarious caption, "Wanna see your child lose their patience? Do a TikTok with them."
Also, how long does it take to actually learn one of these routines? It seems very time consuming.
What I was really hoping for was video of her daughter losing her patience, but what we got was a pretty strong routine!