Daniel Radcliffe Was Very Drunk on Set of HARRY POTTER AND THE HALF BLOOD PRINCE
Daniel Radcliffe may be proving himself as one child star who may be able to break the mold, but that doesn't mean he hasn't battled his demons.
Daniel Radcliffe may be proving himself as one child star who may be able to break the mold, but that doesn't mean he hasn't battled his demons.
In a new interview with British celebrity news magazine, Heat, Radcliffe admits that there was a period in his life where he was constantly drinking:
"I have a very addictive personality. It was a problem. People with problems like that are very adept at hiding it. It was bad. I don't want to go into details, but I drank a lot and it was daily — I mean nightly,"
And while he never drank on the set of HARRY POTTER, Radcliffe said that he definitely did have to come into work drunk a few times:
"I can honestly say I never drank at work on 'Harry Potter.' I went into work still drunk, but I never drank at work. I can point to many scenes where I'm just gone. Dead behind the eyes."
The 22-year-old actor said that while the fame was fun, there was a lot of pressure to keep up such a facade:
"I loved the fact I suddenly could talk to people and feel so entertaining and so interesting. But after a while, you're living under such a cloud of shame about what you've done and the dread of who you might see, what you might have said to them, what you might have done with them…You either have to change something or give into that shame and I wasn't prepared to do that at 21."
Luckily, Radcliffe says that he's been sober since 2010, after turning to POTTER costar Gary Oldman (who also battled alcoholism) for advice.  And now, his life is very simple:
"I just do my job and I go home. [Girlfriend Rosie Coker and I] go out to a restaurant but we don't go anywhere that there's going to be paparazzi…We don't go to clubs, we don't really go to bars. So, we just kind of hang out with friends and have dinner."
Radcliffe's new movie, THE WOMAN IN BLACK, is in theaters now.
Laura Dern Honors Her Parents In Touching Academy Award Win Speech
Laura Dern, who has been slaying awards season this year for her role in "Marriage Story," took home the ultimate prize – a Best Supporting Actress Academy Award – and thanked her actor parents in a touching acceptance speech.
Her parents, actors Diane Ladd and Bruce Dern brought her to the Oscars with them when she was just 7 years old.
"Some say never meet your heroes. I say if you're really blessed, you get them as your parents. I share this with my acting hero my legends, Diane Ladd and Bruce Dern. You got game. I love you."
Dern's mother has been nominated three times, her father twice, but neither have won. Her mother can be seen during the speech crying in the audience.
Congrats Laura!!!
POP UPDATE: Justin Bieber, "Friends" For Life, And The Critics Choice Awards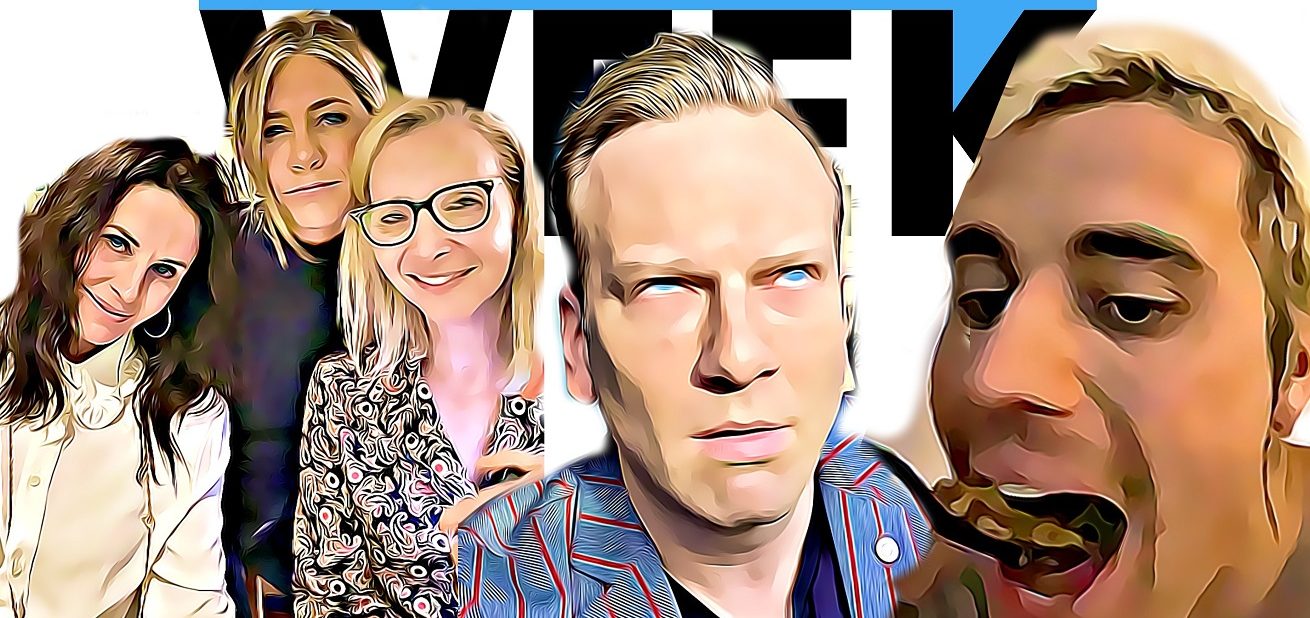 We're going to be doing some quick video updates whenever we can! Here's the latest! Justin Bieber begging for streams, (while you can hear him chew – ew), the ladies of Friends reunited, and mother nature. Take a look!
Courteney Cox's Instagram Caption Is Every Parent With A Teenage Kid
Have you heard? It's 2020 and we're all supposed to music videos on TikTok. Courteney Cox is no exception. The TV star posted an instagram of her and her daughter Coco dancing it out, with the hilarious caption, "Wanna see your child lose their patience? Do a TikTok with them."
Also, how long does it take to actually learn one of these routines? It seems very time consuming.
What I was really hoping for was video of her daughter losing her patience, but what we got was a pretty strong routine!