Mariah Carey To Join American Idol Judging Panel
Mariah Carey has accepted a gig as a new judge on Fox's American Idol. Entertainment chief Kevin Reilly called Carey onstage during a press tour and made the announcement.
Mariah Carey has accepted a gig as a new judge on Fox's American Idol.  Entertainment chief Kevin Reilly called Carey onstage during a press tour and made the announcement.
"I am so excited to be on Idol … I can't wait to get started in a couple of months." said Carey, who just monts ago had been rumored to be joining The X Factor's judging panel. Ultimately, the new additions on "Factor" were Britney Spears and Demi Lovato.
Reilly would not confirm any additional judges or changes to the format of the show, or even whether Randy Jackson will return. After Jennifer Lopez and Steven Tyler are out (They say they quit, reports speculate they were fired) it seems anything can happen.  "The ratings are down, but not being the only game in town, we need to keep things fresh," said Reilly.
Ratings for Idol had seen a 23% ratings decline. "We both decided it's time for a change," Reilly said.
Randy Rainbow Declares Himself A 'Cuomosexual' In Hilarious 'Grease' Parody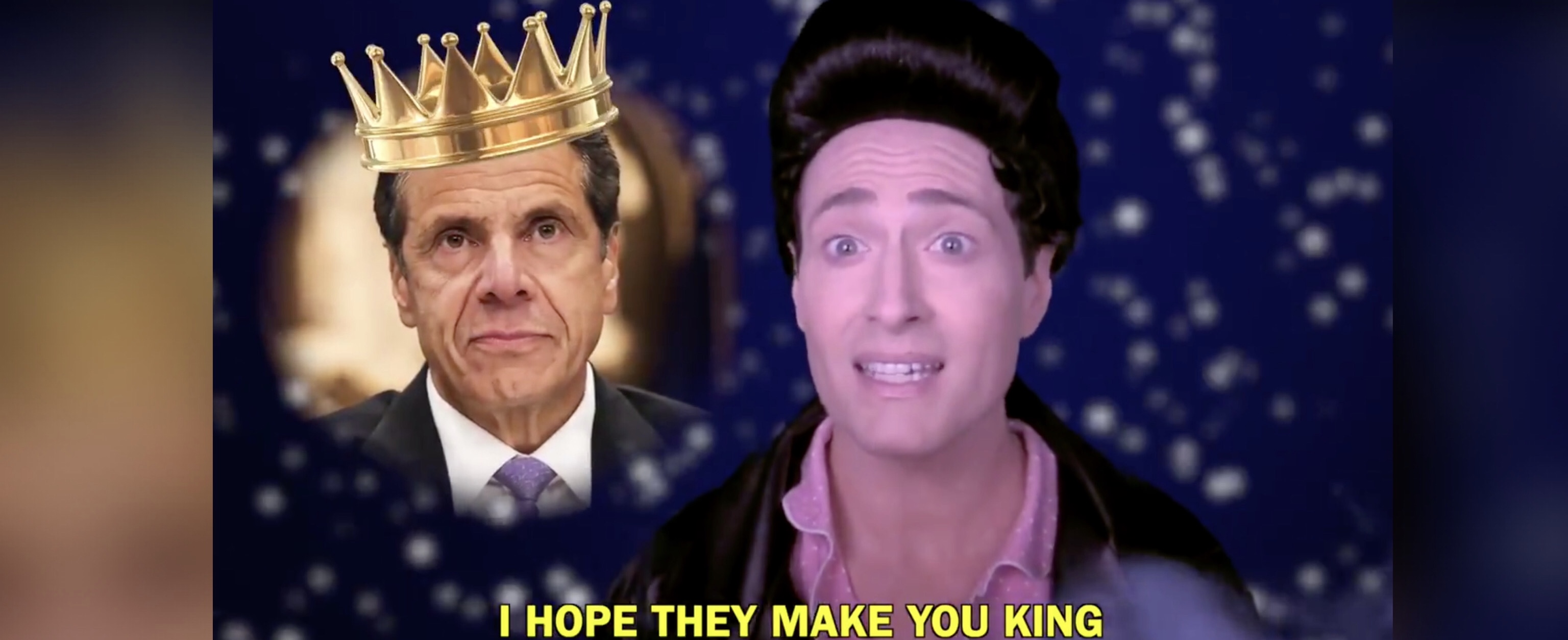 Andrew Cuomo can govern my state.
New York is one of the areas most affected by the coronavirus outbreak. The case count rises everyday which is scary to even the toughest New Yorker. Luckily, among the chaos and concern there has been a beacon of raw sexual magnetism…I mean hope…and it comes in the form of New York State Governor, Andrew Cuomo. The governor has been making headlines for his calm, effective communication and strong leadership qualities. He also made headlines for potential nipple piercings but that's not so much gubernatorial as it is something I've stored in a very special compartment of my brain. Social media has taken notice of Governor Cuomo as he trends daily with people claiming him as their new crush. Well in his latest video simply entitled "ANDY!", Randy Rainbow takes his crush one step further and declares himself a "Cuomosexual."
Parodying the classic "Alone At A Drive-In" from the movie Grease, Randy musically expresses his gratitude to the governor. The witty lyrical rewrite definitely resonates with us New Yorkers who are swooning just as hard as Randy is:
"Andy, can't ya see I'm in quarantine. A nervous wreck, and scurred as heck of COVID-19. You bring hope when I can't cope… If we're on Earth, for what's it's worth, I hope they make you king. You run my state, while I gain weight, with grace and dignity."

"The way you manage to lead and inform without scaring the living s*** out of me, or straying from the facts, and still find time to nurture my delicate spirit… You're wise level-headed, eloquent, and sexy in a time when the country needs it most."
It's not surprising that the video has gained almost 2 million views already. Randy of course, is no stranger to be going viral. His other coronavirus related content, "Social Distance" and "The Coronavirus Lament," have garnered millions of views each in mere hours.
We definitely need the laugh during these troubling times. And if we can drool and smile at the same time, even better! Take a look at the hilarious "ANDY!" video below!
🎶From now on I identify as #Cuomosexual…🎶 #StayHome #NewYorkTough ♥️🗽 pic.twitter.com/5GzJziTdnh

— Randy Rainbow (@RandyRainbow) April 6, 2020
Like what you read? Follow me on Instagram
Mandy Moore Sings "Only Hope" From "A Walk To Remember" and I'm Not Crying, You're Crying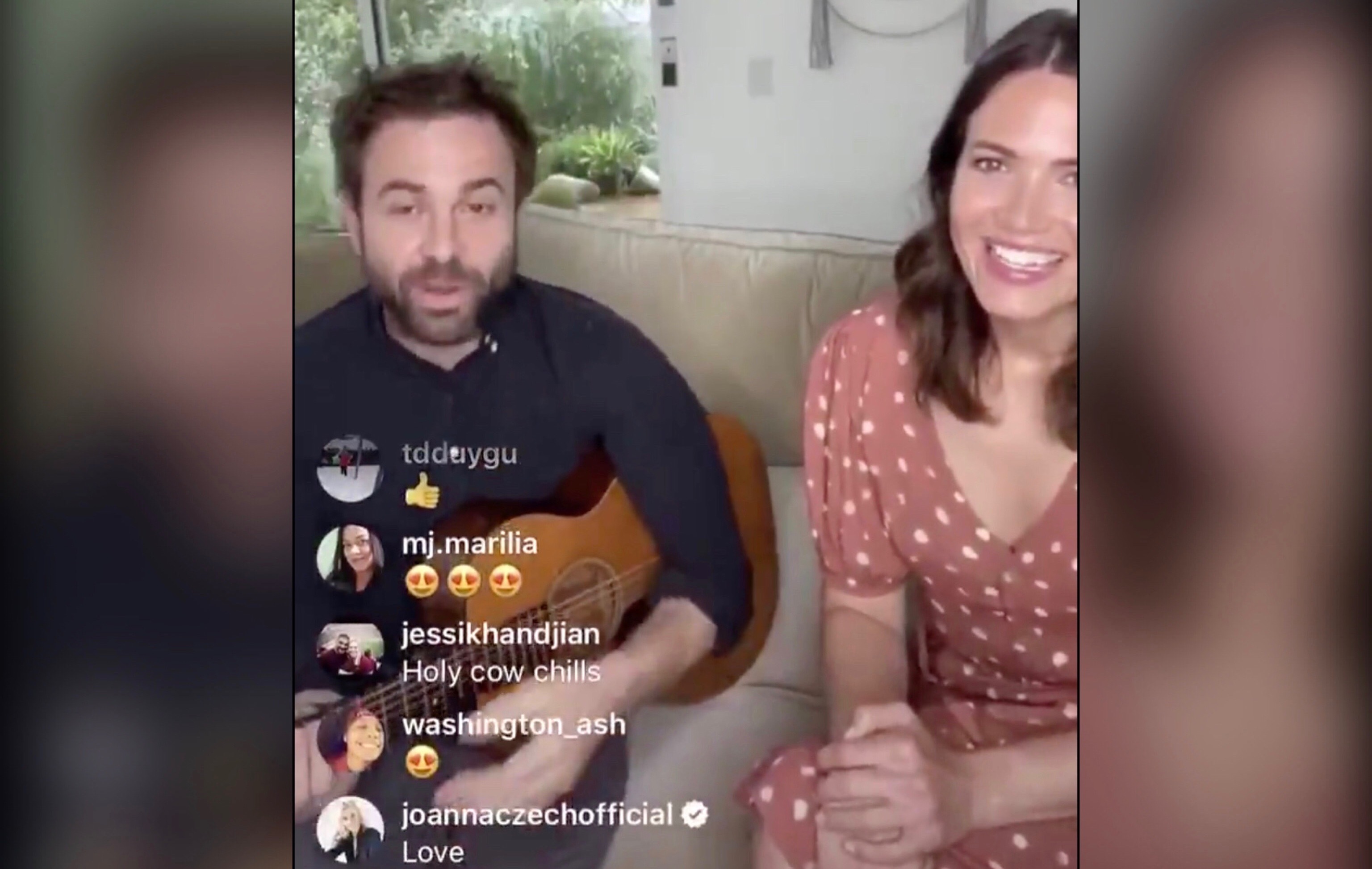 We should have known to turn to Mandy MOORE while we've been feeling so hopeLESS.
The multitalented multi-hyphenate Mandy Moore has managed to tug at everyone's heart strings this past Sunday. While the world is still figuring out how to remain positive during the coronavirus pandemic, Moore took to Instagram to provide a beacon of hope…"Only Hope" that is.
Back in the early 2000's Moore starred in the heartbreaking teen drama A Walk To Remember and gave everyone the feels when she sang "Only Hope" during one of the film's most pivotal moments. During the Instagram Live concert, Moore admits that she has only sang the song twice before, once while recording it for the film and once at a concert in the Philippines. Do you understand the history we are witnessing here?! Accompanied by her acoustic-guiatr playing husband Taylor Goldsmith, Moore belts out the beautiful ballad and suddenly hope is reignited.
Take a look at the performance below…I'm sure you'll want to watch it MOORE than once.
‼️Mandy Moore just sang "Only Hope" from A Walk to Remember for the first time in almost 20 years, and it was perfect. pic.twitter.com/Stxlmw63Pp

— Ashley Spencer (@AshleyySpencer) April 6, 2020
Like what you read? Follow me on Instagram
John Krasinski Virtually Gathers 'Hamilton' Cast To Give A Surprise Performance To A Young Fan

These Broadway stars did not throw away their shot to give one young fan a very memorable birthday surprise.
Everyone's favorite The Office star, John Krasinski (don't tell Steve Carrell), has been delivering some good news on his new, appropriately titled  YouTube show, Some Good News. With the world practically in suspended animation due to the coronavirus pandemic, Krasinski is using the platform to share some positivity and provide a distraction from the saturation of bad going on right now. You could even say his shows gives viewers a chance to quiet themselves for a bit…turn their minds into A Quiet Place if you will. Gotta love low-hanging fruit. In any event, the latest episode shows Krasinki delivering some really good news to a young fan who was facing a birthday disappointment.
The nine-year old Aubrey had plans to see the mega hit musical Hamilton for her birthday. And in case you've been living in suspended animation for much longer than this quarantine, tickets for the hottest show around are still nearly impossible to come by. Imagine how bummed little Aubrey must have been to find that all theaters have been shut down due to the social distancing guidelines. Well, Krasinski had a way to combat that sadness and brought Hamilton to Aubrey.
Krasinski gathered the cast of Hamilton, including stars like Anthony Ramos, Daveed Diggs and Renée Elise Goldsberry and show creator/star/genius Lin-Manuel Miranda, to give a virtual performance to the young fan via Zoom. The icing on the birthday cake? Krasinski also promised to fly Aubrey out to NYC to see the musical live when all of this is over. See…I told you he was The Office favorite.
Takes minute to take in some good today and watch the video below!
Like what you read? Follow me on Instagram