POP INTERVIEW: "HGTV Design Star" Winner Meg Caswell's Latest Chapter
Meg Caswell's success hasn't stopped with winning HGTV Design Star season 6. The host of Meg's Great Rooms is up to big tasks as usual with her next show, HGTV Home Makeover, premiering on March 23.
Meg Caswell's success hasn't stopped with winning HGTV Design Star season 6. The host of Meg's Great Rooms is up to big tasks as usual with her next show, HGTV Home Makeover, premiering on March 23.
I was so excited to interview you because everyone from Illinois is naturally outrageously good looking, fun and unbelievably talented like the two of us. OK, I kid, I kid…halfway. What about local architecture and means of life inspires you within your home decor style? Our part of the country has a rich history. It's the best place ever.
I totally agree Chicagoans are the best people to live with and we live in the greatest city in the country! Chicago is considered the Mecca of architecture. Growing up surrounded by beautiful design definitely defined my taste level. Going to the Art Institute of Chicago for school gave me first-hand access to breathtaking design that Chicago is known for. Even now, I joke about giving my own private Chicago city tours; I'm fascinated by our great city!
Growing up in homes that were professionally decorated and visiting Palm Beach, FL a lot on vacations helped me understand what a completed space should look like, even as a kid. The Florida trips really rubbed off on me; I think the vibrant preppy mix from that region really reflects my own person style. I call it "Preppy Palm Beach Chic." I am always redesigning and trying new color combos because I get excited about something new, whether its a new fabric or a rug… I just want to try it out! Thank goodness my husband is extremely patient with all my design changes.
Can you believe you actually won, not just competed in but *WON*, a reality TV show on a big cable network like HGTV? The odds of doing that are like winning the lottery and a date with George Clooney in the same day. Wow!
Looking back now I see what a huge life changing event that time was. I knew nothing was ever going to be the same, but I didn't really understand at the time where it would take me — there were so many unknowns after experiencing something that public. I had talked about having my own TV show for years— Oh yea I believe in dreaming big – and now to finally have the opportunity, wow is right! My dreams came true… It's the best thing that had ever happened to me! Well, then the next best thing happened to me… I got engaged 4 days later! I guess you can say I was having a good week! Ha!
One episode on your show "Meg's Great Rooms" was called "Teeny Tiny Room." What is your advice for people working on small rooms or studio apartments? You did a great job.
Thank you! I learned early in my design education how to think of surfaces differently. I recommend to anyone with a small, or even an awkward space, to ask himself or herself: "what else can this space accomplish?" You need to look past the obvious and try to see how a space can play double duty! For example how can a bench be used not only for sitting but also for storage and as a step stool to reach upper cabinets? (Or what about the side of that cabinet, it could flip up and become extra workspace as a temporary desk when needed). In the TINY house challenge I even hung pots upside down from the ceiling so they wouldn't take up precious counter space.
Your portfolio features a room you call bohemian inspired. What can people do if, say, a man likes bohemian style but is a bit serious of a guy and he doesn't want to overdo it?
Bohemian style is more of a carefree design. Bohemian incorporates a lot of different design styles and elements into one. If you don't want to over do it, try and stay within two main colors (design speak: colorways), which will help tie together all the different elements together.
Are you ever inspired indirectly by unexpected people like famous artists or movies?
I'm inspired by everything around me, which includes fashion, music and good cinematography in movies. When I see a well-designed movie set or a period-piece movie I get really excited to start a new project that reflects that same perfection. Set design teaches designers how to really take it 'all the way!' Every detail in a movie helps tell the story, and as interior designers our job is to help our clients tell their story. We are opening up our client on a whole new level, and every detail should reflect their personal story.
Your powder room portfolio sample has pink wallpaper. I'm curious, with so much people tell me about houses having a harder time reselling with unique wallpapers, why do you use it? Wallpaper to begin with, which builders and house flippers I know from Illinois hate removing, and a girly color like that? Not that there is anything wrong with your choice; it looks great. Just wondering why you took a risk like that for a portfolio!
Well you may be surprised to learn that this particular house you refer too just sold as a pocket listing (never fully went on the market)… for the asking price… in CASH! (over a $1.5 million) One of the things the new owners loved, loved, LOVED was all the wallpaper I put in the house. The pink Nina Campbell bathroom paper, the printed Philip Jefferies grass cloth in the dining room… and to seal the deal they coveted the huge damask print grass cloth in the nursery! I personally think if a space is designed well, the house will sell well, too! *PS I have dozens of design projects I need to update my portfolio with, I just never seem to find the time!
On the other end of the color spectrum, your baby room for some clients uses super dark colors found in office buildings. It's almost Japanese-corporate. I have not seen anything like it before. What kind of person would be attracted to a room like this? A single dad who doesn't want a feminine baby room? Really, I mean it, lots of trendy single dads exist!
Some clients really want something different. This one, in particular, lives in a loft with a very worldly look and a mixture of colors and patterns. She wanted a serene baby's room. What you can't see in the picture is the happy, orange accent color. She also knew that eventually the baby's 'things' (toys, clothes, etc.) would eventually add so much color and chaos to the room that she wanted it to be a neutral space.
If someone wants to work with an amazingly creative interior designer like yourself, and he or she knows what they do not want but not what they want, how do you work with that person in order to prevent him or her from being furious with the final result? It is like saying, "I am THE Angelina Jolie going to the Oscars. I like soft, pink dresses," and some pricey couture house comes along and makes you look like a frizzy pink poodle. You don't mean "pink poodle." You said "pink dresses!" But you don't know what style of pink dress you actually want, you know?
I have to be a good designer and an even better listener, not to mention I have to ask A LOT of questions!!! What really helps is showing my clients images of styles and pieces I'm suggesting. I normally make sure this type of client sees everything before they buy it! I also stay away from creating super-custom pieces that have never been made before because if it arrives and that piece doesn't look like what they thought it would they are then stuck with it because it can't be returned! And, believe it or not, I tap into my criminology background and profile each of my clients (Design CSI… it really works!) I pay attention to their clothing choices, car choices, etc. This really helps me understand their personal style.
You use a lot of red. Why do you like this color so much?
I actually do not like red for myself. I design for my clients taste and wants. I guess a lot of them have liked red… I prefer coral myself!
Have you ever made your own furniture or artwork for clients?
Yes I love designing furniture and having it made! Chicago has some of the best craftsman in the country and I love putting their skills to use. I should actually start documenting them for my own furniture line.. Thanks for the idea!
I feel horrifically uncomfortable having anything used or antique. How can I get that same look without actually using antiques? I want to live it up just like Cole Porter, like that "I am this really grouchy old stock trading man puffing off a cigar" decor you see at nice hotel condos in big cities and old NYC co-ops, when I get my first of many grand properties I want to own myself. Who knows when that would be at this rate, but as Disney's "Cinderella" sings, a dream is a wish your heart makes.
I'm with you on dreaming BIG! I'm living my life's dream right now being on TV and doing what I love! I'm sure your dreams will come true and you will own several properties and villas 'round the globe… But when you do, you must call me to decorate ALL of them!! I can create the look you want with all new pieces! There are soooo many techniques these days that artisan have come up with to make new look old!! New leather can be distressed; you can add a patina to metal to take off the shine; the list goes on and on! You just need to know where to look and hire a good designer.. hint hint…Right now I'm actually designing a kitchen that looks like it was built in the 1920s in France! You just need to look at the details of what makes it authentically old and find the right craftsman to recreate it! DETAILS… DETAILS!
You're so pretty in your wedding pictures. How much is your husband Randy involved with your life in home decor and now, TV?
Awwww, you are soooo sweet! I loved every part of my wedding day! I was so excited to get married I almost forgot to put make up on! My husband Randy grew up working in his family's TV/movie industry business in Wilmington, North Carolina. So many movies are shot there that its lovingly called the east coast Hollywood. When I film my shows, he is a huge help to the production crew. He understands all the behind the scenes stuff that goes on and can even be found fixing equipment when it breaks or helping my carpenters build my designs. Some of my greatest design moments on Meg's Great Rooms have even come from Randy! He is very creative and when I'm stuck sometimes I'll brain storm with him and he really helps me find the best solution! I have truly found my life partner! He comes with me on my 'inspiration vacations' that was recently documented in a special called America's Best Kept Secrets on HGTV. My fans have gotten to know Randy and they are all hoping to see a lot more of him! His nickname is Handsome Ransom; of course I'm biased and agree with them!
Please tell us everything about how we can hear about you this year!
I recently just completed America's Most Embarrassing Living Room contest that was featured in the HGTV magazine (Jan/Feb issue) as well as America's Best Kept Secrets where I went to some truly unique places in San Francisco, Austin, TX, and of course Chicago! Coming up on March 23rd my newest show, HGTV Home Makeover, will air at 6/5 CT and that same night I will be helping Dina Manzo (of HGTV's Dina's Party and formally Housewives of New Jersey) host her charity's Lady Bug Bash at the Chicago Cultural Center (talk about amazing architecture!). I will be auctioned off live with a $5,000 gift certificate to Mitchell Gold & Bob Williams. The event is mostly sold out but there are a few regular tickets available! I hope to see all my Chicagoan fans come out and support this amazing charity! I'm also working on some new TV projects that I can't exactly share just yet! Follow me on Facebook and Twitter and I'll post what's next as soon as I can! I always respond personally and answer all the design questions people send my way!
Well Sh-t, Leslie Jordan Has Shared Three Videos Of Himself Dancing In One Week And They're All Perfect
Doing much better now, Leslie.
If you've never believed that "good things come in small packages" then you've never seen Leslie Jordan's instagram. The 4'11" actor known for his iconic roles in shows like Will & Grace and American Horror Story has recently developed a whole new fanbase who loves him for his viral Instagram videos. Usually starting each video by greeting fans with "Well shit, how y'all doing?", viewers have grown to anticipate Jordan's hilarious recounting of stories from his time in show biz or growing up in the south. This week, however, the Tennessee native has shared 3 videos of himself dancing within 5 days and honestly it's precisely what we all need right now.
The first video was posted on August 12th and shows Jordan taking part of the "Git up and dance challenge" which swept the internet about a year ago. Even though he is a little late, the video is still perfection.
On August 13th, Jordan does a dance to "You Can't Stop The Beat" from Hairspray a with special guest dance partner Katie Couric!
Finally, on August 15th, Jordan does an epic "tootsie roll" and challenges Real Housewives Of Beverly Hills star, Lisa Rinna, to do the tootsie roll herself. Of course Rinna commented with a big "ON IT ❤️😂." Who could say no to the viral star?!?
The moral of the story here is that the world is going through some tough times right now but maybe, even for a few seconds, we could all feel better if we'd just dance it out. Thanks for the inspo Leslie Jordan!
Like what you read? Follow me on Instagram
Planters 'Baby Nut' Has Somehow Already Turned 21 And People Are Not Loving The News
2020 keeps getting nuttier.
The world was shocked when the iconic Mr. Peanut was killed during a pre-Super Bowl ad earlier this year. There wasn't much time to mourn, however, before a new nut was thrust onto us like back-to-school commercials in July. Yes, after the 59-year-old mascot met his untimely death consumers were introduced to his reincarnate, Baby Nut. With big, expressive eyes and a tiny stature fans began to swoon over the cute branding revamp and accepted him as the new mascot. Well as if 2020 hasn't been crazy enough, Planters just released a new commercial celebrating Baby Nut's 21st birthday and I'm not sure how to feel about it.
I'm officially 21, my friends! Before you ask, yes, I was just a baby. What can I say? It's been a nutty year. Now someone get this peanut a beer! #MakeMyBirthdayNuts pic.twitter.com/P1UfBIi4N8

— Peanut Jr. (@MrPeanut) August 11, 2020
According to a quick Google search, a peanut plant takes 4-5 months to reach maturity. So with Baby Nut being born in February, he is technically right on track in his growth cycle. The OG Mr. Peanut was the reigning mascot for 59 years so does that mean he was actually over 3,000 peanut-years old? The accelerated aging is not explained in the new ad with Baby Nut (Young Adult Nut?) simply saying "it's been a weird year." Reactions on Twitter are largely negative but as always, hilarious. Here are some of the best: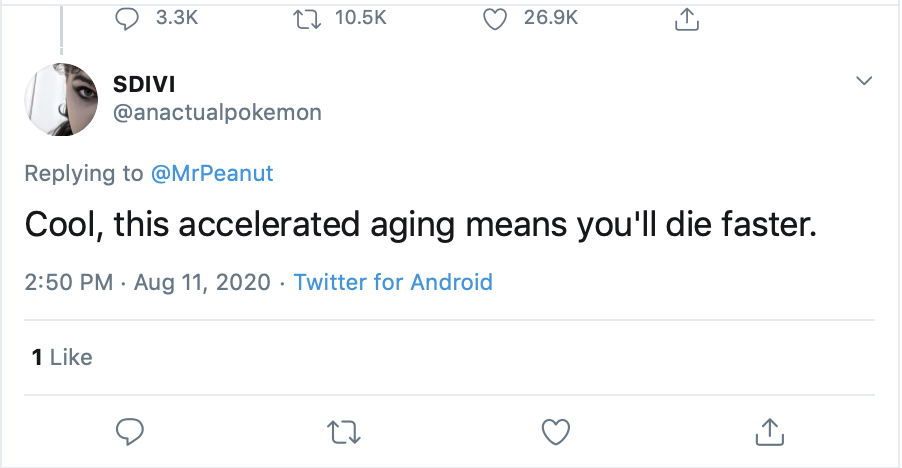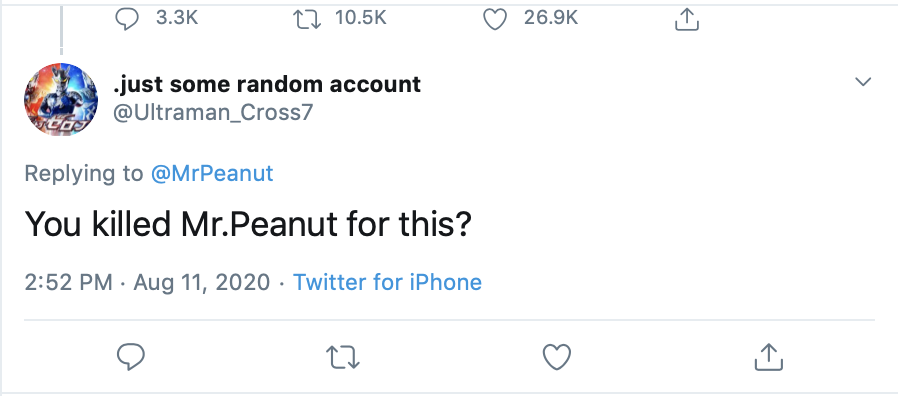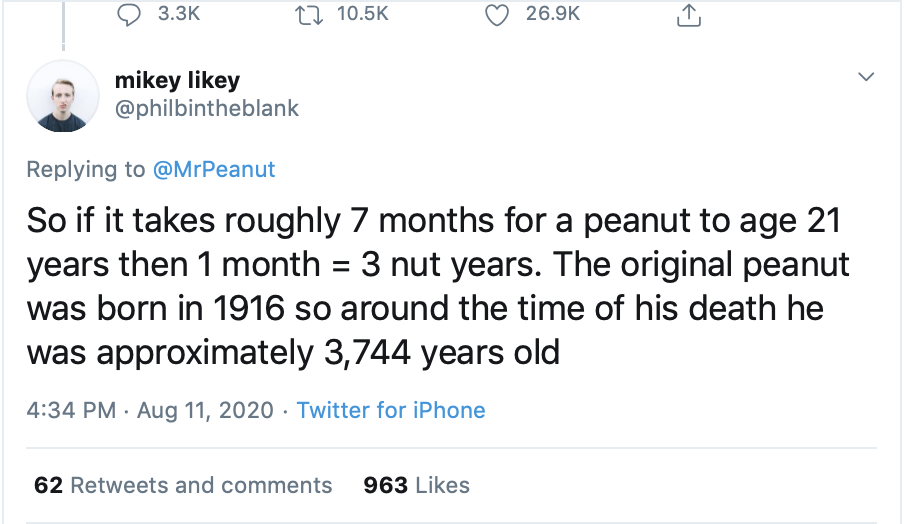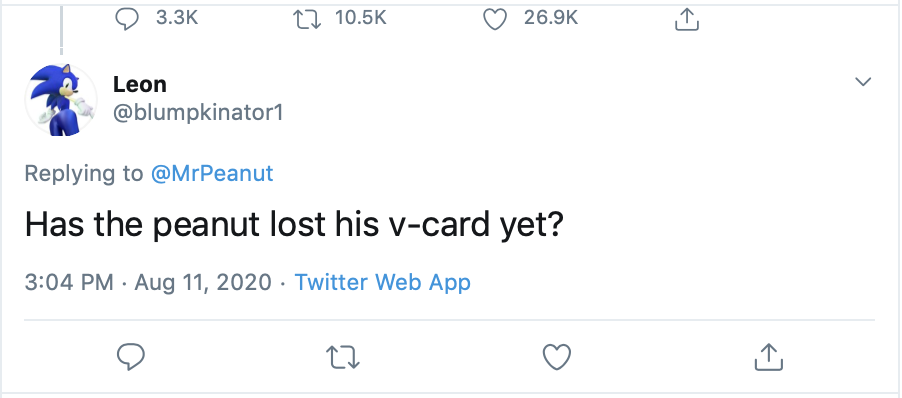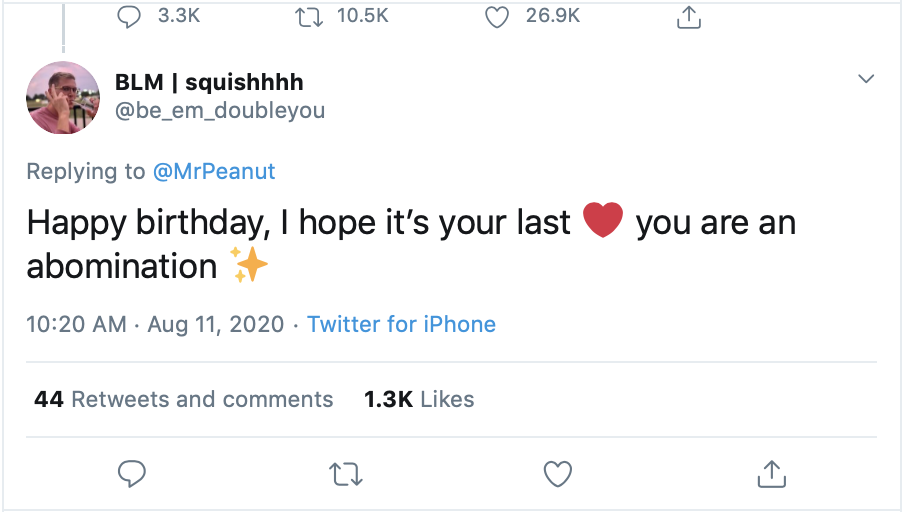 Yikes. Good thing Baby Nut is old enough to drink now…looks like he might need to throw back a few to handle some of these reactions.
To follow Peanut Jr.'s official account click here.
Like what you read? Follow me on Instagram
The Last Blockbuster Store In Existence Is Now Listed On AirBNB
Netflix could never.
Remember how exciting it was to take a trip to Blockbuster back in the 90's? You'd try to get there early enough to rent one of the latest "new releases" before everyone else in the neighborhood got to them. You'd beg your parents for some popcorn and candy which were conveniently placed on the checkout line. And if it was a whole family outing, you'd wander off to look at all the films and games that you were never going to rent but found comfort in knowing you could rent someday. Gosh, it felt like you could spend days inside one of those movie meccas. Well good news, now you can because the last Blockbuster in existence is now listed on AirBNB!
The retailer, located in Bend, Oregon is offering up three one-night stays for up to four guests for folks who want an "end of summer sleepover." The store has added an adorable living room set up which includes a pull out sofa and a big screen tv so guests can binge all their favorite films. Oh and there's snacks! Along with providing ideas for a perfect 90's night the ad also suggests that you should "help yourself to some NERDS, Raisinets and popcorn (heavy on the butter), but make sure you save room for a couple slices."
There is a catch to the whole experience though, the listing is only available to Deschutes County residents. Is it too late to move!?! Manager Sandi Harding explained that the publicity stunt is a response to the newfound economic uncertainty due to the pandemic. "Not much has changed at our store – not even our prices – and that's just how we like it! We think of ourselves as a family, and that includes everyone from the global travelers who come to visit, to the lifelong friends and couples who first met as Blockbuster employees. The Covid-19 pandemic has been a test of our community unlike any other, so we decided to list this stay to keep this tradition alive during these uncertain times."
Such a clever way to keep this iconic 90's treasure trove alive! To check out the AirBNB listing, click here!