READ: 5 Ways To Spoil Bae While Being Broke This Valentine's Day
It's February 1st, which means you can no longer escape the horrifying reality that Valentine's Day is right around the corner. And if you're a twenty-something millennial with two jobs, a high rent and a looming credit card bill from buying those must-have Britney Spears tickets because she's only in town for two days and you just have to see her….hypothetically…then buying expensive gifts for your bae might be stressing you out! But fear not, I've come up with a list of 5 great ways to show your love that won't have you on a Cup O' Noodle diet for the next month. All of the gift ideas below range from $0-$33!
1) Customized Yankee Candle – $32.99:
We start the list with our expensive product for those who can really afford to spoil their s.o. Yankee Candle now sells customizable candles, which is kind of genius because candles are already a go-to gift for any occasion. With this new product, customers choose the size of the candle (ranging in price from $15.99-$32.99), choose the scent and choose a picture to have printed on the label. That's where the romance kicks in. Select the best picture of you and your boo, and give them a gift that will really warm their heart. Bonus points if you select a scent that reminds them of something they love. Vanilla Cupcake might jog a great birthday memory, and Clean Cotton might remind them of the time you could afford to actually do your laundry before a date and didn't smell grilled cheese and a hamper.
2) Wanderer Bracelets – $24.99
This next gift idea is definitely going to tug at the old heart strings. Made from sustainable resources, Wanderer Bracelets are nifty rope bracelets that are handcrafted in Bali. Imported goods make the penny-pinching list?! Yes, I would never mislead you. Customers have the chance to choose from several customizable options, with the most impressive being the ability to have special coordinates etched into your bracelet. Depending on your level of romance, you could have the longitude and latitude of where you first swiped right, first met or first kissed permanently carved into this bit of arm candy. Either way, this is a gift that is sure going to show how much you cherish a memory of such a happy time.
3) Ditch The Pricey Chocolates – Less than $10
Did you know that Godiva advertises a Valentine's Day premiere chocolate set for $340.00? That's 155 Fiery Doritos Locos Taco Supremes from Taco Bell. Chocolate has become a staple for Valentine's Day gift giving, and because of that chocolate prices are jacked up this time of the year. Rather than break the bank on some Cupid confectionary, why not bake your lovey something more unique. There is an endless supply of recipes on the internet, so finding a great one shouldn't be difficult. Over at Genius Kitchen, they have a cupcake recipe that consists of ingredients that you probably have in your pantry. Once you've got the baking down, you can pick up some fun frostings, sprinkles and décor to really let your creativity shine. This gift would be the perfect thing to make your sweetie melt this Valentine's Day.
4) A Picture Shouldn't Cost More Than Its Worth – Like $5
Because Snapchat invented an app that can give us 10 different looks at a time, you now have dozens upon dozens of selfies stored onto your phone, many of which include your special cutie! This tip is simple. Download a photo filter app of your choice, many of which are free. Play around with the filters and really let your artistry shine while tweaking a favorite pic of you and your loved one. This will show said bae that you are willing to take the time to create some modern day artwork just for them. You can find frames at most dollar stores these days, but because its a special day we are going to beef up the price tag and spend 5 whole dollars at Michaels. A frame with a built-in mat always classes up the picture which will really top off this charmer of a gift.
5) Add More To Your Netflix And Chill – Probably Free
This is my favorite tip of all! Streaming technology has never been more accessible than it is now. Whether we stream our favorite movies and shows on our phones, tablets, computers or even televisions, we are never more than a few clicks from instant entertainment. So what modern day fairy tale would be complete without factoring in a little bit of our favorite technology. The idea is simple: hop on your streaming app…or let's be real, hop on your friend of a friends streaming app that you secretly grabbed the password to…and start watching your bf/gf's favorite show from the beginning. Now this may be quite the feat if you were trying to charm me since I have seen every episode of Grey's Anatomy at least three times, but hey I'm worth it. Never the less, on V-day you call your cuddle-bug to come cuddle up to watch their favorite show. Imagine their surprise when you show off how much you know about their television obsession. It's a really fun, romantic and affordable way to bond and show interest in the one who has your heart.
AWWW: A Rescue Team Of 9 Was Needed To Rescue 1 Adorably Chubby Rat
Over in Bensheim, Germany a rotund rodent got herself into a jam when she tried to squeeze through a hole of a manhole cover only to get stuck…and honestly, I can relate. When I was 8 years old I tried to squeeze my thunder-thighs-in-training into a children's swing and it took my dad and three other grown men to get me out. I am the German fat-rat!
Volunteer firefighters were called when a young girl noticed the fat rat was stuck and no time was wasted to help the poor critter. Eight firefighters and at least one animal rescuer appeared on the scene to safely extract the chubby critter. Animal rescuer Michael Sehr told BBC "She had a lot of winter flab and was stuck fast at her hip. There was no going forward or back." When asked why anyone would even want to save something so many are repulsed by Sehr said "Even animals that are hated by many deserve respect."
Alls well that ends well! Hopefully no authorites will be needed to help me shimmy out of these skinny jeans I thought looked cute this morning…in the meantime, check out the entire rescue below!
Elton John And Taron Egerton Performed A Fantastic Duet Of 'Tiny Dancer'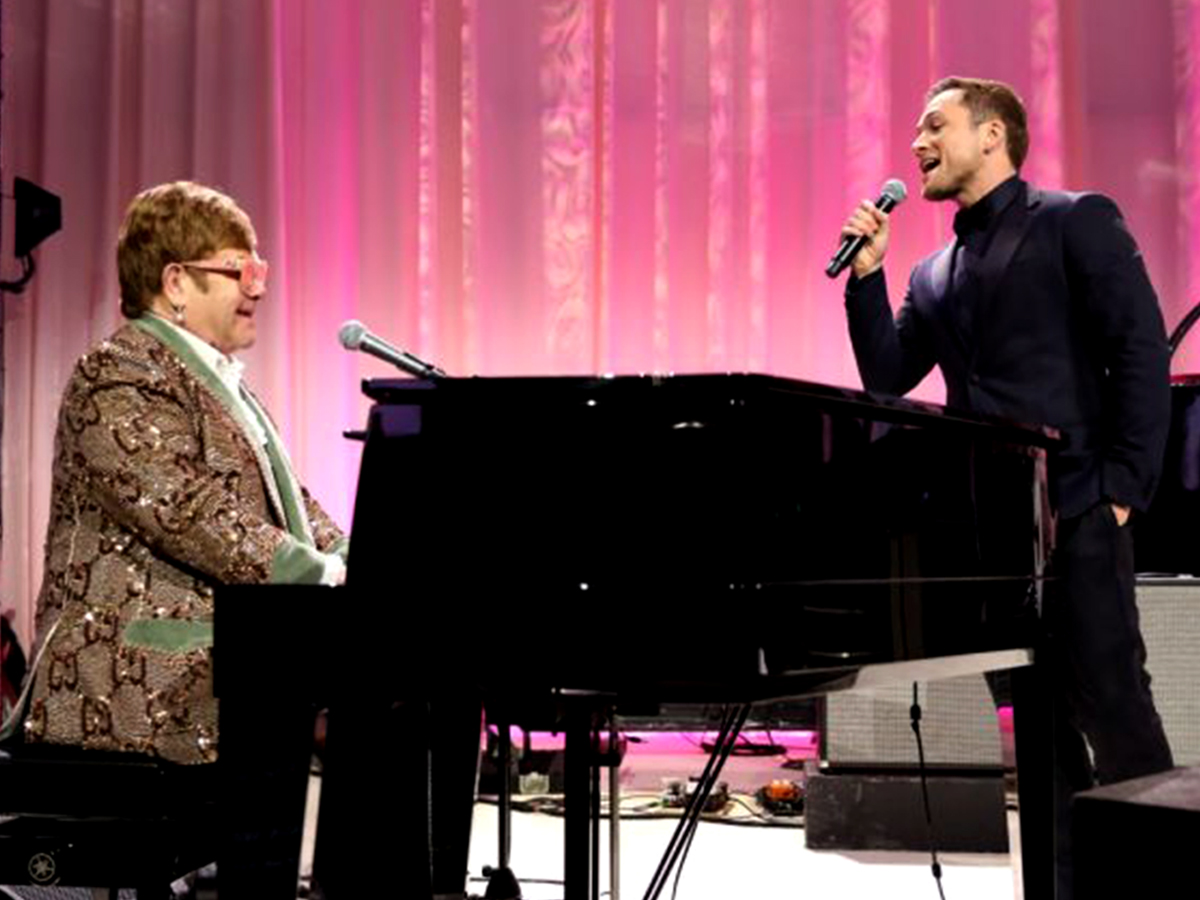 The dancer may be tiny but the talent on stage was massive! Taron Egerton and Elton John gave a fantastic performance of "Tiny Dancer" last night at the 27th Annual Elton John AIDS Foundation Academy Awards Viewing Party.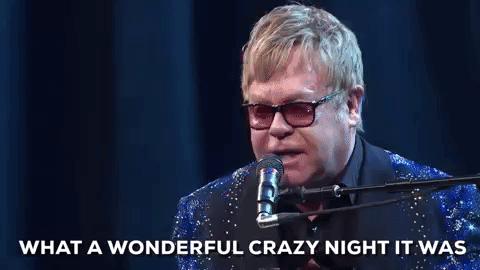 If you've been looking for a reason to toss on your bedazzled cape and brightly colored sunglasses then boy do I have good news for you. An "epic musical fantasy" about Elton John's life, entitled Rocketman, is expected to hit theaters in May 2019. Taron Egerton, from Robin Hood fame, plays the musical legend and judging by his performance last night, we are all in for a treat. The audience of the charity event felt like a candle in the wind when Taron suggested an off-the-cuff performance of "Tiny Dancer." There isn't even a pun creative enough to embody what the audience must have felt when Elton John himself volunteered to accompany Taron on the piano!
In addition to a truly moving performance, the 27th Annual Elton John AIDS Foundation Academy Awards Viewing Party raised more than $6.3 million for an effort to end AIDS.
Click below to take a look at the magical performance from last night!
VIRAL: There Is No Room For Love When This Dog Protects His Barney
I think this dog missed the whole "I love you, you love me" message Barney was trying to teach all those years ago…
In this viral video posted to Twitter, an adorable pup channels his inner Cujo anytime his owner gets close to the Barney the Dinosaur stuffed animal. While the frenzied attacks are comical in themselves, this video should definitely be played with the sound up. While we never see more than the dog owner's hand, we hear his high pitched screams of terror every time the dog take a lunge.
Click below to laugh along!