REALI-TEASE: Carole Radziwill Is Leaving 'RHONY' And My Heart is Officially Broken
Carole is leaving The Real Housewives Of New York. I have had break-ups that hurt less than this! The hip, chic, Soho gal is tossing her golden apple aside to go back to her roots. The award winning journalist and author confirmed with PEOPLE that she will be leaving the hit reality show to return to journalism and producing.
Carole became a Housewife in season 5 after a big cast shake up which resulted in 4 previous housewives exiting the show. Fans immediately took to Carole's chill demeanor and interesting outlook on life. Her past also proved to be equally as compelling as she married into royalty when she wed Anthony Radzwill, son to the Prince Stanislas Radziwill. Carole was widowed only four weeks when her best friend Carolyn Kennedy, along with John F. Kennedy Jr. and Lauren Bessette, died in a plane crash. All of this heartache molded Carole into one of the most fascinating Housewives of any franchise.
Over the years, Carole befriended many of the ladies on the show but became besties with Bethenny Frankel upon Bethenny's return in season 7. The two were inseparable and their relationship often sparked jealousy amongst the other cast members. This season however, their relationship has taken a turn for the worst with numerous unsuccessful attempts at reconciliation. I will for ever be team #CARTHENNY though and secretly held out hope that the two would mend their bond and be the gal pals we once knew. Alas, it seems the wounds will remain unhealed seeing as some are blaming the feud for Carole's exit.
Of the exit, Carole spoke exclusively with People saying:
"After six seasons on Bravo's RHONY, I have decided to return to what I do best —  journalism and producing. I am sure this does not come as a surprise to any of the viewers, all of whom have been supportive, encouraging, and kind. My original curiosity about reality television has waned over the years and I am focusing on TV and writing projects that better suit my more steady temperament. I have worked with amazing producers, made great friends, and I'm thrilled to leave frenemies behind. I will remember this entire experience with delight, humor, and a veracious accuracy. Next."
On Watch What Happens Live: After Show last night, Ramona Singer was asked who she would choose to replace Carole and her answer was so politically correct that an elementary school principal would have given her a gold star.
It will take me months to get over Carole's exit from my fav reality series but I guess I can use the time to work on real life human interactions. How lame. In the meantime, you can catch The Real Housewives Of New York City on Wednesday's at 9pm on Bravo.
Laura Dern Honors Her Parents In Touching Academy Award Win Speech
Laura Dern, who has been slaying awards season this year for her role in "Marriage Story," took home the ultimate prize – a Best Supporting Actress Academy Award – and thanked her actor parents in a touching acceptance speech.
Her parents, actors Diane Ladd and Bruce Dern brought her to the Oscars with them when she was just 7 years old.
"Some say never meet your heroes. I say if you're really blessed, you get them as your parents. I share this with my acting hero my legends, Diane Ladd and Bruce Dern. You got game. I love you."
Dern's mother has been nominated three times, her father twice, but neither have won. Her mother can be seen during the speech crying in the audience.
Congrats Laura!!!
POP UPDATE: Justin Bieber, "Friends" For Life, And The Critics Choice Awards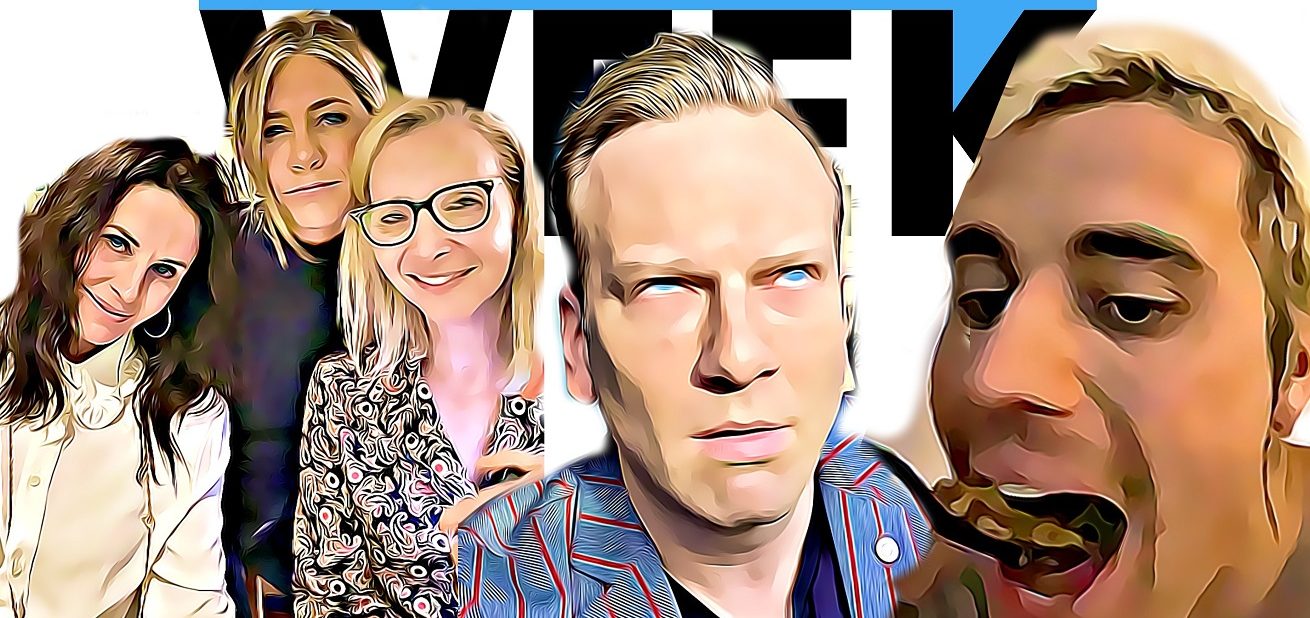 We're going to be doing some quick video updates whenever we can! Here's the latest! Justin Bieber begging for streams, (while you can hear him chew – ew), the ladies of Friends reunited, and mother nature. Take a look!
Courteney Cox's Instagram Caption Is Every Parent With A Teenage Kid
Have you heard? It's 2020 and we're all supposed to music videos on TikTok. Courteney Cox is no exception. The TV star posted an instagram of her and her daughter Coco dancing it out, with the hilarious caption, "Wanna see your child lose their patience? Do a TikTok with them."
Also, how long does it take to actually learn one of these routines? It seems very time consuming.
What I was really hoping for was video of her daughter losing her patience, but what we got was a pretty strong routine!