In A Gripping Interview, Selma Blair Talks Frankly About Her MS Diagnosis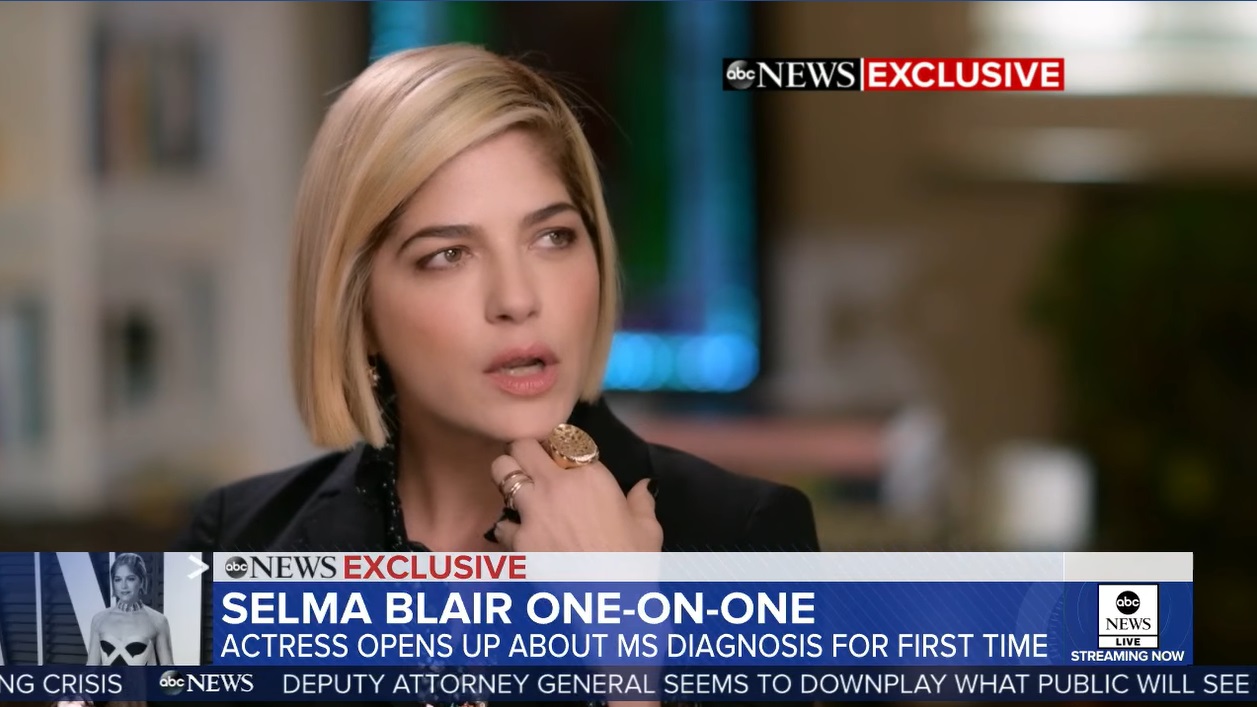 In a powerful interview with GMA's Robin Roberts, Selma Blair faces the interview head on, even while in the midst of an MS flare up.
SCROLL DOWN FOR THE FULL INTERVIEW
The 46 year old actress has not been seem much since revealing her diagnosis on social media, only to stun fans and photographers looking gorgeous on the red carpet of the Vanity Fair Oscar party. Days before she had given the interview, indicating that Blair is ready to talk openly about her disease. The interview is a testament to her strength, as she spoke articulately and openly about what it has been like for her.
"Ever since my son was born, I was in an MS flare-up and didn't know, and I was giving it everything to seem normal..And I was self-medicating when he wasn't with me. I was drinking. I was in pain. I wasn't always drinking, but there were times when I couldn't take it."
"I was a little scared of talking, and my neurologist said 'no' – this will bring a lot of awareness because no one has the energy to talk when they're in a flare up," she confessed. "But I do, because I love a camera!" she joked.
The interview is a must see:
Dan And Eugene Levy Announce That Next Season Of 'Schitt's Creek' Will Be It's Last
Well ain't this some real, sad Schitt…
Very few television shows gain popularity over time which is why I am astonished by the news that Schitt's Creek will be ending after next season! It's got charm. It's got wit. It's got heart. Not to mention outstanding performances by LITERALLY everyone in the cast. Ugh, I'm more upset than a disgruntled pelican.
I guess we should all take comfort in knowing that the show is ending on the terms of  co-creators (and stars) Dan Levy and Eugene Levy. Just moments ago they released an official statement announcing their renewal for a 6th and final season. In the statement they express their gratitude for being given "the time and creative freedom to tell this story in its totality, concluding with the final chapter that [they] had envisioned from the very beginning."
Over the course of it's five seasons, Schitt's Creek has been praised by fans and critics alike for their hysterical yet positive storylines. Dan Levy, whose character is identifies as pansexual, has been clear since the show's beginning that the world of Schitt's Creek is a tolerant one that is free of bias and homophobia. I can't tell you how many times I laughed and then snot-cried on my couch while watching this show!
There are three more episodes of season 5 of Schitt's Creek to still be aired with a final fourteen episodes airing sometime in 2020. Seventeen episodes doesn't seem like nearly enough time for a proper bereavement to deal with this Schitt-y news but I guess we will have to make do.
Like what you read? Follow @ChrisSiretz on Twitter and Instagram
QUESTION: Did You Know Cole Sprouse Could Sing?!?
All those years on Disney and never once did we see Cole Sprouse belt out a few bars but now the bruiting teenager suddenly wants to sing?!
You know Cole Sprouse. He was on Friends as Ross' son, Ben. He was in the Adam Sandler hit, Big Daddy. He and his twin brother, Dylan, even starred as the titular roles in the Disney channel original series, The Suite Life Of Zack And Cody. I can't tell you which one is which because the twin thing has always confused me.

Nevertheless, Cole has grown up quite a bit and is now starring in the wildly popular, CW hit Riverdale. The series is a dark twist on the old Archie comic books and Cole plays the social outcast, Jughead Jones. Last night was the show's second annual musical episode and this time they paid homage to Heathers: The Musical. Jughead didn't so much as hum one note in last years musical so fans were SHOOK when he had an entire duet with co-star Lili Reinhart last night! The pair sang a beautiful rendition of "Seventeen" along with Vanessa Morgan and Madelaine Petsch…which is surprising because no of us knew that Cole could sing!
Of Cole's hidden talent, showrunner Roberto Aguirre-Sacasa  said "Cole and I talked about it a while ago and I said, 'How do you feel about musicals and stuff?' He basically said, 'Listen, I never sang for Disney. It would take a lot.'" This might be a new avenue in Cole's career, however, as he sings in his new movie Five Feet Apart as well. Well color me surprised! Good job hiding this suite talent, Cole!
Riverdale airs on The CW Wednesdays at 8p EST.
Like what you read? Follow @ChrisSiretz on Twitter and Instagram
Wendy Williams Opens Up: "I Have Been Living In A Sober House."
The talk show host, who has been very supportive of both me personally and this website, bravely opened up to viewers today about her struggle with addiction. I wish her strength and applaud her courage.
She said she wanted to be honest with her viewers. "There are people in your family, it might be you, you have been struggling, and I want you to know more of the story… So, this is my autobiographical story, and I'm living it. I'm telling you this."
"For some time now, and even today and beyond, I have been living in a sober house. … And you know, I've had a struggle with cocaine in my past and I never went to a place to get the treatment. I don't know how, except God was sitting on my shoulder and I just stopped."
She says that now, after the show she attends meetings around the tri state area and then is driven to a sober house. She then shared details of the facility and a group of guys she shares the common areas with: "They hog the TV and watch soccer, we talk and read and talk and read and then I get bored with them. Doors locked by 10 p.m. Lights out by 10 p.m.. So I go to my room, and I stare at the ceiling and I fall asleep to wake up and come back here to see you. So that is my truth."
"I know, either you are calling me crazy or the bravest woman you know," she continued. "I don't care."
Williams' Hunter Foundation has already placed 56 people into facilities world wide since she announced a substance abuse hotline little more than a week ago.
It took a lot of bravery to stand before her audience and the world to share her truth. I personally admire her so much for taking this pivotal step, and opening up to her viewers.
We wish you the best, Wendy!