Stan Lee Said The Only Way To Combat A Racist Is To 'Expose Them' In A Periodical From Over Fifty Years Ago
A man truly ahead of his time.
The concept of finding strength within a community has never been more pressing than it is right now. Our country is divided in so many ways but amongst the fractures you can see groups joining together in an effort to show that unity is always stronger than division. If anyone can attest to that belief it was the ingenius comic book writer, editor, publisher, and producer Stan Lee.
The man responsible for the Marvel universe we know and love today was behind a number of comic books which featured outcasts who looked beyond their differences in order to unify and protect the greater good. A concept our world might need reminding of. In the back of the comics Lee wrote for was a section entitled "Stan's Soapbox," where the wordsmith would write short articles expressing some things that were on his mind. One soapbox article from 1968 has resurfaced and gone viral because of how eerily fitting it is for today.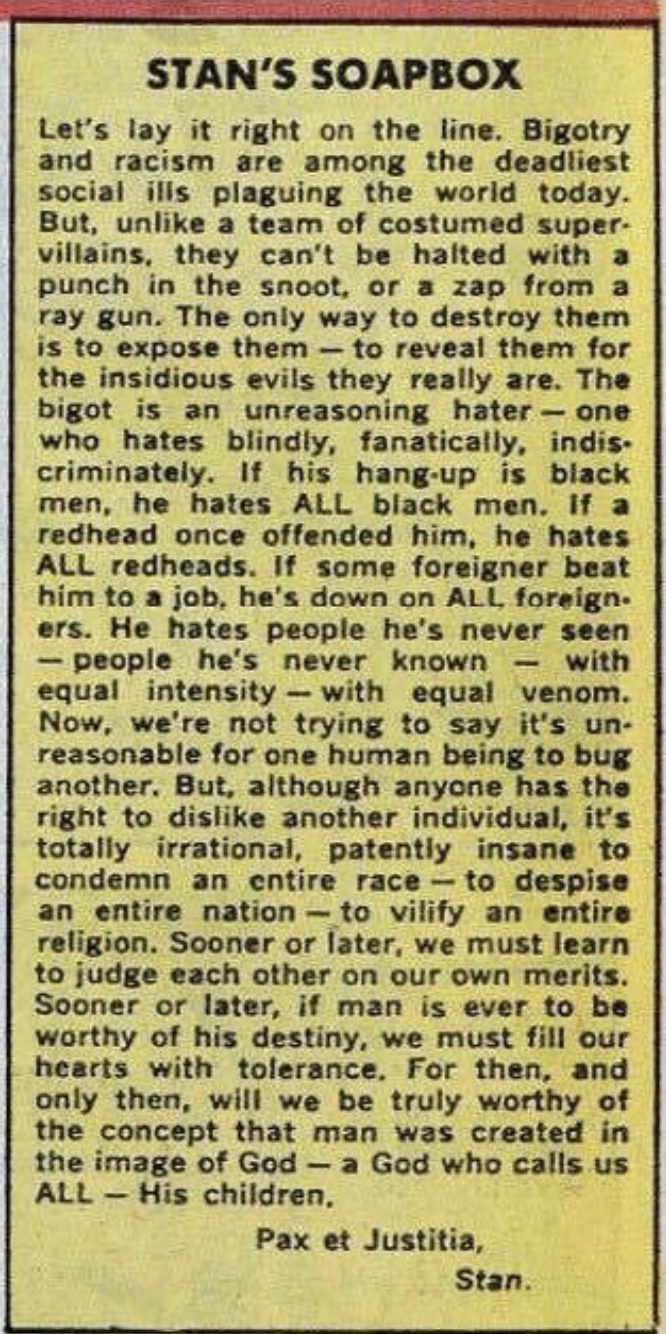 In the article Lee calls bigotry and racism "the deadliest social ills plaguing the world today." But unlike a super villain from one of his comics, racism and bigotry cannot be defeated by a "punch in the snoot, or a zap from a ray gun," he says, rather "the only way to destroy them is to expose them – reveal them for the insidious evils they really are." The comic book creator suggests the only way for our world to continue peacefully is to "judge each other on our merits" and to "fill our hearts with tolerance."
Along with the soapbox article, a clip from an interview with Larry King has gone viral with Lee once again wishing to see more tolerance in the world. When asked what the one thing he would change about the world Lee responded "I'd make people not hate each other because of their religion, because of their nationality, because of any stupid reason. If we can abolish hatred, we live on this gorgeous planet."
One thing you would change about the world?

Stan Lee: " I'd make people not hate each other because of their religion, because of their nationality, because of any stupid reason. If we can abolish hatred, we live on this gorgeous planet." pic.twitter.com/lxHzUWSkCL

— Sílvia (@JustMe_Silvia) June 9, 2020
Why couldn't he be the celebrity that ran for president!? Hopefully the villains Lee warned us about over fifty years ago will soon seem like a thing in the past and that beautiful, tolerant world he dreamed of will become a reality.
Like what you read? Follow me on Instagram
Amber Riley Performs Beautiful Tribute To Naya Rivera On 'Jimmy Kimmel Live!'
RIP.
Whenever Amber Riley and Naya Rivera combined their insurmountable talents on the hit show Glee there was an almost tangible magic that left fans in awe of the powerhouse duo. Playing Mercedes Jones and Santana Lopez respectively, the two characters may not have always seen eye to eye but when they joined you knew you were in for a memorable performance. It is sad to think that we will never get another "River Deep, Mountain High" or "The Boy Is Mine" moment after Rivera's passing last month but there is something special in knowing Riley will carry the torch for her fallen costar forever.
On Thursday night introduced by guest-host Lil Rel, Riley virtually appeared on Jimmy Kimmel Live!  to perform a new song from her EP entitled "A Moment" which was dedicated to Rivera. "Not too long ago we both lost a really amazing friend in a tragic accident and we both will miss her forever," said Lil Rel. The performance is displayed in black and white and features Riley singing in front of a montage of photos of her former co-star. It is truly stunning.
Check out the tribute below.
Like what you read? Follow me on Instagram
You Will Have Hearts In Your Eyes When You See Cardi B's New Hair Do
Wait till you see her WAP (Wonderfully Artistic Pigtails)
Cardi B has never shied away from a bold look and her latest hair do is proof of that.
The 27-year-old "WAP" singer…song of the year IMO…took to Instagram Tuesday night to show off her pink, heart-shaped pigtails and people are loving the look. In the short video Cardi asks fans if they would "go to the club with your hair like this" and I think we can all agree that this look would definitely turn heads at the clurb.
https://www.instagram.com/p/CEVgLpyAHCp/?utm_source=ig_embed&utm_campaign=embed_video_watch_again
The artistic hair do was crafted by Cardi's long time longtime stylist Tokyo Stylez and took at least three hours to complete. Fans commented about how beautiful the unique hairstyle is but questioned how the rapper was going to sleep that night. Let's hope those pigtails can be twisted off and be thrown on the nightstand.
Like what you read? Follow me on Instagram
Check It Out, Joe Jonas Has Shocked His Fans With His New Look
I'm a sucker for his new do.
It doesn't matter if you are more of a "Nick" or a "Kevin" or a "Joe" when it comes to loving the Jonas Brothers. All that matters is that you all agree with me that Joe is obviously the most attractive of the three brothers and that's just a fact. I'm sorry but I don't make the rules.
The 31-year old stunned fans today earlier today when he debuted a shocking new look on his Instagram. Sporting a black t-shirt and those signature dark, furry-Murray eyebrows, Joe flashed his new platinum blond buzzcut. I know I might be in the minority here but I do love when these Hollywood hotties switch it up and do the blond thing. I loved it on Adam Levine. I loved it on Zac Efron. I even found myself oddly drawn to the OG platinum stud, James Michael Tyler aka Gunther from Friends.
Perhaps the new do is a part of Joe's daddy-makeover as he and his wife, Sophie Turner, recently welcomed their first child, Willa. A source told ET "Sophie and Joe have named their daughter Willa. The couple's bond has gotten even stronger since the addition of their daughter. Although circumstances are different right now because of the [coronavirus] pandemic, Joe was there for the birth of his daughter. The couple is happy they now have time to spend at home with their daughter and get used to their new life together."
Be still my heart.
Like what you read? Follow me on Instagram