Socially Distant Food Fest Will Bring You Chicken Wings From Tyra Banks, Snoop Dogg, Anthony Anderson And More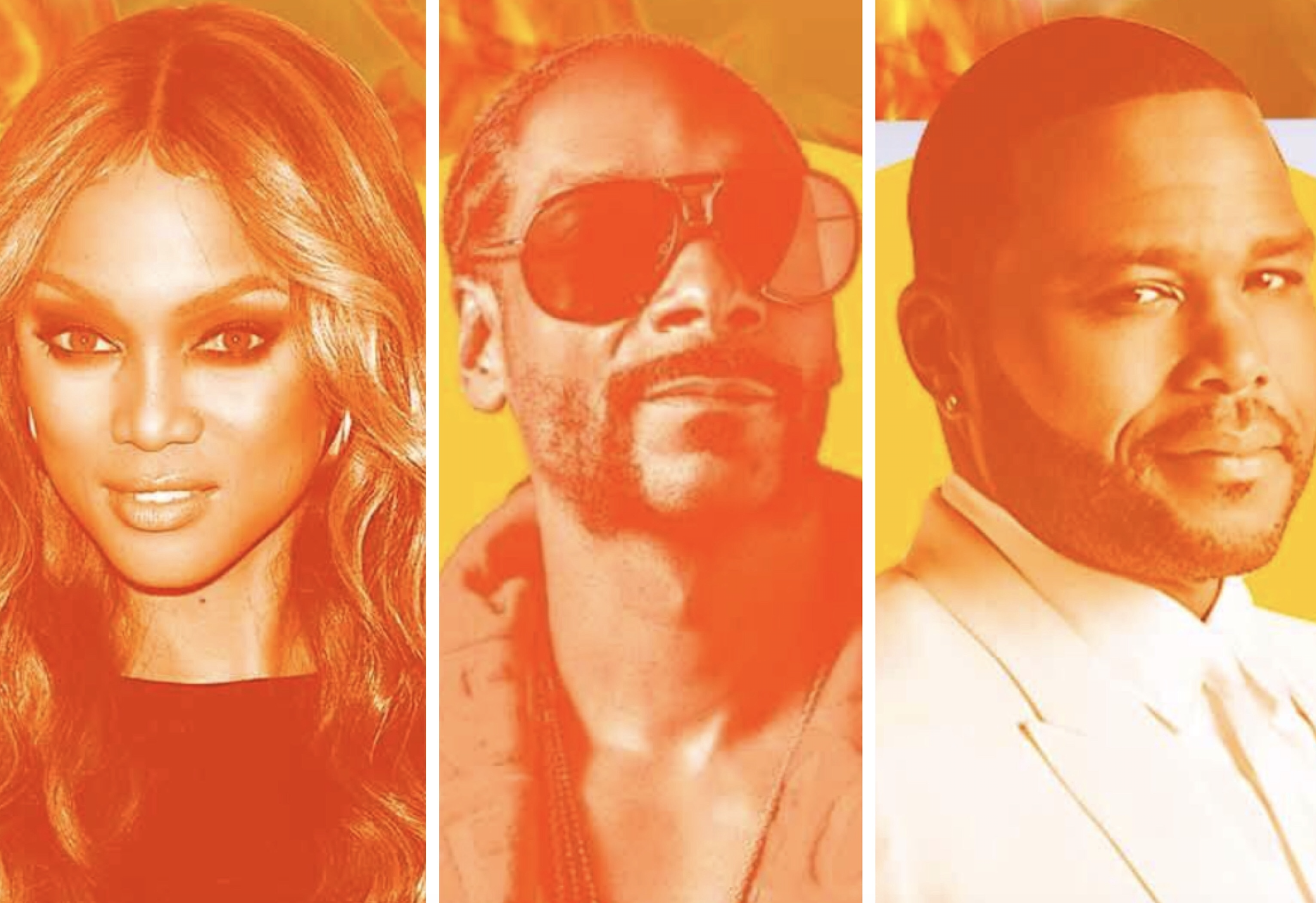 Can't host a food fest this year? Ain't no thing but a chicken wing.
The annual Wing Fest, hosted by Off The Menu, had to get creative when it came to this year's food festival. Since 2020 has just been one giant epic fail after another the public cannot convene in one space to enjoy the scrumptious snack that is the chicken wing. Rather than canceling or postponing the event, Off The Menu has partnered with Uber Eats to create the Wing Showdown: a fundraising event where consumers vote for the wings that belong to their favorite celebrities.
Beginning on July 29th and running through August 2nd, celebrities like Tyra Banks, Snoop Dogg, Anthony Anderson and Haylie Duff will partner with restaurants so their wings can be delivered straight to your door. Each celebrity contestant will also post a video sharing their recipe on the Showdown siteso you can make each variation from home if you prefer a truly distant experience. Here's what each celeb has cooked up:
Shaquille O'Neal – Shaq's Big Chicken Hot Wings come coated in Nashville-style hot sauce
Haylie Duff – Haylie's Honey Buffalo Wings feature a Texas-style dry rub and a sweet-and-spicy buffalo sauce
Jessie James Decker – "Just Feed Me" Chicken Wings are Jessie James Decker's wings, which come grilled and spiced with Cajun seasoning
Tyler Cameron – Tyler's Tangy Wings, from Tyler Cameron, get smoked in a brown sugar dry rub, then tossed in BBQ sauce
Snoop Dogg – "Get Tha Chip" Fried Chicken Wings are Snoop's signature wings, and they're coated in potato chips and then deep fried
Phil Heath – Mr. Olympia's Cheat Meal Wings are Phil Heath's wings, fried and tossed in a honey Sriracha glaze
Anthony Anderson – Anthony's Sticky, Garlicky Salt & Pepper Wingsare Anthony Anderson's wings come twice-fried and doused in garlic sauce and three types of pepper
Zac Posen – The "Wingin' It With Zac" option is Posen's signature wings, and they're topped with a honey and soy sauce blend
Tyra Banks – Tyra's "Smize With Your Wings" are fried and tossed in a sweet-and-spicy maple glaze
Jo Koy – Koydobo Wings are Jo Koy's wings, and a take on his family's Filipino adobo chicken recipe
Once you've tried all 10 wings…ok I guess you don't have to try all ten but what else do you have going on in quarantine?!…then simply go to the Off The Menu site to vote. The wings range in price from $12-$16 with proceeds from the contest going to charities like the Center For Policing Equity. And don't worry if you're not based in L.A, the Wing Showdown spans over nine cities this year NYC, Atlanta, Houston, Chicago and Toronto.
To check out each celebrity recipe or to find out more information on where to get your wings, click here!
Like what you read? Follow me on Instagram
Cheetos Is Making Dinner Dangerously Cheesy With New Line Of Mac 'N Cheese
Can hardly wait to try this cheetah's cheddar.
Whether you like it creamy, crumb-coated or conventional, macaroni and cheese is a dish that is hard to improve on. Sure you can add bacon or lobster or try something wacky like frying it up but when it comes down to it, mac and cheese is pretty much perfect as is. Or so I thought. Frito Lay just announced their new line of Cheetos flavored Mac 'n Cheese and I take back everything I just said.
The dangerously cheesy new line is exploding into pasta aisles with three exciting flavors all "made with authentic Cheetos cheesiness using Chester's Top-Secret Seasoning." You'll be able to choose from Bold and Cheesy, Cheesy Jalapeño and Flamin' Hot. Oh choosing just one is practically like Sophie's Choice. Of the new product line Rachel Ferdinando, SVP, CMO Frito-Lay North America said "We've seen incredible culinary creativity from our Cheetos fans through the years, taking our product and using as an actual ingredient in recipes—whether at restaurants, or now more than ever, at home. Cheetos Mac 'n Cheese borrows that culinary inspiration to provide a mischievous mashup of an ordinary fan favorite. We're putting our orange-dusted fingerprints on an at-home staple at a time when home mealtime occasions are on the rise."
To get your fingers, which ironically won't be covered in Cheetos dust after eating this, on a box of Cheetos Mac 'n Cheese simply head to your closest Walmart or order online here. All three flavors come in either 5.7 ounce boxes or a smaller, single serving cup. Although, whoever can simply have one single serving cup deserves a medal to be honest.
Like what you read? Follow me on Instagram
Ben &Jerry's Shared Their Secret Recipe For Edible Cookie Dough And It Looks Dough Good
Finally, a fearless way to eat cookies in their truest form.
By now, we know that the raw eggs and untreated flour in cookie dough can make us sick. By now, we also know there's no resisting the urge to sneak a taste of that delectable dough right from the bowl it was mixed in. We are only human! Well, there is a way to enjoy all the raw cookie dough you want by simply omitting the eggs and heat treating the flour and luckily for us, Ben & Jerry's just shared their scrumptious looking secret recipe.
First things first: how the heck do you heat treat flour? According to Ben & Jerry's official website "there are two main ways to heat treat flour so that it's safe to eat in edible cookie dough. The easiest method is to microwave your flour on high until it reaches 165°F throughout. Use an instant-read thermometer to make sure that it has all reached 165°F, then stir it into your edible cookie dough recipe as usual. The other method is to heat your flour in a conventional oven. Spread the flour out on a rimmed baking sheet and bake it in a preheated oven at 300°F in 2-minute intervals, checking the temperature after each interval until it reaches 165°F throughout."
Sounds simple enough! The edible dough making process is actually altogether simple, plus it will keep in an airtight container for one week in the fridge or six months in the freezer. Who has that kind of self control to wait six months to enjoy the deliciousness?
Recipe
Prep Time: 15 minutes
Total Time:  15 minutes
Total Yield: About 2 cups
8 tbsp. unsalted butter (1 stick), room temperature
1 cup brown sugar, packed
2 tbsp. heavy cream
1 tsp. vanilla extract
½ tsp. kosher salt
1 cup flour
 ½ cup chocolate chips
Instructions
Heat treat your flour. Do not skip this step!
Using a stand mixer, beat the sugar and butter until fluffy.
Add in the vanilla, cream, and salt and mix to combine.
Add the heat treated flour and mix to incorporate.
Fold in the chocolate chips
Enjoy! No more worrisome dough eating!
This recipe is definitely a game changer and with the seal of approval from Ben & Jerry's you know it's going to be delicious!
Like what you read? Follow me on Instagram
POLL: YouTuber Tyler Oakley Made A 12-Minute Video Ranking Different Ways To Eat Potatoes So We Have To Know Which Is Your Favorite?
Is your spud a stud or a dud?
The potato is really the Meryl Streep of the food world. It is grounded, versatile and adored by many. I'm sure Meryl wouldn't necessarily like being compared to a root vegetable but it's not like I'm comparing her to Brussel sprouts. In any event, with all of the ways to enjoy a potato, whether it'd be mashed, fried, baked, boiled or sipped (here's looking at you Vodka), it couldn't hurt to have a definitive ranking of all the ways you can enjoy a spud. Well luckily for us YouTuber Tyler Oakley created a nearly 12-minute video dedicated to just this.
In the video, which Tyler describes as "controversial," the viral sensation breaks down 20 different forms of potato and ranks each one from "God Tier" to a big, old, stinking F. Tyler comes out swinging by stating he does not like the classic baked potato. I feel I have to oppose this strong start because while a baked potato may not be the fanciest way to enjoy the carbohydrate, it is like the little black dress of the potato world. It can be dressed up, dressed down, accessorized and perfect for any occasion. For those keeping track I have now compared a potato to both an Oscar winning actress and a fashion staple. The video continues on with some more controversial tater-takes, hilarious commentary and only two contenders making it to the "God Tier" ranking.
So we want to know, how do you like your taters?
Vote on the poll below to see just how popular your potato is.
Like what you read? Follow me on Instagram