VIDEO: Janet Echelman Is A Reminder Of The Beauty Of Passion, Art, And Confidence.
In yet another inspiring TED talk, Janet Echelman talks about how multiple rejections from Art school, not only didn't she give up… she took outdoor art and inspiration to a whole new level. Gorgeous and inspiring.
Wow, is this woman awesome! In yet another inspiring TED talk, Janet Echelman talks about how multiple rejections from Art school, not only didn't she give up… she took outdoor art and inspiration to a whole new level.  To see more of her work, CLICK HERE.
 
A Botched Painting Restoration Has Gone Viral But The Internet Reactions Are The True Masterpieces
A restoration so botched not even Drs. Terry Dubrow and  Paul Nastiff could save it.
Art is interpretive…which is why it is so impressive that everyone has unanimously interpreted the restoration of "The Immaculate Conception" as being just awful.
An art collector in Valencia, Spain paid €1,200 to a furniture restorer to have his copy of Bartolomé Esteban Murillo's famous painting cleaned. Something went wrong with the cleaning and the painting left the Virgin Mary's face unrecognizable. As if poor Mary hadn't already suffered enough, the two attempts to restore the painting left the masterpiece looking like something found at a second grade art fair.
Images of the botched restorations traveled faster than a rampaging bull in Pamplona which led the Royal Academy of Arts to post this tweet:
For today's #RAdailydoodle, who can do a better job at restoring this copy of baroque artist Bartolomé Esteban Murillo's 'The Immaculate Conception of Los Venerables'?

(you can also start from scratch) pic.twitter.com/TXphAJr4JG

— Royal Academy (@royalacademy) June 23, 2020
And obviously the responses have been hilarious.
A shocking take.
https://twitter.com/TheBeardyBoyo/status/1275445446073135105
Good art is hard to lego of.
Here's my Lego version #RADailyDoodle pic.twitter.com/msTxAQrNTR

— Thomas Cogley (@JohnnyPixels) June 23, 2020
Eye-popping.
Here you go. pic.twitter.com/tPj6AwSnd3

— Smallbrainfield (@Smallbrainfield) June 23, 2020
Self restoration is key.
https://twitter.com/jaceb77/status/1275464732032598018
And this troll.
— Brendan Donlon (@brendandonlon) June 23, 2020
And this painfully accurate observation.
Quarantine Day 1/Quarantine Day 50/Quarantine today pic.twitter.com/UWiT4fODw7

— Stephen Colbert (@StephenAtHome) June 24, 2020
The incident has sparked a further discussion about the importance of restoration with some believing laws should be put into place to protect these valuable works of art. I totally agree but until then let's just enjoy the inevitable, valuable memes that will come from this.
Like what you read? Follow me on Instagram
#DrawingWhileBlack Goes Viral As Black Artists Share Their Inspirational Works Of Art
Black art matters.
Someone once said "the opposite of war is not peace, it's creation" and we can definitely use some creativity during these fractured times. Luckily for us, social media is providing a much needed outlet for those looking for positivity and inspiration. The hashtag #DrawingWhileBlack is trending after Black artists from around the world began showcasing their talents on Twitter. And honestly, any one of these artists could be featured in a museum!
The artists sharing their work range from amateurs who draw for fun to professionals in the comic book industry to animators to illustrators to designers…the list goes on and on! It's amazing to see how much steam this creative train has picked up. Take a look at some of the works below and be sure to check out #DrawingWhileBlack on Twitter to see all the works being featured!
Hi #drawingwhileblack ,I'm Silas Onoja, a hyperrealistic painter, these are my oil paintings. I'm so in love with details pic.twitter.com/dDBeh4kzpr

— Silas Onoja (@SilasOnoja) June 5, 2020
Hello #drawingwhileblack I'm Ibim Cookey a Nigerian Artist, Using Art as a tool to Promote Black cultural heritage and power. Kindly RT.. pic.twitter.com/7I7ugXhwmS

— ibimcookey (@iamibimcookey) June 5, 2020
Hello!! My names Nia and I like drawing pretty black girls ☺️#drawingwhileblack pic.twitter.com/qR4cD42DQ5

— nia (@peachpodt) June 5, 2020
This is me. #drawingwhileblack https://t.co/yXk4bj4QXA

— Ray-Anthony Height (@RAHeight) June 5, 2020
https://twitter.com/elixiadraws/status/1268939114696622080
Hey #drawingwhileblack, Kai here! Illustrator, comic artist, animator and game Dev!
Thank you to everyone out there supporting black artists! More importantly, thanks to the black artists who are using their voice to fight oppression while being SSSTYLISH! #blacklivesmatter pic.twitter.com/ya3IhJrM1q

— KAINONAUT YELLING BLACK LIVES MATTER (@KAINONAUT) June 5, 2020
https://twitter.com/___rosheruuu/status/1268958102889680899
https://twitter.com/pianta_/status/1268905213299232769
Hello #drawingwhileblack
My name is Okolo Oliver and here are some of my artworks that celebrates black excellence in all the various black diaspora. #BlackLivesMatter pic.twitter.com/WbzWcoJgoT

— Okolo Oliver (@OliverOkolo) June 5, 2020
Like what you read? Follow me on Instagram
I Don't Know Why But You Need To See This Portrait Of Dan Levy Sitting On A Sandwich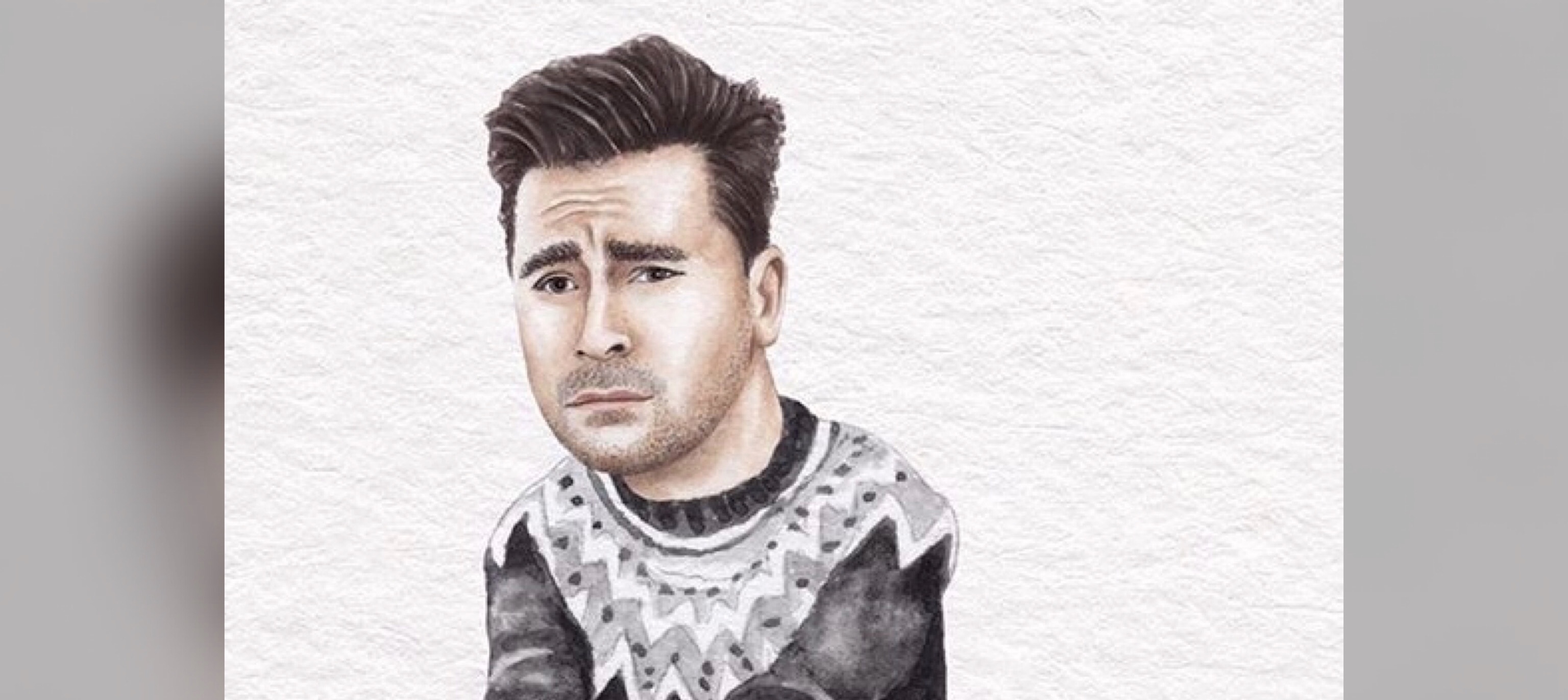 These artist renderings are truly the best things since sliced bread.
The internet never ceases to amaze me. Just when you think you've seen all that there is to see on the world wide web, you stumble across an Instagram artist who dedicated an entire series of work to celebrities on sandwiches. The appropriately named user @CelebsOnSandwiches features watercolor renderings of popular celebrities sitting on delicious looking sandwiches.Why you might ask? I literally have no idea! But who cares, because most recently the account shared a delicious looking Dan Levy sitting on a popular piece of avocado toast…and if you think I mixed up those adjectives, I most certainly did not. Of course the whimsical artwork caught the eye of the Schitt's Creek star and so he posted this today:
The foodie fun doesn't stop there though, the account is filled with dozens of sandwiches and celebrities ranging from the super popular to the super bizarre. Either way, there is no denying the expert level of artistry portrayed.
All hail the king.
Those buns can't be real…
This one is out of this world.
Wow this one comes with extra meme.
Lastly, this troubling sign of the times.
They all look good enough to eat…well except maybe the Purell one…contrary to what our president may think. If you'd like to get your hands on one of these renderings you're in luck because the account is currently running a 20% off promotion. Click here for more information.
Like what you read? Follow me on Instagram