Movie Review: Seeking A Friend For The End Of The World
Mike Finkelstein is terrified about the end of the world. He's wondering how things will work out if we all knew that everything was going to end. However, instead of watching some Michael Bay movies to brush up on the subject (Bruce Willis got out of the oil drilling business years ago), he decided to aim for something a little more…human. Here is his review of "Seeking a Friend for the End of the World".
Mike Finkelstein is terrified about the end of the world.  He's wondering how things will work out if we all knew that everything was going to end.  However, instead of watching some Michael Bay movies to brush up on the subject (Bruce Willis got out of the oil drilling business years ago), he decided to aim for something a little more…human.  Here is his review of "Seeking a Friend for the End of the World".
PLOT: When it is announced that an asteroid is going to hit Earth in three weeks time, a newly single Dodge (Steve Carell) decides to tempt his fate and seek out an old, lost love to spend the rest of his days with.  With the help of Penny (Kiera Knightley), a young, free spirited neighbor who is also trying to get back to her family, Dodge sets out on his cross country journey, and the two soon come to find that what they are both looking for may be a lot closer than they think.
Check out the trailer:
MIKE'S REVIEW:  The world is ending in three weeks.  What do you do?  It's a hell of a question to think about…how would you react when you realize that everything you worked for, everything you dreamed of, everything you saved and hoped and wanted and did means absolutely nothing anymore, because you and all the rest of the planet will be gone in the same moment in 21 days?  SEEKING A FRIEND FOR THE END OF THE WORLD answers that question, and gives us a beautiful, poignant, and most importantly, human story in the process.
When we first meet Dodge (Steve Carell), he and his wife, Linda, are sitting in their car on the side of the road.  They've just heard the news of their impending doom, and Linda, without as much as a peep, gets out of the car and runs away.   There is no joke or punch line.  She just bolts like nothing else matters anymore.  That first moment sets the pace for what ends up being a hell of a study on the human condition.
Instead of watching the same old Michael Bay action epic about the group trying to save the world, we get the other side of the coin.  Yes, we see the expected groups panicking and rioting and (shockingly) leaping to their early deaths, but as there is in any situation (even the apocalypse), we also see the comedy, the drama, and the heart.  There is no regret because everything is out of these characters' control.  There is no jealousy because everyone is going out together.  And with that comes many different characters with so many different priorities that it reads almost like the ultimate bucket list: find love (long lost or new), see family, go about your daily routine, party and screw day and night, be in charge of your own destiny, survive.  Some hopes/goals are subtle, some are extreme, some are outright mad.  All are human.
What makes the pairing of Carell's Dodge and Kiera Knightley's Penny so beautiful within this whole array of feelings is their innocence and sincerity.  Dodge wants to find his long lost love.  Penny wants to get to her family.  What starts out as a hell of an unlikely pairing between two very injured souls becomes a beautiful story of two people who genuinely, out of the goodness of their hearts, want to help each other reach their final goals.  And while we know as an audience that romance will probably (obviously) brew between the two, we're still okay with going along for the ride.
Carell may usually be the comedian and Knightley the period piece dramatist, but in this world, the roles have seemingly switched.  Just like DAN IN REAL LIFE and LITTLE MISS SUNSHINE before this, Carell has proven once again that he is a wonderful dramatic actor.  He plays Dodge with a sense of tragedy, but not without some first-rate, subtle comedy mixed in.  Taking his usually place is Knightley, who has more than enough moments to warm our hearts with her quirks and eccentricity, yet still has enough soul to put a lump in our throat when she talks about her family and being a romantic.  Backing these two up is an equally talented supporting cast, including Patton Oswalt, Rob Corddry, Connie Britton, Martin Sheen, Derek Luke, and an absolutely hysterical group of hippies at Friendsys, and thanks to Lorene Scafaria's script, all of them have their moment to shine.
If there would be one major complaint I'd have about SEEKING A FRIEND, however, it would have to be with Scafaria's apparent fear of heading into darkness.  I have no problem with the love story or the road trip aspect, but as we get closer to the end of the world, it almost seems as if those plot points are being used to shield us from the devastation.  At the same time, however (and this goes back to the whole human condition study), the movie isn't about the actual asteroid or destruction.  It's about being content with your life and yourself when everything comes to an end.  When you think about it like that, despite the fact that we still crave seeing the devastation (we're humans…we like watching car wrecks), we realize that maybe it just isn't necessary this time… 
For years, we have seen the one side of the coin when it comes to Armageddon: how do we save the world in an extraordinary way?  With SEEKING A FRIEND FOR THE END OF THE WORLD, we finally get a chance to see the more human, soulful side from the group accepting their fate.   Being one of the first writer/directors to really examine such a concept, Lorene Scafaria, has given us a touching, heartfelt story that may not go too deep into the tragedy, but does more than enough to really make us think over the next few weeks about how would we react in the same situation.    
GRADE: B
Mike's LIKES:
1) STEVE CARELL AND KEIRA KNIGHTLEY: Despite their differences in age, Carell and Knightley are absolutely adorable together.  The two bounce off each other like a ying and a yang, especially considering how Carell is suddenly the serious actor and Knightley is the comedienne.
2) FRIENDSYS: This scene completely stole the entire film.  Imagine your neighborhood Applebees filled with some of the craziest employees you could find.  All are completely accepting that the world is going to end, and are almost happy about it!  It's like watching a group of hippies cheering as their boat is going down…brilliant
2) PATTON OSWALT: Hearing this man rant as he is drunk about all the women he's had since the world was ending is absolutely hysterical.  I can't imagine this poor bastard doing anything that he said, but if he is, then more power to him.
3) ADAM BRODY: I remember when Brody was the biggest thing because of "The O.C.".  He may not be at the heartthrob level he once was, but the guy is showing he could really act by doing parts like this.  As Knightley's can't-take-a-hint ex, Owen, Brody reminds us wonderfully just how stupid certain people can really be.
4) WRAPPING IT ALL UP: When you know the world is ending, there are only so many things one could do.  To see the majority of these characters doing something substantial for someone they love is absolutely beautiful and thought provoking.  The real question you leave the theater with is would YOU do the same?
5) ENDING: For a long time, this was on my DISLIKES list, but I could not find an explanation as to why.  And then I realized that while I would have liked to see more, the story being told up to this point didn't need anything else to fulfill it.  For now, this was the only real ending that I could see fitting on such a film, and for such an artistic ending, I applaud Ms. Scafaria.
Mike's DISLIKES:
1) BACKING AWAY FROM THE DARKNESS: While Lorene Scafaria tells a wonderful little tale of two people trying to fulfill their dreams before the world ends, I feel like there could have been moments that went a little darker.  But then again, this peeve can really go either way, depending on how you take the rest of the story.
EXTRA FACTS:
1) Steve Carell's wife in the film, Linda, is played by his real life wife, Nancy.  The two shot their scene together on their anniversary.
2) Lorene Scafaria's directorial debut.  She previously wrote the screenplay to NICK AND NORAH'S INFINITE PLAYLIST.
Priest Accidentally Forgets To Turn Off Filters Before Live Streaming Mass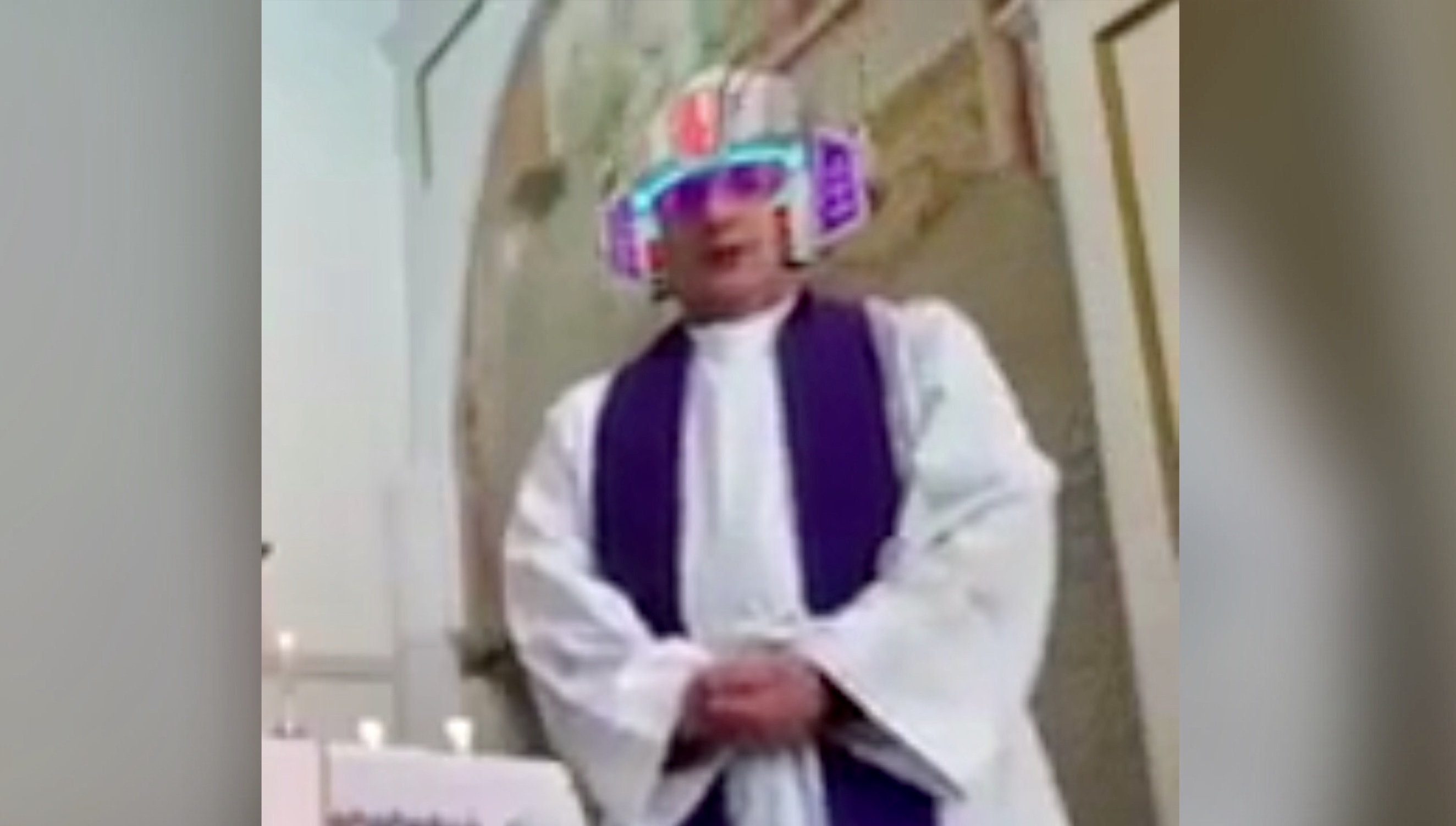 The internet is having a field day with the innocent mistake of biblical proportions.
With new social distancing guidelines, many churches have closed to help prevent the spread of the coronavirus. And while that doesn't justify all the wine you've been chugging during your self quarantine, it does have many people practicing their faith from their homes. One Italian priest was just trying to recite a little prayer for his followers when he accidentally left a filter feature on during the broadcast! In the clip the priest is digitally adorned with a space helmet, workout gear, a fedora and sunglasses and more.
Social media went nuts for the video, which has now gone viral. One comment reads "He just doubled his holy power." Another reads "Father, Son and Holy Influencer." One commenter couldn't resist a good pun and said the video is having a "Mass effect."
Enjoy your daily blessing and take a look at the funny video below!
Priest in Italy live streams mass, activates filters by mistake from r/funny
Like what you read? Follow me on Instagram 
Danny DeVito Passionately Urges New Yorkers To Stay Home…And Twitter Agrees!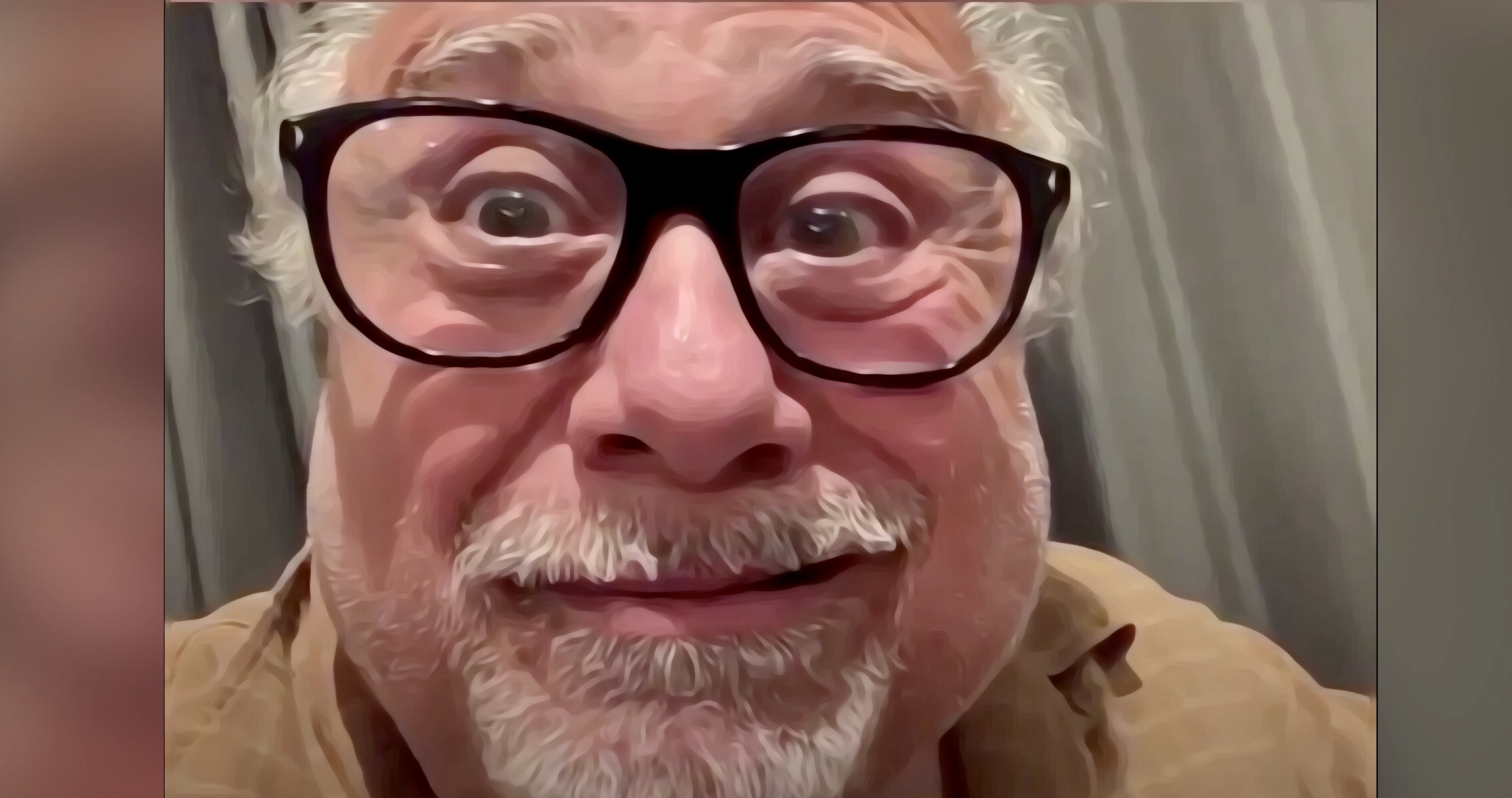 For the love of Danny DeVito, stay home!
The world is in a dark place right now and I am not sure how much more bad news we can handle. That's why when I saw Danny DeVito's name trending on Twitter I froze. Our great nation could very well crumble if anything bad was to happen to such an icon right now. With extreme trepidation I clicked on the social media link and was relieved to see that good ol' Danny boy is just strumming up hype because he is passionately urging New Yorkers to stay home.
Amid the coronavirus outbreak, Governor Andrew Cuomo has been driving New Yorkers to stay home and has taken every precaution short of shutting the state down completely to help prevent the virus from spreading. Because New Yorkers can be hard headed, it doesn't hurt to have some famous friends reiterate your message. Big names like Lala Anthony, Robert De Niro and Ben Stiller have all made appearances on Cuomo's social media pleading with New Yorker's to heed the governors warning. Only one celebrity was able to make it to Twitter's trending page however and that was none other than Danny DeVito. DeVito's message is simple…stay home! In the two minute video, DeVito reminds fans that it's not just up to the elderly to isolate themselves. "Young people can get it and they can transmit it to old people and the next thing you know – I'm out of there" says the actor. We must save him!
Twitter went into a frenzy with many users agreeing that we need to stay home for Danny. One user wrote "When Danny speaks, I listen." Another passionately wrote "If you idiots kill Danny DeVito I SWEAR TO GOD." One promoted DeVito from the icon status I previously awarded him and said "WE GOTTA PROTECT WORLD TREASURE DANNY DeVITO." 
Take a look at the video below and for the love of the newly minted national treasure, stay home!
Danny DeVito wants you to stay home and save lives.#NewYorkStateStrongerTogether @DannyDeVito pic.twitter.com/7V8yXbqHwB

— Andrew Cuomo (@NYGovCuomo) March 22, 2020
Like what you read? Follow me on Instagram
VIDEO: Clever Family Recreates Disneyland's 'Pirates Of The Caribbean' Ride During Quarantine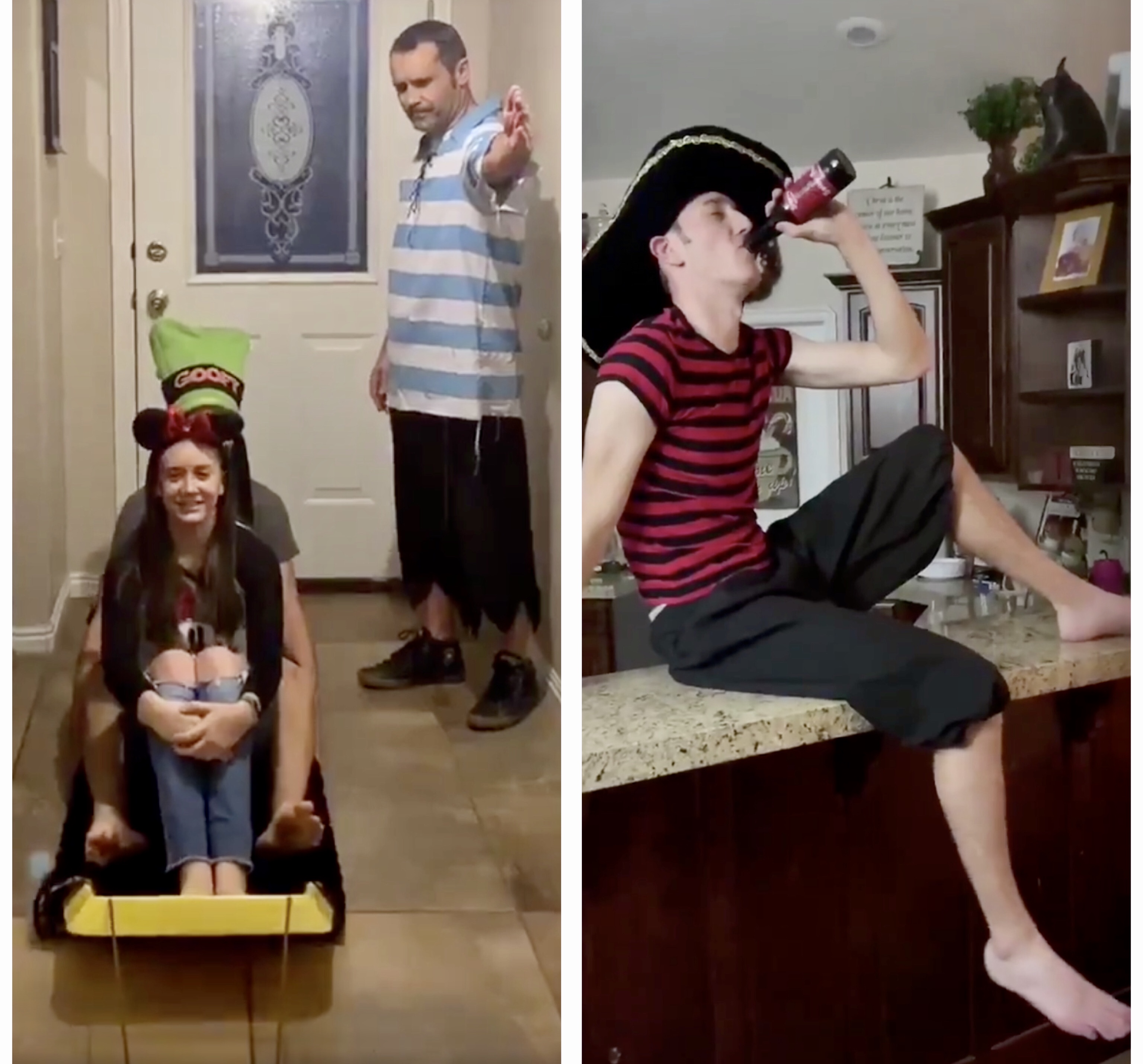 One resourceful family has turned their quarantine into the happiest staycation on earth.
What do you do when the happiest place on earth is forced to close its doors? Bring that Disney magic home and turn your house into a theme-park ride of course. After Disneyland closed due to the coronavirus pandemic, one family had to rethink their travel plans. Twitter user, @Brooke_disney, shared how she and her family recreated the Pirates of the Caribbean ride in their own home…complete with ingenious props, costumes and pirate accents!
The family divided up the responsibilities with some acting as the ride's animatronic robots and others playing eager park-goers. Social media went nuts for this brilliant idea with one user commenting "No lines and you saved $100 per person – well done." Another was impressed by the attention to detail and said "I was screaming at the screen going under the FOOT." The post has already been viewed over 800k times!
Well shiver me timbers if this isn't the cutest way to spend a day stuck inside with your family. Take a look at the brilliantly done video below!
Yo ho yo ho a quarantine's life for me! My family's Disneyland Staycation! #Disneyland #PiratesoftheCaribbean #SocialDistancing pic.twitter.com/0VCKnuhOeY

— Brooke (@Brookie_disney) March 20, 2020
Like what you read? Follow me on Instagram