Movie Review: Twilight Saga Breaking Dawn Part II
Mike Finkelstein was recently treated to more stories about sparkling vampires. This time, however, a little girl was involved, and that caused a bunch of new problems. Damn kids…always starting sh*t…Here is his review of "The Twilight Saga: Breaking Dawn Part II"
Mike Finkelstein was recently treated to more stories about sparkling vampires.  This time, however, a little girl was involved, and that caused a bunch of new problems.  Damn kids…always starting sh*t…Here is his review of "The Twilight Saga: Breaking Dawn Part II"
PLOT: Everything is right in the world of the Cullen clan: Bella (Kristen Stewart) is now fully sparkling and slowly discovering all the powers of being immortal (including constant sex), and Renesmee is growing into a beautiful young girl.  But when the Volturi hear a rumor that Edward (Rob Pattinson) and Bella's new daughter is actually an immortal child (strictly forbidden in the vampire world), it is up to the new parents and all possible witnesses to convince Aro (Michael Sheen) of no wrong doing, before he takes out the entire tribe for good.
Check out the trailer:
MIKE'S REVIEW:  Ah, TWILIGHT…it's the series that every guy loves to hate, and every girl loves to bring their hating boyfriend to see (we are such a weak gender).  I will admit that I have still only seen one TWILIGHT film and it was awful. (BREAKING DAWN PART I was by far the best time I have ever had in a movie theater for all the wrong reasons…read my review here!)  Going into PART II, I only expected more of the same.
For the first half of Edward and Bella Swan's final entry together, we waste no time getting right back in gear with the crazy.  Let us list the ways, shall we?  Within minutes, Bella is on the prowl as a newborn vampire, trying to satisfy her thirst …Watch Bella run!  Watch Bella hunt!  Watch Bella be tempted by human blood, go after Bambi's mom, and then chomp down on a tiger!  (And don't forget that all of it is filmed like a bad 80s music video, complete with horrid special effects…).  The audience was laughing, and not at the parts that were trying to be funny…
The revolting messages to young girls were still going strong as well.   The sex scenes and subsequent references to how they have eternity to bang is just comical, especially when everyone might die in 24 hours, and seeing sparks fly as the sign for Bella finally having an orgasm (what, no volcano moment for Eddie?) is absurd.  Secondly, when Charlie Swan visits only to find his daughter (whom he last saw near death) surrounded by menacing men like she's a brainwashed hostage, every paternal instinct in you wants to slap the mustache off him for being okay with it.  Something tells me if Stephenie Meyer had her way, every impressionable young tween would run away with a brooding serial killer, because that's exactly what Edward seems to be (not my words…Rob Pattinson's…)
And then, there's the damn baby…the damn strange, creepily disturbing CGI baby that touches peoples' face.  I know they wanted to showcase the emotion, but really?  On one hand, it's impressive how far technology has come that you could even attempt such a feat.  On the other hand, between the other effects and this soul-sucker (it had to be made by the devil…it just had to have been!), it's sad that in 2012, we still have a big budget epic whose SFX will be outdated by the time we see it close up on our high definition televisions.  And don't forget about the absolutely hysterical battle between Bella and Jacob when Jacob admits he imprinted on Renesmee…just wrong on so many levels…
But then somewhere in the middle of all this crappiness and Taylor Lautner randomly stripping (really?), something happened…. I started to have fun.  I don't know if they let him loose because it was the last film, or his constant interviews showing his hatred for the series rubbed off on me, but Rob Pattison's vibe of not caring was just plain entertaining.  Mix that with the comic relief of Kellen Lutz, the sarcasm of Billy Burke, the cold-hearted viciousness of Michael Sheen, and some new, wonderfully sarcastic supporting actors like Rami Malek, Lee Pace and Erik Odom, and I really started to enjoy myself!
What really won me over, though, was the climactic final battle.  Don't get me wrong…the bad CGI, the overacting, and ridiculousness is still there, but I did not expect anything like this to come out of TWILIGHT.  Bill Condon basically figured out a way to throw everything from the book out the window while still staying completely true to the story and the characters.  Whether you're a die-hard fan or a TWI-newbie, there's something to be appreciated about an audience having no control over your favorite characters' fates, especially ones that you are so heavily invested in.  The scene basically made the movie and the series for me, and for that, I applaud Condon.
For men, the TWILIGHT saga is one that will forever live in infamy.  At no other point in the history of film has there been a series that has engrossed female culture so much, and caused so much pain to the male gender.  BREAKING DAWN PART II is a worthy addition to the madness, yes, but somehow, for just a split second, Bill Condon was able to take a franchise that took itself way too seriously and actually infuse some life.  And while the end definitely doesn't justify the means (we really didn't need to suffer through five films for this…), you have to give the guy credit for ending everything on a high note…or at least the highest note that could be possibly given to sparkling vampire love…because quite frankly, who would have even expected
GRADE: B-
Mike's LIKES:
1) ROB PATTINSON/EDWARD CULLEN DOESN'T GIVE A S*IT: I don't know if it's because he made it so obvious in interviews that he doesn't care, or because Bill Condon just gave him some more freedom, but seeing Edward Cullen be sarcastic and so chill made for the best parts in the film.
2) EPIC FINAL BATTLE: Everything in TWILIGHT has been leading up to this: a moment that isn't even in any of the books.  To take an unfilmable ending and twist it in a way that left both fans and newcomers in the dark about their favorite characters and still stayed true to the book is incredible, and I applaud Bill Condon on his work.
3) MICHAEL SHEEN: The man is five levels above this saga, and yet still brought a menacing and ominous quality to Aro.  Keep chewing the scenery, my friend…
4) SUPPORTING CAST: With a mix of old classics, including Sheen, Kellen Lutz, and Billy Burke, as well as newcomers like Rami Malek, Lee Pace and Erik Odom, BREAKING DAWN PART II was covered in the support department.  The characters may be secondary to Edward, Jacob and Bella, but they made the film.
Mike's DISLIKES:
1) RIDICULOUS SPECIAL EFFECTS: Bella taking down a tiger, an 80s style music video, wolf transformations, and a unsettling CGI baby. 'Nuff said.
2) HORRIBLE MESSAGES TO YOUNG GIRLS: Again, I don't know what Stephenie Meyer was aiming for when she wrote these novels, but the messages to young impressionable females are absolutely awful.  If you ever hear your daughter say that she's looking for her "Edward", lock her up in her room until she's 18…
3) TAYLOR LAUTNER AND NAKEDNESS…REALLY?: Yeah, there was no need for this…maybe they were trying to mask the awful acting…
EXTRA FACTS:
1) Ten actresses portrayed the rapidly-growing Renesmee Cullen, as well as the really unsettling CGI-animated baby.
2) Sitting next to me in the theater was a gentleman who looked like he had just stepped out of a "Planet Fitness" commercial.  He was seeing the movie by himself.   Forget stereotypes…THAT'S a fan right there…
Who Is This Brian Balthazar Guy, Anyway?
Did you see Brian on TV today? Wondering who he is? Here's much more than you wanted to know. They leave the part out that he loves a well mixed Dark And Stormy, but let's keep things professional…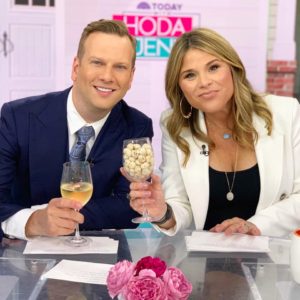 You may have seen Brian Balthazar on television this morning, heard him on the radio, or read about some recent developments in the world of media and pop culture. But who the hell is this guy? Brian Balthazar leads a double – triple – okay, maybe quadruple life. Part journalist, actor and comic, he appears on many TV shows as a guest, but is also a developer and creator of several television shows behind the scenes. This when he's not renovating homes and making snacks for his websites, POPgoesTheWeek.com and Snackist.com.
After launching the fourth hour of the Today Show with Kathie Lee Gifford and Hoda Kotb, he turned his attention to cable television, overseeing the direction and development of several shows on HGTV, including Flip or Flop, Love It Or List It, Christina On The Coast, House Hunters, Hit Properties with Nathan Morris, Flea Market Flip and dozens more.
As a comic he served as the opening act for Russell Brand In New York City and the MTV series Man and Wife featuring hype man Fatman Scoop.  He has performed at The Comic Strip, Caroline's On Broadway, Gotham Comedy Club and more.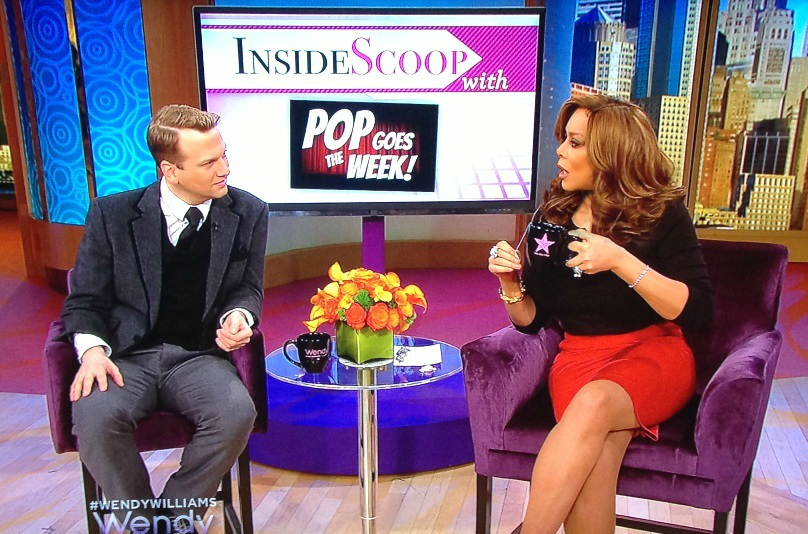 In addition to being a frequent guest on "The Wendy Williams Show," (he co-hosted several times during Williams' three week break) and appearing on the "Today" show, where he guest co-hosted with Jenna Hager-Bush,  Brian has frequently been seen co-hosting the syndicated TV gossip show Page Six TV.
Additionally, he was the sideline reporter for HGTV's Rose Parade Coverage, hosted the HGTV Special I Bought A Famous House, and has appeared on CBS's The Talk, HLN's Showbiz Tonight, MSNBC's Caught On Camera, The Joy Behar Show, and more.
An appearance on the fourth hour of the TODAY show with Kathie Lee and Hoda.
He has also been an emcee for many notable events and sponsors, including work as a brand ambassador for Bombay Company, the co-host of the Miss Tennessee and Miss Mississippi USA pageants, and a red carpet host at the Daytime Emmy Awards.
You may also have seen Brian in some viral videos, most notably a recent parody of Bird Box, and a satirical look at House Hunters' Writers' Room.
HGTV – House Hunters Writer's Room from Buffalo Picture House on Vimeo.
Appearing in a series of videos for Bombay Company.
Brian has provided analysis, interviews and helped co-host the Tony Awards backstage show. He also followed all the backstage madness at the launch of Fashion Week in New York City while co-hosting the Red Dress Event. He has been a roving reporter for the Dr. Oz show. Earlier in his career he was a features reporter and contributor on NBC, MSNBC, United Airlines In-Flight Entertainment and more.
For A&E network, Brian appeared in an episode of Biography about Jim Carrey. He also provided play by play of some of film's greatest car chases for a documentary about, well, car chases. (Ask his family and they will tell you: NO one would have expected to see him in a show about cars. We'll leave it at that.)
Before 'finding himself' professionally, Brian was a singer on a ship, a publicist for a trance medium, an insurance customer service rep, waiter, bartender, activities director, substitute teacher, website programmer, pianist at a camp for spoiled children, and college mascot. None of them worked out. Let's hope this does.
To contact Brian, email BrianBalthazar@aol.com.
To check out his video clips from NBC, HLN, and MSNBC, click HERE…
And – become his friend on facebook! www.facebook.com/brianbalthazar
For a more extensive listing of his TV appearances visit his IMDB page.
And he's apparently getting better about Twitter. So he says. He's @BrianBalthazar.
Thanks for reading POP GOES THE WEEK!
For his TV Appearances, Click on the TV APPEARANCES page.
POP in the Kitchen! The Perfect Snack and Cocktail Pairings.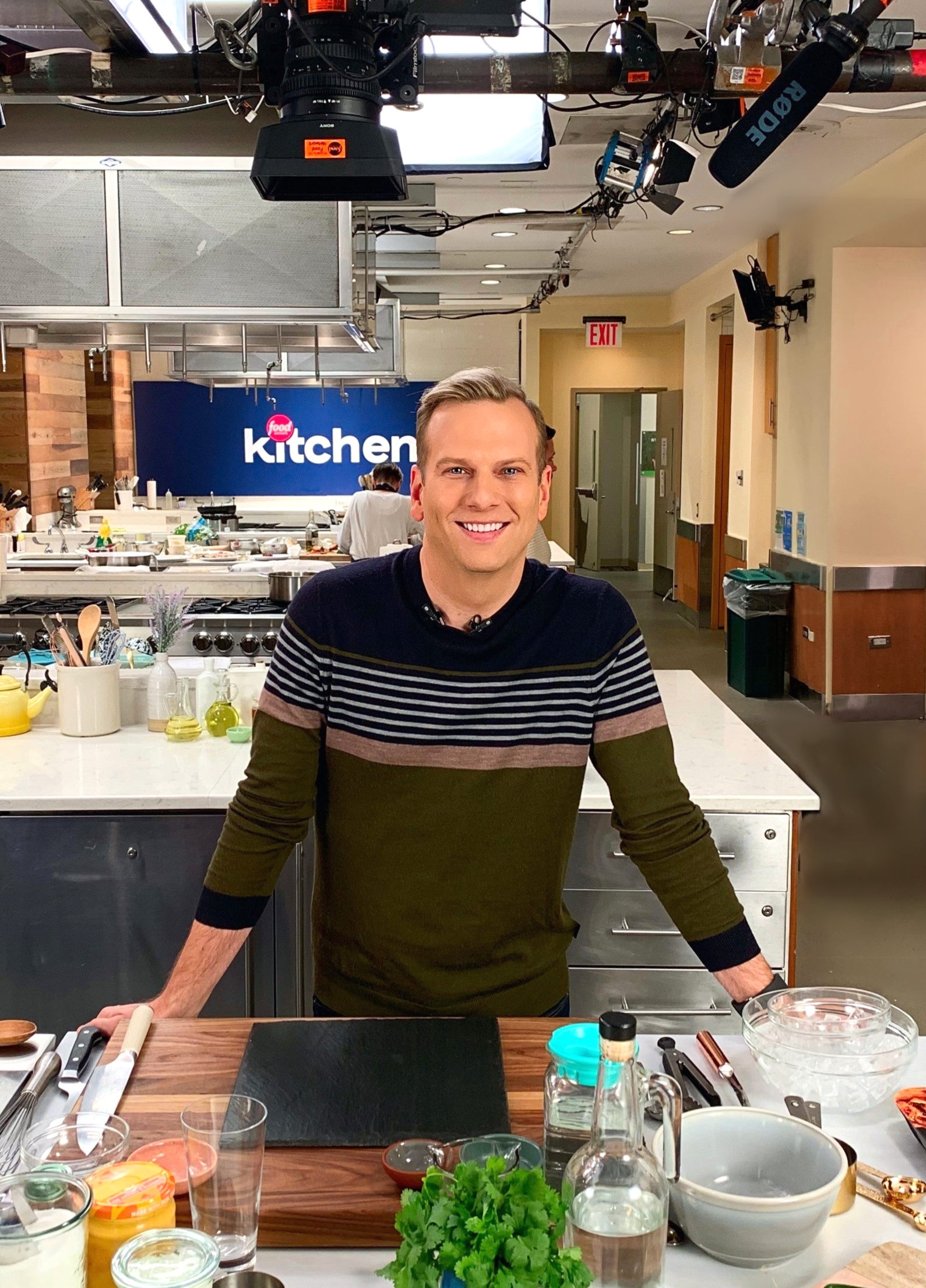 POP Goes The Week's Brian Balthazar is part of the all new Food Network Kitchen App! Cook LIVE alongside Brian as he makes get party food and the drinks that go perfectly with them!
Hey everyone! I'm so excited for this – I was thrilled to be a part of the new app, which is an all new way to cook with your favorite chefs and cooking experts. In the app, you can get the recipe and ingredients and recipe in advance, check the live class schedule, then cook at the very same time as your instructor!
I was fortunate enough to be invited to do a live snack and cocktail pairing, which you can still watch – and cook along with me! Trust me, these all start out as live, which means anything can happen! (I have an adventure with the broiler in one of them!)
For my recipes, I made a pulled pork toast with queso, sour cream radishes and green onions, along with a smoky mezcal paloma.
In another class, I make lavender honey that gets drizzled right on top of baked brie with herbs, then use that same lavender honey for my own interpretation of a "Bees Knees" cocktail that I call a "Bees Knees Breeze." I came up with the variation because the original recipe, simply gin, honey and lemon was just TOO strong for me and I found myself always getting plastered!
Check out the gallery of what I made, all available on the FNK app!
This slideshow requires JavaScript.
I hope you can check them out, AND all your favorite instructors like Bobby Flay, Giada de Laurentiis and Ree Drummond!
'Saved By The Bell' Cast Reunited For 30th Anniversary – And I'm So Excited
If you think your high school experience feels like ancient history then it won't bring you any comfort to know that Saved By The Bell debuted 30 years ago!
Back in 1989, Saved By The Bell hit the small screen and quickly became a television staple. Over the course of its four seasons, the sitcom followed Zach Morris and his unique blend of friends as they navigated the tricky waters of high school. Everyone had a favorite Bayside Tiger and the series spawned many memorable scenes…but you are a liar if you didn't say your favorite scene was where Jessie broke down crying after coming to terms with her caffeine pill addiction while crying out the most iconic line ever, "I'm so excited…I'm so excited…I'm so…scared"
In any event, some of Bayside's most memorable students reunited over the weekend to celebrate the 30th anniversary of the hit sitcom. Mark-Paul Gosselaar (Zach Morris), Tiffany Thiessen (Kelly Kapowski), Mario Lopez (A.C. Slater) and Elizabeth Berkley (Jessie Spano) all gathered together to hit us right in the nostalgia. Notably missing were Lark Voorhies (Lisa Turtle) and Dustin Diamond (Screech). Berkley wrote on her Instagram "FRIENDS FOREVER!!!" along with some sweet and fun hashtags. Lopez upped the ante and posted a video recapping the fun time the gang had as they reminisced on the days way back when. WHY WASN'T THIS TELEVISED?!? Many are speculating the reunion to be the beginnings of a reboot or revival but nothing of the sort has yet been confirmed.
View this post on Instagram
Like what you read? Follow @ChrisSiretz on Twitter and Instagram