TOP CHEF RECAP Episode Seven: That's Just The Berries.
Time now for a recap of last night's Top Chef Seattle episode… things are heating up!!
Time now for a recap of last night's Top Chef Seattle episode… things are heating up!!
Episode 7 starts out with Danyele giving us a narrative on how she will, in fact, be ….Brave. We'll see about that!
Quick Fire
We're introduced at the beginning of the episode to Stephanie Izard, Season 4 winner of Top Chef. She also happens to be the only female to ever win the competition. What's with that? Come on ladies, time to step it up!
The twist of the challenge is that every ingredient in the kitchen is wrapped entirely in Reynolds's Wrap. So essentially, the chefs are grabbing at things blindly since everything is enveloped in silver wrapping. They also must use the Reynold's Wrap as their cooking vessel – that's right, no bowls, no pots, no pans….only….Reynold's Wrap. This is pretty much product placement on steroids. Get foiled up! (See what I did there? That's was a pun on "get fired up"… okay, not my best. It's late.) The winner is safe from elimination.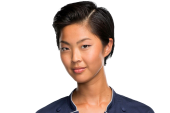 Kristen decides to go against the grain and make a sponge cake, which proves itself successful. How she makes a CAKE in 30min with those limited resources is pretty impressive. Her ballsiness translates into a win which translates into immunity.
+++
Elimination challenge
In the elimination challenge the chefs will go head to head in a battle of the berries at the Remlinger Farms Berry Festival. The top 5 performers from the Quick Fire challenge have the advantage of choosing their competitor. Pretty straight forward. Check out the below for how the competition shakes out
| | |
| --- | --- |
| Kristen | n/a (immune from elimination) |
| Sheldon | Micah |
| Danyele | Josh |
| Stefan | John |
| Josie | Lizzie |
| Bart | Brooke |
In addition to bragging rights, $10K goes to the winner. Not too bad for a day's work.
At the grocery store, the chefs scramble to pick up supplies for the challenge ahead, and no doubt there is major drams. Get ready for it…. Stefan buys frozen tuna (gasp!). It's apparently high-grade, but this IMMEDIATELY gives Stefan's uber-insecure competitor, John, something to latch onto. John is relentless with Stefan about his selection of frozen protein. Stefan's response, "I'll shank him in the kidneys."
And I believe him.
++++
Elimination challenge
The chefs pull up to the farm and it is gorgeous.
The only stress of the day is that there is a limited amount of space in the prepping area, but they've certainly been through worse.
Surprisingly, there aren't any major mishaps in the preparation and serving phase. However, Josie does struggle to get food out. In fact, at one point there is a gaggle of Mob Wife-esque women that talk some major smack about her being so slow. In order to divert attention away from her lack of time management, Josie puts on some sort of botched one-woman show which is equal parts disturbing and annoying. At one point Gail Simmons questions Josie's sobriety (as does the viewing audience). One can only hope she's on something—or at least drunk—with the way she's acting. Although I think it's safe to say this is her sober. Aw J
A nice juxtaposition to Josie's freak-on-a-leash nature is Kristen. (seen here on the left side of this photo.) While Josie is like, dropping acid at her serving station (allegedly, of course), Kristen tells us a nice story of what she'd do with the $10K winnings. She was apparently born in Seoul, South Korea and was abandoned by her mother at birth. Police found her, named her, and at 4 months old she was adopted by a family in Michigan.  So her dream is to have the money to go back and visit the place she came from. Cute, right?
Back to the competition. Despite the heckling from John regarding Stefan's frozen tuna, he still seems to outperform. In fact, some dude at the festival described John's chorizo gazpacho as "cheeseburger soup." Interestingly enough, cheeseburger soup like something Guy Fieri would serve with a side of Donkey Sauce. Believe it or not, this is actually a thing on Guy's menu at his Times Square restaurant.
One last thing about John's gazpacho: Per Stefan, "I wouldn't flush my poop with it." So…yeah.
+++
Elimination
Back at elimination kitchen, the fight continues about the frozen fish. Stefan, visibly upset tells John to, "suck it hard." Cute.
Padma first calls the challenge losers to face the panel:
John
Josie
Bart
Micah
Danyele
The judges really ripped into Danyele on this one. Padma even said the fruit compote tasted like lunchmeat. Lunch. Meat.
She winds up being sent home and we have to bid adieu to our beloved Brave.
The winning crown (and $10K!) goes to Kristen. Stefan leans over and gives her a pervy kiss to congratulate, but she's too excited to care. It's interesting to note that this is the second week in a row that someone with immunity won the elimination challenge. Are we seeing a pattern here?
Back in the kitchen, while celebrating Kristen's victory, Josie's boozy breath and sheer loudness continues to get on everyone's nerves. When will she leave us alone?
Last chance kitchen
Danyele vs CJ are in last chance kitchen. Although I'm a fan of CJ, I've gotta root for my girl, Danyele. Who will you be voting for? You can save your favorite! Get on twitter and hashtag your arse off! (CLICK HERE TO DO IT INSTANTLY, AND SEE THE RULES. Oh yeah, be a resident of the US and be over 18.)
Next week, they have to cook for a team of roller girls! 'Nuff said!
Take a peek at next week's episode!!
DISCLOSURE: POP Goes The Week could potentially receive incentives to blog about Top Chef. We'd do it either way. There you have it.
Get The Look! A Buyer's Guide To Brian Balthazar's Philadelphia Home Redesign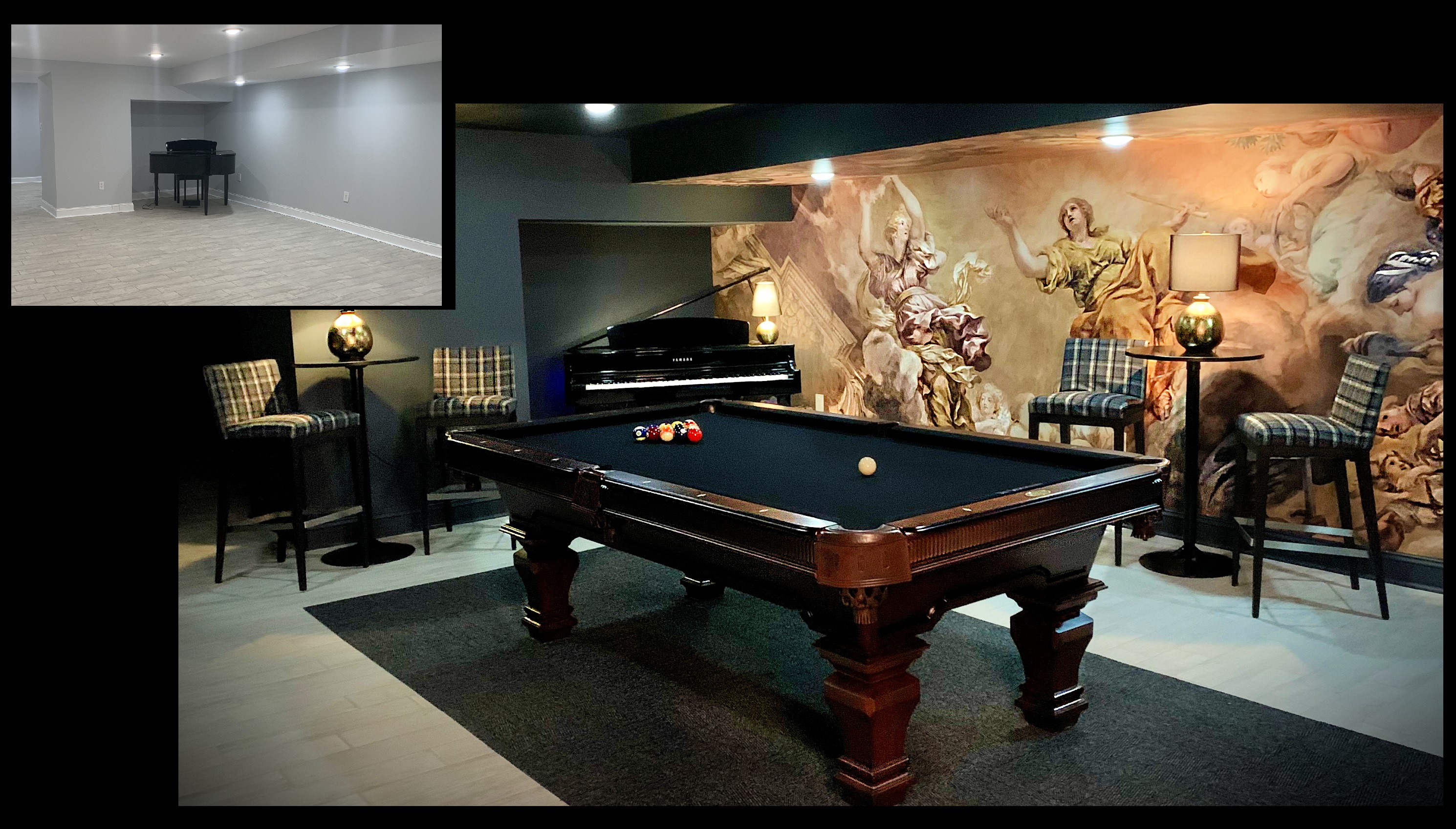 As the world was forced to spend more time at home, Brian Balthazar found himself in a position where he had sold a house before the lockdown and had to find a new one.
"We sold our home with all the furniture in it, so not only did we find ourselves struggling to find a new place, once we found one we didn't have any furniture to put in it."
And so, Brian and partner Dennis got resourceful, turning to refurbishing and buying store floor models. They were inspired to make bold, fun choices in color and style when they started shopping around for wallpaper.
Below is the segment as it appeared on the Today Show, and further down, a rundown of where you can find the pieces or ones with a similar look!
THE DINING ROOM
Let's start with the Dining Room!
Move the slider dividing the image to see all of the before or all of the after!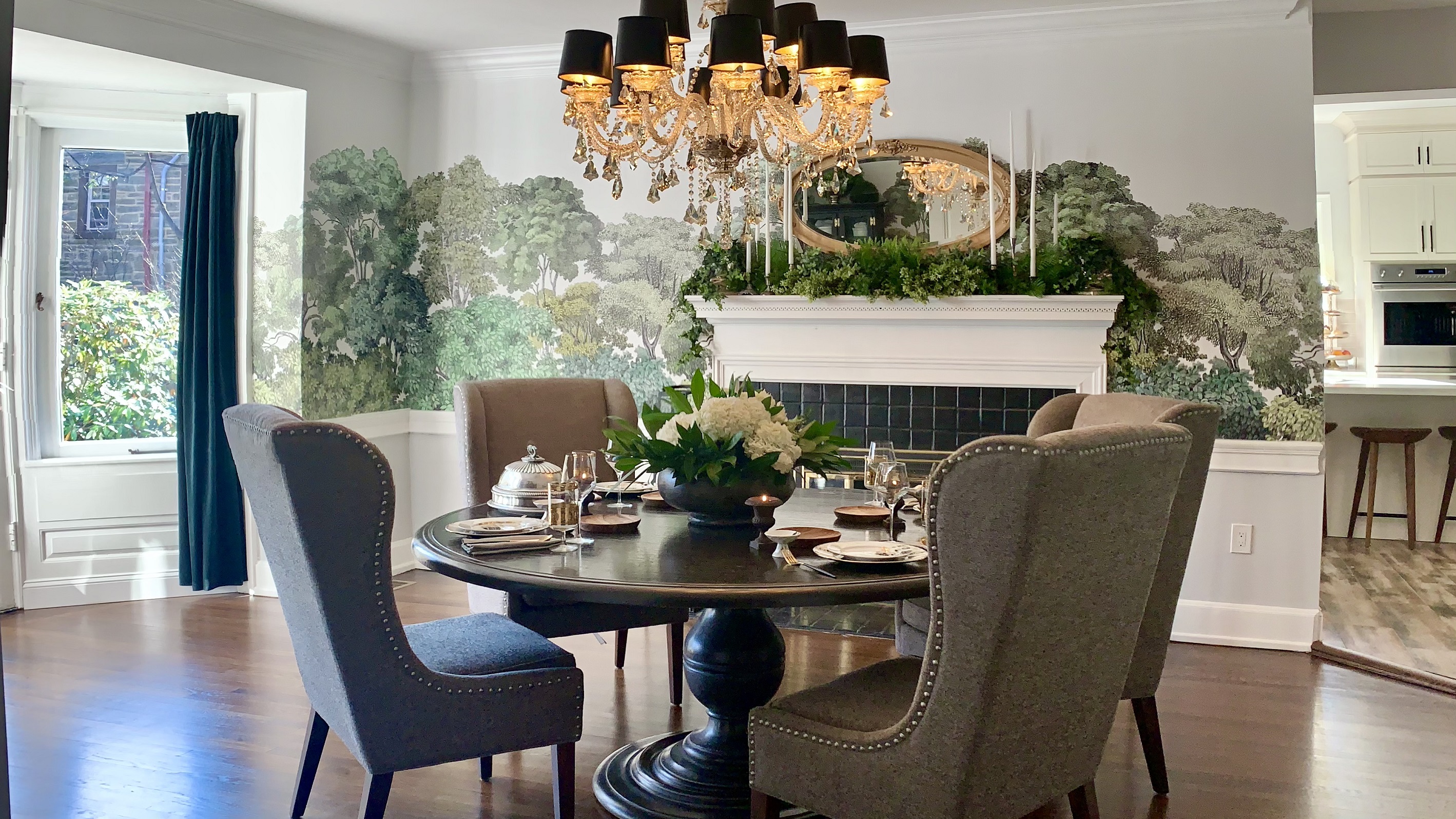 Brian says: The dining room was the first space we wanted to do. I haven't had a true dining room since I was a kid, and I've always wanted a big table for dinner parties! There were no tables within the price range we wanted, so we found a floor model at one of our favorite go-to stores, Arhaus. We easily saved 75 percent on this table by getting the one that they weren't going to carry anymore. The chairs are from Wayfair.  On each side of the fireplace (not seen in the photo, but visible in the Today Show video) are two black tall lanterns flanking the fireplace. I got them at Target. I can't currently find them on their app, but similar versions pop up every year. Get thee to Homegoods! Homegoods and Homesense (same parent company) are my go-to spots for home accessories for virtually every room in the house. You never know what you're going to find, which is part of the fun.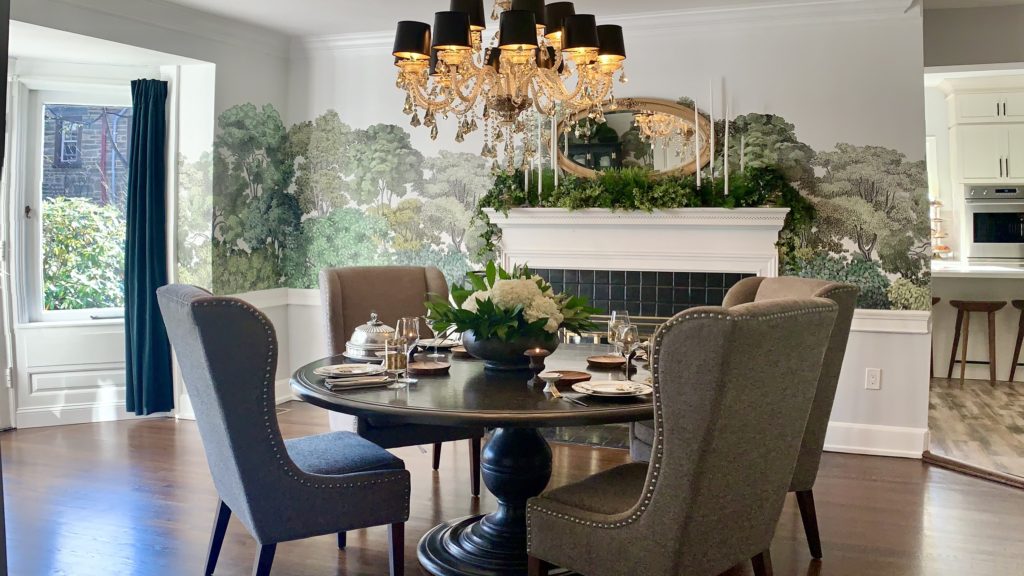 But let's focus on the real WOW element to this room – the wallpaper! This pattern is called Bellewood, by RebelWalls.   As you will soon see, I'm sort of obsessed with their patterns. To me, this room is magical with the added whimsy of this forest pattern. (They also have a more muted version with grays and even one with blues.) I also love that by hanging the paper from the chair rail up, you almost get the feeling that you're standing on a balcony overlooking the forest. I surrounded the whole room with this paper, which I love, but you could easily add the same magical feeling by just doing one feature wall. Their website shows how it can translate to a bedroom or office. You might be intimidated by hanging wallpaper but don't be! This pattern has so much going on that it really looks perfect when it goes up!
ON TO THE GUEST BEDROOM!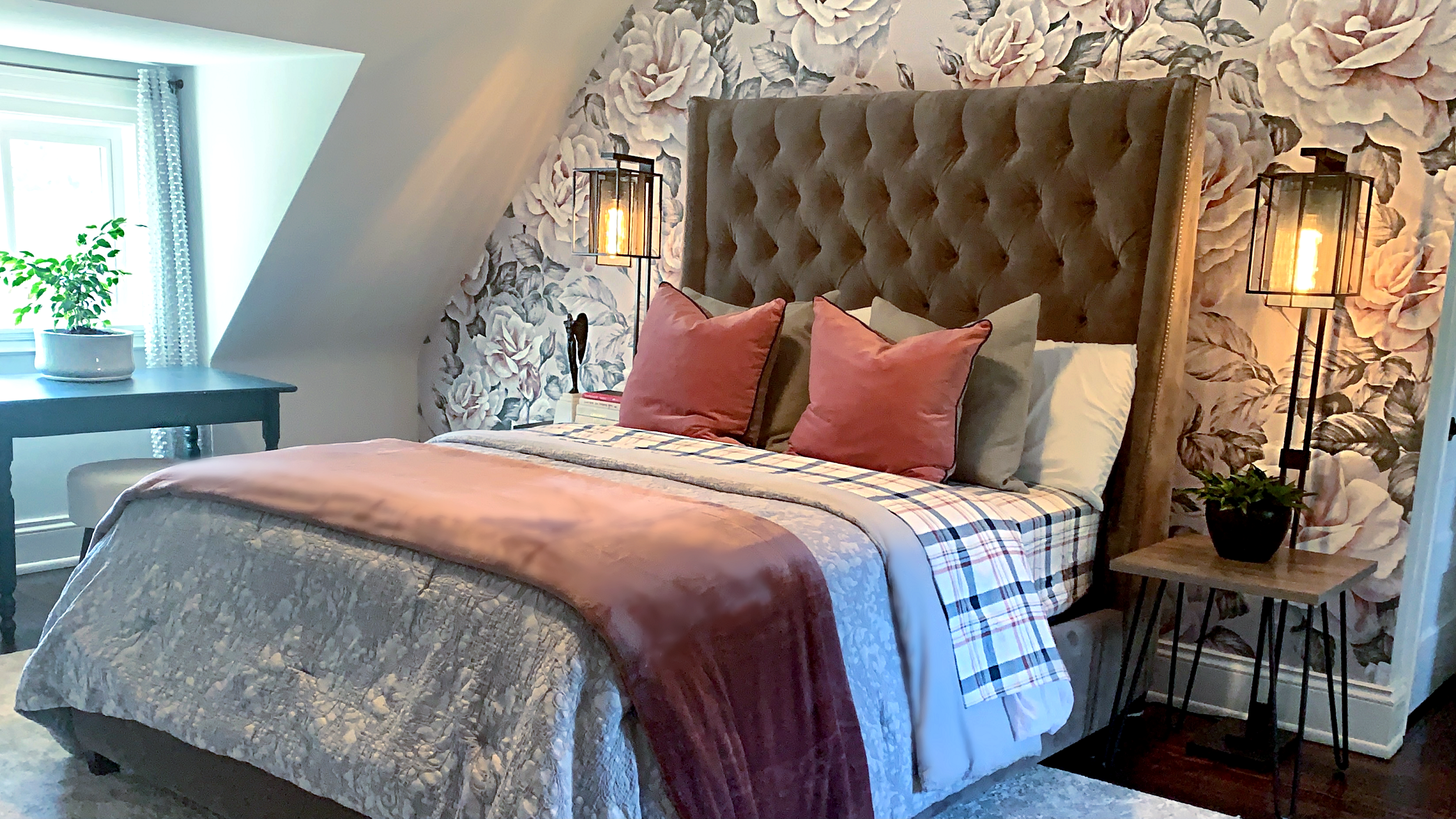 Brian says: The guest bedroom is on the top floor of the house, so it's got roof lines on two sides that make it a tricky space to navigate if you're not careful. The planning of this space alone resulted in a few bonked heads. On the upside, the wall where the bed goes is tall, so it was an obvious place to create some visual pop. Again, the wallpaper takes the spotlight.  Called "Nude Roses," also by RebelWalls, I love this design. Floral wallpaper was 'big' in popularity back in the 1920s when this house was built, but the patterns at that time were smaller, repeated more often, and were often really bold in color. This interpretation is so fun to me! Gone are the small roses in favor of oversized blooms, and the bold colors are more subdued pink and gray hues, with touches of dark green and creamy whites.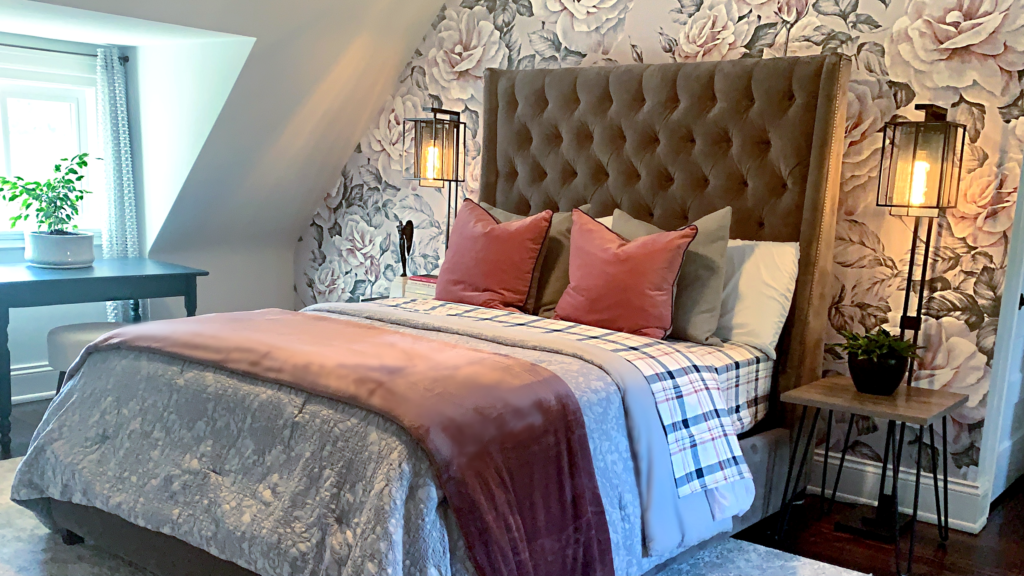 While roses can inherently feel feminine, the plaid bedding (30 dollars for a queen set from Target) are a surprising complement that keeps everything from feeling a little stereotypical. The side tables are mismatched – partly because we didn't want to go too "matchy=matchy" – but also to save some money – the one on the left side (hard to catch here) was from West Elm. Normally $199, we got it for half off as the floor model. The one on the right we found in the trash. It was perfectly fine, clearly someone had just gotten tired of it! Nothing some disinfectant can't fix. That gave us some extra money to spend – To reduce the softeness we went with industrial lamps and edison bulbs. The lamps  are called "Ginyard," from Wayfair. The headboard was on sale at Arhaus. The dark gray takes balances out the pink hues well. The pillows are from Target and Homegoods.
For the 360 degree view of this room, watch the Instagram reel below!  You'll see the dresser, on sale for $599 from Arhaus, a lamp from Homegoods, and mobiles from Amazon which we fashioned into a 'piece of art' that keeps you from hitting your head on the angled wall opposite the bed. Watch the video to check it out!
View this post on Instagram
THE GAME ROOM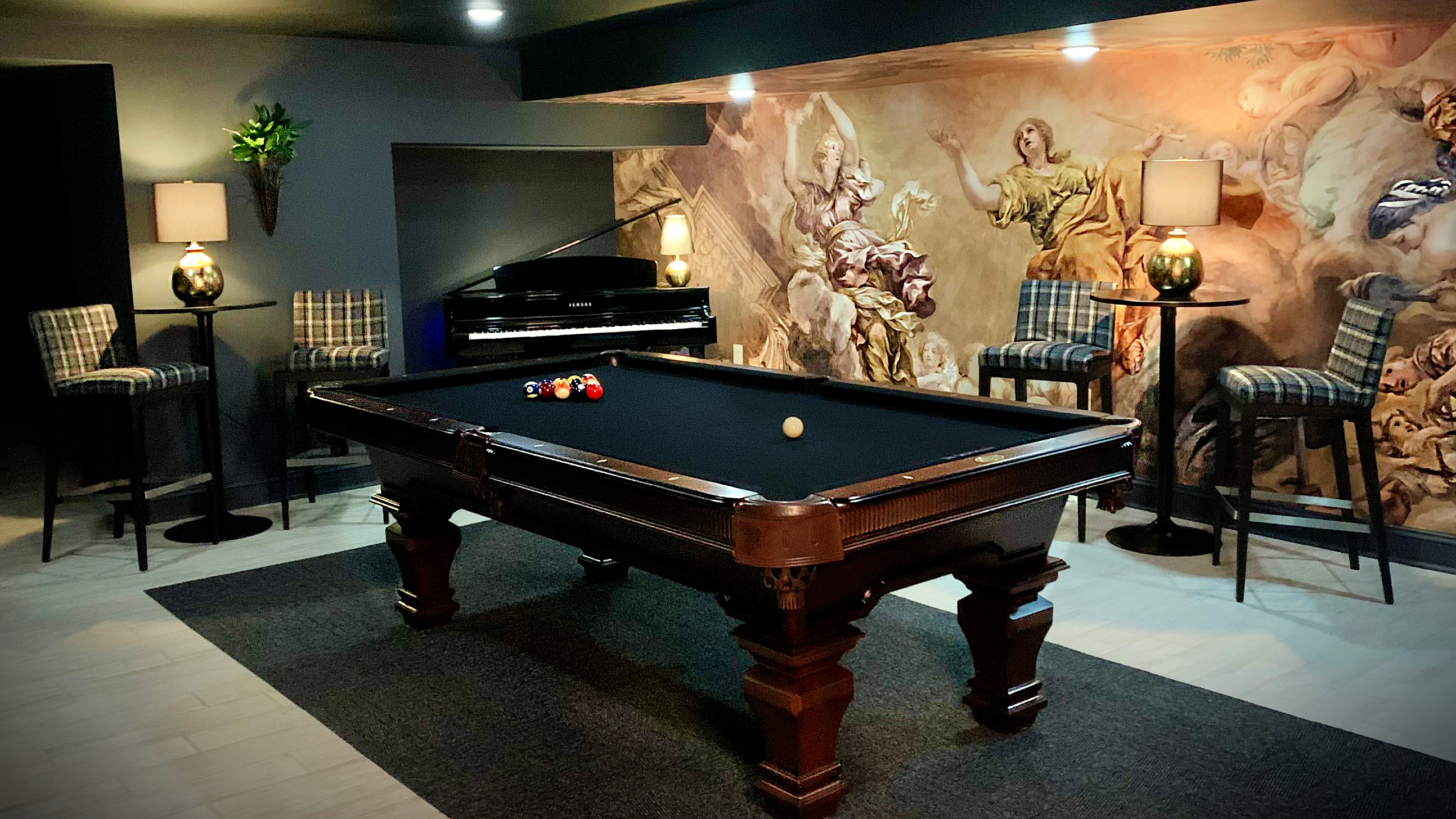 Brian says: The idea for the basement game room was to create a space that feels like a lounge you might find if you went out with friends. When you go into this basement it definitely feels like you've gone someplace unique! Believe it or not, I found out the Today Show had invited me to to record my house tour just a few days in advance, and so we turned around this spot in just THREE days! There was literally no pool table at the time, (although it had already been scheduled to come on Friday, the wallpaper came on Saturday, (as well as the floor tiles!) and by Sunday we were covered in paint and glue and drinking wine to celebrate it's completion! I recorded the final video that Monday.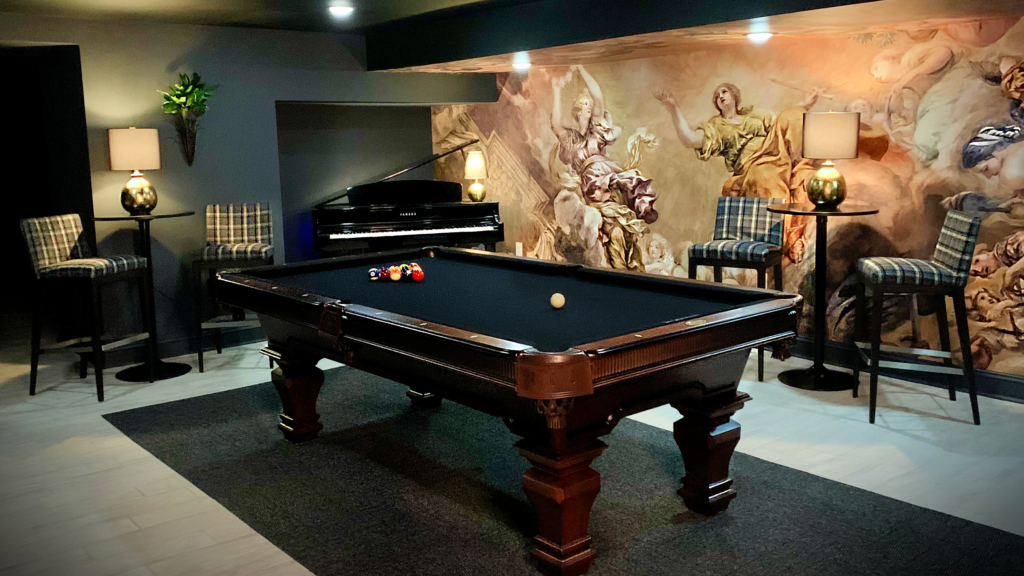 Some people might not think to take a bright basement and make it dark, but that was our first instinct. Clubs are dark and moody, and we wanted this to feel like that. We painted the walls Wrought Iron by Benjamin Moore, which is a very dark gray that seems to take on different hues based on where you paint it and the light that shines on it. We painted the ceiling black. This was Thursday night! Then Friday the pool table came. The floor tiles ("Tweed Indeed" in black by Flor) hadn't arrived until the next day, so when they did arrive I meticulously trimmed four tiles to fit around the pool table legs so it looks like they were there the whole time. I had ordered the pool table online weeks before from PoolTables.com and by sheer coincidence it was scheduled to arrive in time for me to shoot the redesign. This was the second time I have ordered a pool table from them (which was initially scary because you're not even seeing it beforehand!) but it always arrives in perfect condition to your specific selections. I love that the felt jet black and keeps things dark and moody. In the time that has passed since this photo was taken, I've added more of the carpet tiles to make the carpeted floor area darker and bigger.
But once again, the wall mural steals the show in a marvelous way! This mural is called "A Priori" from Rebelwalls, and is inspired by The Allegory of Divine Providence and Barberini Power, a famous fresco by Italian artist Pietro da Cortona. Fitting, because this house is Italian in style on the outside. You can't see it from this photo but the wallpaper runs up part of the ceiling as well. It truly gives the room a wow factor when you enter it. The lamps are from Homegoods, (we've since added some industrial floor lamps for extra mood lighting) and the piano was something we brought with us. The bar tables are from Amazon ($72 each) and the stools we brought with us – they were discards from someone who didn't like their original bright colors and thought they were dated! We covered them ourselves with gray plaid fabric and they're better than they were new!
So there you have it! Hope you enjoyed the rooms and find something you like!
Well Sh-t, Leslie Jordan Has Shared Three Videos Of Himself Dancing In One Week And They're All Perfect
Doing much better now, Leslie.
If you've never believed that "good things come in small packages" then you've never seen Leslie Jordan's instagram. The 4'11" actor known for his iconic roles in shows like Will & Grace and American Horror Story has recently developed a whole new fanbase who loves him for his viral Instagram videos. Usually starting each video by greeting fans with "Well shit, how y'all doing?", viewers have grown to anticipate Jordan's hilarious recounting of stories from his time in show biz or growing up in the south. This week, however, the Tennessee native has shared 3 videos of himself dancing within 5 days and honestly it's precisely what we all need right now.
The first video was posted on August 12th and shows Jordan taking part of the "Git up and dance challenge" which swept the internet about a year ago. Even though he is a little late, the video is still perfection.
On August 13th, Jordan does a dance to "You Can't Stop The Beat" from Hairspray a with special guest dance partner Katie Couric!
Finally, on August 15th, Jordan does an epic "tootsie roll" and challenges Real Housewives Of Beverly Hills star, Lisa Rinna, to do the tootsie roll herself. Of course Rinna commented with a big "ON IT ❤️😂." Who could say no to the viral star?!?
The moral of the story here is that the world is going through some tough times right now but maybe, even for a few seconds, we could all feel better if we'd just dance it out. Thanks for the inspo Leslie Jordan!
Like what you read? Follow me on Instagram
Planters 'Baby Nut' Has Somehow Already Turned 21 And People Are Not Loving The News
2020 keeps getting nuttier.
The world was shocked when the iconic Mr. Peanut was killed during a pre-Super Bowl ad earlier this year. There wasn't much time to mourn, however, before a new nut was thrust onto us like back-to-school commercials in July. Yes, after the 59-year-old mascot met his untimely death consumers were introduced to his reincarnate, Baby Nut. With big, expressive eyes and a tiny stature fans began to swoon over the cute branding revamp and accepted him as the new mascot. Well as if 2020 hasn't been crazy enough, Planters just released a new commercial celebrating Baby Nut's 21st birthday and I'm not sure how to feel about it.
I'm officially 21, my friends! Before you ask, yes, I was just a baby. What can I say? It's been a nutty year. Now someone get this peanut a beer! #MakeMyBirthdayNuts pic.twitter.com/P1UfBIi4N8

— Peanut Jr. (@MrPeanut) August 11, 2020
According to a quick Google search, a peanut plant takes 4-5 months to reach maturity. So with Baby Nut being born in February, he is technically right on track in his growth cycle. The OG Mr. Peanut was the reigning mascot for 59 years so does that mean he was actually over 3,000 peanut-years old? The accelerated aging is not explained in the new ad with Baby Nut (Young Adult Nut?) simply saying "it's been a weird year." Reactions on Twitter are largely negative but as always, hilarious. Here are some of the best: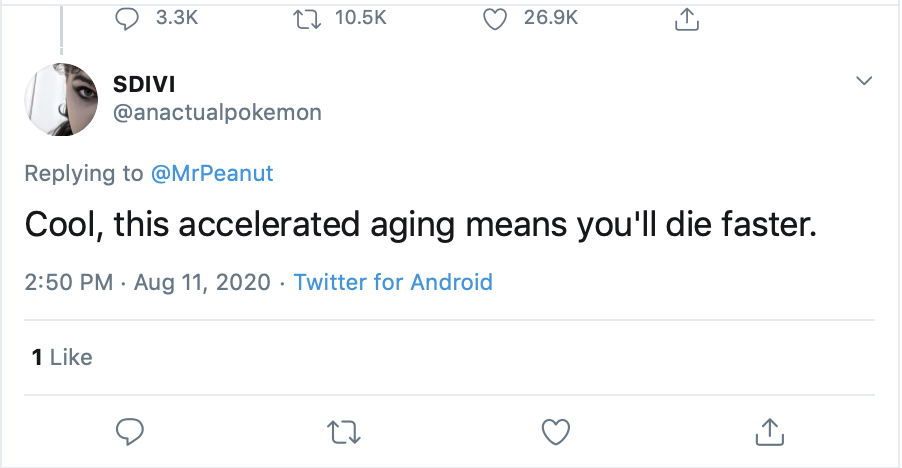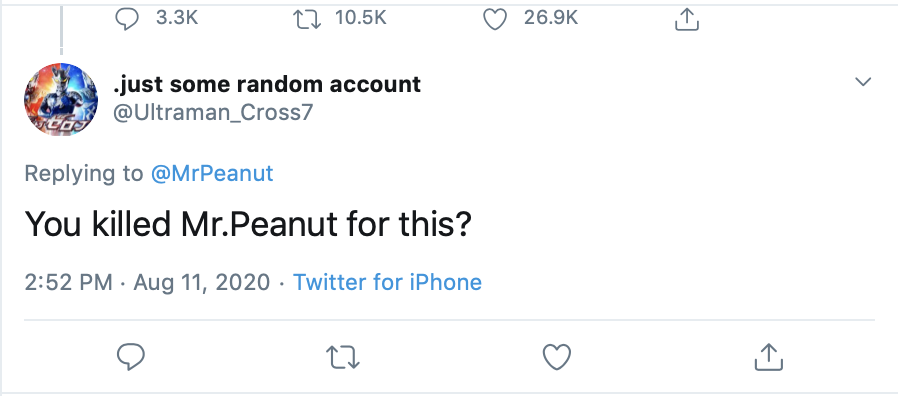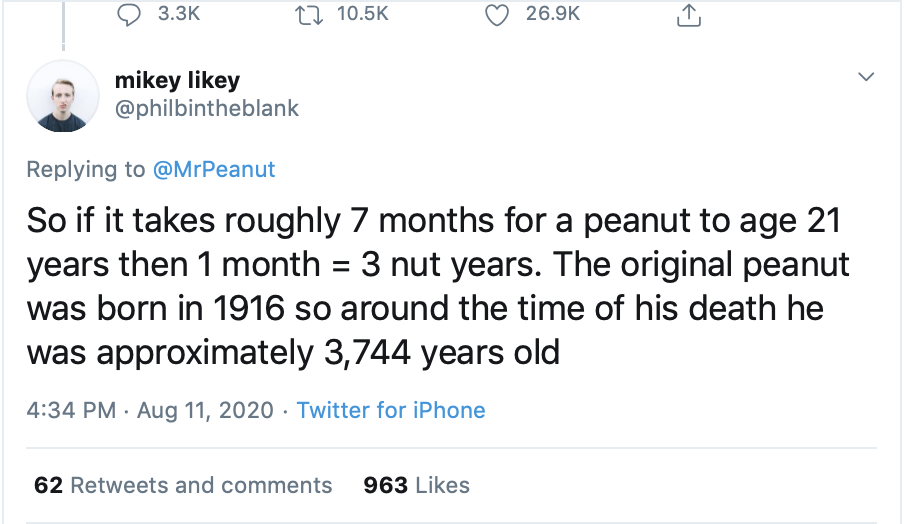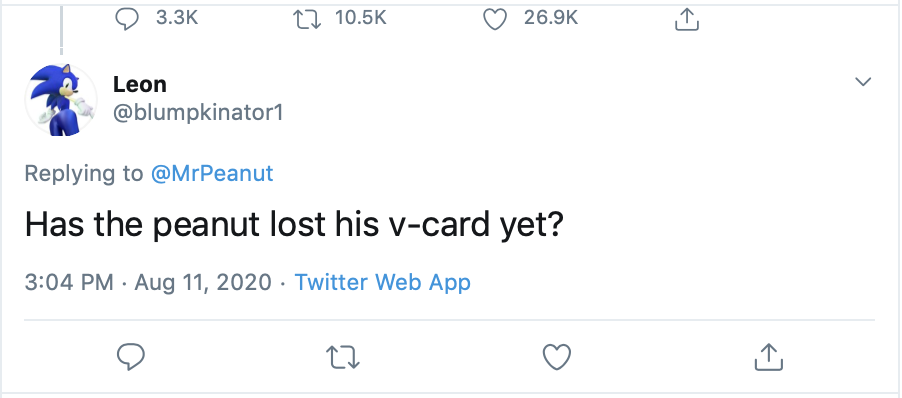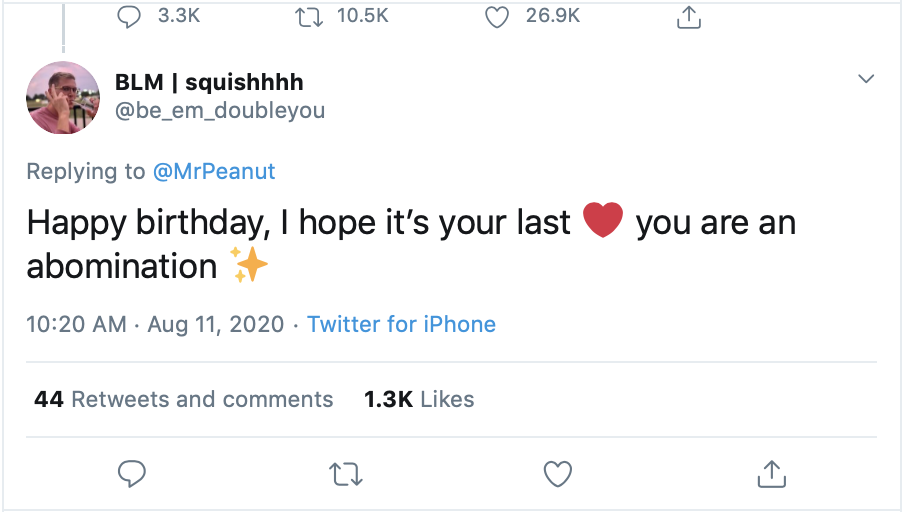 Yikes. Good thing Baby Nut is old enough to drink now…looks like he might need to throw back a few to handle some of these reactions.
To follow Peanut Jr.'s official account click here.
Like what you read? Follow me on Instagram