POP INTERVIEW: "Sister, Sister" Series Creator Kim Bass Makes a Western!
Kim Bass is most famous for creating hit children's programming: the animated Men in Black, Nickelodeon's Kenan & Kel and Sister, Sister. He also wrote the screenplay for A Thin Line Between Love and Hate, and some TV show you may have watched in the 1990's called In Living Color. His upcoming film The UnBroken is set to shoot this fall.
 Kim Bass is most famous for creating hit children's programming: the animated Men in Black, Nickelodeon's Kenan & Kel, which starred future SNL cast member Kenan Thompson, and Sister, Sister. He also wrote the screenplay for A Thin Line Between Love and Hate, and some TV show you may have watched in the 1990's called In Living Color. In 2007, he created Bass Entertainment to produce his own films. Up next is a western. Perhaps Hollywood is a town big enough for the two of us to talk about it. The UnBroken is set to film this fall.
 For "The UnBroken," what made you want to shift into westerns?
I have always wanted to do a western since I was a young boy. My father was a cowboy and I grew up riding horses and even competing in a few horse shows. So, it's not so much a shift to the western genre as it is going back to my roots.
Filmmakers like Quentin Tarantino look to the past to head to the future for their work. Did you study any old 1950's or 1960's western films? What about the style he used for "Django Unchained" called spaghetti westerns?
I really enjoyed Django. I think that Tarantino's use of his talent and that of his actor's coupled with a unique take on the genre struck just the right cord. The film was thoroughly entertaining on multiple levels.
What do you plan to do with filming the action sequences? Those are terribly hard to write and especially seem hard to direct.
We are scheduled to begin shooting in September of this year but I intend to handle the action sequences like the rest of the picture. Drama with words and drama with action can be just as deep and just as revealing when it comes to communicating the story and character arcs to the audience. The main thing is to make people feel something.
Do you plan to use any unexpected film editing or directing techniques?
Again, we haven't begun filming yet. But I expect to utilize whatever techniques enhance the story without getting in the way of the story.
Avoiding any spoilers, how does this script bring on drama that is really necessary in order to have an excellent western? Nobody cares about the action unless you absolutely hate the bad guys, right?
The script, by its very nature is dramatic. The characters all need and desire love and happiness and to know that they mean something in the world, which are not easy things to achieve or attain in a hard land with even harder in habitants trying to tame the land. I don't know if hate is the right word… To me, I think understanding the "bad guy" to be what he is and rejecting his philosophies and actions based upon his philosophies makes it more fun to root against him. A well conceived bad guy should ultimately be a mirror in which the audience and the hero can see something of themselves. Yin and Yang if you will.
This probably shows my age, and I'm kind of half ashamed to say this, but I'll say this how I feel on paper in all caps. I WATCHED "KENAN AND KEL" AND "SISTER SISTER" LIKE, OMG, LIKE NONSTOP ON NICKELODEON AND DISNEY WAY BACK WHEN(!). I'm not saying this in TV show style false flattery. I really remember how I loved the episode where Kel and Kenan stain the girl's sweater with orange soda. What I absolutely loved about both of these shows is although they starred African-American kids and represented black life in America well, they bridged across to kids of every color. And I know I wasn't the only one who thought so, because the networks aired them nonstop for years. Being able to pull that off is incredible for anyone. How are you trying to make that widespread love among every race part of your current and future work? *sorry for gushing*
Well, first of all, thanks for being such a fan. Those shows were fun. Sister, Sister was actually inspired by my twin sisters and Kenan & Kel was somewhat modeled by the exploits of mine and my best friend when growing up. As far as race is concerned, I tend to populate my stories with characters from various ethnic backgrounds. That is the real world and I like stories to reflect the real world even if they are fictional in nature.
After "The Unbroken," what do you have in mind for producing/directing? Do you ever want to step back into comedy, animation or family genres?
After The UnBroken, I intend to make an of beat comedy followed by a tear-jerker, family drama. I have worked in animation and would love to make a film from a story that my 8 year-old son and I are developing together. As far as getting back into television, I am always open to telling interesting stories on whatever screen suits the story best.
HILARIOUS VIDEO: This Man's Wheel Of Fortune Introduction Will: A) Make him a viral star. B) Lead to a divorce. C) Potentially both.
Blair Davis started out nice enough. Then he was asked about his family…

We appreciate a stark sense of humor. 😅 Last night's contestant Blair had us all laughing. pic.twitter.com/jwVXHSNWH0

— Wheel of Fortune (@WheelofFortune) October 15, 2019
He's clearly kidding, but ouch!
"I've been trapped in a loveless marriage for the last 12 years to an old battle-ax named Kim. She cursed my life with three stepchildren: Star, RJ, and Ryan, and I have one rotten grandson."
I'm sure this family loves his crazy sense of humor, and Wheel Of Fortune scores a great PR moment.
The College Admissions Scandal Now Has A Sexy Halloween Costume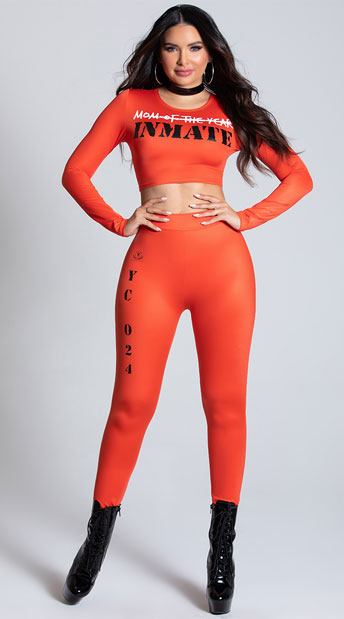 If there's one thing we can expect each year, it's that a current news story will be translated into a comical Halloween costume. In this case, the college admissions scandal did not go unnoticed by costume maker Yandy, who knows a thing or two about creating  sexualized costumes based on news events. Check out the costume being branded as "YANDY COLLEGE SCANDAL COSTUME."
A take on the mothers involved in the scandals (Felicity Huffman has already been sentenced, and Lori Loughlin awaits her hearings) the outfit is a tight fitting prisonwear look. A sleek reddish orange crop top reads "INMATE" with "Mom of The Year" crossed out.
Currently 69.95, the company also knows how to get PR!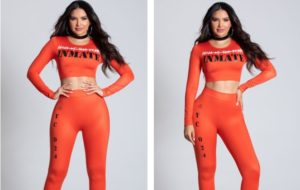 Kygo and Whitney Houston's "Higher Love" Video is Full of 80's Fun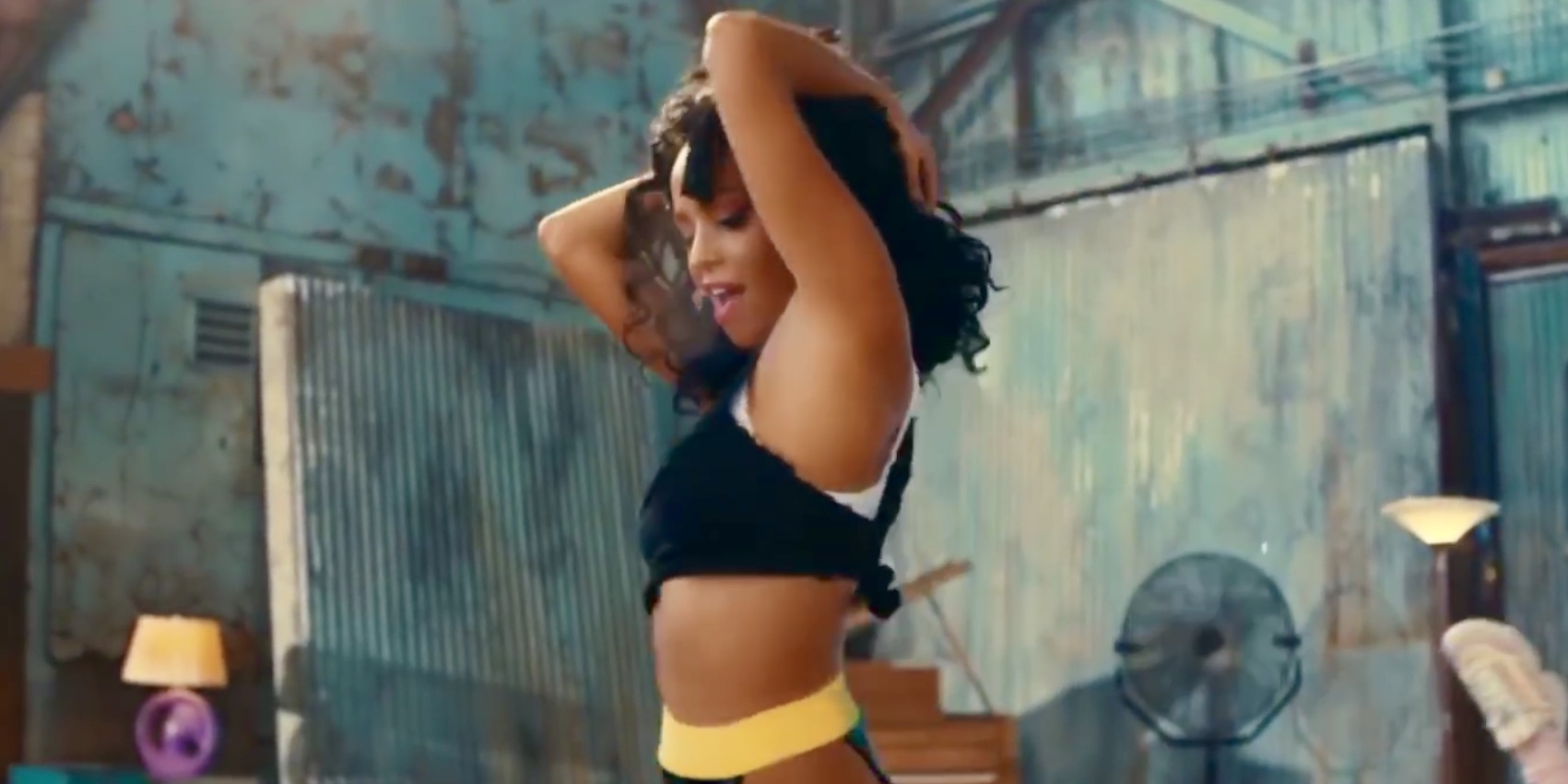 An eighties inspired dance number, a gorgeous ensemble, and the incomparable Whitney Houston come together for a fun flashback in the new video!
Houston had often performed Steve Winwood's "Higher Love" during her concert tour, and recorded the song thirty years ago. This summer, a new version re-mixed by Kygo hit the top of the dance charts.
The video stars Vanessa Morgan and Mason Cutler, both of whom are absolutely stunning to look at. See for yourself!