Steven's Golden Globe Picks- Television
Check out Steven's Picks for the TV portion of tonight's Golden Globes
It's Golden Globe time and with the Oscar Nominations announced, it's also time to see which movies, actors, etc have the best chance to come away with golden statues in February. Take a look at my picks for both TV and Movies at tonight's Golden Globes.
check out my TV picks here. Follow me on Twitter @StevePanzarella for live updates and opinions on each and every winner and loser.
Best Drama-
Breaking Bad
Boardwalk Empire
Downton Abbey
Homeland
The Newsroom
This one gets complicated, HBO's controversial hit The Newsroom was my favorite show of last year but Homeland is by far the most critically acclaimed program on television. Holding a Heavy advantage in being beloved by any and all fans make Homeland the favorite.
Best Performance by An Actrees: Drama-
Connie Britton-Nashville
Glenn Close-Damages
Claire Danes-Homeland
Michelle Dockery-Downton Abbey
Julianna Margulies-The Good Wife
This always seems like the one award that gets the same few names yearly but again, holding the distinct advantage is "Homeland" Claire Danes week in and week out performance as a somewhat psychotic CIA officer makes her again the lead for this award.
Best Performance by An Actor: Drama-
Steve Buscemi-Boardwalk Empire
Bryan Cranston-Breaking Bad
Jeff Daniels-The Newsroom
Jon Hamm-Mad Men
Damian Lewis-Homeland
The question is can Damian Lewis help Homeland sweep? I believe it's an absolute possibility but i will pick this one with Jeff Daniels who was awesome as Will McAvoy, the brash, journalist and anchor of News Night in The Newsroom.
Best TV Series: Comedy Or Musical
The Big Bang Theory
Episodes
Girls
Modern Family
Smash
You actually can't go wrong in this set of shows. Modern Family is the juggernaut of the group for it's consistency but Girls, Smash, and The Big Bang Theory all have high hopes. Big Bang took home the peoples choice award earlier this week and for me that could be enough to make it one of the nights big upsets. I'm taking Big Bang over the overqualified field of comedies.
Best Performance by an Actress: Comedy/Musical
Zooey Deschanel- New Girl
Julia Louis-Dreyfus-Veep
Lena Dunham-Girls
Tina Fey-30 Rock
Amy Poehler-Parks and Rec
While i love the idea of the two hosts competing for the same award, and the fact that this is 30 Rocks last season has many people picking Fey. I actually think this is between Louis-Dreyfus for Veep and Dunham for Girls. While Dunham does an excellent job  in the very awkward HBO comedy that she also writes, I am an even bigger fan of the former Seinfeld vet Julia Louis-Dreyfus. She is hysterical, as an uninspired, under worked Vice president and my pick for best actress.
Best Performance by an Actor: Comedy/Musical
Alec Baldwin-30 Rock
Don Cheadle-House Of Lies
Louis CK-Louis
Matt LeBlanc-Episodes
Jim Parsons-The Big Bang Theory
It would be cool to see Alec Baldwin take home one final award for his great work on 30 Rock and my rooting interest goes with Jim Parson's who is perfect week in and week out on the Big Bang Theory. Can Matt LeBlanc repeat? Maybe but I'm picking Parsons.
Best Miniseries or Motion Picture Made for TV
Game Change
The Girl
Hatfields and McCoys
The Hour
Political Animals
I was a huge fan of almost all of these miniseries, especially The Hour which I thought felt more like Britain's version of Mad Men. Led by an excellent cast, The Hour is the program I would love to see win the golden globe. HBO has two well acted movies on here as well, with the political Sarah Palin film Game Change and the Alfred Hitchcock-Tippi Hedren biopic The Girl . I thought Hatfields was excellent as well, with History showing that they can produce some very well done product this is a close one. I have to take The Hour, a 6 episode mini series with a sequel that came out this year, it's deserving of some recognition.
Best Performance By An Actress: Mini Series or Motion Picture made for TV
Nicole Kidman-Hemingway and Gellhorn
Jessica Lange-American Horror Story: Asylum
Sienna Miller-The Girl
Julianne Moore-Game Change
Sigourney Weaver- Political Animals
The level of performances we saw this year in Mini Series and Made for TV movies was astouding. We saw Julianne Moore as Sarah Palin, Sienna Miller as the Birds star Tippi Hedre, Jessica Lange as the tough Sister Jude on American Horror Story Asylum. Lange won the award last year for American Horror Story and she is my pick to win again this year. Her character is just too twisted, on such a crazy show, and she is consistently the reason why most people watch week in and week out.
Best Performance by An Actor: Mini Series or Motion Picture made for TV
Kevin Costner-Hatfields and McCoys
Benedict Cumberbatch-Sherlock
Woody Harrelson- Game Change
Toby Jones- The Girl
Clive Owen- Hemingway and Gellhorn
This year was the year of two Alfred Hitchcocks and Toby Jones turn as the oddball horror icon was one of the best performances all year. It's nice to always see older faces like Kevin Costner who was excellent in Hatfields but my pick again goes to what i thought was the best performance of the year in a Mini Series, and that is for Benedict Cumberbatch who in my opinion is the best Sherlock Holmes we have seen in a long time.
Best Supporting Actress in a Series, Mini Series or Motion picture made for TV
Hayden Panettiere-Nashville
Archie Panjabi-The Good Wife
Sarah Paulson-Game Change
Maggie Smith-Downton Abbey
Sofia Vergara- Modern Family
Really, is there anything better then what Dame Maggie Smith does weekly on Downton? I believe it's time we gave Dame Maggie her due.
Best Supporting Actor in a Series, Mini Series or Motion Picture made for TV
Max Greenfield-New Girl
Ed Harris-Game Change
Danny Huston-Magic City
Mandy Patinkin-Homeland
Eric Stonestreet-Modern Family
With the likes of Ed Harris and Eric Stonestreet in for this award, and Mandy Patinkin repping Homeland, wouldn't it be great to see Max Greenfield win for New Girl? He is one of the most likable characters on TV as the oddball Schmidt. One of my favorite characters on all of television, and in the somewhat irrational world of me and the Golden Globe voters, I think Greenfield has earned it.
HILARIOUS VIDEO: This Man's Wheel Of Fortune Introduction Will: A) Make him a viral star. B) Lead to a divorce. C) Potentially both.
Blair Davis started out nice enough. Then he was asked about his family…

We appreciate a stark sense of humor. 😅 Last night's contestant Blair had us all laughing. pic.twitter.com/jwVXHSNWH0

— Wheel of Fortune (@WheelofFortune) October 15, 2019
He's clearly kidding, but ouch!
"I've been trapped in a loveless marriage for the last 12 years to an old battle-ax named Kim. She cursed my life with three stepchildren: Star, RJ, and Ryan, and I have one rotten grandson."
I'm sure this family loves his crazy sense of humor, and Wheel Of Fortune scores a great PR moment.
The College Admissions Scandal Now Has A Sexy Halloween Costume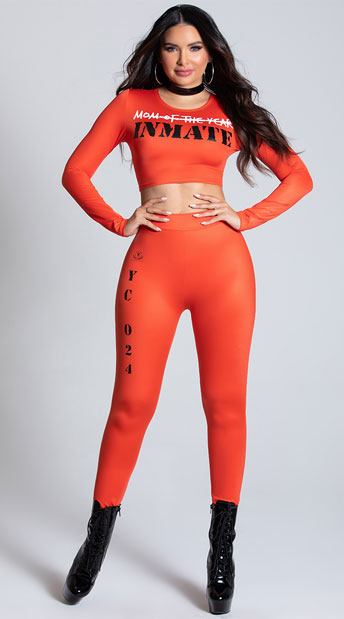 If there's one thing we can expect each year, it's that a current news story will be translated into a comical Halloween costume. In this case, the college admissions scandal did not go unnoticed by costume maker Yandy, who knows a thing or two about creating  sexualized costumes based on news events. Check out the costume being branded as "YANDY COLLEGE SCANDAL COSTUME."
A take on the mothers involved in the scandals (Felicity Huffman has already been sentenced, and Lori Loughlin awaits her hearings) the outfit is a tight fitting prisonwear look. A sleek reddish orange crop top reads "INMATE" with "Mom of The Year" crossed out.
Currently 69.95, the company also knows how to get PR!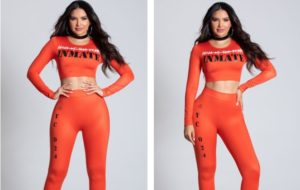 Kygo and Whitney Houston's "Higher Love" Video is Full of 80's Fun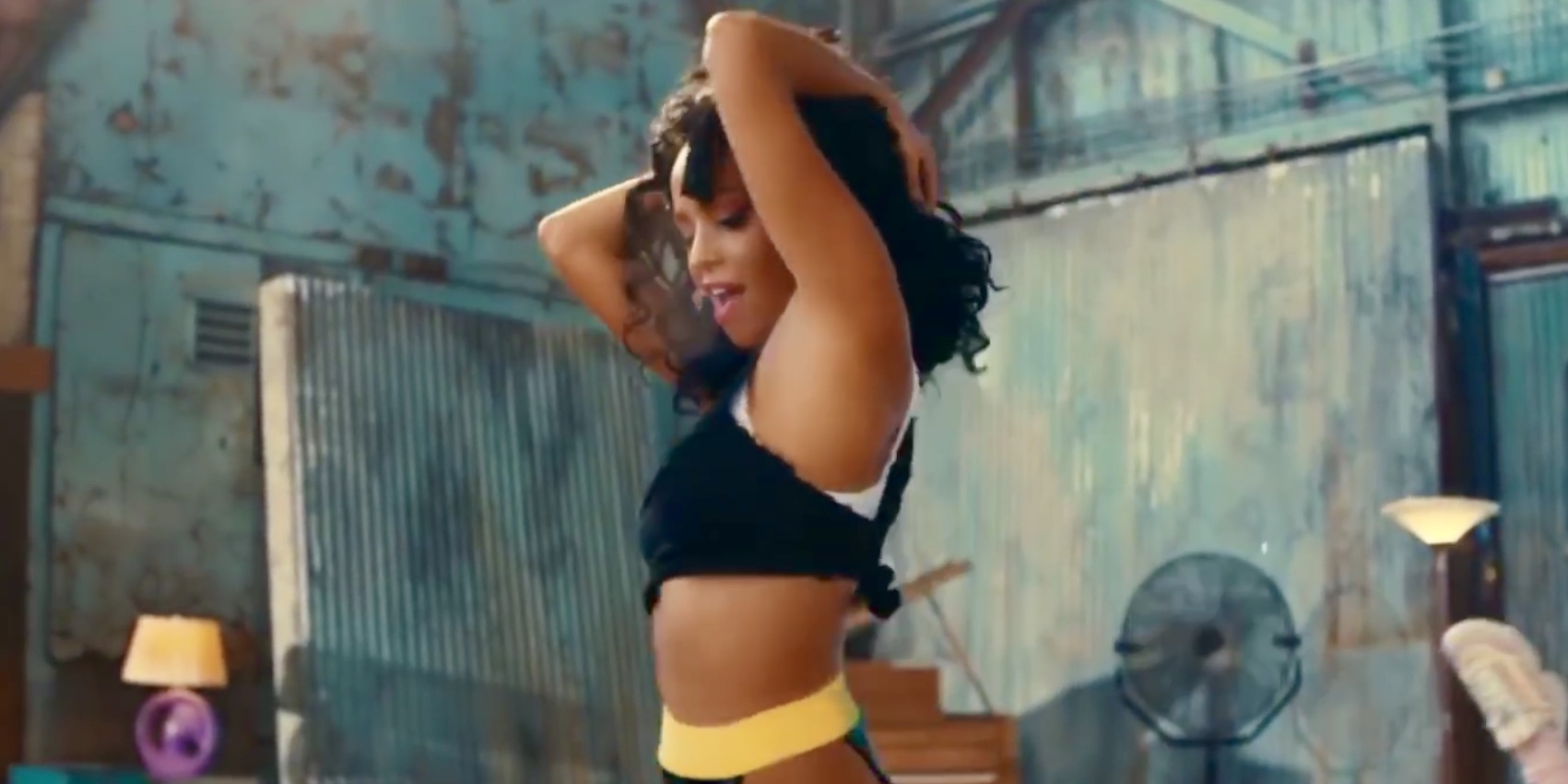 An eighties inspired dance number, a gorgeous ensemble, and the incomparable Whitney Houston come together for a fun flashback in the new video!
Houston had often performed Steve Winwood's "Higher Love" during her concert tour, and recorded the song thirty years ago. This summer, a new version re-mixed by Kygo hit the top of the dance charts.
The video stars Vanessa Morgan and Mason Cutler, both of whom are absolutely stunning to look at. See for yourself!