POP INTERVIEW: Stylist Sam Russell
For years, he performed makeovers on Ten Years Younger. Since then, Sam Russell has been styling for his company, The Wardrobe Dept.
For years, he performed makeovers on Ten Years Younger. Since then, Sam Russell has been styling for his company, The Wardrobe Dept.
When you were watching Oprah all those years she helped people on her show, what made you think that you, not a talk show mogul – because who really could be Oprah at this point, as successful as anyone is? – could actually do the same thing?
When Oprah made her "next chapter announcement", it sparked something inside of me. I never knew success or influence on a "Oprah" level, but I have been very blessed in my career and knew I could do more with my Hollywood and fashion contacts. I did not want to spend my time anymore acquiring free "PR Swag" for wealthy clients. I wanted to make a difference and prove that fashion does have a heart. There is a woman out there that can benefit from a hand-up, not a hand-out.
Several years ago, you worked with TLC's "Ten Years Younger." What can really make someone look ten years younger with his or her wardrobe?
It was an honor to work on the final season of Ten Years Younger. There was alot to do on this production and my sole responsibility was to dress the host and the glam squad. Before wardrobe comes to mind, I always suggest that men & women take better care of their skin. Moisturizing is a sure fire short cut to taking 10 years off of a tired face. Do not leave your house in sweats! Even a quick trip to the post office at least deserves a pair of jeans. You never know when you may bump into a client and a sluggish demeanor often adds years to your life. Lack of a honest and sincere smile instantly adds unwanted years to your life.
People rave on about someone 30 being unable to wear some things, and once you get to 40, that has to go, then 50, something else, 60, 70, until it seems like you cannot wear anything but grandma muumuus. What if someone has a great body? Should they *really* have to cover it up if they look better than young people?
Your clothing should always accentuate you at your best.Too short mini-skirts that you wore when you were 20, does not work much further beyond those years. Your clothing should evolve with you. This is such a personal journey and is so uniquely your own. If you hire a professional to care for your care, or your taxes, you should consider the same for your wardrobe.
* Agree to disagree. Examples: Cher, Gwyneth Paltrow or Catherine Zeta-Jones. 🙂 *
I'm not from Austin, Illinois actually and proud of it, but I went to UT for my last two years of college! You're from Austin, Texas originally. What do you love about Austin fashion? What do you hate about it? How do you feel about women and how they dress in different parts of the city? Some of the college students, back when I went, looked like they didn't know what running water and shampoo were. ;\
I always loved the laid back tone of Austin locales.Its never been a fashion scene and it shouldn't be. It's deeper and more educated than that. People in Austin love to talk about good food, philosophy, politics and the weather. We go to Dallas for serious fashion talk! I think of a hippie with a Mercedes when I think of Austin. Its so uniquely its own scene.
How is LA, meanwhile? What do you love and hate about your new city of residence with its fashion? What makes you want to strangle people you see out on the street and give them a new wardrobe for their fashion "don't"s?
Los Angeles is a beautiful city geographically. I get very frustrated about the ego and how out of balance it is here. So many stylists and TV shows tear people down way to often. I do not come from that perspective. Anyone can criticize someone else, but do you have what it takes to build someone up? I prefer the east coast when it comes to fashion. The opportunity to layer truly allows for your fashion eye to shine.
So many people want to be stylists these days. Blame it on Rachel Zoe, right? She was probably the first big stylist of the 2000's. What really sets someone apart? And you in particular, why might someone think you are a better stylist than others, if you had to promote yourself and your work?
Its very important to separate your work from your ego. This is what has set me apart from the rest. As much as I love my designer goods in my closet, when with a client–that is not my time to shine. That is there time. I am often the jeans and t-shirt guy in dark glasses when you see a celebrity entourage. Its not about me, its about them and THEIR moment.
You are out and about trying to make a name for yourself in the styling wworld, and I assume, trying to reach people who might not normally read fashion magazines or blogs. Good job! What is your advice to other LGBT teens and young people who haven't yet discovered their passion and don't know what to do with themselves in addition to feeling confused about their gender dating preferences? Or maybe hating themselves and not seeing the potential in them to be businesspeople?
It is so important for gay. lesbian, and transgendered youth to find support and a network that accepts them for who they are today. I grew up hating myself as a gay teenager and If I could go back and do something different…..I wouldn't. Its the journey of self discovery that forms our personalities and our drive. I can relate to anyone that has been bullied or gossipped about. Why? Because it happened to me.
No matter what your education, your networking skills will land you that dream job. People will take a chance on you if you are likable. No one wants to hire the bitchy drama queen. These people grow up to be "loose cannons" and do not fair well in personal or professional relationships. Finding your passion in life takes time and may change from one year to the next. But when you do stumble upon your passion, it will never feel like a day of work for the rest of your life.
Watching Cindy Crawford Do Her Simple Makeup Routine In Eight Minutes Is Absolutely Riveting
A YouTube video of the 53 year old beauty doing her very minimal make up regimen has gotten nearly 2 million views. The tutorial shows just how likable, real, and beautiful she is.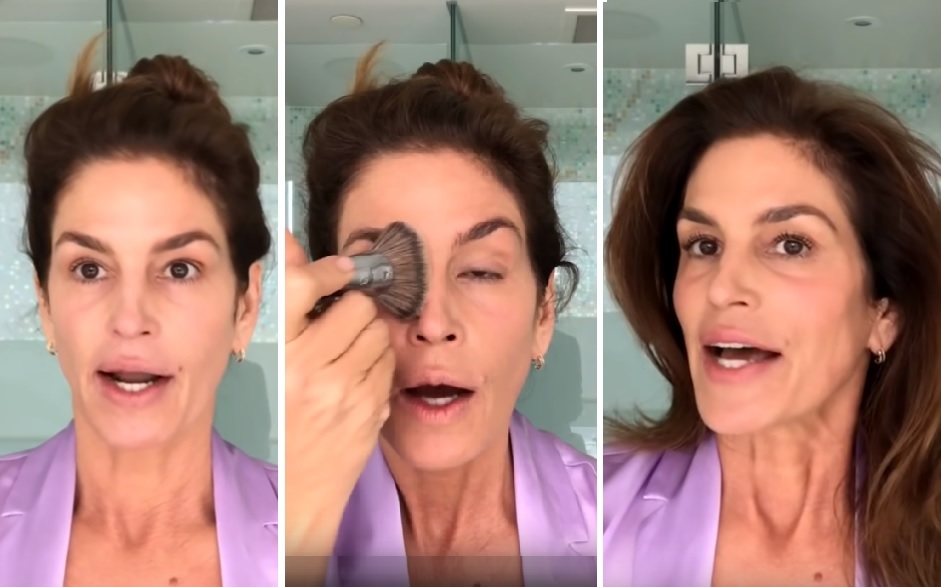 A YouTube video of the 53 year old beauty doing her very minimal make up regimen has gotten nearly 2 million views. The tutorial shows just how likable, real, and beautiful she is.
First of all, seeing a veteran supermodel without her makeup appeals to the voyeuristic side in all of us. Did she have work done? What does she REALLY look like. The answer? Whatever she has or hasn't done, she looks like a gorgeous 53 year old who is genuine, appealing – and looks like a natural beauty.. The video, which she shot for vogue with what looks like her own camera phone, also contains honest reflections on what it was like growing up in the world of high fashion without any experience in makeup, just how much makeup her husband likes, and what she has learned from her daughter's makeup routine. I love that she didn't go to great lengths to wash herself out with extra lighting or filters. She's simply stunning.
STYLE TREND: The Seasonal Hair Colors Of The Moment Is "Mulled Wine."
Wine inspired hair color has never looked more festive!
Wine inspired hair color has never looked more festive.
It turns out any stylist worth their peroxide is on top of the hue of the moment – and that's a burgundy wine that can range from bold pops to gradul hombres. Check out these instagram influencers who are leading the trend!
Check out these from christinakreitel … and more! Scroll down!
OR THIS FROM MIMISSALON!
Or another, from Guy Tang!
I'm Ready, Technology. When Is This Happening??