POP INTERVIEW: E! Reality Star Candice Kumai
Candice Kumai was the token "hot girl" on Top Chef years ago. The chef and cookbook author is back on television with her new reality show, Playing With Fire.
Candice Kumai was the token "hot girl" on Top Chef years ago. The chef and cookbook author is back on television with her new reality show, Playing With Fire.
You were on the very first season of "Top Chef." Which seems like 100 years ago but it was really 2006. As the show progresses, who have you found yourself rooting for over the years, and who made you want to throw squash at the TV set? Or, say it was not anyone in particular. Maybe not a person but something they did well or poorly?
Sadly, I do not have time to catch as much tv these days, as I am very imbued on my own food writing/publishing/tv etc. Yes we shot Top Chef season One in 2005. I am still fond of/root for many of my friends/collagues from the series; Harold Dieterle, Hung Huynh, Richard Blais and Fabio Viviani, etc. Their incredible hard work, along with their uncanny work ethic and ability to stay positive and focused throughout their packed schedules. That's why I love them. Regarding others in food that I look up to, I'm a fan of Amanda Freitag, Marco Canora, Elizabeth Falkner, Takashi Yagihashi, Dan Kluger, to name few of many, I admire.
You're really into promoting made from scratch foods sans preservatives. What is your pet peeve additive in food that people don't know about?
I'm not a fan of over-processed, chemical-laden, lab-tested "foods." Over-marketed/highly-advertised products promise bogus results. I'm about keeping it real. Sadly, advertisers continuously mislead lead individuals down a path of failure; To drop the excess "jiggle"? You simply need to eat real foods again and exercise for maintenance, that's it. From the soil, a tree, the roots? It's good for you. We all know that bananas, apples and oranges can't speak for themselves, hook up that avocado and be it's biggest fan. Go down the path of nature, not trends, fads or advertising.
What got you into organic produce and makeup?
Growing up with a beautiful Japanese-born Mother, and a Father who was raised on a farm, they were organically influential. It doesn't get more real than that. Eating well and having a positive outlook on my health and mental wellness is in my culture and heritage. I don't necessarily promote eating organic as much as clean and simply real.
I do love my beauty products. I was a host at HSN (yes, the Home Shopping Network at 25 years old.) Which may have added to my organic fascination of all things beauty. Lately, I have built up an obsession with coconut oil. I tend to indulge, use it as body lotion, cook with it, developing lots of new recipes with coconut oil etc. The MCFA's (medium chain fatty acids) are easy for the body to breakdown and metabolize, so it does a body, real-good. Also proving not all saturated fats are created equal. I have found myself slathering it all over my legs and face. I have to find a way to preserve this moneymaker without all dousing it up with chemicals. Body brushing is another great beauty habit, making homemade sugar-scrubs, face masks (like my "Pampered Pantry" in my book Pretty Delicious) has become a hobby of sorts.
Plus, my sister is a Berkley-hippie-granola-grad. She has really helped me to be a positive influence in making more sustainable choices.
I believe in eating well to maintain beauty; beautiful starts from the inside.
Also, you used to surf. Awesome! What are some outstanding surfing-based exercises we can do at home? And how can someone learn to surf without an expensive weekly training camp? Secondly, what are some foods you love that were first introduced to you by fellow surfers?
Dude, why yes. Proudly. I still catch a glimpse of the surf when I fly back to LA, SD, Hawaii etc. Painful bliss.
Some surfing – based exercises that can be done at home? I mean just keeping a strong core and upper body is key. Yoga and Bar Method are my favorite and most zen exercises. I wouldn't say you can compare either to surfing? Perhaps watching some old surf flicks, like Taylor Steele's "Good Times or "Riding Giants", those may keep you pumped on your next trip to San Diego or Santa Barbara, but I'm not prepared to surf in the murky East cost just yet. I prefer warm-water/California surfing. There's also massive regression in skills once you leave CA. That, yes, that is happening.
You wrote a second blog post about why you embrace being single. In it, you mention an article called, "This Is Why You're Single." (NOTE: Major yuck to whoever wrote that original one you rebelled against. People are single because they haven't met the one or choose to be!) If you met your "one" tomorrow, what qualities would you look for in someone? What would you cook for that person to seal the deal?
Thank you, that post is one of my most read, ever. I'm quite peculiar about who I date…I'm just looking for someone who can be my partner for life. Open, honest, passionate about life, hard-working, charming, brilliant, fun, adventurous, hilarious and confident. It's a bonus if he's physically fit, tall and happens to love food and travel as much as I do. Does he exist? He must.
Food can be about trying to fit in, like high school. The best chefs, like my favorite chef in the entire universe, Mr. Emeril Lagasse, become iconic when they are true to themselves. You become irreplaceable. So, now, please tell us, what is your personally developed recipe truest to your spirit, and how do you see yourself leading your life from "the cute girl from Top Chef" to undeniably, forever a culinary legend?
I can definitely say, I have always just been, Candice, and nothing more. Through all of my writing, books, recipes, magazine interviews, tv shows etc. I'm just being myself. I'm a true, passionate Japanese-American girl, who's a big food-geek, with the intent to help other's improve their lives through good-food, nothing more. The universe will have its own way in regards to whom will become "iconic/irreplaceable" in the world of food. It will never be up to me to coin or claim my time. However, I'm truly confident I'm on a great path. I'm running a long marathon. I'm surrounded by like-minded, hard-working, brilliant individuals who all believe in my work/future endeavors. And in this lifetime, it is all about hard work, focus and synergy with those like-minded individuals. I truly look forward to what the future holds.
Ever since it came on in the original Japanese edition, I've loved "Iron Chef." What is it like being there? Are you supposed to be really mean and over dramatic? Every guest chef on there, either the ones cooking or the judges gets into this awesome critical mode. What do you do as a judge that isn't seen on camera or perhaps the camera doesn't properly reflect 100 percent?
Isn't it such an incredible series? With 10 seasons-deep, it's as strong as ever. Such a well executed show. It's definitely not over-dramatic. Quite the opposite, actually. It's the greatest pleasure in my career to be a part of that show. Everyone from the crew to the Iron chefs, Sous Chefs and Challenging chefs are really truly having a great time because we are all doing what we are passionate about. It is my greatest honour to judge on Iron Chef America, and I judge from my honest and open palette and heart. There's really nothing quite like that table, all of the Iron Chefs are badasses and I owe my colleague and fellow judging mentor, Simon Majumdar all my thanks for being on the series.
Do tell about your projects. What's going on for you this year, and what is going to happen with your exciting new show?
Well, there's a plethora of new irons in the fire, although, I have to be that lame person and say "I can't really talk about it." There are a million and one projects coming up that will dazzle, excite, delight and entertain you. You'll just have to wait and tweet me @CandiceKumai or go to CandiceKumai.com for more updates! I can promise this, unless it is a passion project/collab/show, from my heart, I won't place my name on to the project. I still, and always will work with a very gold-standard. My future of endeavors is absolutely infinite. So thus, more books, shows, magazines, and more, are all in the works 😉 Wink and a smile xx ck
*****Watch her new show on E! every Friday at 8 pm EST!
Kygo and Whitney Houston's "Higher Love" Video is Full of 80's Fun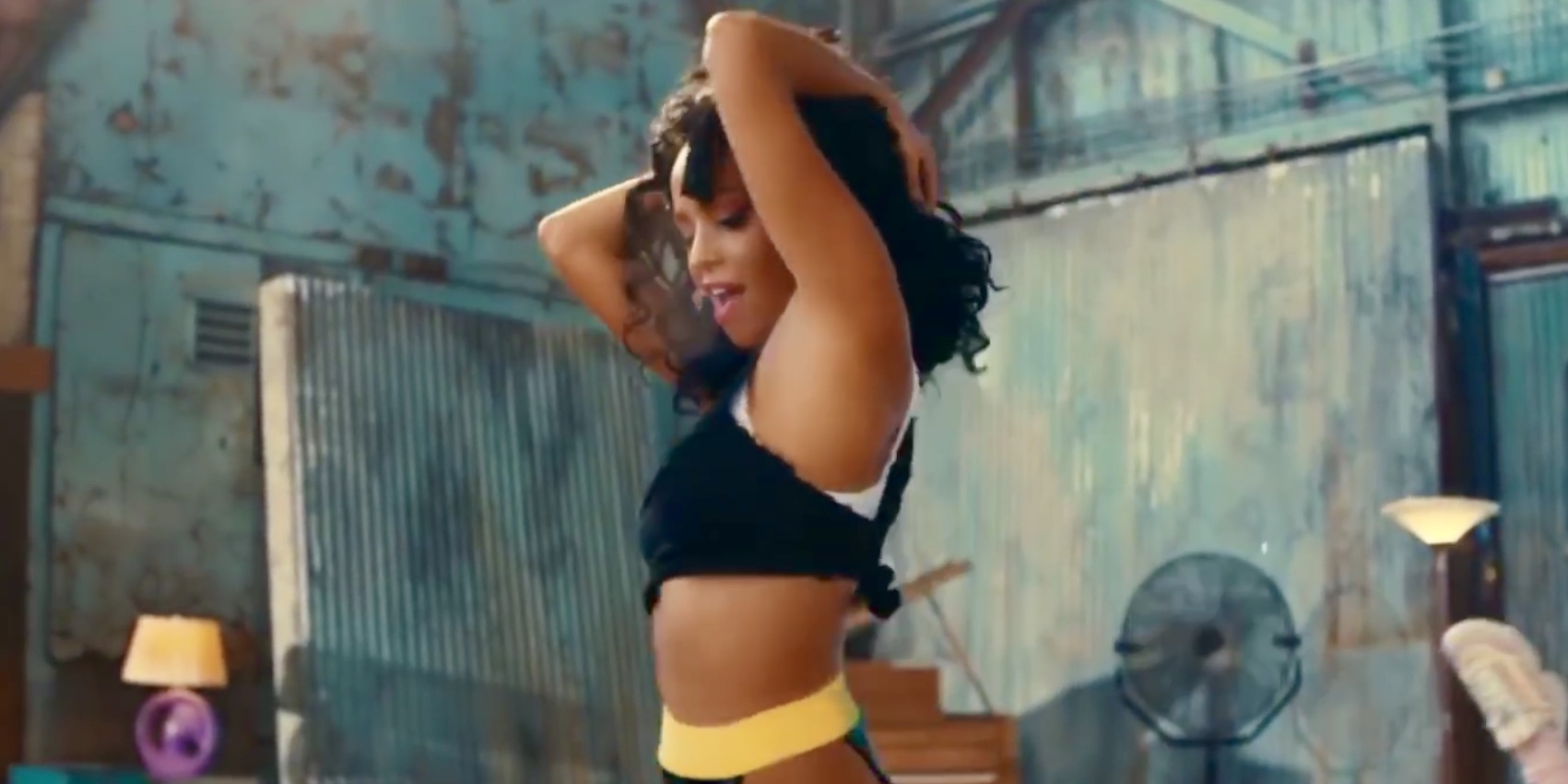 An eighties inspired dance number, a gorgeous ensemble, and the incomparable Whitney Houston come together for a fun flashback in the new video!
Houston had often performed Steve Winwood's "Higher Love" during her concert tour, and recorded the song thirty years ago. This summer, a new version re-mixed by Kygo hit the top of the dance charts.
The video stars Vanessa Morgan and Mason Cutler, both of whom are absolutely stunning to look at. See for yourself!
Compare and Decide: A Jury Decided Katy Perry's "Dark Horse" Copied Flame's Song "Joyful Noise." Do You Agree?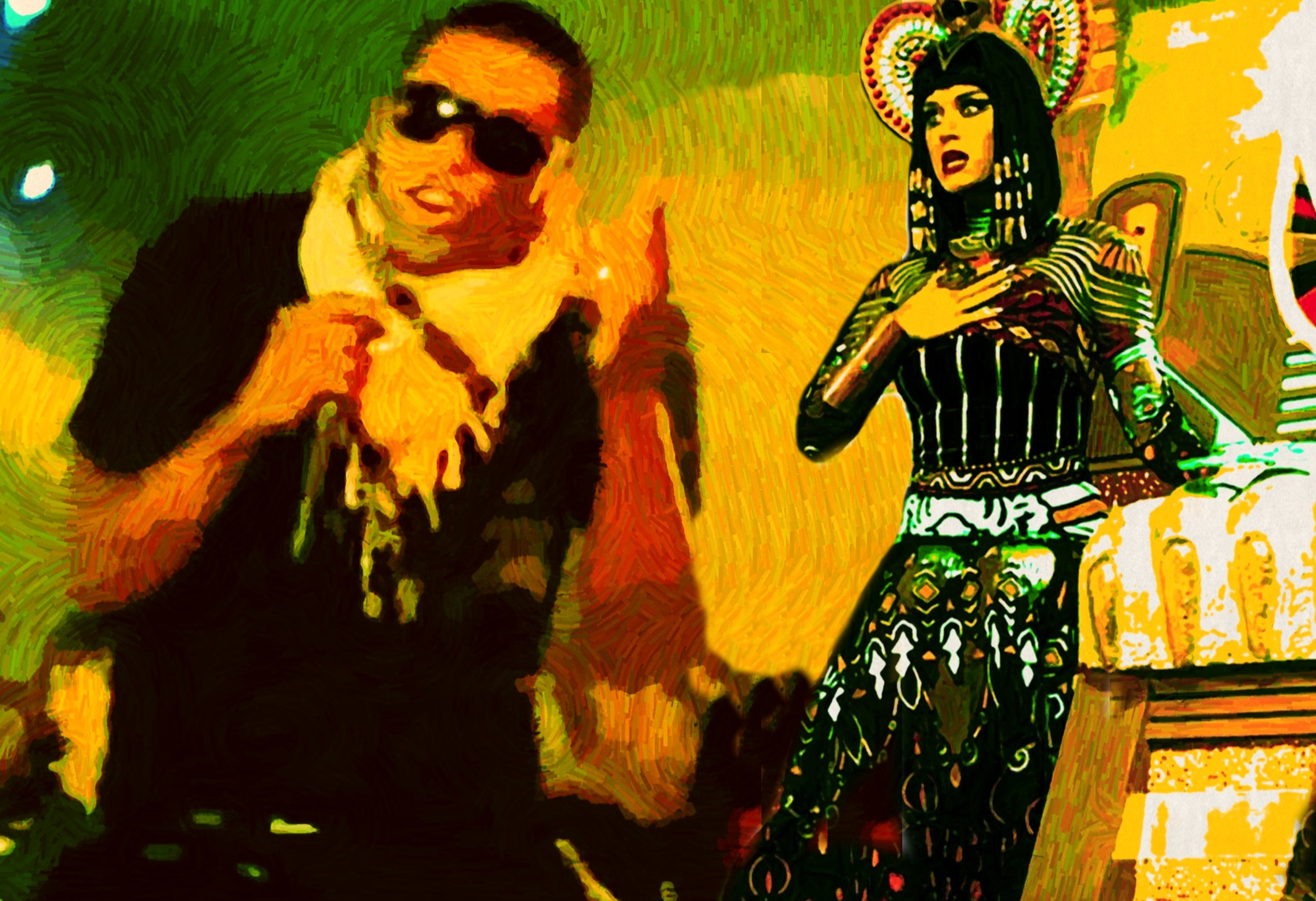 Katy Perry's got a Grammy nomination for her 2013 hit "Dark Horse." But a jury says the tune lifted a riff from a Christian rapper's 2009 song "Joyful Noise."
There's little doubt there is a part of the song that is similar in both tunes. The question is, how much will it cost Perry's camp. The jury was unanimous that there was some ample borrowing going on. (I'm paraphrasing.) And ultimately decided that Perry and her collaborators should pay him $2.78 million.
For your consideration, the two songs are below. Listen to at least a minute of both. You'll hear the part they're talking about.
The price of that little riff could be a high one. Last year, Robin Thicke and Pharrell Williams were ordered to pay nearly $5 million to Marvin Gaye's family over similarities in their 2013 hit "Blurred Lines."
Videos below.
Lizzo Is An Icon In The Making – And Here's Why
Mirror, mirror on the wall don't say it 'cause we know Lizzo cute. And by cute I mean extremely talented, gorgeous and totally inspiring!
A few months ago I was watching The Ellen Degeneres Show when I witnessed one of the most fun, exciting and awe-inspiring performances I've ever seen. Lizzo popped onto the screen in a sparkly, pink getup and began singing what would become her big hit song, "Juice," – I was immediately hooked (more like obsessed). During this performance she also jammed out on her flute alongside her plus-sized backup dancers and suddenly I knew I had been changed forever. I did some more research on the rapper/singer and found out I had been sleeping on this gem! Lizzo has been doing bad all by her damn self for years, having already released two albums in the past. I am suddenly mad at every single person who neglected to tell me to jump on the Lizzo train sooner! If you're like me and need a bit of catch up, I'm going to break down exactly why you need to know this icon in the making.
You can throw a stone in any direction and hit a triple threat nowadays. Lizzo's brings talents we have yet to see in the mainstream music industry.
If singing, rapping and dancing make Lizzo a triple threat, what does flute playing making her?!? A STAR THAT'S WHAT! Lizzo has displayed her abilities as a talented flautist, which is not an instrument you would necessarily think of in conjunction with the rap genre making this talent all the more extraordinary. Lizzo even used her flauting skills to compete (and defeat IMO) with Ron Burgundy. Not Will Ferrell, but Ron Burgundy.
Oh, and she can also twerk while playing the flute. 
As if playing the flute wasn't impressive enough, Lizzo can also twerk while playing. I really hope some high school kid is deciding to take band just so he/she can flutwerk their way around campus like their fav flautist, Lizzo.
Lizzo uses her platform to inspire and raise up everyone around her.
Lizzo uses her voice for more than just creating fire music, ya know. She uses her platform to defend the belief that beauty comes in all shapes and sizes. Her Twitter is filled with positivity and strong messages about acceptance.
MY MOVEMENT IS FOR EVERY 🗣BODY. IM LEAVING NO ONE EXCLUDED. "GOOD FATTYS" AND "BAD FATTYS" AND ANYONE ELSE WHO WANTS TO JUST FUCKING LIVE ARE WELCOME. NO TERMINOLOGY NO IDEOLOGY JUST FUCKING HAPPY PEOPLE IN MY MOVEMENT.

— |L I Z Z O| (@lizzo) March 4, 2019
Uhm…she's straight up gorgeous. 
We cant forget to mention that Lizzo is a straight up beauty queen. She is known to switch up her look but I've never seen a bad pic of this queen. To solidify my point, she is now officially the first, plus sized black woman to be featured in Playboy magazine!
Move over Avenger's, Lizzo has been in a comic book too!
Ok indulge the nerd in me on this one…Lizzo was even featured in a comic book!!! That's right, she has become so influential that even Marvel comics wanted a piece of the Lizzo-pie. Check out this shout-out in Unstoppable Wasp #4!
MY MOVEMENT IS FOR EVERY 🗣BODY. IM LEAVING NO ONE EXCLUDED. "GOOD FATTYS" AND "BAD FATTYS" AND ANYONE ELSE WHO WANTS TO JUST FUCKING LIVE ARE WELCOME. NO TERMINOLOGY NO IDEOLOGY JUST FUCKING HAPPY PEOPLE IN MY MOVEMENT.

— |L I Z Z O| (@lizzo) March 4, 2019
So now that you have become as obsessed as I have, you are probably wondering how you can get even more Lizzo in your life. Well lucky for you, her new album dropped TODAY! Her third studio album, Cuz I Love You, is available anywhere you listen to music and let me tell you, YOU WILL LOVE IT. The album is varied and showcases all of Lizzo's incredible range with some songs being upbeat and funky, and others being slowed down and heart wrenching. For a taste of what to expect, click below to listen to the title track of the album. If the new album still doesn't satisfy the hunger for more Lizzo, she's also on tour! You can click here for more info on tour dates.
Oh Lizzo…you are most definitely 100% that bitch.  
Like what you read? Follow @ChrisSiretz on Twitter and Instagram