POP INTERVIEW: E! Reality Star Candice Kumai
Candice Kumai was the token "hot girl" on Top Chef years ago. The chef and cookbook author is back on television with her new reality show, Playing With Fire.
Candice Kumai was the token "hot girl" on Top Chef years ago. The chef and cookbook author is back on television with her new reality show, Playing With Fire.
You were on the very first season of "Top Chef." Which seems like 100 years ago but it was really 2006. As the show progresses, who have you found yourself rooting for over the years, and who made you want to throw squash at the TV set? Or, say it was not anyone in particular. Maybe not a person but something they did well or poorly?
Sadly, I do not have time to catch as much tv these days, as I am very imbued on my own food writing/publishing/tv etc. Yes we shot Top Chef season One in 2005. I am still fond of/root for many of my friends/collagues from the series; Harold Dieterle, Hung Huynh, Richard Blais and Fabio Viviani, etc. Their incredible hard work, along with their uncanny work ethic and ability to stay positive and focused throughout their packed schedules. That's why I love them. Regarding others in food that I look up to, I'm a fan of Amanda Freitag, Marco Canora, Elizabeth Falkner, Takashi Yagihashi, Dan Kluger, to name few of many, I admire.
You're really into promoting made from scratch foods sans preservatives. What is your pet peeve additive in food that people don't know about?
I'm not a fan of over-processed, chemical-laden, lab-tested "foods." Over-marketed/highly-advertised products promise bogus results. I'm about keeping it real. Sadly, advertisers continuously mislead lead individuals down a path of failure; To drop the excess "jiggle"? You simply need to eat real foods again and exercise for maintenance, that's it. From the soil, a tree, the roots? It's good for you. We all know that bananas, apples and oranges can't speak for themselves, hook up that avocado and be it's biggest fan. Go down the path of nature, not trends, fads or advertising.
What got you into organic produce and makeup?
Growing up with a beautiful Japanese-born Mother, and a Father who was raised on a farm, they were organically influential. It doesn't get more real than that. Eating well and having a positive outlook on my health and mental wellness is in my culture and heritage. I don't necessarily promote eating organic as much as clean and simply real.
I do love my beauty products. I was a host at HSN (yes, the Home Shopping Network at 25 years old.) Which may have added to my organic fascination of all things beauty. Lately, I have built up an obsession with coconut oil. I tend to indulge, use it as body lotion, cook with it, developing lots of new recipes with coconut oil etc. The MCFA's (medium chain fatty acids) are easy for the body to breakdown and metabolize, so it does a body, real-good. Also proving not all saturated fats are created equal. I have found myself slathering it all over my legs and face. I have to find a way to preserve this moneymaker without all dousing it up with chemicals. Body brushing is another great beauty habit, making homemade sugar-scrubs, face masks (like my "Pampered Pantry" in my book Pretty Delicious) has become a hobby of sorts.
Plus, my sister is a Berkley-hippie-granola-grad. She has really helped me to be a positive influence in making more sustainable choices.
I believe in eating well to maintain beauty; beautiful starts from the inside.
Also, you used to surf. Awesome! What are some outstanding surfing-based exercises we can do at home? And how can someone learn to surf without an expensive weekly training camp? Secondly, what are some foods you love that were first introduced to you by fellow surfers?
Dude, why yes. Proudly. I still catch a glimpse of the surf when I fly back to LA, SD, Hawaii etc. Painful bliss.
Some surfing – based exercises that can be done at home? I mean just keeping a strong core and upper body is key. Yoga and Bar Method are my favorite and most zen exercises. I wouldn't say you can compare either to surfing? Perhaps watching some old surf flicks, like Taylor Steele's "Good Times or "Riding Giants", those may keep you pumped on your next trip to San Diego or Santa Barbara, but I'm not prepared to surf in the murky East cost just yet. I prefer warm-water/California surfing. There's also massive regression in skills once you leave CA. That, yes, that is happening.
You wrote a second blog post about why you embrace being single. In it, you mention an article called, "This Is Why You're Single." (NOTE: Major yuck to whoever wrote that original one you rebelled against. People are single because they haven't met the one or choose to be!) If you met your "one" tomorrow, what qualities would you look for in someone? What would you cook for that person to seal the deal?
Thank you, that post is one of my most read, ever. I'm quite peculiar about who I date…I'm just looking for someone who can be my partner for life. Open, honest, passionate about life, hard-working, charming, brilliant, fun, adventurous, hilarious and confident. It's a bonus if he's physically fit, tall and happens to love food and travel as much as I do. Does he exist? He must.
Food can be about trying to fit in, like high school. The best chefs, like my favorite chef in the entire universe, Mr. Emeril Lagasse, become iconic when they are true to themselves. You become irreplaceable. So, now, please tell us, what is your personally developed recipe truest to your spirit, and how do you see yourself leading your life from "the cute girl from Top Chef" to undeniably, forever a culinary legend?
I can definitely say, I have always just been, Candice, and nothing more. Through all of my writing, books, recipes, magazine interviews, tv shows etc. I'm just being myself. I'm a true, passionate Japanese-American girl, who's a big food-geek, with the intent to help other's improve their lives through good-food, nothing more. The universe will have its own way in regards to whom will become "iconic/irreplaceable" in the world of food. It will never be up to me to coin or claim my time. However, I'm truly confident I'm on a great path. I'm running a long marathon. I'm surrounded by like-minded, hard-working, brilliant individuals who all believe in my work/future endeavors. And in this lifetime, it is all about hard work, focus and synergy with those like-minded individuals. I truly look forward to what the future holds.
Ever since it came on in the original Japanese edition, I've loved "Iron Chef." What is it like being there? Are you supposed to be really mean and over dramatic? Every guest chef on there, either the ones cooking or the judges gets into this awesome critical mode. What do you do as a judge that isn't seen on camera or perhaps the camera doesn't properly reflect 100 percent?
Isn't it such an incredible series? With 10 seasons-deep, it's as strong as ever. Such a well executed show. It's definitely not over-dramatic. Quite the opposite, actually. It's the greatest pleasure in my career to be a part of that show. Everyone from the crew to the Iron chefs, Sous Chefs and Challenging chefs are really truly having a great time because we are all doing what we are passionate about. It is my greatest honour to judge on Iron Chef America, and I judge from my honest and open palette and heart. There's really nothing quite like that table, all of the Iron Chefs are badasses and I owe my colleague and fellow judging mentor, Simon Majumdar all my thanks for being on the series.
Do tell about your projects. What's going on for you this year, and what is going to happen with your exciting new show?
Well, there's a plethora of new irons in the fire, although, I have to be that lame person and say "I can't really talk about it." There are a million and one projects coming up that will dazzle, excite, delight and entertain you. You'll just have to wait and tweet me @CandiceKumai or go to CandiceKumai.com for more updates! I can promise this, unless it is a passion project/collab/show, from my heart, I won't place my name on to the project. I still, and always will work with a very gold-standard. My future of endeavors is absolutely infinite. So thus, more books, shows, magazines, and more, are all in the works 😉 Wink and a smile xx ck
*****Watch her new show on E! every Friday at 8 pm EST!
Well Sh-t, Leslie Jordan Has Shared Three Videos Of Himself Dancing In One Week And They're All Perfect
Doing much better now, Leslie.
If you've never believed that "good things come in small packages" then you've never seen Leslie Jordan's instagram. The 4'11" actor known for his iconic roles in shows like Will & Grace and American Horror Story has recently developed a whole new fanbase who loves him for his viral Instagram videos. Usually starting each video by greeting fans with "Well shit, how y'all doing?", viewers have grown to anticipate Jordan's hilarious recounting of stories from his time in show biz or growing up in the south. This week, however, the Tennessee native has shared 3 videos of himself dancing within 5 days and honestly it's precisely what we all need right now.
The first video was posted on August 12th and shows Jordan taking part of the "Git up and dance challenge" which swept the internet about a year ago. Even though he is a little late, the video is still perfection.
On August 13th, Jordan does a dance to "You Can't Stop The Beat" from Hairspray a with special guest dance partner Katie Couric!
Finally, on August 15th, Jordan does an epic "tootsie roll" and challenges Real Housewives Of Beverly Hills star, Lisa Rinna, to do the tootsie roll herself. Of course Rinna commented with a big "ON IT ❤️😂." Who could say no to the viral star?!?
The moral of the story here is that the world is going through some tough times right now but maybe, even for a few seconds, we could all feel better if we'd just dance it out. Thanks for the inspo Leslie Jordan!
Like what you read? Follow me on Instagram
Planters 'Baby Nut' Has Somehow Already Turned 21 And People Are Not Loving The News
2020 keeps getting nuttier.
The world was shocked when the iconic Mr. Peanut was killed during a pre-Super Bowl ad earlier this year. There wasn't much time to mourn, however, before a new nut was thrust onto us like back-to-school commercials in July. Yes, after the 59-year-old mascot met his untimely death consumers were introduced to his reincarnate, Baby Nut. With big, expressive eyes and a tiny stature fans began to swoon over the cute branding revamp and accepted him as the new mascot. Well as if 2020 hasn't been crazy enough, Planters just released a new commercial celebrating Baby Nut's 21st birthday and I'm not sure how to feel about it.
I'm officially 21, my friends! Before you ask, yes, I was just a baby. What can I say? It's been a nutty year. Now someone get this peanut a beer! #MakeMyBirthdayNuts pic.twitter.com/P1UfBIi4N8

— Peanut Jr. (@MrPeanut) August 11, 2020
According to a quick Google search, a peanut plant takes 4-5 months to reach maturity. So with Baby Nut being born in February, he is technically right on track in his growth cycle. The OG Mr. Peanut was the reigning mascot for 59 years so does that mean he was actually over 3,000 peanut-years old? The accelerated aging is not explained in the new ad with Baby Nut (Young Adult Nut?) simply saying "it's been a weird year." Reactions on Twitter are largely negative but as always, hilarious. Here are some of the best: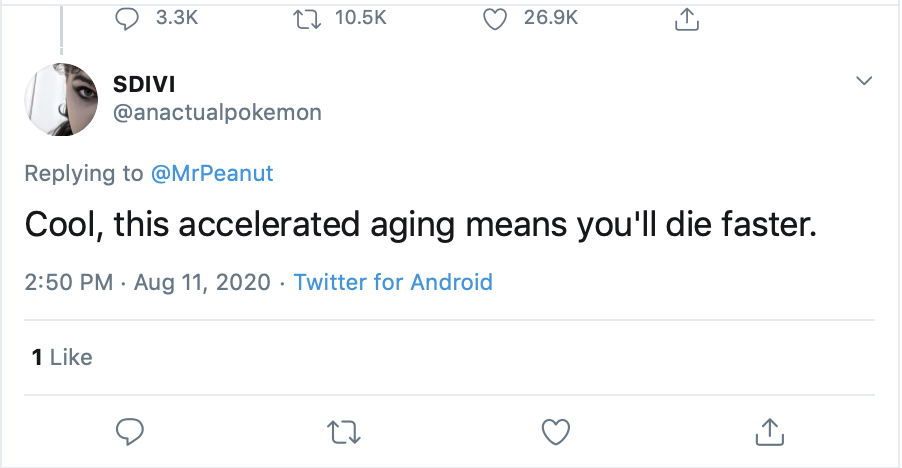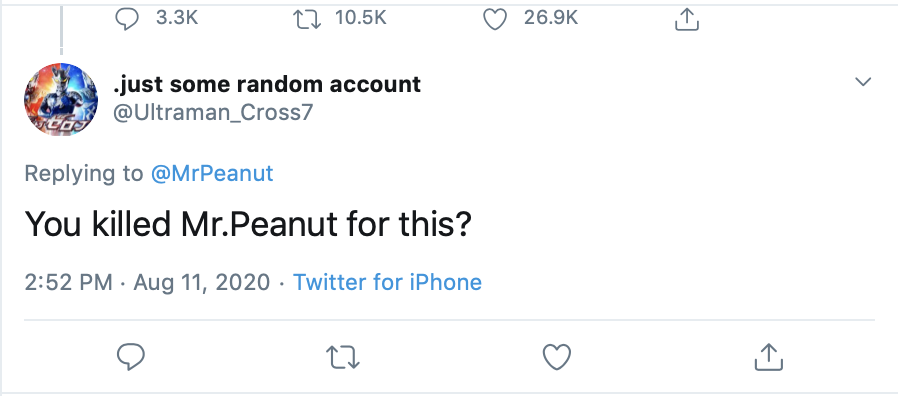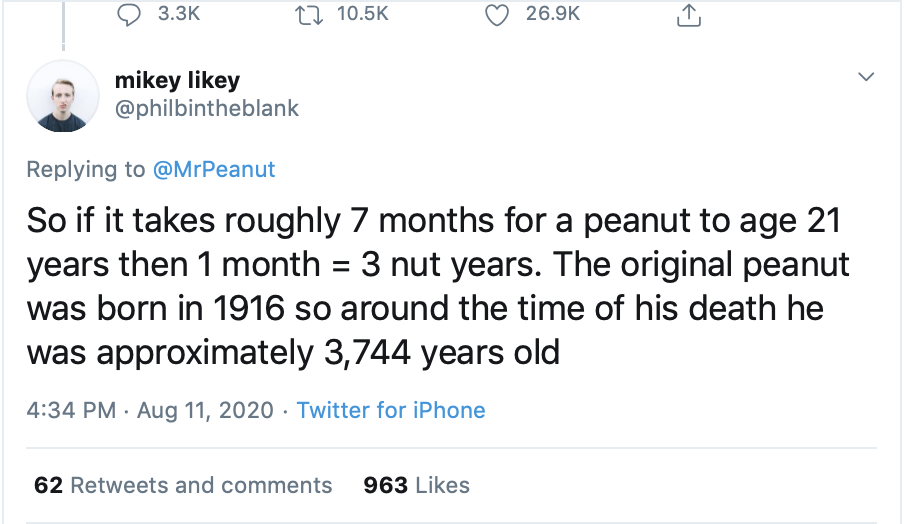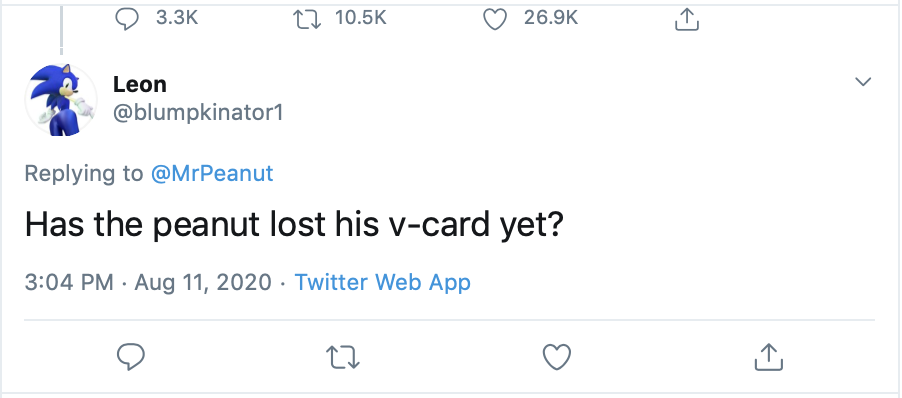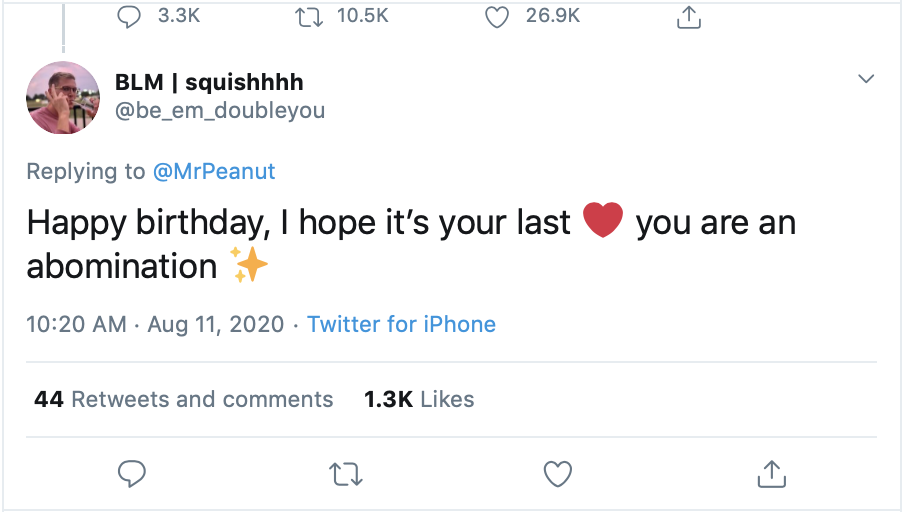 Yikes. Good thing Baby Nut is old enough to drink now…looks like he might need to throw back a few to handle some of these reactions.
To follow Peanut Jr.'s official account click here.
Like what you read? Follow me on Instagram
The Last Blockbuster Store In Existence Is Now Listed On AirBNB
Netflix could never.
Remember how exciting it was to take a trip to Blockbuster back in the 90's? You'd try to get there early enough to rent one of the latest "new releases" before everyone else in the neighborhood got to them. You'd beg your parents for some popcorn and candy which were conveniently placed on the checkout line. And if it was a whole family outing, you'd wander off to look at all the films and games that you were never going to rent but found comfort in knowing you could rent someday. Gosh, it felt like you could spend days inside one of those movie meccas. Well good news, now you can because the last Blockbuster in existence is now listed on AirBNB!
The retailer, located in Bend, Oregon is offering up three one-night stays for up to four guests for folks who want an "end of summer sleepover." The store has added an adorable living room set up which includes a pull out sofa and a big screen tv so guests can binge all their favorite films. Oh and there's snacks! Along with providing ideas for a perfect 90's night the ad also suggests that you should "help yourself to some NERDS, Raisinets and popcorn (heavy on the butter), but make sure you save room for a couple slices."
There is a catch to the whole experience though, the listing is only available to Deschutes County residents. Is it too late to move!?! Manager Sandi Harding explained that the publicity stunt is a response to the newfound economic uncertainty due to the pandemic. "Not much has changed at our store – not even our prices – and that's just how we like it! We think of ourselves as a family, and that includes everyone from the global travelers who come to visit, to the lifelong friends and couples who first met as Blockbuster employees. The Covid-19 pandemic has been a test of our community unlike any other, so we decided to list this stay to keep this tradition alive during these uncertain times."
Such a clever way to keep this iconic 90's treasure trove alive! To check out the AirBNB listing, click here!