POP INTERVIEW: E! Reality Star Candice Kumai
Candice Kumai was the token "hot girl" on Top Chef years ago. The chef and cookbook author is back on television with her new reality show, Playing With Fire.
Candice Kumai was the token "hot girl" on Top Chef years ago. The chef and cookbook author is back on television with her new reality show, Playing With Fire.
You were on the very first season of "Top Chef." Which seems like 100 years ago but it was really 2006. As the show progresses, who have you found yourself rooting for over the years, and who made you want to throw squash at the TV set? Or, say it was not anyone in particular. Maybe not a person but something they did well or poorly?
Sadly, I do not have time to catch as much tv these days, as I am very imbued on my own food writing/publishing/tv etc. Yes we shot Top Chef season One in 2005. I am still fond of/root for many of my friends/collagues from the series; Harold Dieterle, Hung Huynh, Richard Blais and Fabio Viviani, etc. Their incredible hard work, along with their uncanny work ethic and ability to stay positive and focused throughout their packed schedules. That's why I love them. Regarding others in food that I look up to, I'm a fan of Amanda Freitag, Marco Canora, Elizabeth Falkner, Takashi Yagihashi, Dan Kluger, to name few of many, I admire.
You're really into promoting made from scratch foods sans preservatives. What is your pet peeve additive in food that people don't know about?
I'm not a fan of over-processed, chemical-laden, lab-tested "foods." Over-marketed/highly-advertised products promise bogus results. I'm about keeping it real. Sadly, advertisers continuously mislead lead individuals down a path of failure; To drop the excess "jiggle"? You simply need to eat real foods again and exercise for maintenance, that's it. From the soil, a tree, the roots? It's good for you. We all know that bananas, apples and oranges can't speak for themselves, hook up that avocado and be it's biggest fan. Go down the path of nature, not trends, fads or advertising.
What got you into organic produce and makeup?
Growing up with a beautiful Japanese-born Mother, and a Father who was raised on a farm, they were organically influential. It doesn't get more real than that. Eating well and having a positive outlook on my health and mental wellness is in my culture and heritage. I don't necessarily promote eating organic as much as clean and simply real.
I do love my beauty products. I was a host at HSN (yes, the Home Shopping Network at 25 years old.) Which may have added to my organic fascination of all things beauty. Lately, I have built up an obsession with coconut oil. I tend to indulge, use it as body lotion, cook with it, developing lots of new recipes with coconut oil etc. The MCFA's (medium chain fatty acids) are easy for the body to breakdown and metabolize, so it does a body, real-good. Also proving not all saturated fats are created equal. I have found myself slathering it all over my legs and face. I have to find a way to preserve this moneymaker without all dousing it up with chemicals. Body brushing is another great beauty habit, making homemade sugar-scrubs, face masks (like my "Pampered Pantry" in my book Pretty Delicious) has become a hobby of sorts.
Plus, my sister is a Berkley-hippie-granola-grad. She has really helped me to be a positive influence in making more sustainable choices.
I believe in eating well to maintain beauty; beautiful starts from the inside.
Also, you used to surf. Awesome! What are some outstanding surfing-based exercises we can do at home? And how can someone learn to surf without an expensive weekly training camp? Secondly, what are some foods you love that were first introduced to you by fellow surfers?
Dude, why yes. Proudly. I still catch a glimpse of the surf when I fly back to LA, SD, Hawaii etc. Painful bliss.
Some surfing – based exercises that can be done at home? I mean just keeping a strong core and upper body is key. Yoga and Bar Method are my favorite and most zen exercises. I wouldn't say you can compare either to surfing? Perhaps watching some old surf flicks, like Taylor Steele's "Good Times or "Riding Giants", those may keep you pumped on your next trip to San Diego or Santa Barbara, but I'm not prepared to surf in the murky East cost just yet. I prefer warm-water/California surfing. There's also massive regression in skills once you leave CA. That, yes, that is happening.
You wrote a second blog post about why you embrace being single. In it, you mention an article called, "This Is Why You're Single." (NOTE: Major yuck to whoever wrote that original one you rebelled against. People are single because they haven't met the one or choose to be!) If you met your "one" tomorrow, what qualities would you look for in someone? What would you cook for that person to seal the deal?
Thank you, that post is one of my most read, ever. I'm quite peculiar about who I date…I'm just looking for someone who can be my partner for life. Open, honest, passionate about life, hard-working, charming, brilliant, fun, adventurous, hilarious and confident. It's a bonus if he's physically fit, tall and happens to love food and travel as much as I do. Does he exist? He must.
Food can be about trying to fit in, like high school. The best chefs, like my favorite chef in the entire universe, Mr. Emeril Lagasse, become iconic when they are true to themselves. You become irreplaceable. So, now, please tell us, what is your personally developed recipe truest to your spirit, and how do you see yourself leading your life from "the cute girl from Top Chef" to undeniably, forever a culinary legend?
I can definitely say, I have always just been, Candice, and nothing more. Through all of my writing, books, recipes, magazine interviews, tv shows etc. I'm just being myself. I'm a true, passionate Japanese-American girl, who's a big food-geek, with the intent to help other's improve their lives through good-food, nothing more. The universe will have its own way in regards to whom will become "iconic/irreplaceable" in the world of food. It will never be up to me to coin or claim my time. However, I'm truly confident I'm on a great path. I'm running a long marathon. I'm surrounded by like-minded, hard-working, brilliant individuals who all believe in my work/future endeavors. And in this lifetime, it is all about hard work, focus and synergy with those like-minded individuals. I truly look forward to what the future holds.
Ever since it came on in the original Japanese edition, I've loved "Iron Chef." What is it like being there? Are you supposed to be really mean and over dramatic? Every guest chef on there, either the ones cooking or the judges gets into this awesome critical mode. What do you do as a judge that isn't seen on camera or perhaps the camera doesn't properly reflect 100 percent?
Isn't it such an incredible series? With 10 seasons-deep, it's as strong as ever. Such a well executed show. It's definitely not over-dramatic. Quite the opposite, actually. It's the greatest pleasure in my career to be a part of that show. Everyone from the crew to the Iron chefs, Sous Chefs and Challenging chefs are really truly having a great time because we are all doing what we are passionate about. It is my greatest honour to judge on Iron Chef America, and I judge from my honest and open palette and heart. There's really nothing quite like that table, all of the Iron Chefs are badasses and I owe my colleague and fellow judging mentor, Simon Majumdar all my thanks for being on the series.
Do tell about your projects. What's going on for you this year, and what is going to happen with your exciting new show?
Well, there's a plethora of new irons in the fire, although, I have to be that lame person and say "I can't really talk about it." There are a million and one projects coming up that will dazzle, excite, delight and entertain you. You'll just have to wait and tweet me @CandiceKumai or go to CandiceKumai.com for more updates! I can promise this, unless it is a passion project/collab/show, from my heart, I won't place my name on to the project. I still, and always will work with a very gold-standard. My future of endeavors is absolutely infinite. So thus, more books, shows, magazines, and more, are all in the works 😉 Wink and a smile xx ck
*****Watch her new show on E! every Friday at 8 pm EST!
Watch Brian Balthazar and Wendy Williams Talk About What's Trending Now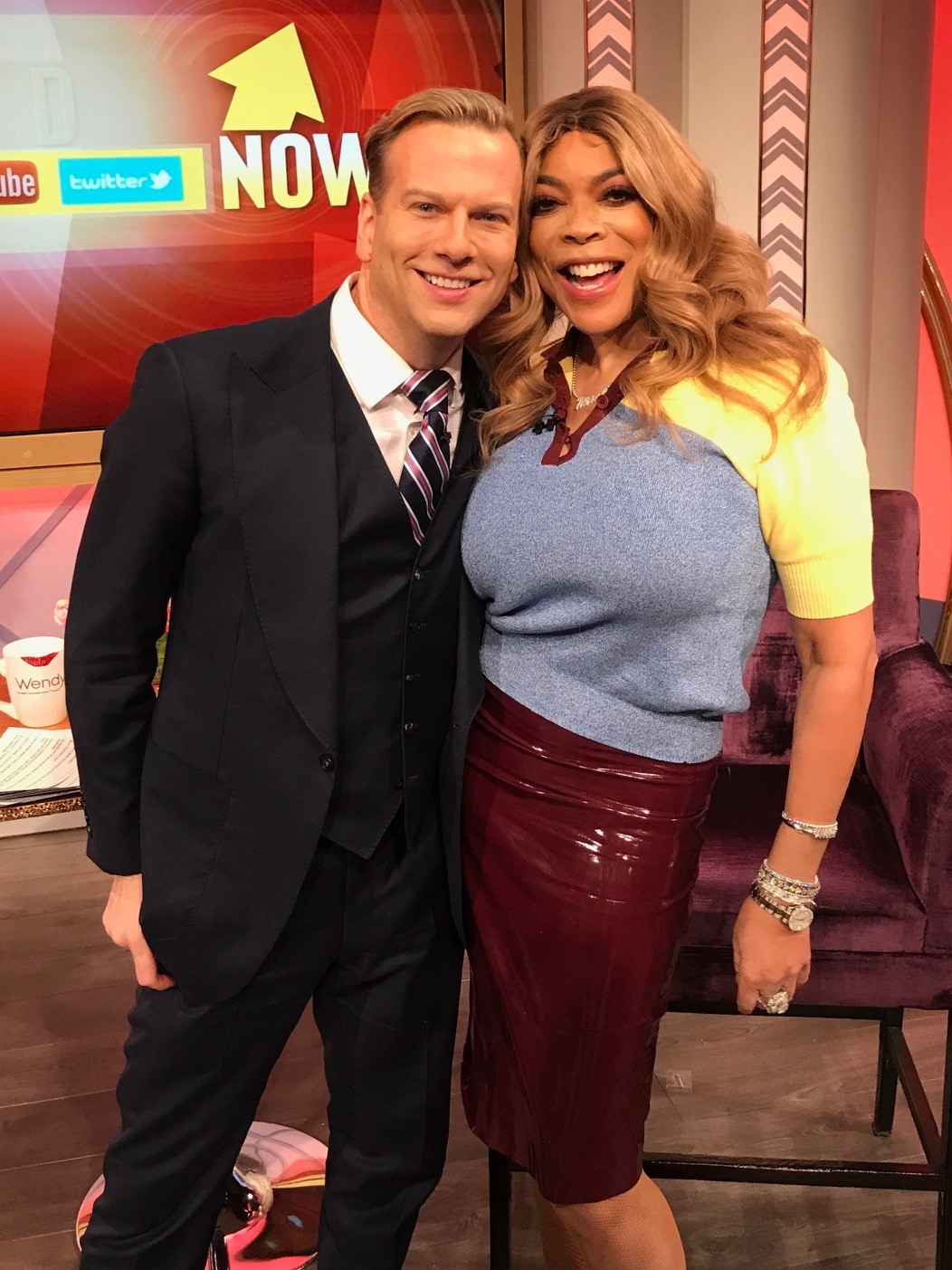 Always SO much fun going on the Wendy Williams show to talk about what's trending! In this case, the best part (for me at least!) was wearing a creating by art director Michael Lee Scott, who recreated the iconic hat worn by Billy Porter at the Grammys! What a recreation!
Brian Balthazar Billy Porter Hat
Wendy Stuart Kaplan Knows How To Party – Now She's Throwing An Epic One Of Her Own!
Wendy Stuart Kaplan knows her way around a party. In her book, 'She's The Last Model Standing," she wrote about her headline grabbing days at Studio 54, and now throws more than a few of her own. The latest is her "Reading For Filth" and her birthday extravaganza, where she, hosts Eileen Dover and Nick Lion and others (including yours truly!) will perform a collection of wildly entertaining essays, poems, comedic rants and more. The kind of person who is so 'on the go' you get exhausted just thinking about it (she, however, does not) I caught up with her as she was taking a break between a radio show, a modeling job and a party tonight. If you want to catch up with Wendy, you have to be flexible… she's probably got a full schedule that day! Her party this Friday is one that will not only celebrate a wildly varied and entertaining life, but also celebrate the spoken word from a variety of performers.
Anyone who's ready your book "She's The Last Model Standing" knows you've been partying since studio 54 – when did you first realize you were a party girl?
I first realized when I came back to New York after college! I wasn't until then, because there was no good place to party.
Where did you go to school?
SUNY Binghamton where I majored in anthropology – and then I went to Nigeria! I definitely enjoyed partying eventually, but back then I really, really wanted to go to Africa, which I did! I have gone back often, most recently to work on my documentaries.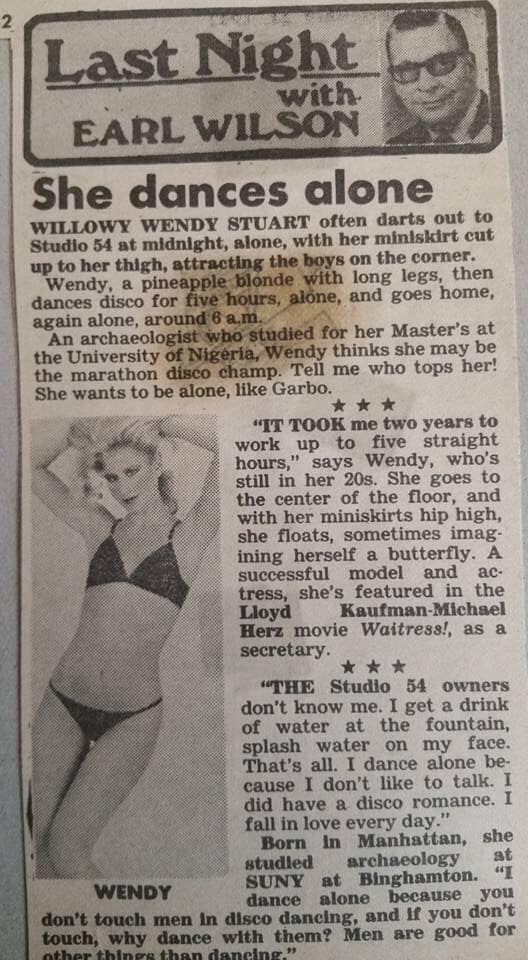 That's wild! But it's not surprising to hear of that passion since you make films about wildlife conservation there. But your festive side eventually DID come out! We all know you now as a social butterfly! Whether you're at a party, or working a film premiere – but were you as confident and comfortable in the spotlight as a kid as you are now?
I was an oddball kid. I had two things: I had my friends in the Bronx, and the ones that I had in school and they didn't mix all that well. I loved growing up there, that was home – but I remember as a kid I would get stomachaches before parties! How weird is that? Until you asked me I had forgotten all about that.
What were you worrying about?
Social pressures – what if nobody talks to me – oh my god, I'm not pretty. I had a short mop of brown hair because my mom thought I looked better with short hair, and I had chubby cheeks. I didn't love that look. I used to put on wigs as a kid and imagine myself with long blonde hair!
And here we are!
Here we are, right? Long blonde hair. I morphed into it. I'm totally self made!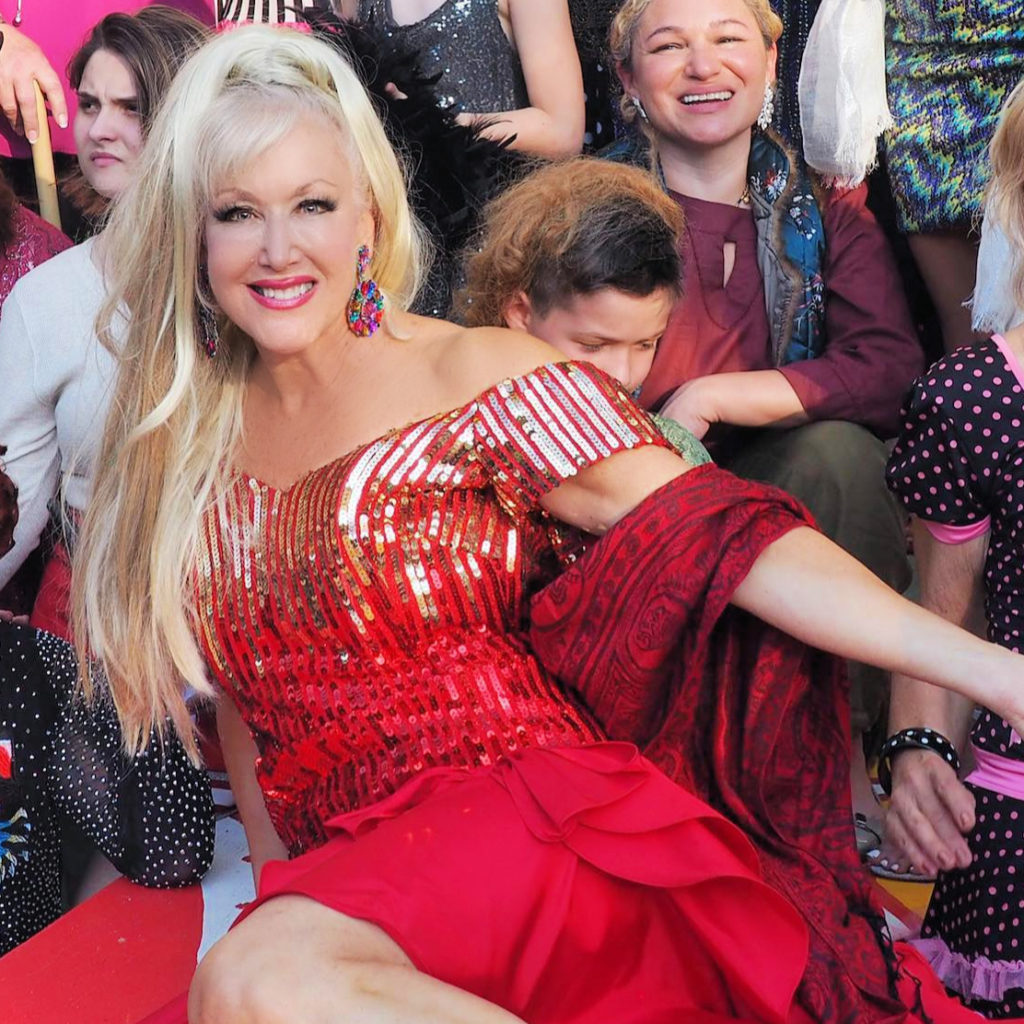 Tell me more about Reading for Filth – your event this Friday at Club Bedlam.
Reading for Filth came about when Brian Butterick, also known as Hattie Hathaway, used to have these events. One had the byline, "low rent reading for a high rent city." Reading for filth is an expression for 'I'm going to read you to filth,' as in, "I'm gonna tell you what I really think." The performers would do a reading of their choice. Something personal, maybe about an old boyfriend, or something someone else wrote, and they'd get up and read it in front of a room. At the last one we had, Michael Musto read from Suzanne Somers' poetry book. I didn't even know she wrote poetry… here the same person who wrote about African violets is also behind the Thighmaster! Brought me to tears! I imagine her thighs going back and forth as she sits next to a table with a sole African violet in its little pot, which inspired her to write the poem.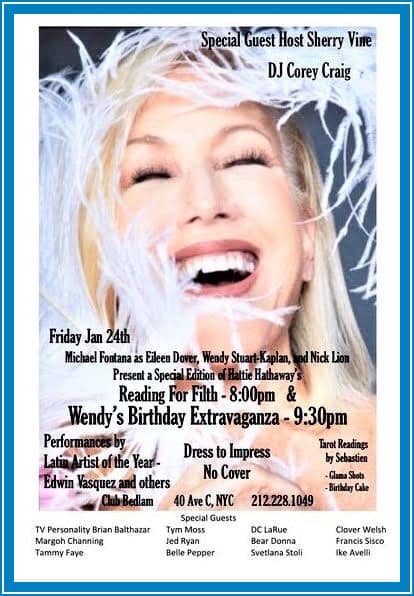 The reason we chose to open my birthday party with it is, when Hattie passed away, my friend and partner in crime Michael Fontana (Eileen Dover) really wanted to keep it going. We say it's such a downtown New York thing but it's a New York thing. It's a nationwide thing. Think about what's hot right now: storytelling. And here we have had Reading for Filth going on long before all that other stuff. Brian Butterick had been doing it for six to ten years. He was very ahead of his time. We brought it back this past year.
You love people and being around them, entertaining them, but you also love your home life – please describe your NYC living situation. You have a beautiful place… but describe your roommates.
Well, we will have to go back about 30 years when I got my first rabbit. I haven't lived without one for 30 years, so when one dies I always have one in the wings. Fast forward to now, we always have two rabbits. It's nice if they have another rabbit to hangout with. Also, 33 years ago we got a baby cockatoo, named her Louise, fed her formula, and she is now hanging out with me in my living room. Did I also mention our blue merle chihuahua?
In my New York apartment everyone is loose. No one is caged. Everybody is trained to go on those wee-wee pads you buy for dogs, and everybody goes on a wee-wee pad including the rabbits… but not the dog.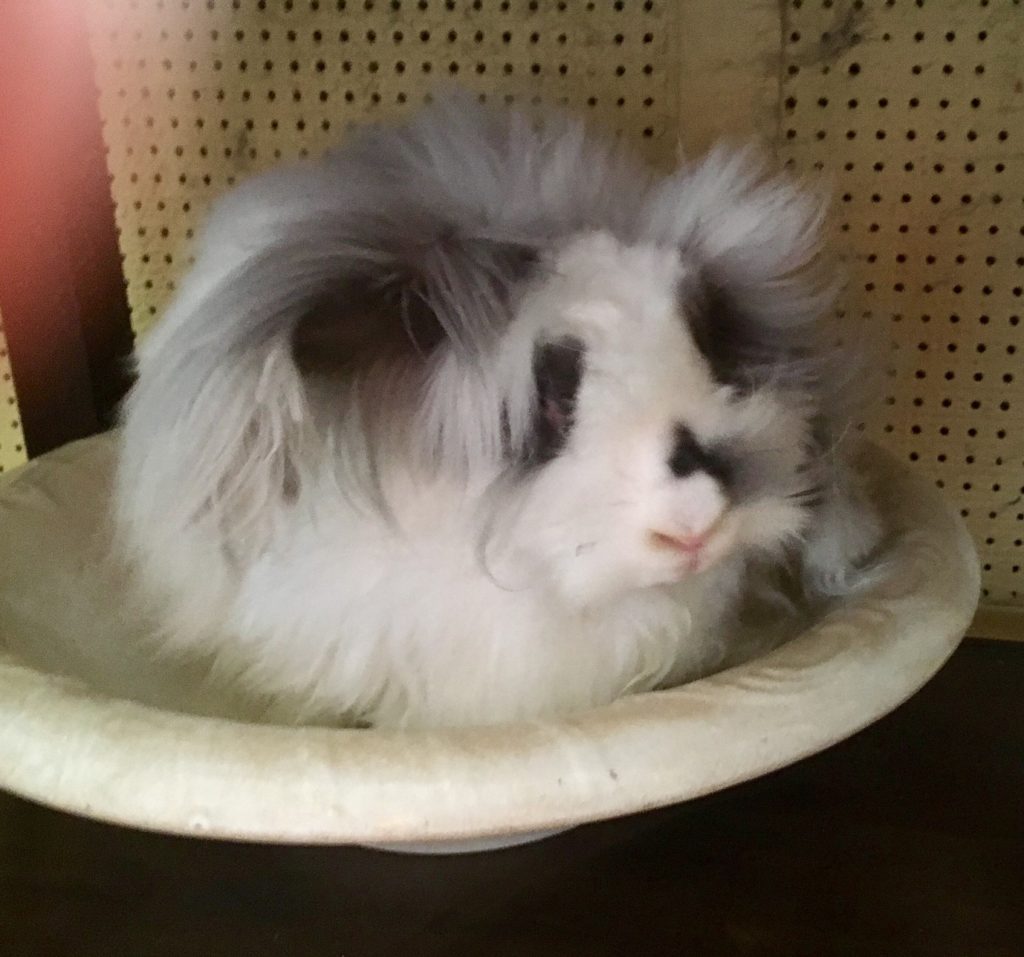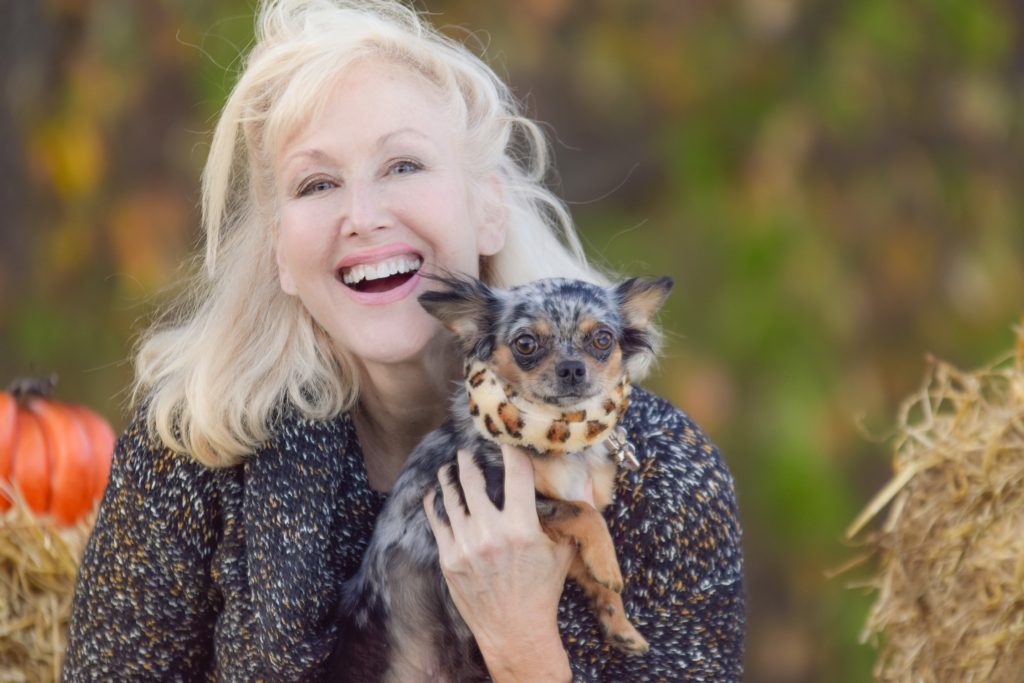 You know how to party – we know that – your wedding was no exception…describe your epic wedding.
So my wedding was 32 or so years ago. I should know that! Alan (a renowned photographer) and I got married in our huge loft, and you had to come dressed as members of a bridal party. It was on Halloween – you could be a bride, or a groom or a bridesmaid. The only problem was a lot of people thought it was a costume party and not an actual wedding. So we had people dressed as bridesmaids with five o'clock shadows and brides with full beards. They thought this was just going to be a big loft party – because we always gave huge parties – and not a wedding. But it was actually our wedding. I didn't get many gifts because no one took it seriously. I won't make that mistake again!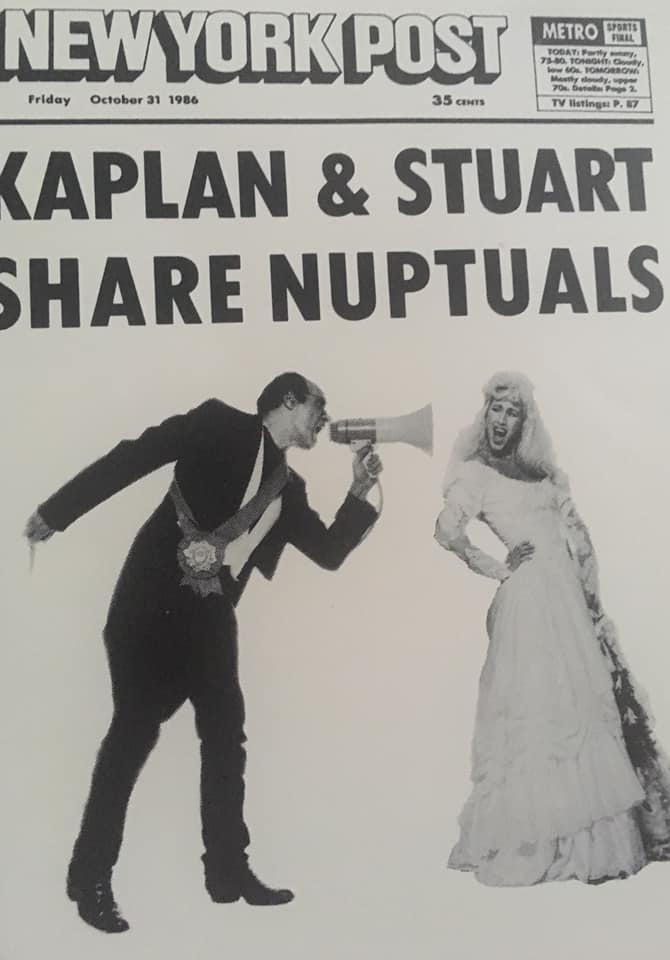 You've been modeling since you were in your twenties – what's the best thing anyone can do to look and feel like a model whether they're walking down the street or working it in the office?
You have to know who you are. What's your style? What makes you feel good? What floats your boat? When you put on a certain dress how does that make you feel? Don't go with trends, go with what you're attached to! Listen to your inner fashionista. And you know what? We all have that.
Reading For Filth is open to the public this Friday at 8pm at Club Bedlam, 40 Avenue C, NYC. For more on Wendy visit her book's Facebook page, her personal facebook page, or her instagram.
Visit her website, and buy her book on amazon!
All 18 of the BAFTA Acting Nominees Are White, All Directing Nominees Are Male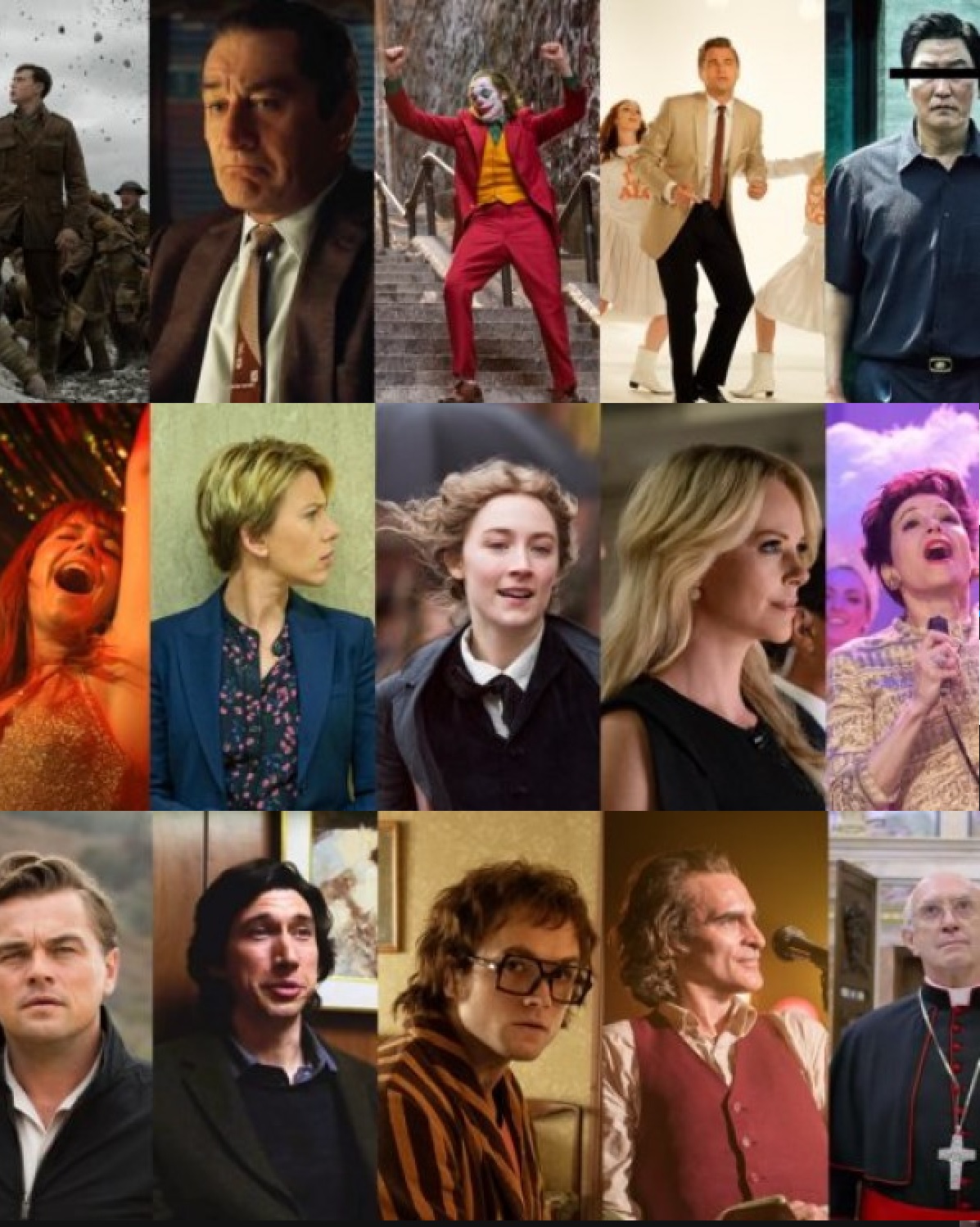 "Joker" is the one to watch at the upcoming BAFTAs, but if you're looking for diversity and female directors, sadly you'll have to look somewhere else. All the acting nominees are white, and all the directors are male.
Led by a lead actor nomination for Joaquin Phoenix, "Joker" received 11 nominations for Britain's equivalent to the Oscars, competing with familiar Golden Globe nominees Taron Egerton, "Rocketman,"  Leonardo DiCaprio for "Once Upon a Time … in Hollywood," Adam Driver for "Marriage Story," and Jonathan Pryce for "The Two Popes."
Renée Zellweger leads the nominations for the best actress category for her role in "Judy," alongside Jessie Buckley,  "Wild Rose," Scarlett Johansson, "Marriage Story," Saoirse Ronan, "Little Women," and Charlize Theron for "Bombshell."
Here are the other notable highlights:
See the full nomination page HERE.
11 nominations for Joker
10 nominations for The Irishman and Once Upon a Time… in Hollywood
Nine nominations for 1917
Six nominations for Jojo Rabbit
Five nominations for Little Women, Marriage Story and The Two Popes
Four nominations for For Sama, Parasite and Rocketman
Three nominations for Bombshell, Judy, Le Mans '66 and Star Wars: The Rise of Skywalker
The ceremony will be held on Feb. 2 at the Royal Albert Hall in London.