BUZZ: Everything You'll Need To Be Thoroughly Entertained Through The Month Of June
June is busting out all over! And by June I, of course, mean my waistline. Oh that winter weight transformed right into spring rolls, which now has this body "summer heavy" instead of "summer ready." Alas, at least I have the perfect excuse to avoid the beach, and stay indoors to keep my finger on the pulse of all things pop culture. I'm sure mercury, and my cholesterol, are not the only things rising this month, so let's dive into the hot, new entertainment coming out this month!
Television (click title for more info)
Marvel's Cloak & Dagger June 7th on Freeform at 8pm EST
American Woman June 7th on the Paramount Network at 10pm EST
72nd Annual Tony Awards June 10th on CBS at 8pm EST
2018 MTV Movie & TV Awards June 18th on MTV at 9 pm EST
***Editor's Choice***
Pose June 3rd on FX at 9pm
Ryan Murphy's latest series is already creating quite the buzz. The show is set in 1980's NYC, and explores the different factions of society. The reason for the hype, however, is because the show primarily delves into the hidden world of "Balls," which were glamorous events where members of the LBGT community could gather and celebrate. This show is shattering glass ceilings by having 5 of the leading characters being played by trans women. After seeing the spectacular outfits displayed in the trailer, I suddenly feel both underdressed yet over enthused. I am sure this will be another feather in Murphy's hat.
Movies (click title for more info)
Adrift June 1st
Oceans 8 June 8th
Gotti June 15th
Tag June 15th
Jurassic World: Fallen Kingdom June 22nd
***Editor's Choice***
The Incredibles 2 June 15th
Something tells me this will be…incredible. Fans (aka I) have been waiting for the sequel to the original animated hit for 14 years, and it looks like the film will be worth the wait. No time has passed since the last film, so the characters are still exactly as we left them. This film centers on Elastigirl this time as she is asked to join a task force looking to reintroduce super heroes back into the world. I am here muffin-topping out of my skinny jeans, and this super hero, mom of two is in a spandex suit saving the world?! She is officially part of my dream board. The film looks fun and action packed with of course lots of laughs and lots of heart.
Netflix (click title for more info)
November 13: Attack On Paris June 1st
Sense8: The Series Finale June 8th
W. Kamau Bell: Private School Negro June 26th
Kiss Me First June 29th
***Editor's Choice***
Alex Strangelove June 8th
Oh to be a confused, gay, socially awkward teenager once again…I hope you didn't read that as a happy reminiscent. It should be read more like "AHHHHHH I WOULD NEVER WANT TO BE A TEENAGER AGAIN." This film illustrates my point. The film centers around a teenaged boy named Alex, who is dealing with the pressures of sex. His girlfriend is eager to take his virginity, but when a boy reveals his crush on Alex, it sends him into a spiral of questions. Unable to identify exactly what he wants, the poor kid vows to give up on sex and love all together. None of this sounds fun if you are the person living through the experience, but watching it brings a bout of comfort. It is comforting to identify with the lead characterhowing how far you have come since you struggled with idea of eating a bowl of "Gay-flakes."
Theater (click title for more info)
Straight White Men Previews June 29th
Head Over Heels Previews June 23rd
Skintight Opens June 21st
***Editor's Choice***
Halftime Opened May 31st
From the director/choreographer of Kinky Boots, Jerry Mitchell brings life to the true story of a group of senior citizens who dream of performing at a half time show for a major basketball team. The old gang thinks they will be able to do a routine they are familiar with, but are then get tasked with having to come up with a hip-hop routine. The show looks campy and fun and is heading to Broadway in the near future. For now you can check it out at the Papermill Playhouse over in NJ.
Music
Come Tomorrow Dave Matthews Band – June 8th
The Mountain Dierks Bentley – June 8th
Bigger Sugarland – June 8th
Pray for the Wicked Panic! At The Disco – June 22th
High As Hope Florence + The Machine – June 29th
***Editor's Choice***
Liberation Christina Aguilera – June 15th
I want this to be good. I really want this to be good. I feel like Xtina's career has wavered a bit but she is one of the OG pop princesses. Let's get this genie out of the bottle and back in the spotlight! The album's latest single "Fall In Line," which features a collaboration with Demi Lovato, gives me hope that this album will be Aguilera's triumphant return. Hopefully fans fall in line, and help make this album number 1!
With all of this entertainment happening this month, it looks like summer will be worth the weight….wait. Damnit summer body, leave me alone! Anyway, happy June everyone.
AWWW: A Rescue Team Of 9 Was Needed To Rescue 1 Adorably Chubby Rat
Over in Bensheim, Germany a rotund rodent got herself into a jam when she tried to squeeze through a hole of a manhole cover only to get stuck…and honestly, I can relate. When I was 8 years old I tried to squeeze my thunder-thighs-in-training into a children's swing and it took my dad and three other grown men to get me out. I am the German fat-rat!
Volunteer firefighters were called when a young girl noticed the fat rat was stuck and no time was wasted to help the poor critter. Eight firefighters and at least one animal rescuer appeared on the scene to safely extract the chubby critter. Animal rescuer Michael Sehr told BBC "She had a lot of winter flab and was stuck fast at her hip. There was no going forward or back." When asked why anyone would even want to save something so many are repulsed by Sehr said "Even animals that are hated by many deserve respect."
Alls well that ends well! Hopefully no authorites will be needed to help me shimmy out of these skinny jeans I thought looked cute this morning…in the meantime, check out the entire rescue below!
Elton John And Taron Egerton Performed A Fantastic Duet Of 'Tiny Dancer'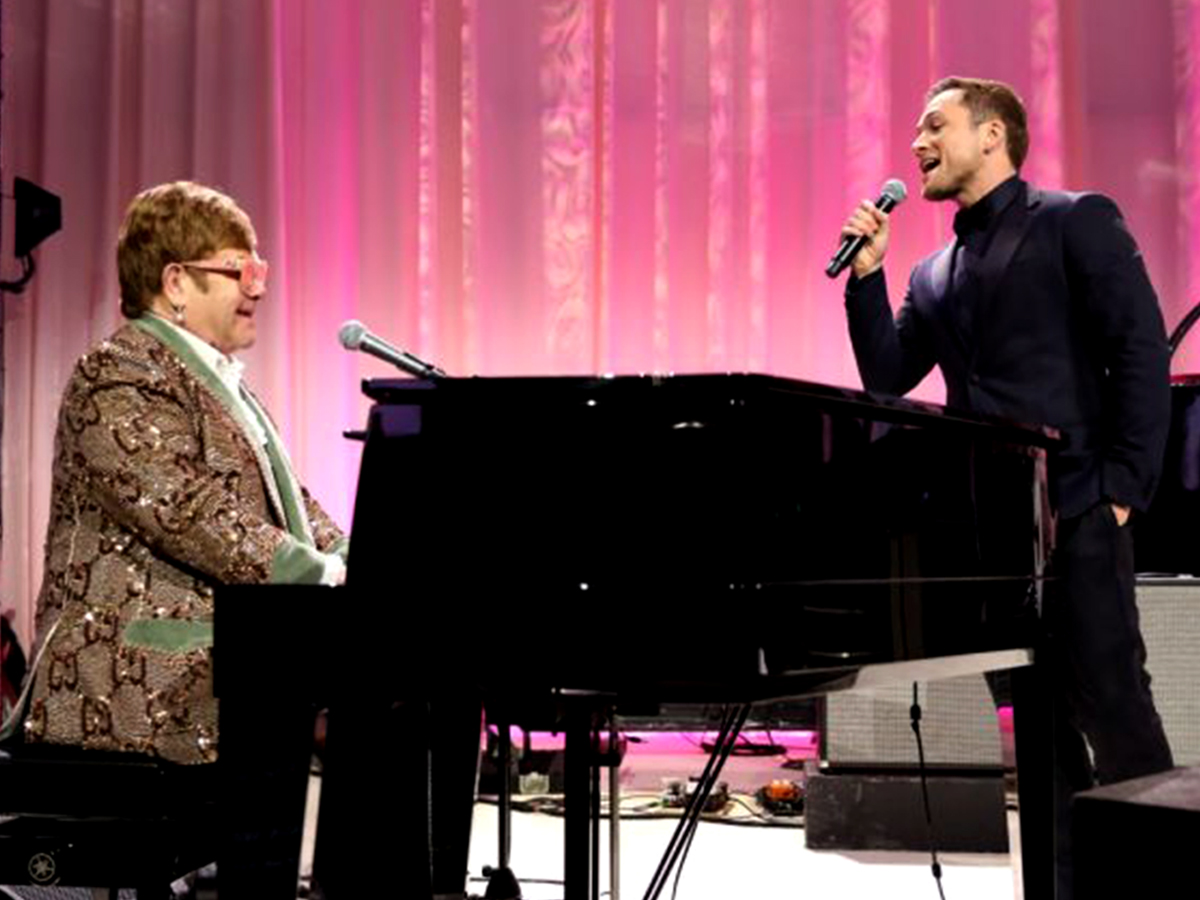 The dancer may be tiny but the talent on stage was massive! Taron Egerton and Elton John gave a fantastic performance of "Tiny Dancer" last night at the 27th Annual Elton John AIDS Foundation Academy Awards Viewing Party.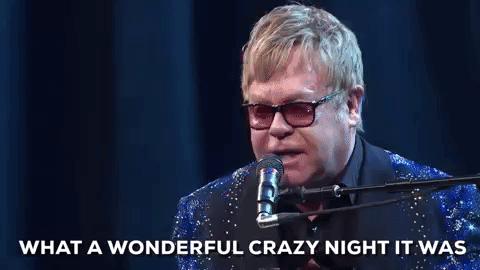 If you've been looking for a reason to toss on your bedazzled cape and brightly colored sunglasses then boy do I have good news for you. An "epic musical fantasy" about Elton John's life, entitled Rocketman, is expected to hit theaters in May 2019. Taron Egerton, from Robin Hood fame, plays the musical legend and judging by his performance last night, we are all in for a treat. The audience of the charity event felt like a candle in the wind when Taron suggested an off-the-cuff performance of "Tiny Dancer." There isn't even a pun creative enough to embody what the audience must have felt when Elton John himself volunteered to accompany Taron on the piano!
In addition to a truly moving performance, the 27th Annual Elton John AIDS Foundation Academy Awards Viewing Party raised more than $6.3 million for an effort to end AIDS.
Click below to take a look at the magical performance from last night!
VIRAL: There Is No Room For Love When This Dog Protects His Barney
I think this dog missed the whole "I love you, you love me" message Barney was trying to teach all those years ago…
In this viral video posted to Twitter, an adorable pup channels his inner Cujo anytime his owner gets close to the Barney the Dinosaur stuffed animal. While the frenzied attacks are comical in themselves, this video should definitely be played with the sound up. While we never see more than the dog owner's hand, we hear his high pitched screams of terror every time the dog take a lunge.
Click below to laugh along!