The First Look at CATS The Movie Is Out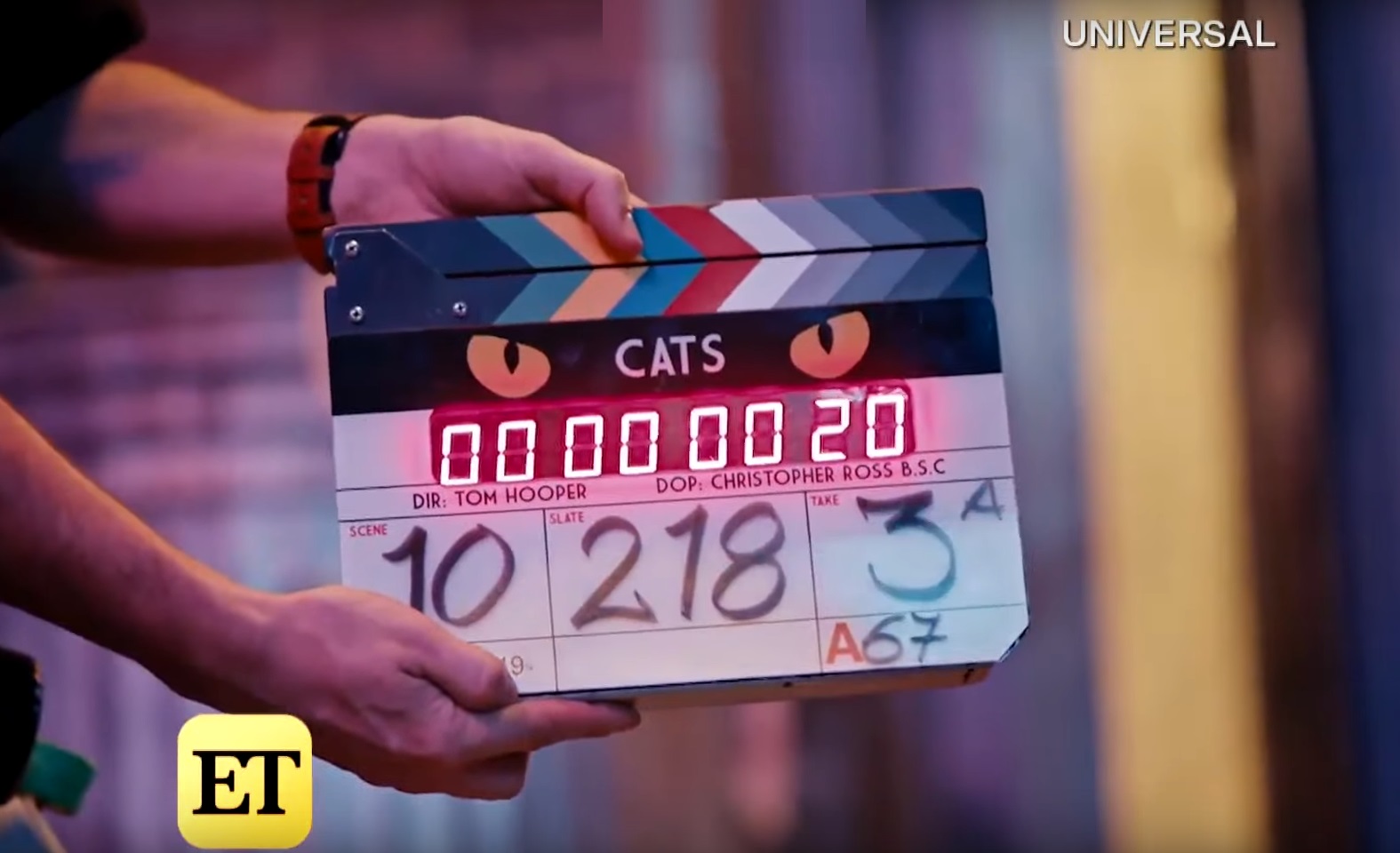 It's hard to imagine a movie could get any more star studded than this. Taylor Swift, Jennifer Hudson, Idris Elba, James Corden, Judi Dench, Jason Derulo, Sir Ian McKellan and Rebel Wilson!
Entertainment Tonight got the first onset video of the upcoming film and I STILL feel like there's so much we don't know. Am I seeing an oversized diner in the background?
Taylor couldn't be more perfect for this. She's a huge cat lover, as you know.
Take a peek  at what's been happening behind the scenes…

Ben Platt Performs A Choral Beyoncé Cover And Of Course It's Amazing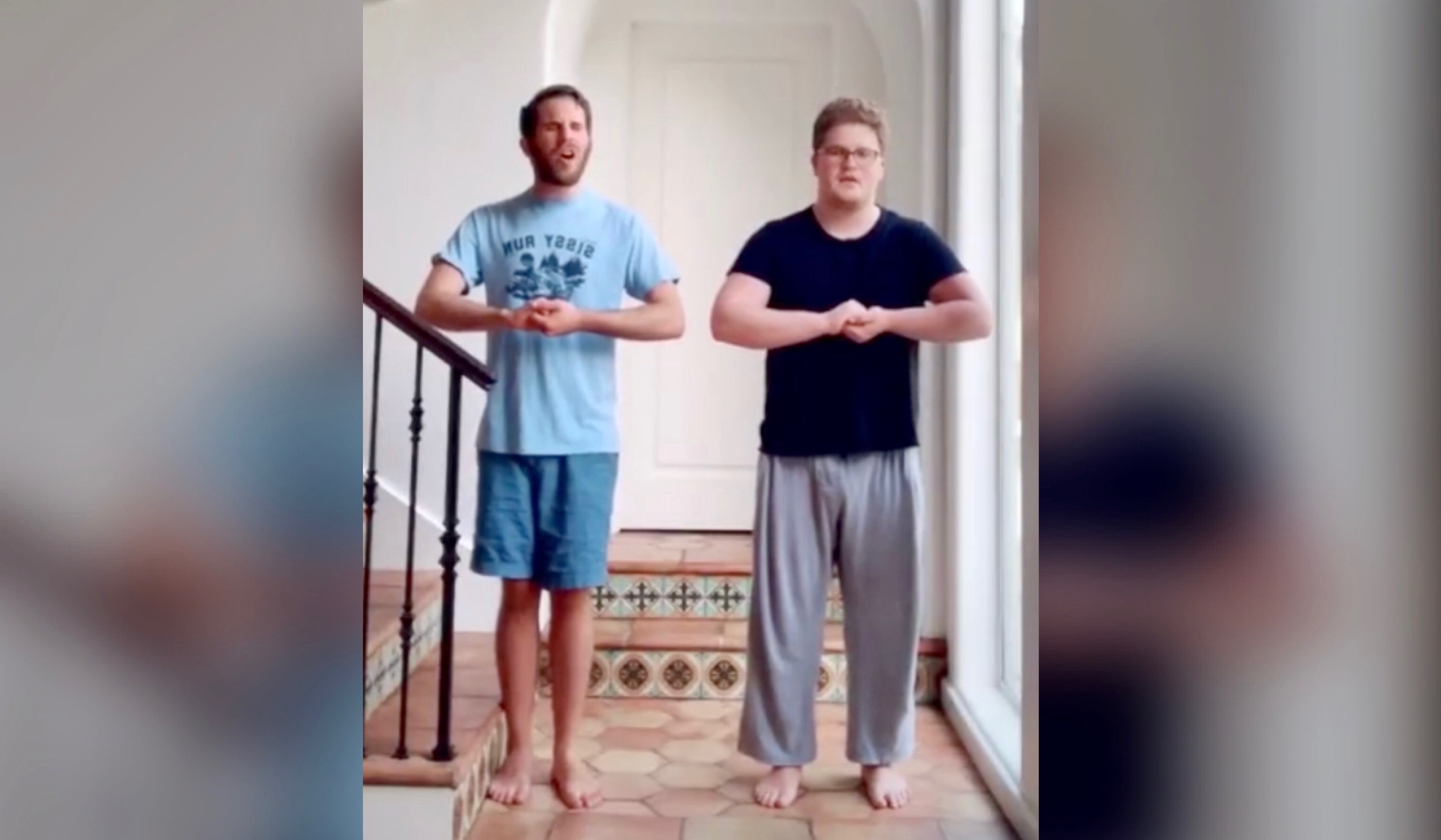 Like Queen B said if you got it, flaunt it.
He made you cry in Dear Evan Hansen. He made you laugh in Pitch Perfect. And lately he has just been impressing the hell out of us with his viral videos. Ben Platt has got some golden pipes and always delivers big feels when he sings. Just a few days ago, Ben and the cast of Dear Evan Hansen went viral for their at home performance of "You Will Be Found," which I may or may not still be misty eyed from. Well, Ben has gone viral again but this time it won't provoke tears…unless they are tears of happiness because you never thought a Beyoncé song could get any better yet here we are. Ben and his pal tik-took to TikTok to share a choral version of Beyoncé's hit song "Check On It." The duo absolutely nails the cover and my only complaint is that the performance isn't long enough. How can we convince Ben to do a choral reprisal of Beyoncé's entire Coachella performance?!
Check out the impressive video below!
Like what you read? Follow me on Instagram
Comedian Shares Why A Gay BFF Is Actually The Worst In Hilarious Video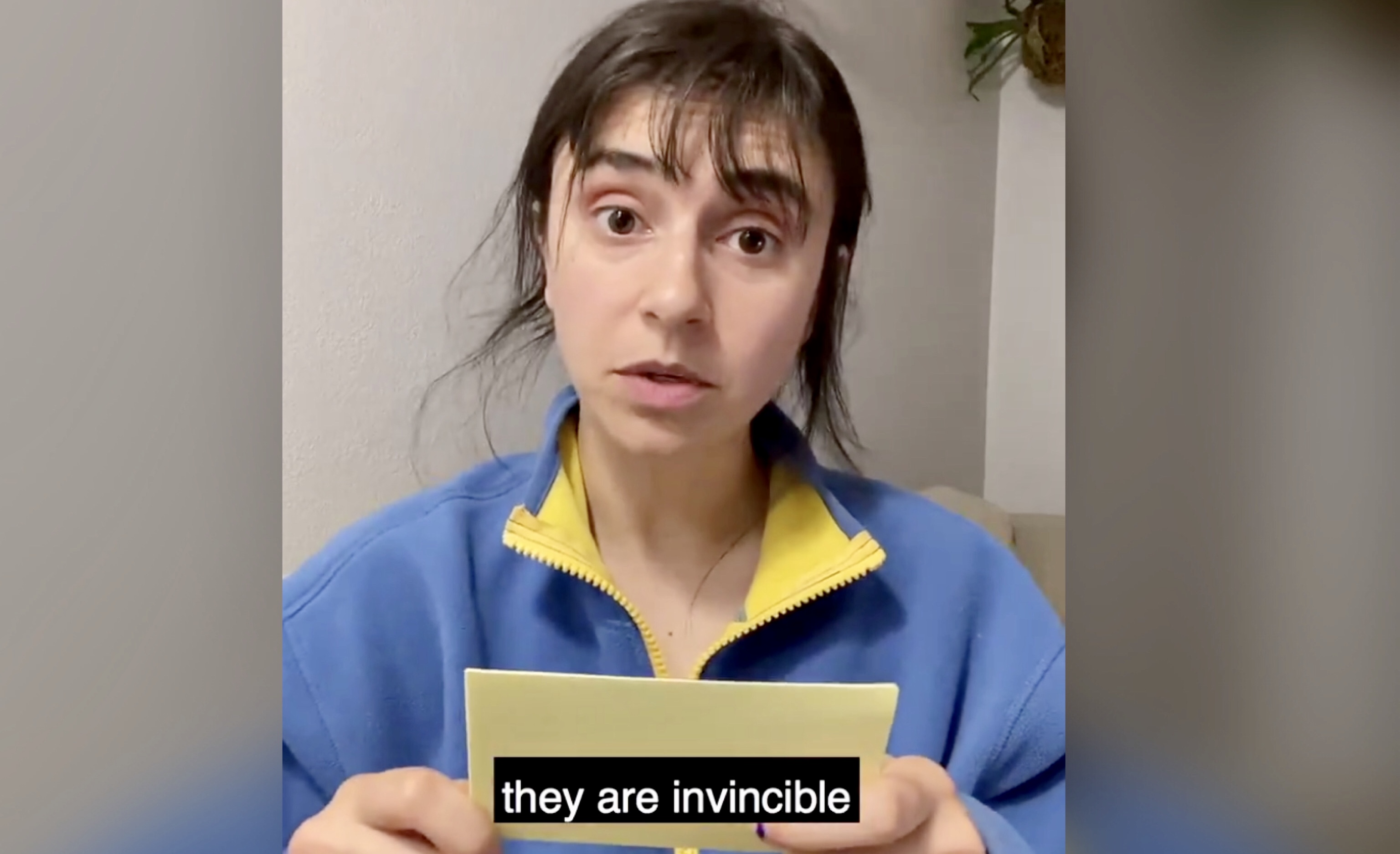 Clearly, we have to protect the sanctity of gay guy dance parties at all costs.
A gay man and a straight woman go together like peanut butter and jelly…if the peanut butter was low fat and there was no bread involved because carbs…duh. Well, comedian Tess Gattuso took to Twitter to share that having a gay bff isn't as "magical and Sex and The City said." She begins her comedic rant by saying "Contrary to popular belief, having a gay best friend is not fun. They are mean, teenage girl mean, but enhanced by male privilege." If you've ever been the runner up at Drag Bingo you know exactly what she means. Tess goes onto list a number of issues she has with gays, particularly her bestie Cameron. "They also make you feel bad because they are always doing squats therefore they have big muscles and therefore they can eat whatever they want. If I ate like them, I'd be tired all the time" she gripes. But perhaps the biggest issue Tess has with her gay friends is that they won't invite her to "gay guy dance parties."
 "Another bad thing is that they do not invite you to their gay guy dance parties. Please include me," she says earlier on but then reiterates "Are gay guy dance parties a safe space that my presence would ruin? Yes. Do I still stand by what I said? Yes."
The entire video is clearly made to be satirical but Twitter seems to think she's hit the nail on the head. One user commented "I can't find the lie, sis!" Another wrote "SCREAMING AT THE ACCURACY." Either way, take a look and a good laugh at the video below!
gay bffs? not as magical as sex & the city said pic.twitter.com/6TgEzw5ngS

— Tess, Please! (@tessplease) April 1, 2020
Like what you read? Follow me on Instagram 
People Are Wearing Inflatable Costumes While Walking Their Dogs In Funny New Trend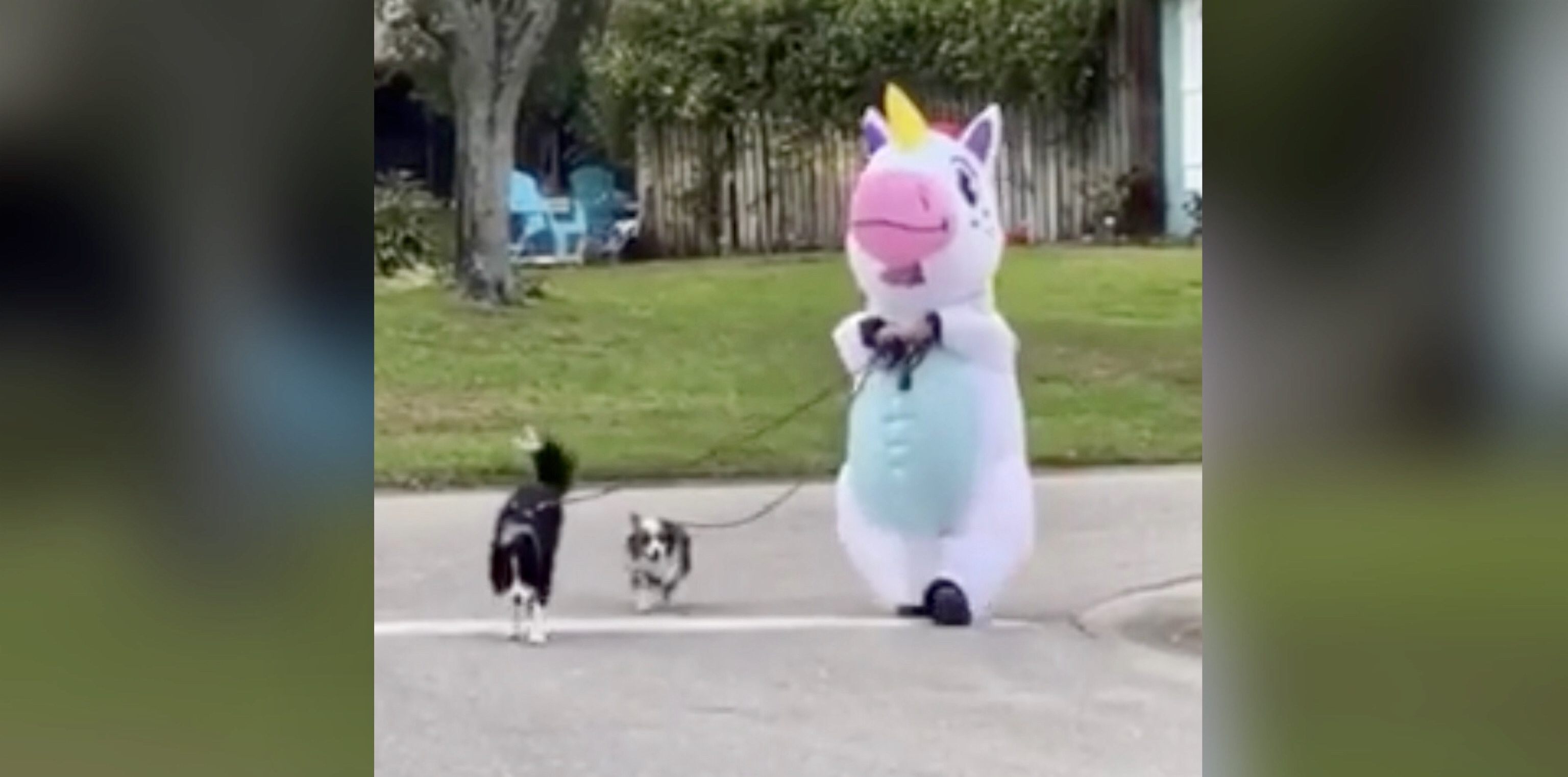 Pet care during a quarantine isn't always a walk in the park…unless you decide to have some fun with it.
Over two weeks of social distancing has proven to be *ruff*. With the social distancing guidelines getting stricter as each day passes, people are being forced to find unique ways to stay cheerfully occupied. Out of this need for comic relief came a new trend I think we can all get behind…walking your dog while wearing an inflatable costume. We have seen videos featuring these inflatable costumes go viral time and time again but there is something about adding a pup to the equation that makes them all the more entertaining.
One Reddit user posted a video of their walk with their dogs while dressed in a unicorn inflatable. In the 27-second video it is hard to tell who is enjoying the walk more because both the unicorn and the pups look so damn happy. Redditers were quick to comment on just how this wholesome content made their day: "I love that there are people out there willing to do things like this to bring a smile to someone's face." Another noted that the dogs must be used to their owners flare for dramatics – "And the dogs are so nonchalant about it, like they do this all the time!"
Another dog owner, Melissa Tolen, decided to give others something to giggle about and threw on a T-rex costume on her daily stroll with the 5-month old Ember. She told a local news source in Indiana that her goal was to bring smiles to the little kids that are stuck at home. I might not be a little kid but I sure did smile from ear to ear! More of this!
A Facebook user over in Scotland shared a video of an inflated Stegosaurus taking it's dog for a stroll just days after the country enforced strict social distancing guidelines. You can hear giggles coming from behind the camera so it seems like it's another mission accomplished for this pup-dino duo.
It's safe to say that we can all use some wholesome laughs during these troubling times. Let's keep the whacky dog walks going and share this with friends!
Like what you read? Follow me on Instagram