The First Look at CATS The Movie Is Out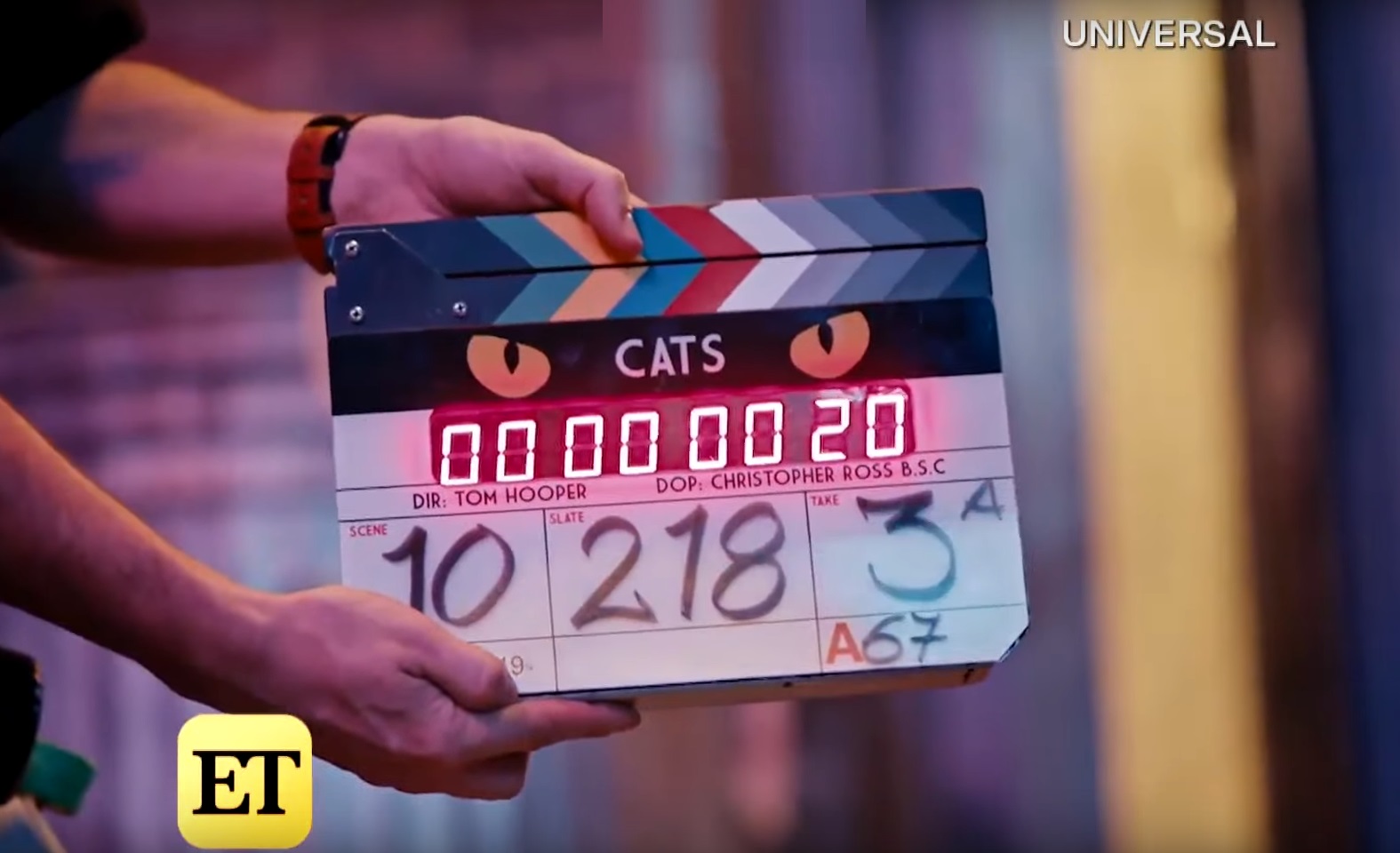 It's hard to imagine a movie could get any more star studded than this. Taylor Swift, Jennifer Hudson, Idris Elba, James Corden, Judi Dench, Jason Derulo, Sir Ian McKellan and Rebel Wilson!
Entertainment Tonight got the first onset video of the upcoming film and I STILL feel like there's so much we don't know. Am I seeing an oversized diner in the background?
Taylor couldn't be more perfect for this. She's a huge cat lover, as you know.
Take a peek  at what's been happening behind the scenes…

HILARIOUS VIDEO: This Man's Wheel Of Fortune Introduction Will: A) Make him a viral star. B) Lead to a divorce. C) Potentially both.
Blair Davis started out nice enough. Then he was asked about his family…

We appreciate a stark sense of humor. 😅 Last night's contestant Blair had us all laughing. pic.twitter.com/jwVXHSNWH0

— Wheel of Fortune (@WheelofFortune) October 15, 2019
He's clearly kidding, but ouch!
"I've been trapped in a loveless marriage for the last 12 years to an old battle-ax named Kim. She cursed my life with three stepchildren: Star, RJ, and Ryan, and I have one rotten grandson."
I'm sure this family loves his crazy sense of humor, and Wheel Of Fortune scores a great PR moment.
VIRAL: This Hat Lets You Sleep Peacefully During Your Morning Commute
What's a New Yorker worst commuting nightmare? Spitting pan handlers. But second to that, is sleeping through your stop and ending up on the other side of town!
How many groggy mornings have you spent sitting on the train, pinching yourself just to keep awake so you would't miss your stop? Maybe it's that post-work exhaustion that has you snoozing your way 8 stops passed home. Well Twitter has found a commuting game changer in the form of a hat. That's right, Twitter user @DamianPalace posted a video of a napping subway rider with an electronic baseball cap that scrolled to read "Wake Me Up Before I Go Go…Past 34th Street…" Sure, the system isn't perfect as you have to rely on the kindness of strangers but if there is a place where people aren't shy to yell at you, it's New York City.
I really have a love-hate relationship with NY. pic.twitter.com/AsFSJZgoSE

— Glen Coco (@DamienPalace) April 22, 2019
Like what you read? Follow @ChrisSiretz on Twitter and Instagram
This Kid Flossing To 'Mamma Mia' On The Bag Pipes Is Bizarrely Entertaining
Talk about a fire within his soul, this kid dancing to ABBA's "Mamma Mia" being played on the bagpipes is quintessentially a perfect viral video.
There was a 50% chance you expected this post to be a Scottish-influenced, dental hygiene PSA wasn't there? Sadly, you're now realizing that we aren't talking about that kind of flossing, but I promise this to be even more entertaining than some quality gum care!
"Flossing," the popular dance move that has swept the nation was birthed by Russell Horning aka The Backpack Kid and was made famous during his appearance in a Katy Perry performance. Well, there's a new boss of the floss and it's this little boy who was caught flossing to a bagpipe rendition of the classic ABBA hit, "Mamma Mia." Not much else is known about the context of the video, but I can assure the combination of genres makes for some bizarre entertainment.
Giggle along to the thirty second clip below!
Like what you read? Follow @ChrisSiretz on Twitter and Instagram