Broadway Stars Are Fundraising With A Hand Washing Challenge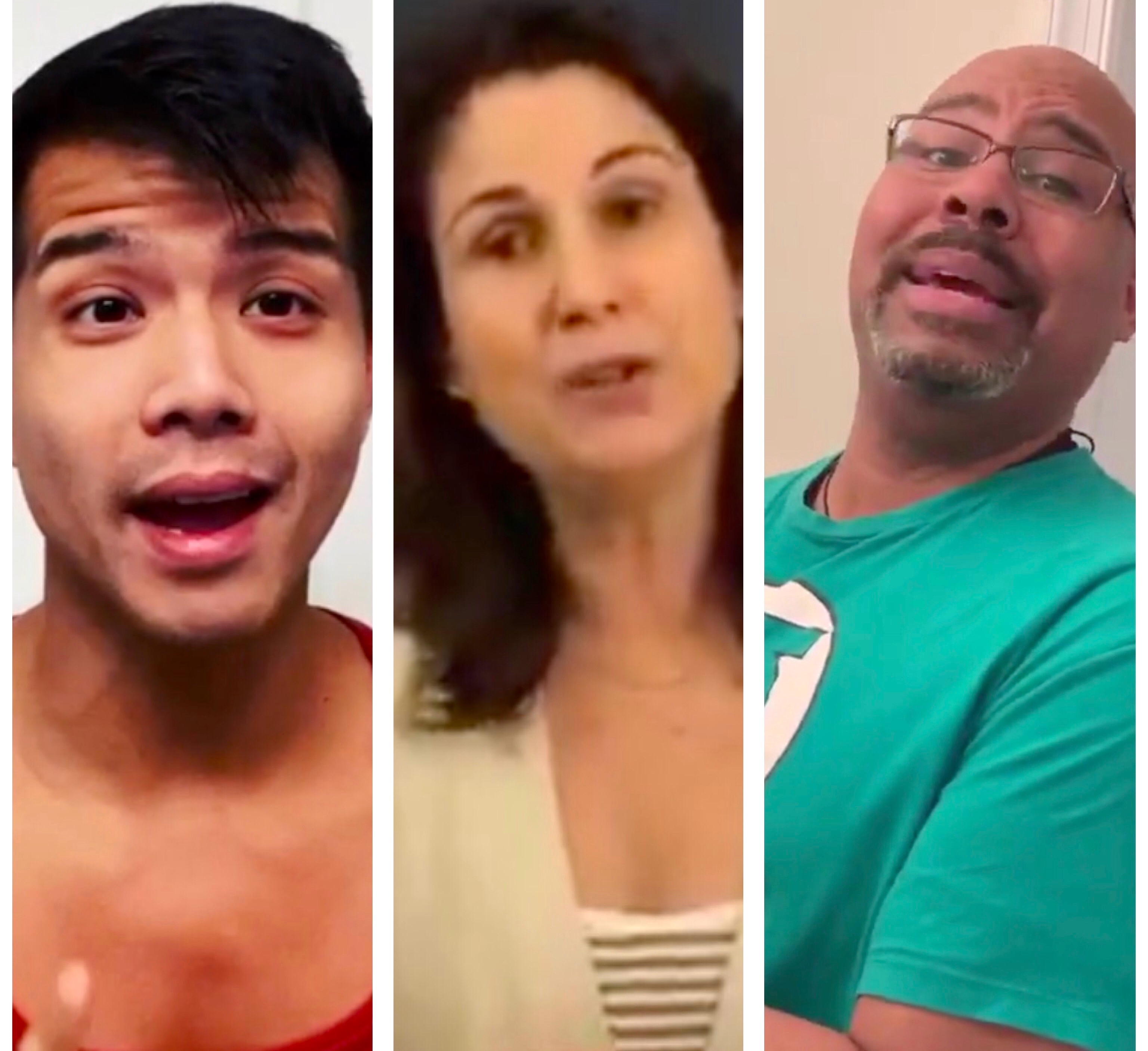 Turns out jazz hands are the second most impressive thing broadway performers can do with their digits.
Last week it was announced that all Broadway shows will be closed until at least April 12 due to the COVID-19 pandemic. While it certainly is unsettling to see New York City's symbol of resilience go dark, the broadway community has banned together to raise hope once again. Many of Broadway's finest have taken part in the viral #BWayHandWashChallenge, a challenge aimed at raising funds for members of the Broadway community who will need financial assistance while not working.
The #BWayHandWashChallenge, initiated by Theater Mania, calls for Broadway stars to choose a theater charity and then sing a show tune for twenty seconds while washing their hands. Twenty seconds is the recommended amount of time to wash your hands according to the CDC. No word yet on how much time they think is appropriate for belting Broadway show tunes but according to my roommates, hearing me sing "Don't Rain On My Parade" four times during one shower is more than enough. Many of the performers taking part in the challenge are asking fans to support the Actors Fund, which is an organization that provides performers with emergency financial assistance, health care, affordable housing and more. Since its formation in 1882, the organization has proven to be essential for performers who are living through dire situations like they are now.
Take a look at some of the big Broadway stars taking part of this amazing challenge!
Stephanie J. Block
Let's raise some money with @theatermania. Choose a charity (@TheActorsFund, @BCEFA, etc.), wash, sing, nominate, and post to pass along. @LeslieKritzer @WesTayTay #GavinLee, you're up. 🤲🏼🚰🧼🙌🏻 #BroadwayHandwashingChallenge pic.twitter.com/IhHUta3nvL

— Stephanie J. Block (@StephanieJBlock) March 17, 2020
James M. Iglehart
I'm taking the @theatermania #Broadwayhandwashchallenge (yeah I said it wrong in the video) for @BCEFA! Please donate! I nominate @NikkyWalks & @fergsters95! #MusicOfTheNight #IWillBePhantomSomeday! pic.twitter.com/ia0u9b9qLj

— james m. iglehart (@jamesmiglehart) March 17, 2020
Bonnie Milligan
Telly Leung
Lesli Margherita
Like what you read? Follow me on Instagram
Celebrate The Last Day Of Pride Month With Megan Hilty's Beautiful Rendition Of 'The Rainbow Connection'
🎶For all the lovers, the dreamers and LBGT.🎶
With only a few hours left to celebrate the magic of Pride month, the LBGTQ+ heavens opened up and sent down one more gift. Megan Hilty.
The Smash star gave a special Pride performance of the appropriately-themed classic "The Rainbow Connection" for ABC's LA! Pride and of course she crushed it. The song was first sung by Kermit the Frog in the 1979 film The Muppet Movie and shares a message of hope and inspiration which obviously resonates strongly with the LBGTQ+ community. The only way Hilty's rendition would be better is if she was covered in Muppet fur honestly.
The Broadway belter captioned the post with a sweet sentiment which read "Happy #pride🌈 kids! It doesn't end today. Be proud of who you are every day of the year, and find your rainbow connection. 💕✨" And she's right, every day should be filled with Pride!
Check out the moving performance below and Happy Pride y'all!
Like what you read? Follow me on Instagram
The Trailer For 'Hamilton' On Disney+ Just Dropped And Honestly July Can't Come Soon Enough
Unlike Aaron Burr, I can't "wait for it."
It's a pretty tough time for Broadway lovers right now. The coronavirus pandemic has left the fate of our beloved Great White Way uncertain and there is no definitive word on when theaters will reopen. Just when things were looking their bleakest, however, Lin-Manuel Miranda rode in on his metaphorical horse…although I'm sure he could have a real horse if he wanted to, he's very rich…and shared some good news that reignited hope for all us theater lovers. On July 3rd, the mega-hit musical; Hamilton will be available for streaming on Disney+.
The musical was filmed with the original Broadway cast at the Richard Rodgers Theater back in June of 2016. The filmed live production was meant to hit theaters on October 15th but with the fate of movie theaters also unknown, it was decided to shift the show to a streaming platform. In the film, there is creator Lin-Manuel Miranda as Alexander Hamilton, Daveed Diggs as Marquis de Lafayette/Thomas Jefferson, Renée Elise Goldsberry as Angelica Schuyler, Leslie Odom Jr. as Aaron Burr, Christopher Jackson as George Washington, Jonathan Groff as King George, Phillipa Soo as Eliza Hamilton, Jasmine Cephas Jones as Peggy Schuyler/Maria Reynolds, Okieriete Onaodowan as Hercules Mulligan/James Madison and Anthony Ramos as John Laurens/Philip Hamilton.
Disney+ dropped the trailer for the streamable version and suddenly I feel "helpless" that July 3rd is still a few weeks away.  The musical is obviously amazing but judging from the trailer, the directing and the editing of this film are really going to help make this feel like we are sitting front row center to this production.
Check out trailer below!
Like what you read? Follow me on Instagram
Idina Menzel And Megan Hilty Sing 'For Good' For The Class Of 2020 And It's Obviously Super Good
Safe to say 2020 has changed pretty much everything for good…
Remember when an acne flare up was the biggest concern of your senior year? Unfortunately the class of 2020 didn't have the luxury of such a menial fear but instead had to worry about an unprecedented pandemic sweeping the globe and figuring out a way to virtually finish their final days of the school year. Well, when the world is spiraling out of control there is always one thing that I turn to for comfort, a green witch and her snarky blond counterpart. Maybe that's too specific. But I think we can all agree that watching Idina Menzel and Megan Hilty sing "For Good" from the hit Broadway musical Wicked has enough power to make anyone feel magically better.
In a post on social media Hilty, who played Glinda the Good Witch from 2005-2006, shared the performance which begins with a message that reads
"To the class of 2020; Over the last few years you have made friends and memories that have changed you for the better. We now hope you go out there and change the world for good. This is for you."
This song choice is poignant for the graduates who may not have even had the chance to say goodbye to their fellow classmates before parting ways in different directions. In the musical Glinda and Elphaba, the role Menzel originated, sing this duet when they finally realize that although they must continue on different paths, their friendship has left them changed for the better. And it gets me every time!
Check out the moving performance below, and congrats to the graduates who made it through such a difficult senior year!
https://twitter.com/meganhilty/status/1271144778802094084
Like what you read? Follow me on Instagram