Kindness Prevails! Customer Leaves Enormous Tip For Out Of Work Restaurant Staff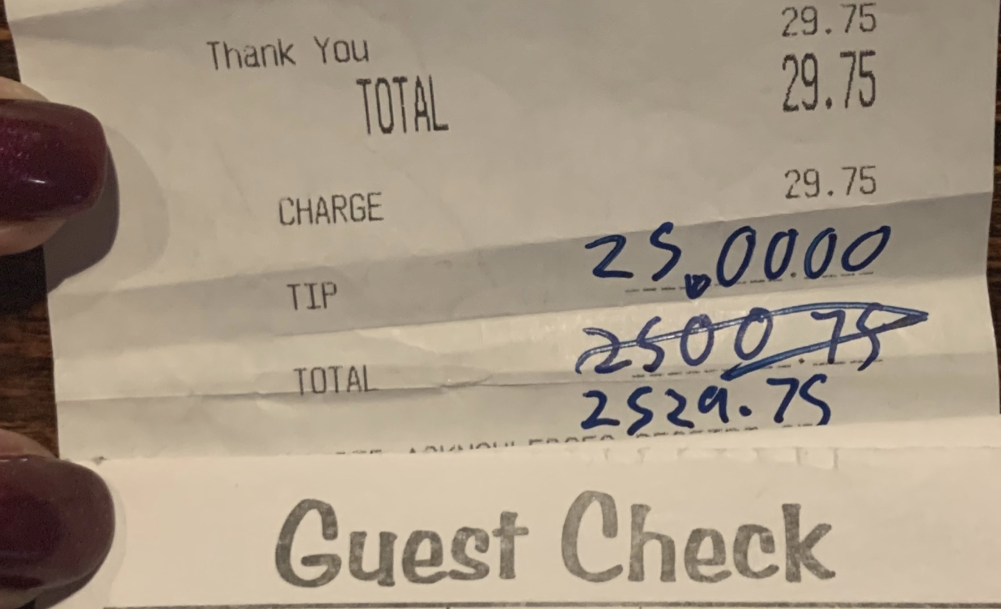 Slowly but surely more and more businesses are being shut down due to the coronavirus pandemic. With the world being in such a crisis it's nice to see humanity shine through as it did with this one generous customer in Ohio.
It's not easy to turn on the news these days. There seems to be a never ending stream of horribleness on every news channel at any given time. In these dark times, however, it is nice to know that there is still so much good in the world. On Sunday, Ohio made the decision to close down its bars and restaurants in an attempt to prevent the spread of the coronavirus. One the one hand it does feel good to finally be encouraged to drink alone in the dark without feeling the guilt of societal norms…but on the other, there is the harsh reality that hundreds if not thousands of people will be without work for the foreseeable future.
One very generous, anonymous customer knew that things were looking grim for the restaurant staff at Coaches Bar and Grill in Columbus, Ohio and so they left a whopping $2,500 tip on a bill that was less than $30. On the bill the tipper wrote "Please split this tab equally between Tara, Nicky, Jim, Liz and Arrun. The tip amount is $2500.00." Benny Leonard, one of the restaurant's employees, told WCMH, said
"It brought some of them to tears. They are going to split it 13 ways and it's going to help them. We are a family and we will get through it together. An unbelievable act of kindness on a pretty weird day. We've got unprecedented times going on, we've got people fighting over toilet paper and so on and so forth, and to have a guy show up and care enough about people that give him a beer and a hamburger once in a while, that means a lot. It's humanity at its best."
When the going gets tough, the tough stay loyal. This loyal, amazing patron of Coaches on Bethel left the staff a $2500 tip to help lighten the losses during this required closing of Restaurants & Bars in Ohio. @OnCoaches @nbc4i @GovMikeDeWine @wsyx6 @DinoTrip @10TVBot pic.twitter.com/scTpMJo0N1

— Coaches on Bethel (@OnCoaches) March 16, 2020

Let's take the lead of this kind tipper and share the good in these troubling times! Share this story with your friends to brighten their days as well.
Like what you read? Follow me on Instagram
Residents At A Care Home In England Have Recreated Iconic Album Covers During Lockdown
That's one for the photo album.
The coronavirus has brought about a number of tough challenges for folks all around the globe but being quarantined in a care home for four whole months has to be among the toughest. With no visitors and no place to go it would be easy for the residents, as well as the caregivers, to give up hope. Well, entertainment manager Robert Speker over at Sydmar Lodge Care Home in Edgware, England found a creative way to keep hope rockin' with his very photogenic residents and staff.
Over the course of the four month quarantine, Speker worked with some of the home residents and staffers to recreate iconic album covers. His reimagined covers include some of the biggest in music history such as Madonna's "True Blue," David Bowie's "Aladdin Sane," Michael Jackson's "Bad" and Adele's "21"…that's right I am putting Adele in that league. The inspiring photos shared to social media are trending for all the right reasons. One Twitter user wrote "Calendar? I would buy one!" Another asked "do y'all take requests?" And finally one comment which rings truest of all read "This is what social media was made for."
Check out some of the covers below!
Sydmar Lodge Care Home residents and carers have been recreating classic album covers. The home has now been in lockdown for 4 months. pic.twitter.com/XS5YQ4f1Sw

— Robert Speker (@robertspeker) July 10, 2020
— Robert Speker (@robertspeker) July 10, 2020
— Robert Speker (@robertspeker) July 10, 2020
To see more of Robert Speker's work click here.
Like what you read follow me on Instagram
If You Need A Reason To Smile Today Then Watch This Little Boy Thank His Mama Each Time She Gives Him A Snack
A pint-sized reminder to be thankful, mama.
Sometimes you just need to take a moment to appreciate all the things the universe has given you. And when you are two years old your mom is your universe. Well Grey, the star of the TikTok account greyandmama, is definitely thankful for whatever falls into his hands…literally.
In a compilation video, Grey's mama passes a variety of snacks and treats to our "fav Viet/Korean 2 yr old" and is met with the most adorable gratitude. Little Grey almost always responds with an enthusiastic "thank you, mama" and will not walk away until he hears a "you're welcome." The boys cheery disposition and refreshing manners has won over the hearts of the account's 2.2 million followers. And rightfully so! Who couldn't use a refresher on manners these days!
Check out the entire compilation below!
You can follow all of Grey's adventures on TikTok and Instagram.
Like what you read? Follow me on Instagram
Need Some Good News? Millions Of Baby Turtles Just Made Their Way To The Ocean

Finally, the universe shells out some good news.
Nature is pretty scary right now. There's a mysterious virus wafting through the air around the world. There are things called murder hornets zipping to places they shouldn't be zipping to. At any moment I am waiting for the dust bunnies under my bed to grow fangs and turn on me. Alas, among all the bad news there is bound to be some good news and today's good news comes in the form of baby turtles.
Over on India's eastern coast lies Odisha's Gahirmatha Beach, a nesting spot for the endangered Olive Ridley turtles. Each year around this time millions of turtle hatchlings scamper through the sand and make their way to the ocean. The mass nesting typically attracts thousands of tourists who tend to disturb the nesting turtles but because the coronavirus pandemic has reduced the human activity on the beach, more turtles were able to lay their eggs resulting in one of the highest turtles births ever! Perhaps every grey cloud does have a hardened, turtle-shelled lining.
Check out the video of the amazing good news below!
While we were inside today morning nearly 2 crore plus olive #Ridley #turtle hatchlings have emerged & made their way to sea from the coats of #Odisha.

One of nature's incredible extravaganza. Via @susantananda3 sir. pic.twitter.com/BhAZzLbI8o

— Parveen Kaswan, IFS (@ParveenKaswan) May 8, 2020
Like what you read? Follow me on Instagram