Street Art Gets Tiny, Breathtaking.
A strange thing is happening on city streets. Wide open spaces are the new home for tiny, easy to miss-but hard to forget spontaneous art installations that are precious, charming, and catching attention around the world.
I first decided to do the story when I  made an accidental discovery while walking to the 33rd street train in Herald Square… At first glance it was just a lump of snow on the sidewalk… but upon further inspection, it turned out to be a miniature snowman. Okay… not just a snowman, but a gorgeous, well  dressed, ten inch tall snowwoman.
I was beyond intrigued and oddly enamored with the beauty and randomness of the moment. (Narcissistically, perhaps, we folks in the Big Apple often refer to these as "New York Moments." All alone, I seemed to be the sole witness to this solemn form of expression.  Someone had taken the time to fashion this beautifully inspired piece of art with full knowledge that it may go unrecognized, most definitely uncredited, but perhaps adored by just the right person, before it would inevitably melt or be destroyed.
I then stumbled upon a post on TheDailyWh.at that showcased another miniature lifescape. A tennis ball became an island getaway for two little miniature people. And yet, no name left, no explanation given. Is this some sort of phenomenon? The internet detective that I am, I was determined to get to the bottom of the preciousness.
The tropical island was staged in Wandsworth London, by artist  that goes by the name Slinkachu who has been abandoning these little people on the streets since 2006. He has a show coming up on March 2nd at Andipa Gallery in London.
There seems to be no correlation between my snow-woman and this street artist, (he tends to use train figures and photograph them, whereas my discovery could very well be a moment of spontaneity.) But it inspired me to share it with you, and to consider planting my own small surprises from time to time.
So if you're walking down the street and happen upon something unexpected, take a moment to appreciate it! It may be one of these folks… or me!
This Cellist's Rendition Of The 'Inspector Gadget' Theme Song Is So Good!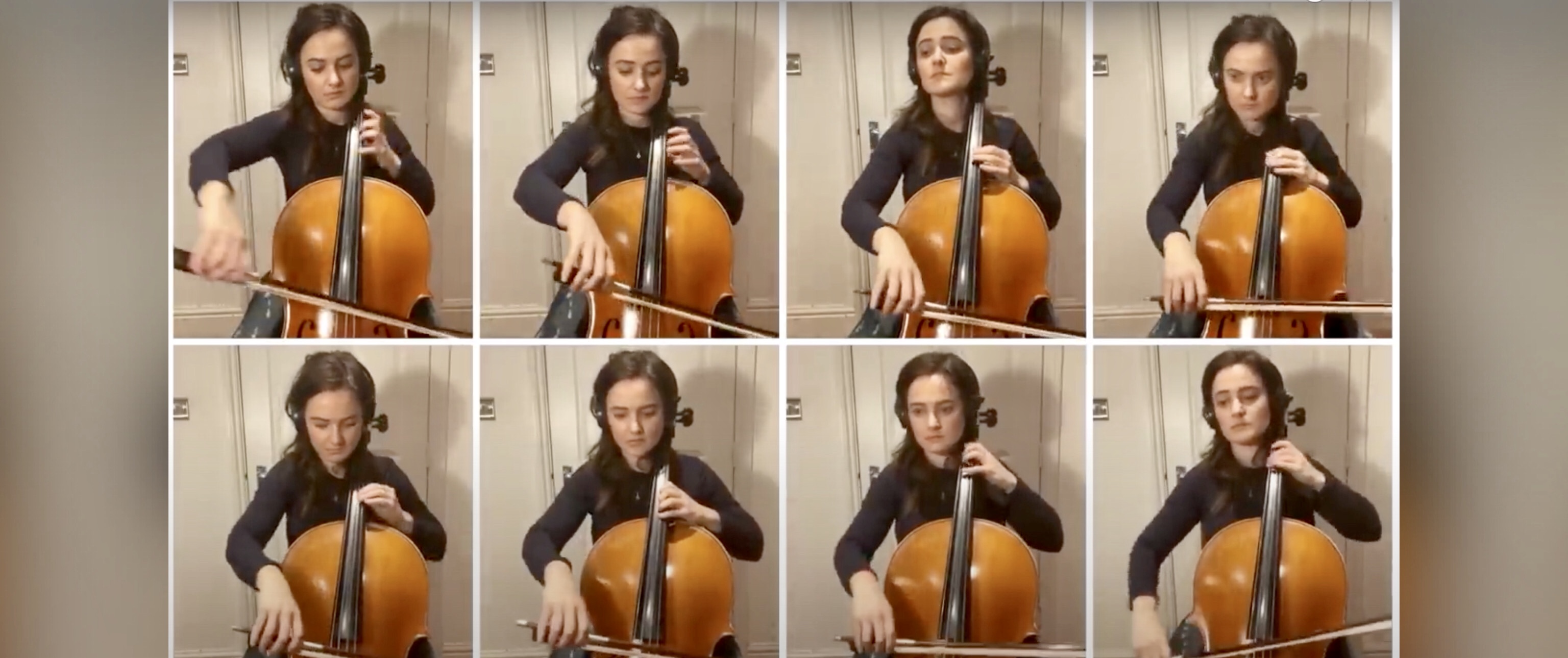 You don't need Go-Go-Gadget-Hearing-Aids to hear how cool this cover is.
There are a few theme songs that are instantly recognizable and one of them definitely belongs to Inspector Gadget. YouTuber, Samara Ginsberg, not only shared her cello composition but also played all eight parts needed to perform the cover perfectly. The sound of eight cellos working together enriches the cartoony tune of the original, making the cover feel more appropriate for someone like James Bond. Talk about an epic mashup idea!
Check out the amazing talent below!
Like what you read? Follow me on Instagram
Folding Phones Are Now A Thing! Check Out The Samsung Galaxy Fold
It's really happening. Could the days of mocking people with flip phones be over? But wait – there's more. This phone as SIX cameras — three on the back, two inside, and one in the front for when it's folded. I can't even count how many selfies that adds up to.
It's almost two thousand bucks. For now. But it expands from nearly 5 inches as a phone to a 7 inch tablet. Will it make me breakfast???
It sounds cool but I'm worried that eventually I'll be too old to figure out how to use anything anymore. I've already stopped trying to program my favorite TV channels into cable system because it just seems to complicated.
WATCH:
MUST WATCH VIDEO: "How Spies Use Disguises" Is The Most Fascinating Video You'll Watch All Day.
This is CRAZY, COOL, and completely COMPELLING. The former CIA "Chief Of Disguise" (yes, that exists) shows just how sophisticated the process of disguising an agent has become.
Jonna Mendez once held that title. Here, she shows how she transformed agents' identities with nuances both subtle and dramatic. She even shows how she once brilliantly demonstrated a lifelike mask to a former President. It turns out all the crazy stuff I saw on Scooby Doo as a kid was really possible!