"Bill and Ted" Alum Alex Winter Downloads Filmgoers On The Music Revolution
To an entire generation of teens in the late 80s and early 90s, Alex Winter was an unlikely idol, as "Bill" in 'Bill and Ted's Excellent Adventure." Now he's an established writer and director with a new documentary about the tulmultous rise of the music downloading industry.
To an entire generation of teens in the late 80s and early 90s, Alex Winter was an unlikely idol. As "Bill" in 'Bill and Ted's Excellent Adventure' (and the subsequent sequel) he was paired with Keanu Reeves as a dim-witted but good natured metal head going on, well, excellent adventures. Now he's an established writer and director with a new documentary about the tumultuous rise of the music downloading industry.
The film, entitled "Downloaded," examines the real-life excellent adventures experienced by Shawn Fanning and Sean Parker. The pair began Napster in 1999 when they were 19 and 20 years old … and suddenly found themselves in a firestorm of controversy and legal battles with the music industry when the project became bigger than even they might have imagined. He spoke to POPgoesTheWeek about the film.
Through Napster's successes and turmoils, Winter was fascinated by the story. "I met Shawn Fanning back when Napster was just coming to close," he says. "We talked about telling the story in a movie then," (In a separate interview, Fanning joked that Winter's role in 'Bill and Ted' didn't hurt in helping secure a meeting between them.) "and believe it or not it's taken ten years to get it made. People back then had a hard time really understanding the technology, and it was unclear if it was going to stay or go."
Shawn Fanning, Sean Parker and Alex Winter (courtesy VH1 via Alex Winter)
Clearly, the technology, at it's core, stayed, even if Napster didn't, thanks to government injunctions and multi million dollar lawsuits over illegal sharing and downloading. The story of what became of the Napster fortune and fame is compelling, but yet to be fully told on film. And that's where Winter, who wrote and directed Downloaded comes in. In part, he says, to help set the record straight about the intentions of its originators – and all of the people behind the revolution of the music world as a whole – one that has sparked a relative end to music stores, 'albums' and concern about the industry at large.
"I think that there's a lot of divisiveness between the existing establishment and the technological innovators. There's a lot of misundestanding about the motives about the generational revolution that's taking place right now. I think, first and foremost, I want to tell a great story – one that I think is worth telling – that's really been the primary motivator. If this helps to add more sides to the conversation and clarify some things and get people thinking and talking about that, would be great."
In the years following "Bill and Ted," Winter has enjoyed a steady stream of acting roles, but has been largely occupied with developing Downloaded for the past few years. But as rumors brew about a new, updated installment to the "Bill and Ted" franchise, he is reluctant to elaborate on possible the new film.
"I have a big no comment on that," he says. But even though the original movie, it's sequel and long term cult-like success is clearly a chapter he'd like to close, he does understand the film's continued appeal.
"I have sort of talked the subject out," he adds, "but I think there's a sweetness to them and people respond to that. I think it's genuinely about two good friends – I think at the heart of it, it's really about friendship and going through this crazy world as a team rather than on your own. The movie was written by two close friends and (Keanu) Reeves and I were really good friends and I think that really came across."
"… I think people continually go back to a movies that have a certain kind of sincerity to them, especially in comedy. A lot of comedy can be mean spirited. I think it can be more challenging to make a comedy that isn't mean spirited I think that's what gives it legs."
What happens after Downloaded hits theaters? A scripted film that draw upon an old favorite.
"I'm developing a remake of a great 80's supernatural thriller called The Gate. I'm doing that hopefully after Downloaded… I think we can make a really great remake actually so a lot of my energy is going there."
Downloaded premieres at film festivals this fall 2012.
Well Sh-t, Leslie Jordan Has Shared Three Videos Of Himself Dancing In One Week And They're All Perfect
Doing much better now, Leslie.
If you've never believed that "good things come in small packages" then you've never seen Leslie Jordan's instagram. The 4'11" actor known for his iconic roles in shows like Will & Grace and American Horror Story has recently developed a whole new fanbase who loves him for his viral Instagram videos. Usually starting each video by greeting fans with "Well shit, how y'all doing?", viewers have grown to anticipate Jordan's hilarious recounting of stories from his time in show biz or growing up in the south. This week, however, the Tennessee native has shared 3 videos of himself dancing within 5 days and honestly it's precisely what we all need right now.
The first video was posted on August 12th and shows Jordan taking part of the "Git up and dance challenge" which swept the internet about a year ago. Even though he is a little late, the video is still perfection.
On August 13th, Jordan does a dance to "You Can't Stop The Beat" from Hairspray a with special guest dance partner Katie Couric!
Finally, on August 15th, Jordan does an epic "tootsie roll" and challenges Real Housewives Of Beverly Hills star, Lisa Rinna, to do the tootsie roll herself. Of course Rinna commented with a big "ON IT ❤️😂." Who could say no to the viral star?!?
The moral of the story here is that the world is going through some tough times right now but maybe, even for a few seconds, we could all feel better if we'd just dance it out. Thanks for the inspo Leslie Jordan!
Like what you read? Follow me on Instagram
Planters 'Baby Nut' Has Somehow Already Turned 21 And People Are Not Loving The News
2020 keeps getting nuttier.
The world was shocked when the iconic Mr. Peanut was killed during a pre-Super Bowl ad earlier this year. There wasn't much time to mourn, however, before a new nut was thrust onto us like back-to-school commercials in July. Yes, after the 59-year-old mascot met his untimely death consumers were introduced to his reincarnate, Baby Nut. With big, expressive eyes and a tiny stature fans began to swoon over the cute branding revamp and accepted him as the new mascot. Well as if 2020 hasn't been crazy enough, Planters just released a new commercial celebrating Baby Nut's 21st birthday and I'm not sure how to feel about it.
I'm officially 21, my friends! Before you ask, yes, I was just a baby. What can I say? It's been a nutty year. Now someone get this peanut a beer! #MakeMyBirthdayNuts pic.twitter.com/P1UfBIi4N8

— Peanut Jr. (@MrPeanut) August 11, 2020
According to a quick Google search, a peanut plant takes 4-5 months to reach maturity. So with Baby Nut being born in February, he is technically right on track in his growth cycle. The OG Mr. Peanut was the reigning mascot for 59 years so does that mean he was actually over 3,000 peanut-years old? The accelerated aging is not explained in the new ad with Baby Nut (Young Adult Nut?) simply saying "it's been a weird year." Reactions on Twitter are largely negative but as always, hilarious. Here are some of the best: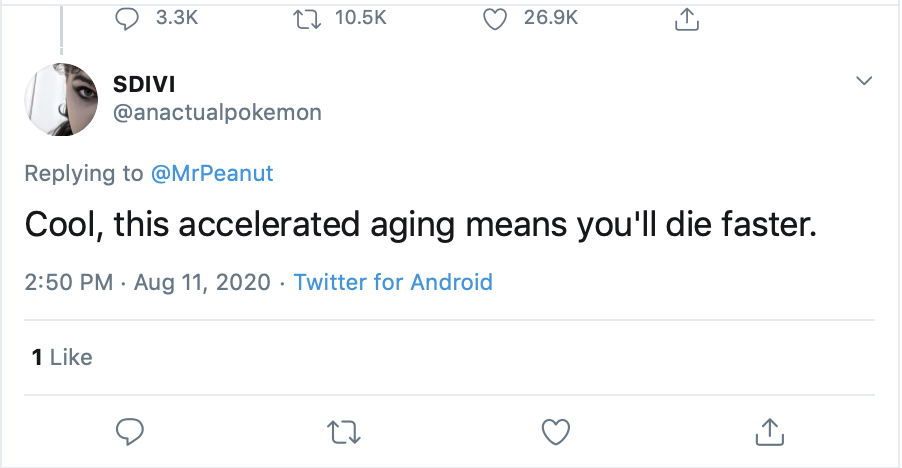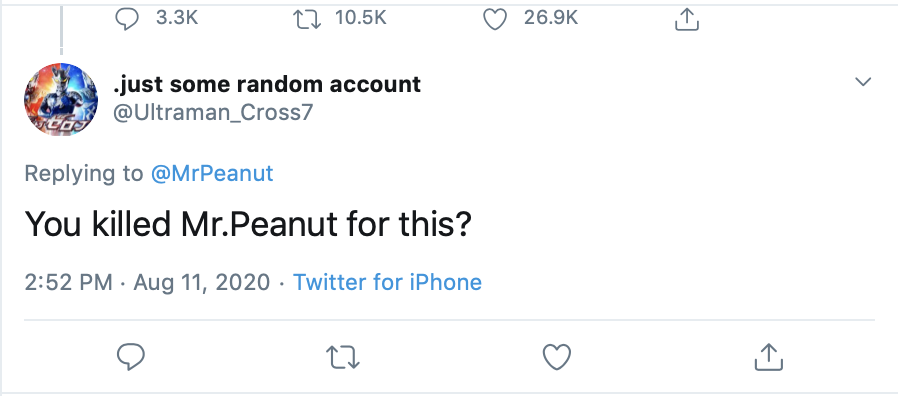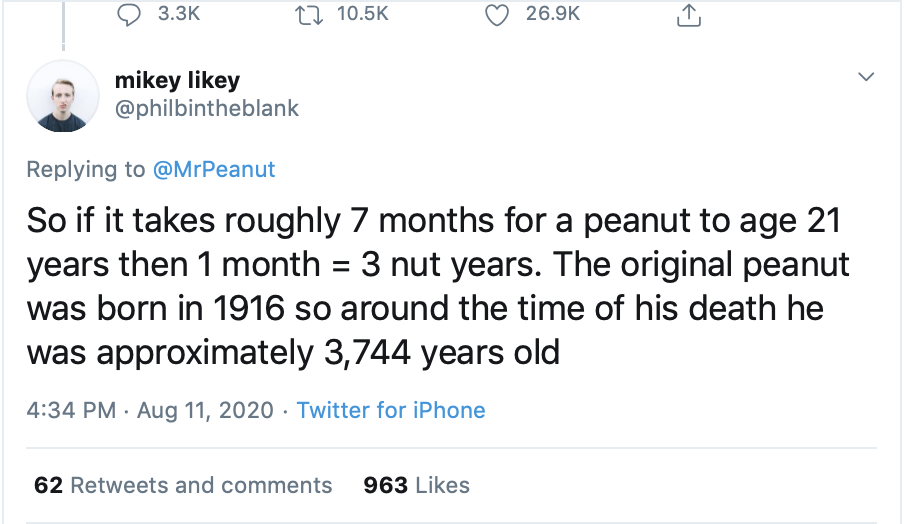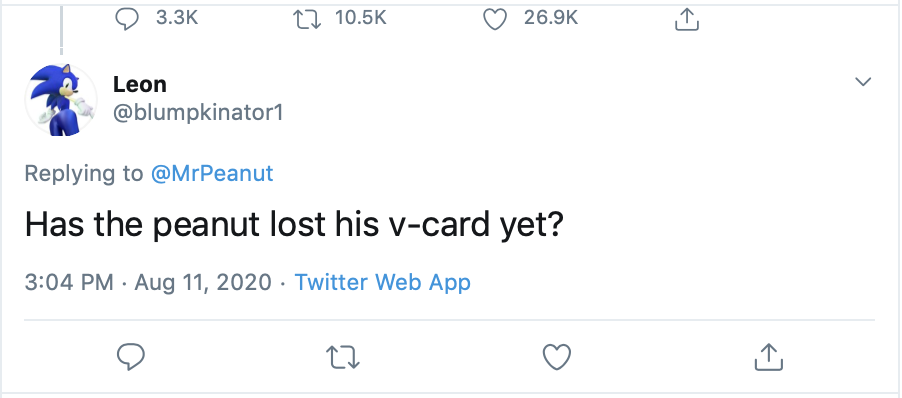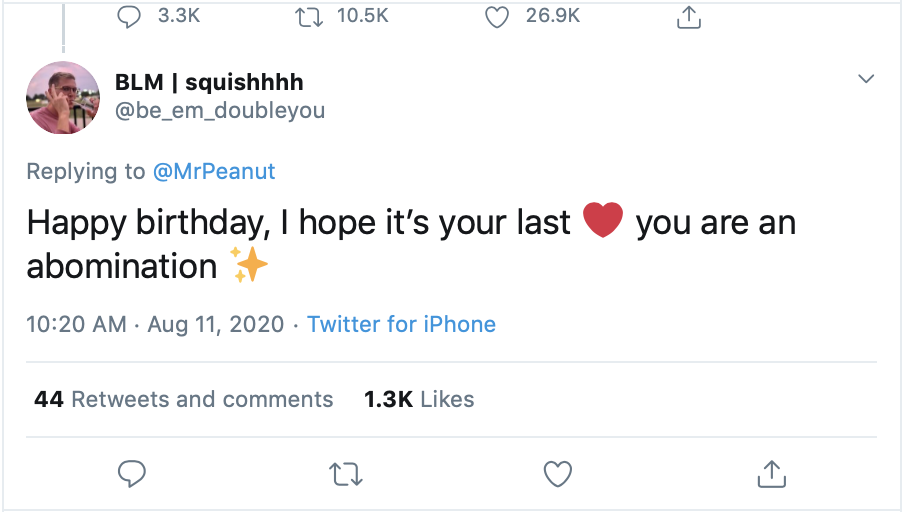 Yikes. Good thing Baby Nut is old enough to drink now…looks like he might need to throw back a few to handle some of these reactions.
To follow Peanut Jr.'s official account click here.
Like what you read? Follow me on Instagram
The Last Blockbuster Store In Existence Is Now Listed On AirBNB
Netflix could never.
Remember how exciting it was to take a trip to Blockbuster back in the 90's? You'd try to get there early enough to rent one of the latest "new releases" before everyone else in the neighborhood got to them. You'd beg your parents for some popcorn and candy which were conveniently placed on the checkout line. And if it was a whole family outing, you'd wander off to look at all the films and games that you were never going to rent but found comfort in knowing you could rent someday. Gosh, it felt like you could spend days inside one of those movie meccas. Well good news, now you can because the last Blockbuster in existence is now listed on AirBNB!
The retailer, located in Bend, Oregon is offering up three one-night stays for up to four guests for folks who want an "end of summer sleepover." The store has added an adorable living room set up which includes a pull out sofa and a big screen tv so guests can binge all their favorite films. Oh and there's snacks! Along with providing ideas for a perfect 90's night the ad also suggests that you should "help yourself to some NERDS, Raisinets and popcorn (heavy on the butter), but make sure you save room for a couple slices."
There is a catch to the whole experience though, the listing is only available to Deschutes County residents. Is it too late to move!?! Manager Sandi Harding explained that the publicity stunt is a response to the newfound economic uncertainty due to the pandemic. "Not much has changed at our store – not even our prices – and that's just how we like it! We think of ourselves as a family, and that includes everyone from the global travelers who come to visit, to the lifelong friends and couples who first met as Blockbuster employees. The Covid-19 pandemic has been a test of our community unlike any other, so we decided to list this stay to keep this tradition alive during these uncertain times."
Such a clever way to keep this iconic 90's treasure trove alive! To check out the AirBNB listing, click here!