Movie Review: The Avengers
Mike Finkelstein wants to save the world! He just put on his cape and his red boots and his spandex, and he's off to the city to fight crime! Wheeeeeee!!! Oh, crap! An intergalactic army of aliens?!? Call someone else!!! *Runs away screaming* Here is his review of "The Avengers".
Mike Finkelstein wants to save the world!   He just put on his cape and his red boots and his spandex, and he's off to the city to fight crime!   Wheeeeeee!!!   Oh, crap!   An intergalactic army of aliens?!?   Call someone else!!!   *Runs away screaming* Here is his review of "The Avengers".
PLOT: When Loki (Tom Hiddleson) summons an intergalactic army to take over the world, Nick Fury (Samuel L. Jackson) and SHIELD call on "Earth's Mightiest Superheroes" to save the day.   Together, Captain America (Chris Evans), Iron Man (Robert Downey Jr.), Thor (Chris Hemsworth), Black Widow (Scarlett Johansson), Hawkeye (Jeremy Renner), and the Hulk (Mark Ruffalo) become The Avengers, and give us the best superhero adventure in years.
Check out the trailer:
MIKE'S REVIEW:   Ho-ly S***!   The hype is all true, my friends!   THE AVENGERS has arrived and it is every bit as amazing as it could and should be.   Joss Whedon has done the impossible and somehow incorporated all of Earth's mightiest superheroes in a movie that is not only action packed from the first frame to the last, but also a perfect blend of that action, drama, and comedy that'll have you wondering how the hell so many other superhero movies have gone so wrong.
After last seeing him perish into a worm hole while his adoptive father and brother looked on (could mess up anybody…), Loki is back and looking for vengeance.   The "rightful king of Asgard" wants his planet to rule, and has chosen Earth as his domain.   Enter Nick Fury and his team to assemble a band of the world's mightiest superheroes: Tony Stark (Iron Man), Steve Rogers (Captain America), Bruce Banner (Hulk), Thor, Natasha Romanoff (Black Widow), and Clive Barton (Hawkeye).
To have such a group together for two-and-a-half hours is almost certain recipe for disaster.   There are tons of sequels and comic book movies that have crumbled under the overkill.   I still don't know how the man did it, but Whedon created the perfect mix.   No matter whom your favorite was, every personality got their chance to shine without stealing any spotlight (amazing, especially since four characters had their own movies already) and every character had their chance to interact one-on-one with everyone else, whether it be a long fight, or just a conversation over trading cards.   They may have taken a while to gather some traction (as Stark would say), but you could feel the respect growing between the group until they ultimately did what they had to do: save the world.
And that, my friends, is the secret weapon that Whedon never forgot: the human aspect.   While the action is crammed in, Whedon slowed down the pacing just enough at points to let us know that all our favorite superheroes are still human (well, mostly…).   They have doubts and fears and demons to fight, and that is the emotional aspect so many other films either forget or over exaggerate.   (Again, the man is incredible with balancing…)   One specific conversation between Stark and Banner even left me with chills, and has my vote as the best emotional moment in the Marvel universe so far.
As for the cast, Robert Downey Jr, Chris Hemsworth, Chris Evans, Samuel L. Jackson, Scarlett Johansson and Jeremy Renner are all back in their roles that you've come to love them in (have to point out that Downey is still one sarcastic mother— as Stark, and Evans embodies the innocence and leadership that Captain America needs).   As for Loki, you may be skeptical of having him back so soon again as the villain, but Tom Hiddleson brings such a conflicted, brat-ish evil to the role (not to mention a hell of an army…), that you'll welcome him back in a second.   Add on fan favorites Agent Phil Coulson (so happy that Clark Gregg really got his time to shine in this one…), Agent Maria Hill, and visits from Pepper Potts (Gwyneth Paltrow) Erik Selvig (Stellan SkarsgÃ¥rd) and Jarvis (Paul Bettany), and you got yourself a damn good time.
But with all of these amazing actors sharing a screen, it ended up being Mark Ruffalo who stole the show.   Ruffalo, who came into what seemed to be a cursed role as the Hulk (after Edward Norton dropped out, and Ang Lee destroyed it back in 2003) is our first real glimpse at what could be done with the character if handled right.   (Granted, Norton did a great job back in THE INCREDIBLE HULK…Ruffalo just calls and raises him.)   He embodies the silent, brooding scientist fighting with himself.   He knows he can't die.   He knows he can't get angry.   He pretty much just sits and smiles and doesn't say much.   But when the "other guy" comes out…It. Is. On!   I don't want to give anything away, but the things the Hulk did in those fight scenes, especially the final battle, got the crowd cheering and laughing and clapping more than anybody else in the movie. (Let's just say he Smashed…) Here's to hoping a HULK film is on the way…
I said it before and I'll say it again…Joss Whedon has done the impossible.   He has created a perfectly balanced action/superhero movie not just for one hero, but for six.   He has given us a final magnificent climax over a span of almost a half hour (no quick one-two punch finish a la IRON MAN 2 here…) that holds on and never lets go.   Hell, he has even given us the first 3D post-conversation that actually looks damn good!   (Yes, that's a real 3D recommendation from me…that's saying something)   If you haven't gotten your ticket for THE AVENGERS already, get it now.   Seriously…open a new tab on Firefox and buy it.   I'll wait.   And then get two more tickets for showings later in the week.   And while you're at it, buy me another ticket (I'll pay for the popcorn…) This is one superhero movie you will NOT be disappointed in.
GRADE: A
Mike's LIKES:
1) TIME PERFECTLY SPLIT: Joss Whedon is a master of timing.   Somehow, with six superheroes in one movie (a crazy feat for anyone), the man was able to give each player their due.   No one was shortchanged, no one took the lead, and everyone had their moments to remember.
2) HERO INTERACTION: Every character had their chance to interact with everyone else.   Some moments were cute, some were filled with tension, and some were all out battles.   All were memorable, and pushed the story forward well.
3) EPIC FINAL BATTLE: For a half hour, the action did not stop.   That's all I'm giving away.   See number 4…
4) HUMOR INTERLACED THROUGH DRAMA/ACTION: Somehow, even while we were on the edge of our seats, Whedon still found the perfect moments to insert the funny.   My favorites: Shakespeare in the Park and Hulk Punch.
5) 3D: This is a first for me, but I actually recommend that you see THE AVENGERS in 3D.   Crisp, clear, and beautiful to watch, the extra layers really do add to the experience and throw you right into the battles.   (Amazing that we're getting that feeling from a post-production conversion…)
6) EVERYTHING ELSE:   Everything above mixed together has given us one of the best superhero movies we've had in years.   I'll be in line again this weekend not as a film critic, but as a fan. I suggest you do the same.
Mike's DISLIKES:
1) NONE: Read everything above this line, and then go out and see the damn movie.
EXTRA FACTS:
1) Edward Norton was originally set to reprise his role from THE INCREDIBLE HULK, but negotiations broke down between he and Marvel Studios.
2) Director Joss Whedon says that the original cut was over three hours long. About 30 minutes of deleted scenes will be included on the DVD release, most of which revolves around Steve Rogers (Captain America). Rumored deleted scenes: Rogers struggling to adjust to the modern world in his Brooklyn apartment; Rogers' reunion with an aged Peggy Carter, his love interest from CAPTAIN AMERICA.
Who Is This Brian Balthazar Guy, Anyway?
Did you see Brian on TV today? Wondering who he is? Here's much more than you wanted to know. They leave the part out that he loves a well mixed Dark And Stormy, but let's keep things professional…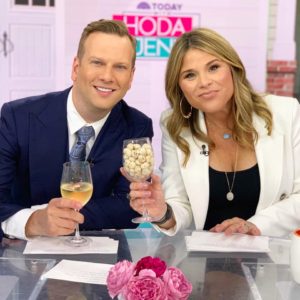 You may have seen Brian Balthazar on television this morning, heard him on the radio, or read about some recent developments in the world of media and pop culture. But who the hell is this guy? Brian Balthazar leads a double – triple – okay, maybe quadruple life. Part journalist, actor and comic, he appears on many TV shows as a guest, but is also a developer and creator of several television shows behind the scenes. This when he's not renovating homes and making snacks for his websites, POPgoesTheWeek.com and Snackist.com.
After launching the fourth hour of the Today Show with Kathie Lee Gifford and Hoda Kotb, he turned his attention to cable television, overseeing the direction and development of several shows on HGTV, including Flip or Flop, Love It Or List It, Christina On The Coast, House Hunters, Hit Properties with Nathan Morris, Flea Market Flip and dozens more.
As a comic he served as the opening act for Russell Brand In New York City and the MTV series Man and Wife featuring hype man Fatman Scoop.  He has performed at The Comic Strip, Caroline's On Broadway, Gotham Comedy Club and more.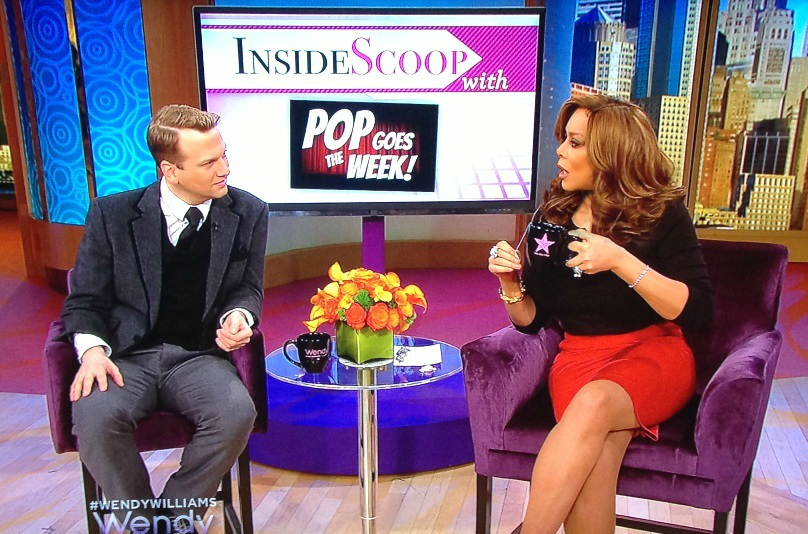 In addition to being a frequent guest on "The Wendy Williams Show," (he co-hosted several times during Williams' three week break) and appearing on the "Today" show, where he guest co-hosted with Jenna Hager-Bush,  Brian has frequently been seen co-hosting the syndicated TV gossip show Page Six TV.
Additionally, he was the sideline reporter for HGTV's Rose Parade Coverage, hosted the HGTV Special I Bought A Famous House, and has appeared on CBS's The Talk, HLN's Showbiz Tonight, MSNBC's Caught On Camera, The Joy Behar Show, and more.
An appearance on the fourth hour of the TODAY show with Kathie Lee and Hoda.
He has also been an emcee for many notable events and sponsors, including work as a brand ambassador for Bombay Company, the co-host of the Miss Tennessee and Miss Mississippi USA pageants, and a red carpet host at the Daytime Emmy Awards.
You may also have seen Brian in some viral videos, most notably a recent parody of Bird Box, and a satirical look at House Hunters' Writers' Room.
HGTV – House Hunters Writer's Room from Buffalo Picture House on Vimeo.
Appearing in a series of videos for Bombay Company.
Brian has provided analysis, interviews and helped co-host the Tony Awards backstage show. He also followed all the backstage madness at the launch of Fashion Week in New York City while co-hosting the Red Dress Event. He has been a roving reporter for the Dr. Oz show. Earlier in his career he was a features reporter and contributor on NBC, MSNBC, United Airlines In-Flight Entertainment and more.
For A&E network, Brian appeared in an episode of Biography about Jim Carrey. He also provided play by play of some of film's greatest car chases for a documentary about, well, car chases. (Ask his family and they will tell you: NO one would have expected to see him in a show about cars. We'll leave it at that.)
Before 'finding himself' professionally, Brian was a singer on a ship, a publicist for a trance medium, an insurance customer service rep, waiter, bartender, activities director, substitute teacher, website programmer, pianist at a camp for spoiled children, and college mascot. None of them worked out. Let's hope this does.
To contact Brian, email BrianBalthazar@aol.com.
To check out his video clips from NBC, HLN, and MSNBC, click HERE…
And – become his friend on facebook! www.facebook.com/brianbalthazar
For a more extensive listing of his TV appearances visit his IMDB page.
And he's apparently getting better about Twitter. So he says. He's @BrianBalthazar.
Thanks for reading POP GOES THE WEEK!
For his TV Appearances, Click on the TV APPEARANCES page.
POP in the Kitchen! The Perfect Snack and Cocktail Pairings.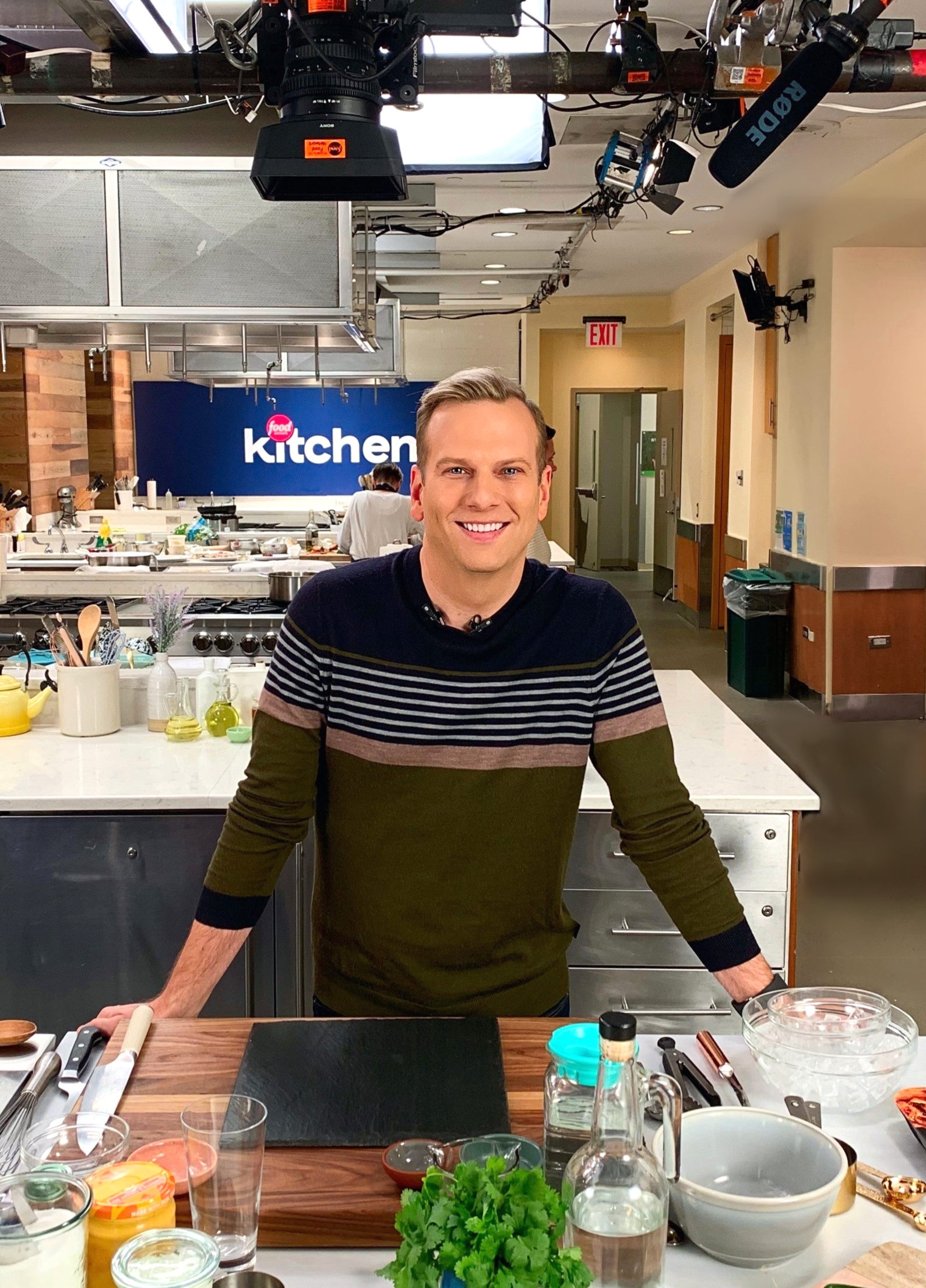 POP Goes The Week's Brian Balthazar is part of the all new Food Network Kitchen App! Cook LIVE alongside Brian as he makes get party food and the drinks that go perfectly with them!
Hey everyone! I'm so excited for this – I was thrilled to be a part of the new app, which is an all new way to cook with your favorite chefs and cooking experts. In the app, you can get the recipe and ingredients and recipe in advance, check the live class schedule, then cook at the very same time as your instructor!
I was fortunate enough to be invited to do a live snack and cocktail pairing, which you can still watch – and cook along with me! Trust me, these all start out as live, which means anything can happen! (I have an adventure with the broiler in one of them!)
For my recipes, I made a pulled pork toast with queso, sour cream radishes and green onions, along with a smoky mezcal paloma.
In another class, I make lavender honey that gets drizzled right on top of baked brie with herbs, then use that same lavender honey for my own interpretation of a "Bees Knees" cocktail that I call a "Bees Knees Breeze." I came up with the variation because the original recipe, simply gin, honey and lemon was just TOO strong for me and I found myself always getting plastered!
Check out the gallery of what I made, all available on the FNK app!
This slideshow requires JavaScript.
I hope you can check them out, AND all your favorite instructors like Bobby Flay, Giada de Laurentiis and Ree Drummond!
'Saved By The Bell' Cast Reunited For 30th Anniversary – And I'm So Excited
If you think your high school experience feels like ancient history then it won't bring you any comfort to know that Saved By The Bell debuted 30 years ago!
Back in 1989, Saved By The Bell hit the small screen and quickly became a television staple. Over the course of its four seasons, the sitcom followed Zach Morris and his unique blend of friends as they navigated the tricky waters of high school. Everyone had a favorite Bayside Tiger and the series spawned many memorable scenes…but you are a liar if you didn't say your favorite scene was where Jessie broke down crying after coming to terms with her caffeine pill addiction while crying out the most iconic line ever, "I'm so excited…I'm so excited…I'm so…scared"
In any event, some of Bayside's most memorable students reunited over the weekend to celebrate the 30th anniversary of the hit sitcom. Mark-Paul Gosselaar (Zach Morris), Tiffany Thiessen (Kelly Kapowski), Mario Lopez (A.C. Slater) and Elizabeth Berkley (Jessie Spano) all gathered together to hit us right in the nostalgia. Notably missing were Lark Voorhies (Lisa Turtle) and Dustin Diamond (Screech). Berkley wrote on her Instagram "FRIENDS FOREVER!!!" along with some sweet and fun hashtags. Lopez upped the ante and posted a video recapping the fun time the gang had as they reminisced on the days way back when. WHY WASN'T THIS TELEVISED?!? Many are speculating the reunion to be the beginnings of a reboot or revival but nothing of the sort has yet been confirmed.
View this post on Instagram
Like what you read? Follow @ChrisSiretz on Twitter and Instagram