Movie Review: Magic Mike
Mike Finkelstein is the newest stripper at his local Jewish strip club, "Big Noses N' All". He never had a lesson in his life, so he decided to go to the movies for inspiration. Sadly, no one did any dances to "Hava Nagila". Here is his review for "Magic Mike".
Mike Finkelstein is the newest stripper at his local Jewish strip club, "Big Noses N' All".  He never had a lesson in his life, so he decided to go to the movies for inspiration.  Sadly, no one did any dances to "Hava Nagila".  Here is his review for "Magic Mike".
PLOT: Magic Mike (Channing Tatum) can do anything.  He can build you furniture, build your house, and talk to the ladies.  And oh yeah…most importantly, he could strip.  So when a young man named Adam (Alex Pettyfer) stumbles into Mike's domain, Mike takes him under his wing and teaches him all about a world filled with women, money, and a hell of a good time.
Check out the trailer:
MIKE'S REVIEW:  Let's be honest…How many jokes did you come up with when you heard that Channing Tatum was making an autobiographical movie about his stripper days?  (I know I had a couple in there.)  I don't think anyone really thought something of substance was going to come out of that initial description.  But then Steven Soderbergh and Matthew McConaughey got involved.  And then we saw the first trailer, as well as the rest of the cast.  And the hype built and built and built, and suddenly, MAGIC MIKE hit movie screens with a vengeance, and yeah…it's actually a pretty damn good time.
MAGIC MIKE follows the titular Mike, a man of many talents and identities, including furniture building, construction, and being a stripper at a downtown Florida club.  When he meets Adam (Alex Pettyfer), a young man with no real direction, he takes him under his wing in the world of stripping and together, the two quickly become the club's lead attraction.  Soon, however, the temptations of women, money and drugs start to knock at Adam's door, and it's up to Mike to try and get him back on track, even if it's at the cost of his own dreams and a budding relationship with Adam's protective older sister, Brooke (Cody Horn).
We'll get to all that drama in just a bit…
Let me answer this question right off the bat: despite the comparisons it has already gathered, MAGIC MIKE is no SHOWGIRLS (thank goodness).  Yes, there are many, many thong-clad behinds, but no full frontal nudity (unless you count one very amusing shot having to do with a certain pump…), and to be honest, we really don't need it.  We start off with McConaughey's Dallas lecturing all the ladies in his Club Xquisite with what they can and can't touch on the dancing boys.  It's the audience's first glimpse at what we have coming…a perfectly fit tease given the subject matter…and for the next hour, it's nothing but fun and games.
From that tease, we jump into Mike's life, which is just as enticing.  The man does construction in the sun on glorious houses, picks up women for his show in the clubs of Tampa, dances for easy money, parties and gets laid.  Add onto that the nice depth of Mike wanting to do something more with his furniture business, and we also enjoy a pleasant touch of humanity for the character.
Speaking of Mike, I am coming to respect Channing Tatum more and more with every film he is in.  Yes, we could all make jokes about MAGIC MIKE and the actor's stripper past, but the fact that Tatum took this idea from scratch and made it into what it's become is more than impressive.  He is becoming a better actor with every new entry, and here, he is completely in his element, ready to show off a hell of a lot of charm, and some ridiculous dance moves that every single man in the audience will be jealous of.
The rest of the guys also seem to be having an absolute blast together, no one greater than Matthew McConaughey as the badass leader.  McConaughey is known for taking his shirt off, and this time around, I don't think there's more than two minutes total where he actually has his shirt on!  (And don't worry, ladies, he may be the leader of the pack, but you have your moment of payoff later in the show.)  While the rest of the group, including "White Collar" star Matt Bomer, "True Blood's" Joe Manganiello, and "CSI Miami" star Adam Rodriguez, don't really have much to do besides be backup and look pretty, there is a real solidarity amongst them that makes us feel like they've been together for years.
The real issues with the movie, however, come in the second half.  Around the midpoint, we are introduced to a number of different conflicts, including a growing drug addiction, a sleazy employer, and bad guys wanting payment.   All of these are introduced beautifully and subtly by Soderbergh, but in the end, none get the attention they deserve to come to a solid resolution.  I'm not sure if Soderbergh wanted to keep the fates of all these men ambiguous, or he was just afraid of diving too deep into dark territory, but I was disappointed with that lack of closure.  One scene in particular was especially discouraging, if only because it could have been a game changer for the film, and instead ended up being nothing but a throw away (and the only time I questioned Tatum's acting choices).
MAGIC MIKE is not trying to be Shakespeare by any means.  What it is trying to be is a hell of a fun time for people wanting to see a movie on a Friday night.  And on that level, it succeeded in spades.  Gay men and women will love it because of the boys, and straight men will love it because they'll want to be the boys.  Yes, when the drama piles on, the story somewhat cracks under the pressure, but what can we really expect from an entry that will be put in a category that includes SHOWGIRLS, STRIPTEASE and any Pamela Anderson movie?  Usually, the answer is not much.  This time around, the answer is a good time, and yeah…probably a hell of a lot of boyfriends being forced to sign up for lap dance classes…
GRADE: B
Mike's LIKES:
1) GROUP DYNAMIC: These guys are having an absolute blast together, and it's completely obvious to all of us watching.   We have a good time because they're having a good time.
2) DANCING: Some of the dance moves that these five come up with are, by far, some of the best moves put to film.  Every guy, especially Tatum, can move with a fire under their ass, and you will either be praying (if a guy) that you could dance like that, or (if a girl) you had a guy who could dance like that.
3) CHANNING TATUM: With every movie Tatum does, I become a bigger fan.  He is getting better and better as an actor, and here, he is right in his element when it comes to both the character and the dancing.
4) SPIN MOVE: I won't give any more description, but I will say that when Tatum did this move, I was absolutely shocked that it wasn't sped up at all.  Damn…
Mike's DISLIKES:
1) TRYING FOR TOO MUCH: When you're watching a movie that seems to be going so well, it almost hurts to point out such a huge issue.  I understand where Tatum was trying to go with all these wonderful plot conflicts (and all of them are introduced very well, I might add…), but in the end, so much drama causes the resolutions to suffer, and we are left with certain conclusions that are less than satisfactory.
2) CODY HORN: While she was perfectly fine at some moments, Horn seemed to be the only sore thumb in the group.  Granted, there is one scene where she is absolutely amazing emotionally, but then there are others where nothing seems to be coming out.  Inconsistent, but great when the magic is turned on.
EXTRA FACTS:
1) Channing Tatum originally wanted Nicolas Winding Refn to direct the film, but Refn had major scheduling conflicts with with ONLY GOD FORGIVES.
2) Two of Tatum's former stripper buddies told certain media outlets that they felt Tatum stole their story for his own personal gain.  To this day, Tatum has largely denied this, saying that any specific storyline or moves he used in the film were all works of fiction.
The Pentagon Has Released Official UFO Videos Because 2020 Is The Absolute Worst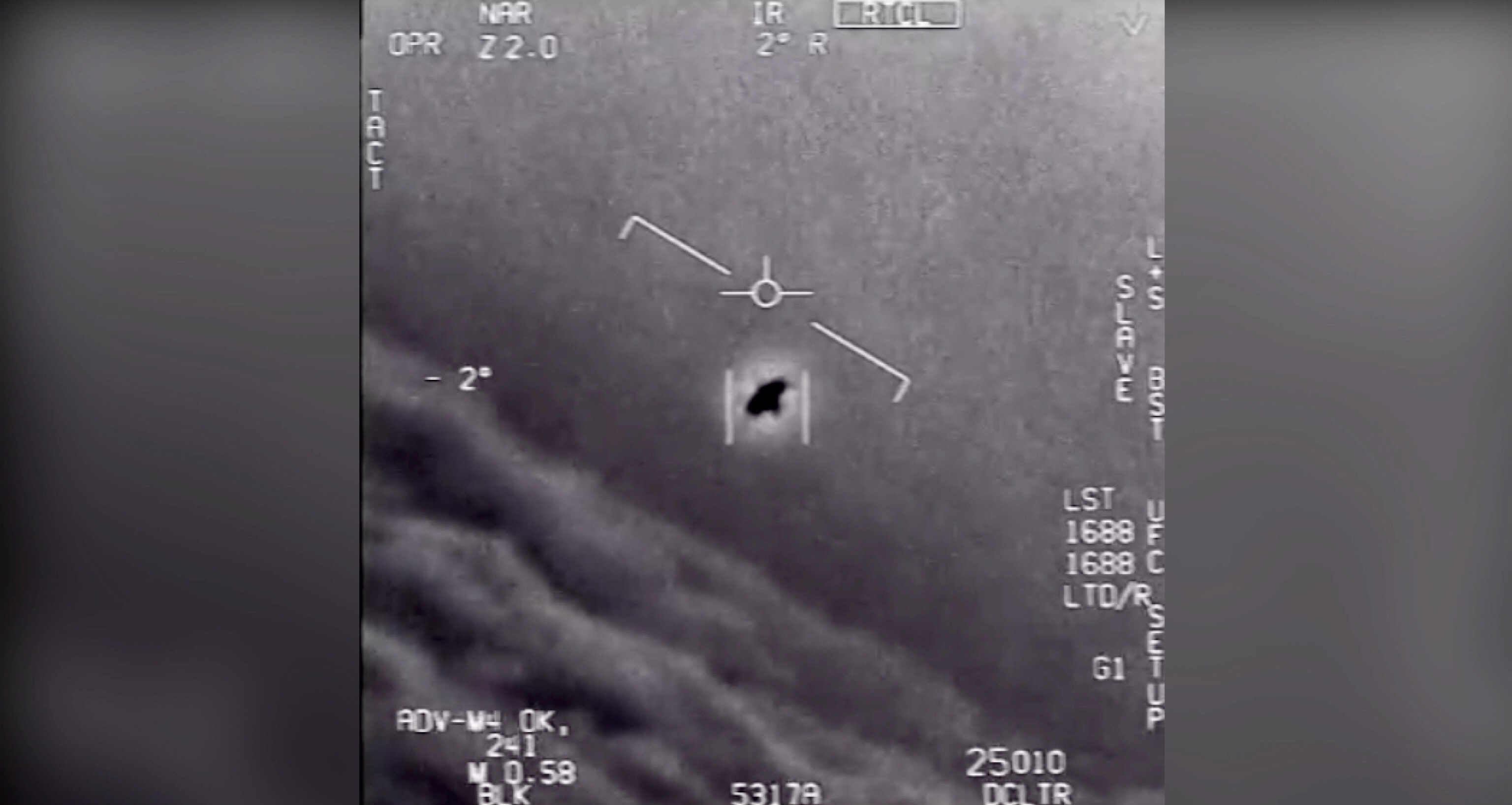 Aren't swarms of locusts supposed to be the next installment of this plague?!
Can we finally declare 2020 as the worst year ever? In January there were fears of a third World War. In February the coronavirus began its rapid spread. In March the world essentially shut down due to social distancing and quarantining. And now in April…with only two days left in the month…we have official government footage of unidentified flying objects. I'm sorry but Milton Bradley's game of "Life" never prepared me for any of this!
The Pentagon has confirmed the authenticity of three videos that have been circulating the web but didn't really answer what is visible in them. In the videos, now declassified by the Department of Defense, navy pilots capture "unidentified aerial phenomena" aka unidentified flying objects aka UFOs! Pentagon officials were sure to state that the videos do not show "any sensitive capabilities or systems," meaning we probably won't be seeing any little green men any time soon.
"Look at that thing!"

Pentagon declassifies three previously leaked top secret U.S. Navy videos of "unexplained aerial phenomena"—and that some believe could show UFOs. https://t.co/YTuvaPHykM pic.twitter.com/YaKImrnl5M

— ABC News (@ABC) April 27, 2020
The first video dates back to November 2004 and the other two from January 2015. Of the Pentagon's confirmation of authenticity, Pentagon spokesperson Sue Gough said the videos were released "in order to clear up any misconceptions by the public on whether or not the footage that has been circulating was real, or whether or not there is more to the videos."
So great. We now know that these strange videos are real but what exactly are we looking at? Well, the Department of Defense says it has no concrete answer as to what might be floating around the skies and has classified the phenomena as "unidentified." And…just like that I suddenly feel less defended.
Social media is having a field day with this revelation of course. The #AliensAreReal has been trending high on Twitter since the news broke. One user referenced Independence Day and said the aliens are "getting ready for July 4th." Of the bad timing, another wrote "Et tu aliens?" And finally one user couldn't help avoid sarcasm and wrote"Where's the space force when you need it?"
Well 2020, you have worked your awful black magic once again. What's next, cat videos get banned from the internet?! You've taken everything else from us!
Like what you read? Follow me on Instagram
Priest Accidentally Forgets To Turn Off Filters Before Live Streaming Mass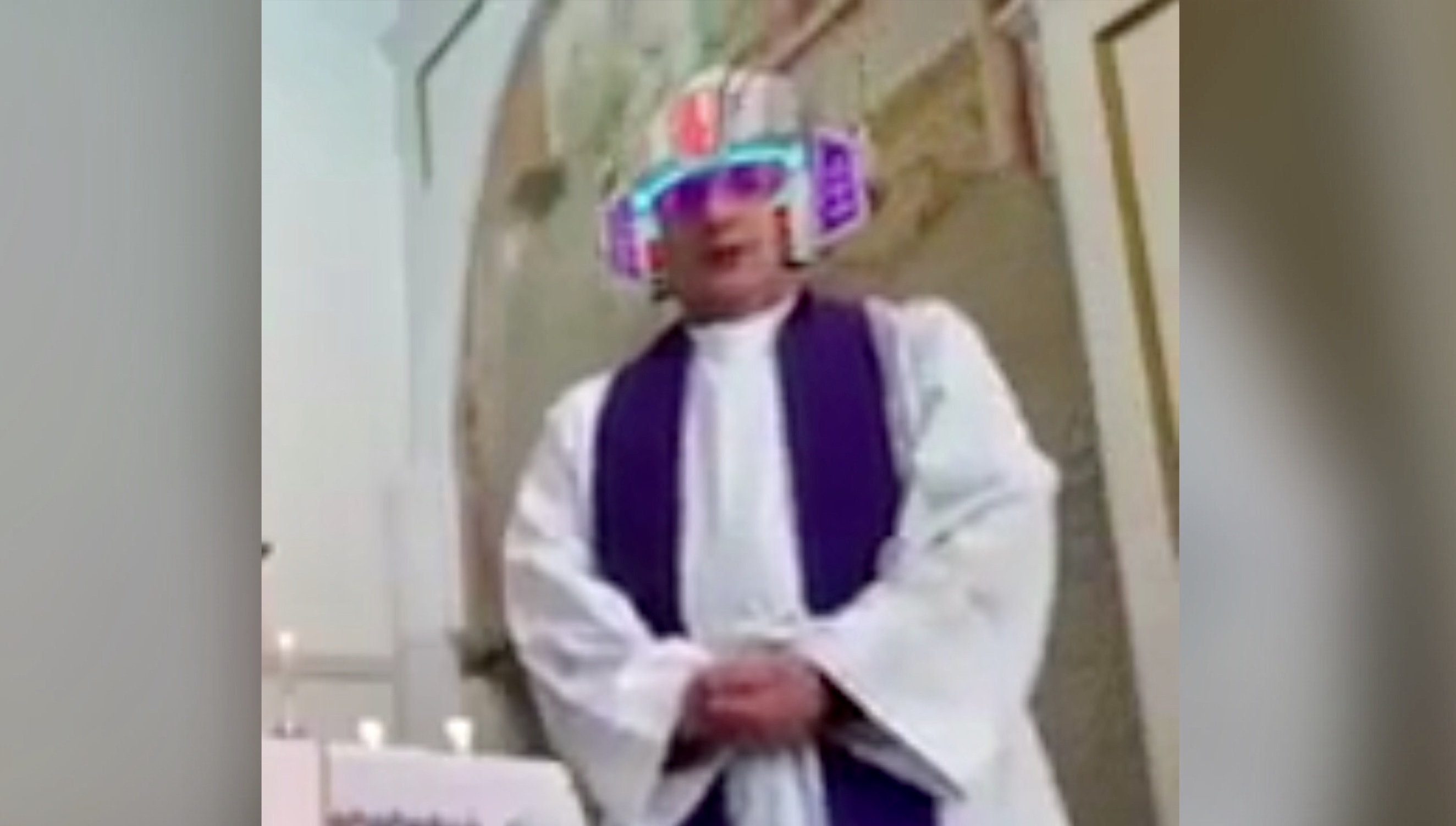 The internet is having a field day with the innocent mistake of biblical proportions.
With new social distancing guidelines, many churches have closed to help prevent the spread of the coronavirus. And while that doesn't justify all the wine you've been chugging during your self quarantine, it does have many people practicing their faith from their homes. One Italian priest was just trying to recite a little prayer for his followers when he accidentally left a filter feature on during the broadcast! In the clip the priest is digitally adorned with a space helmet, workout gear, a fedora and sunglasses and more.
Social media went nuts for the video, which has now gone viral. One comment reads "He just doubled his holy power." Another reads "Father, Son and Holy Influencer." One commenter couldn't resist a good pun and said the video is having a "Mass effect."
Enjoy your daily blessing and take a look at the funny video below!
Priest in Italy live streams mass, activates filters by mistake from r/funny
Like what you read? Follow me on Instagram 
Danny DeVito Passionately Urges New Yorkers To Stay Home…And Twitter Agrees!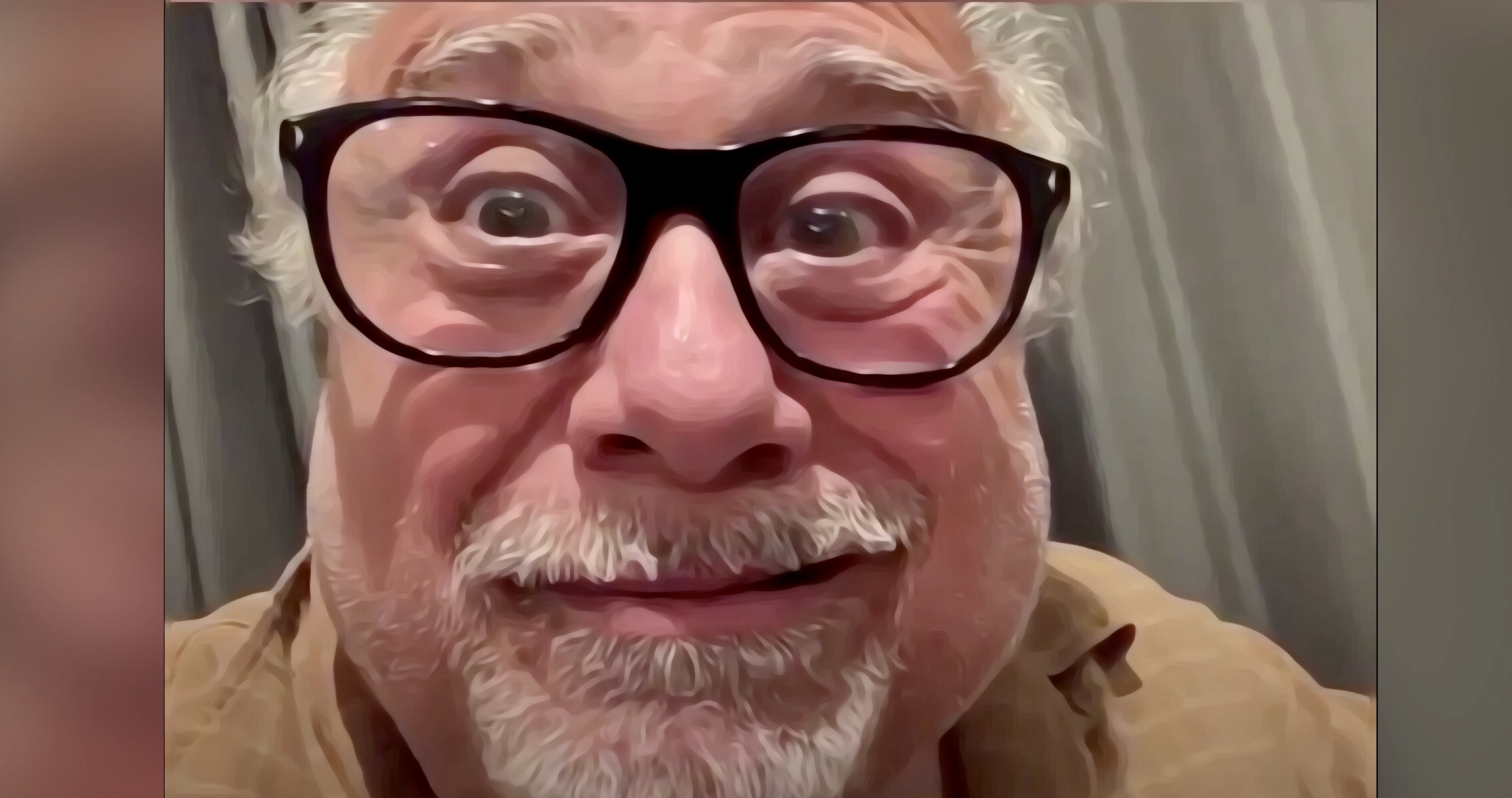 For the love of Danny DeVito, stay home!
The world is in a dark place right now and I am not sure how much more bad news we can handle. That's why when I saw Danny DeVito's name trending on Twitter I froze. Our great nation could very well crumble if anything bad was to happen to such an icon right now. With extreme trepidation I clicked on the social media link and was relieved to see that good ol' Danny boy is just strumming up hype because he is passionately urging New Yorkers to stay home.
Amid the coronavirus outbreak, Governor Andrew Cuomo has been driving New Yorkers to stay home and has taken every precaution short of shutting the state down completely to help prevent the virus from spreading. Because New Yorkers can be hard headed, it doesn't hurt to have some famous friends reiterate your message. Big names like Lala Anthony, Robert De Niro and Ben Stiller have all made appearances on Cuomo's social media pleading with New Yorker's to heed the governors warning. Only one celebrity was able to make it to Twitter's trending page however and that was none other than Danny DeVito. DeVito's message is simple…stay home! In the two minute video, DeVito reminds fans that it's not just up to the elderly to isolate themselves. "Young people can get it and they can transmit it to old people and the next thing you know – I'm out of there" says the actor. We must save him!
Twitter went into a frenzy with many users agreeing that we need to stay home for Danny. One user wrote "When Danny speaks, I listen." Another passionately wrote "If you idiots kill Danny DeVito I SWEAR TO GOD." One promoted DeVito from the icon status I previously awarded him and said "WE GOTTA PROTECT WORLD TREASURE DANNY DeVITO." 
Take a look at the video below and for the love of the newly minted national treasure, stay home!
Danny DeVito wants you to stay home and save lives.#NewYorkStateStrongerTogether @DannyDeVito pic.twitter.com/7V8yXbqHwB

— Andrew Cuomo (@NYGovCuomo) March 22, 2020
Like what you read? Follow me on Instagram