POP INTERVIEW: Allison Volk Breaks Free of "The Lone Ranger"
Allison Volk starred in Johnny Depp's Disney summer film, The Lone Ranger. What's next? Remodeling chairs, Shakespeare and more acting…
Allison Volk starred in Johnny Depp's Disney summer film, The Lone Ranger. What's next? Remodeling chairs, Shakespeare and more acting…
What was your whole experience like filming "The Lone Ranger?"
Honestly, the experience kind of blew my mind. I'd never worked on such an enormous project before, and the level of organization and coordination just astounded me. Also the level of professionalism. The production flew me to Albuquerque, NM, where I stayed for a week, and every morning a van would pick me up outside the hotel around 5:30 am to drive me and the other actors about an hour into the desert where they were filming. It was dusty, it was hot, and it was so exciting. Everyone knew exactly where they needed to be and when. I really got the impression that the actors are the last piece to fit into the puzzle. It was so fun.
It's cute how the director, Gore Verbinski, called you "too much of a babe." So! On that route, would you ever go for a role based on you being a babe, not utilizing your drama training whatsoever? What sexy or bimbo roles would you love to have?
I guess it depends on the project. There's no way I'd turn down the chance to be a Bond girl! But that said, the reason I started creating and producing my own work was because I kept being called in for the stripper/slutty girlfriend roles and I was getting sick of it. I think a sexy bimbo role here or there never hurt anyone, but it's also important to be aware of what it is. If Gore Verbinkski asked me to be a bimbo in Pirates 5 I'd probably do it.
Right now, you are taking on "Othello." Are you afraid of people comparing your work to other films and stage productions?
No way, not at all. Mostly because I'm playing Iago – a role traditionally played by a man. I guess I'm lucky in that way because I get to create the role, so to speak, since I'm a woman. It's really interesting to me how much the meaning of the text changes when looked at through a woman's eyes. There's also so much sexual tension to play with, and questions like, "why does Iago do what she does? Is she in love with Othello?" Those questions don't exist so much when it's played by a man, there are a whole different set of questions.
What is your favorite modern-old story retelling in film based on Jane Austen, Shakespeare and old works? Or do you dislike when people produce films like "Bridget Jones?"
I love Jane Austen and I've read a lot of her work. I'll never forget when I picked up 'Emma' a few years ago, and as I was reading, I thought, "oh my God. This is 'Clueless!'" Because of that experience, I think I'd have to say that "Clueless" is one of my favorite modern adaptations. It says something about the quality of the filmmaking that it influenced an entire generation of kids with a Jane Austen plot and they didn't even know it! I just love that and I'm definitely interested in creating my own modern-day adaptation of a classic work.
When you wrote and starred in the short, "Last Ditch Therapy," how do you promote it differently due to the length? What is the process in 2013 for getting a short film out there and encouraging people to see it and buy it?
When we worked on "Last Ditch," my business partner at the time and I thought of it as an exercise in film making. It was the first film either of us had produced, so we were kind of learning as we went along. In my experience, there really isn't much of a market for shorts. You kind of have to think of them as something fun that will be submitted to film festivals and hopefully screened there – and of course, some do go on to get nominated for Oscars and the filmmakers go on to be quite successful – but in our entertainment world, the public is really hungry for features.
I love movies, but I'm not at all familiar with most short films. What should I check out?
Haha that's a great question that even I would like to know the answer to! One of my favorites is "Porcelain Unicorn" (http://www.youtube.com/watch?v=hRMcPJrWm-g) and I just saw a great one the other day that I think is actually a commercial (http://gawker.com/this-three-minute-commercial-puts-full-length-hollywood-1309506149).
Do you believe in fate or do we make our own choices in becoming successful? What is your experience as an actress?
I believe in a combination of both, and there's something to be said for the power of intention. My intention is to be prolific in the creation of artistic work and also to be well-known in my field. From that intention comes all of my actions, and when I do something that isn't in alignment with my intention, I can tell immediately. I guess I'm not too sure about the role of fate… are we pre-destined to do what we do? I don't know about that for sure, but I do know when something feels right to me and when something feels off.
It's interesting how you started a side business of remodeling old furniture so randomly. What is the theme of your pieces? Is it all tables or will you ever do lamps, couches and more? Clothing?
Oh yes! Haha. I'm amazed that you found out about it. I had a free weekend a while back and picked up this junky old table, which I sanded down and refinished in my living room on a whim. I did try to sell the table, but as it turns out, I kind of like it a lot and decided to keep it! I can't say that I won't revisit Adorablie (that's the name of the company) in the future, but for now it's on the back burner.
What are your other secret hobbies you are thinking about turning into businesses?
I'm really into blogging, and I started a business called The Blog Babe about a year ago. I write blog posts for small businesses and coaching practices, and it's a great fit for my lifestyle since I travel so much. Social media is something I'm learning a lot about right now and it's really interesting me how easily the world is connected through the internet. I'm enrolled in two courses right now all about online marketing because it's so much fun to me.
You were already in a Johnny Depp movie. Of any big actor, whose film would you love to be in next?
Easy! Patrick Stewart is someone I'm really interested in at the moment. I saw him play "Macbeth" in a 2006 film version that just blew my mind. Since I'm preparing to play Lady Macbeth in a film version in 2014, I would just love to get to work with him. He has such a mastery of Shakespearean language that I really admire.
John Krasinski Virtually Gathers 'Hamilton' Cast To Give A Surprise Performance To A Young Fan

These Broadway stars did not throw away their shot to give one young fan a very memorable birthday surprise.
Everyone's favorite The Office star, John Krasinski (don't tell Steve Carrell), has been delivering some good news on his new, appropriately titled  YouTube show, Some Good News. With the world practically in suspended animation due to the coronavirus pandemic, Krasinski is using the platform to share some positivity and provide a distraction from the saturation of bad going on right now. You could even say his shows gives viewers a chance to quiet themselves for a bit…turn their minds into A Quiet Place if you will. Gotta love low-hanging fruit. In any event, the latest episode shows Krasinki delivering some really good news to a young fan who was facing a birthday disappointment.
The nine-year old Aubrey had plans to see the mega hit musical Hamilton for her birthday. And in case you've been living in suspended animation for much longer than this quarantine, tickets for the hottest show around are still nearly impossible to come by. Imagine how bummed little Aubrey must have been to find that all theaters have been shut down due to the social distancing guidelines. Well, Krasinski had a way to combat that sadness and brought Hamilton to Aubrey.
Krasinski gathered the cast of Hamilton, including stars like Anthony Ramos, Daveed Diggs and Renée Elise Goldsberry and show creator/star/genius Lin-Manuel Miranda, to give a virtual performance to the young fan via Zoom. The icing on the birthday cake? Krasinski also promised to fly Aubrey out to NYC to see the musical live when all of this is over. See…I told you he was The Office favorite.
Takes minute to take in some good today and watch the video below!
Like what you read? Follow me on Instagram
Ben Platt Performs A Choral Beyoncé Cover And Of Course It's Amazing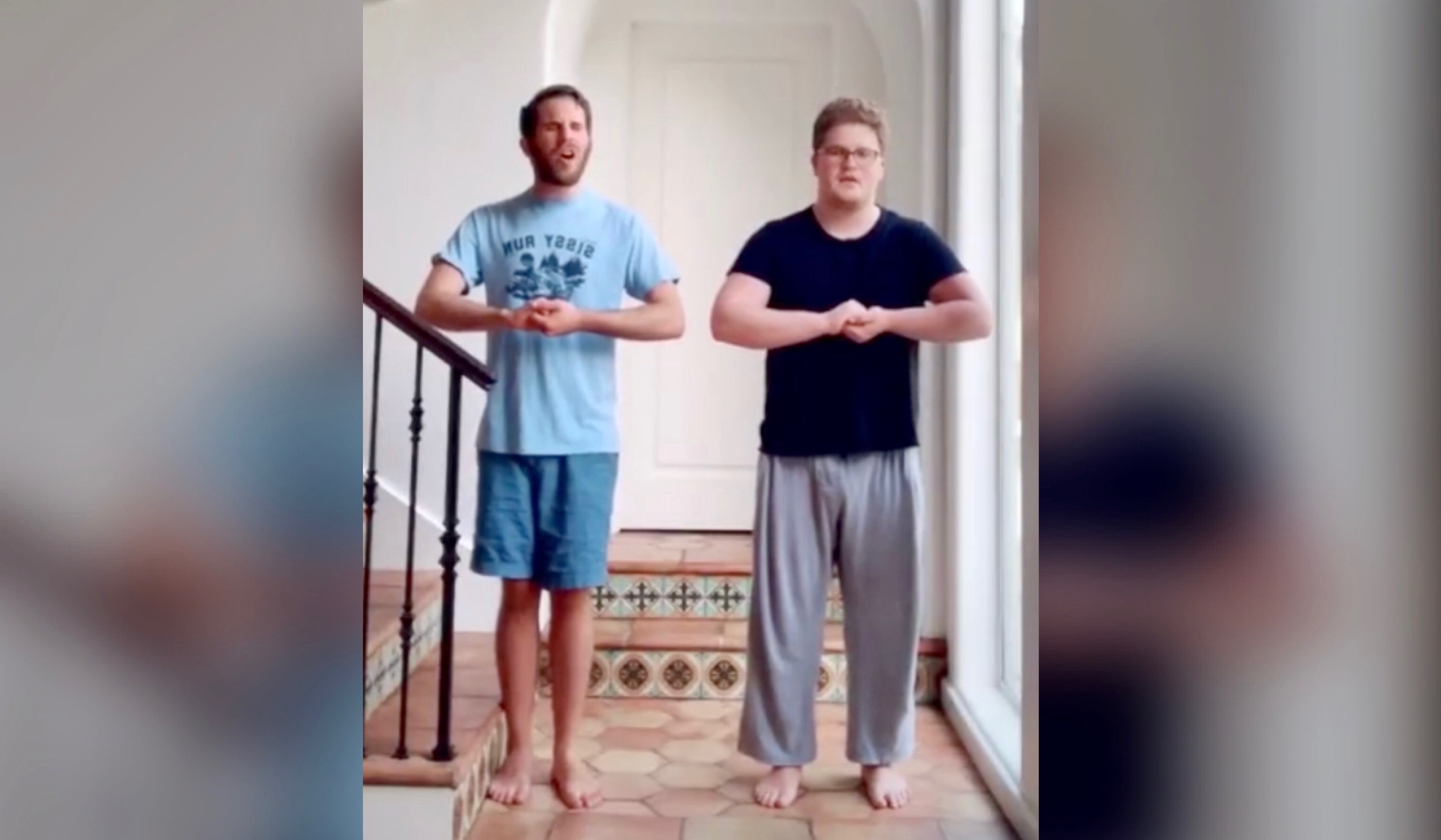 Like Queen B said if you got it, flaunt it.
He made you cry in Dear Evan Hansen. He made you laugh in Pitch Perfect. And lately he has just been impressing the hell out of us with his viral videos. Ben Platt has got some golden pipes and always delivers big feels when he sings. Just a few days ago, Ben and the cast of Dear Evan Hansen went viral for their at home performance of "You Will Be Found," which I may or may not still be misty eyed from. Well, Ben has gone viral again but this time it won't provoke tears…unless they are tears of happiness because you never thought a Beyoncé song could get any better yet here we are. Ben and his pal tik-took to TikTok to share a choral version of Beyoncé's hit song "Check On It." The duo absolutely nails the cover and my only complaint is that the performance isn't long enough. How can we convince Ben to do a choral reprisal of Beyoncé's entire Coachella performance?!
Check out the impressive video below!
Like what you read? Follow me on Instagram
Ina Garten Makes The Perfect Quarantine Cocktail In Funny Video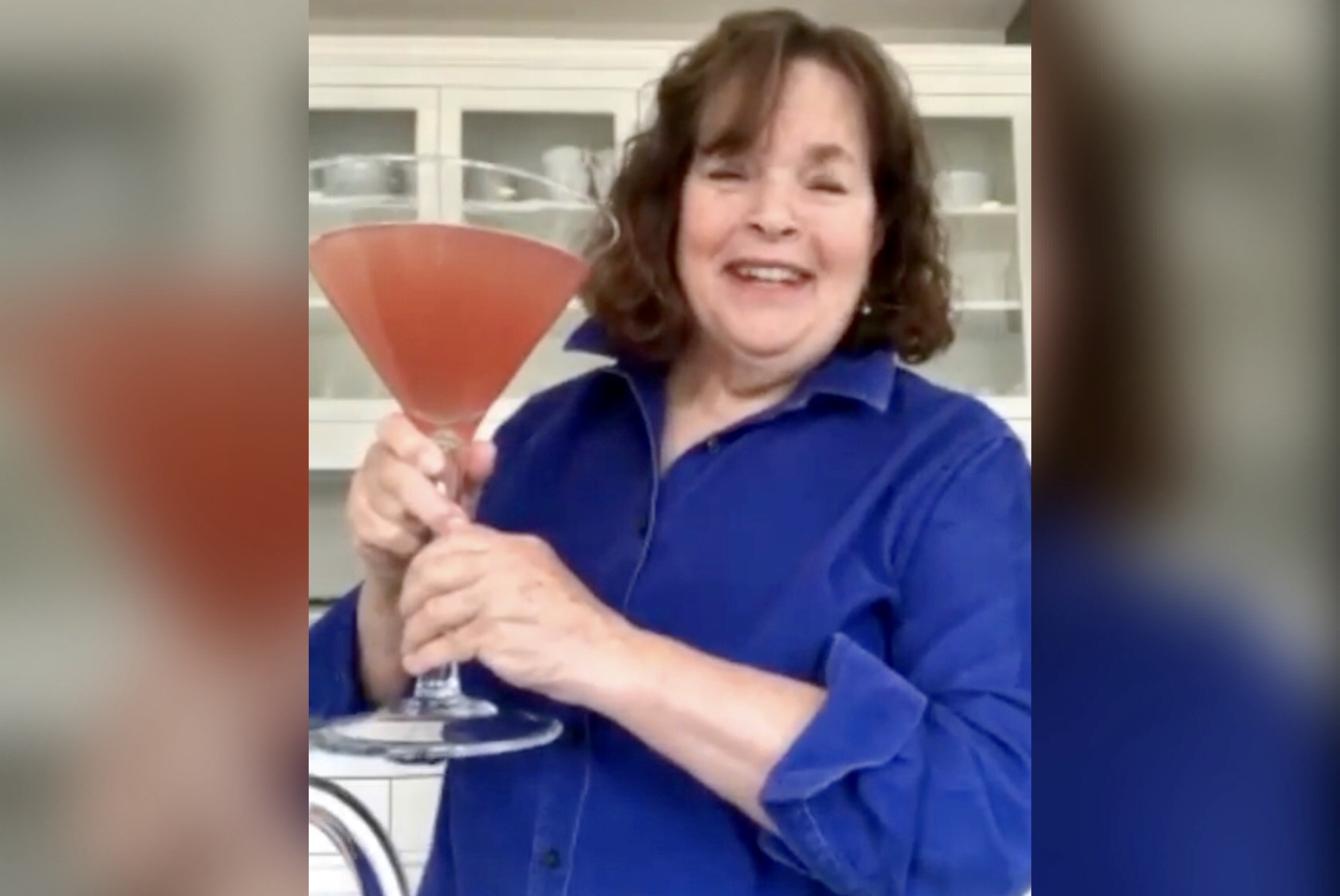 If the Barefoot Contessa says any hour is cocktail hour then who are we to argue?!
Ina Garten, The Barefoot Contessa herself, took to Instagram to "keep tradition alive" during these stressful, isolated times. What tradition is she most concerned with? One near and dear to all of us of course, cocktail hour! In the two-minute video, Ina gives a tutorial on how to whip up a batch of her favorite cosmopolitans. We all watch the contessa for her signature brand of calm speaking tones and party planning panache and while this video delivers on what we'd expect, Ina throws in a couple funny jokes that you would never see coming. She begins the tutorial by instructing viewers to grab a big pitcher because "you never know who is going to stop by – wait – nobody is going to stop by." She goes on later to remind viewers that "during a crisis, you know, cocktail hour can be almost any hour."  Ina wraps up the demonstration by advising viewers to choose the right martini glass when making this drink before pulling out a giant one for herself! Look at Ina getting all loosey-grey-goosey with us!
Enjoy any-hour happy-hour and check out the funny video below!
Like what you read? Follow me on Instagram