BREAKING PIZZA NEWS: What You Need To Know Before Having Your Next, Delicious Slice.
A new study is out that determines whether blotting a piece of pizza with a napkin to absorb the grease really amounts to anything. It does, much more than you probably imagine. My enthusiasm about this story is in part because I've been on an all-fresh/raw juice diet all day and this is suddenly the only thing I can think about. But let's get to the meat of the story. Ah…. pepperoni… Okay, I'm focused again… here goes:
A website called Labdoor (which I now will be reading regularly) brilliantly decided to see if it made any difference, and put together an infographic with the results. I'm posting PART of it here… but really to be fair, go visit the article in its entirety.
Researchers used slices from a 14-inch Domino's pepperoni pizza. Before dabbing, the slice was 117 calories. But after dabbing, it was 76.5 – cutting 40 calories and four and a half grams of fat. Pepperoni is a big grease producer, by the way… you've seen that swimming pool of grease collect when the edges of the pepperoni curls up – or in cases where the pepperoni stays flat – it just swims across the entire slice. I'm dying for pizza right now.
Americans eat about 23 pounds of pizza every year, amounting to about 87 slices! But if you blot, you're shaving off enough calories that it's as if you're 66 slices per year.
Count me in!
No One Asked For It But Brach's Just Launched 'Thanksgiving Dinner' Candy Corn That Tastes Like Turkey, Stuffing And Green Beans
This year, give thanks for meat-flavored candy.
Ever sat at the dinner table on Thanksgiving thinking "hmm, everything in this meal would make for excellent candy flavors"? Me neither. Somehow, someone over at Brach's did think that and now "Thanksgiving Dinner" flavored candy corn is hitting shelves across the nation.
The new bags of candy corn are available at Walgreens and include flavors such as roasted turkey, green beans, ginger-glazed carrot, sweet potato pie and cranberry sauce. Yum. The candies are sold in 12oz bags so you can enjoy those fantastic flavors swirling around your mouth for a while.
Instagram account @puppreviews tried all six flavors and shared that most of them were surprisingly quite tasty. The glazed carrot, sweet potato pie, green beans and cranberry sauce were all said to be delicious while the turkey and stuffing were described as "taboo" and "downright wrong to be in candy."
Well if you can't wait three months to feast on a real Thanksgiving dinner, head over to your local Walgreens for the next best(?) thing.
Like what you read? Follow me on Instagram
Cheetos Is Making Dinner Dangerously Cheesy With New Line Of Mac 'N Cheese
Can hardly wait to try this cheetah's cheddar.
Whether you like it creamy, crumb-coated or conventional, macaroni and cheese is a dish that is hard to improve on. Sure you can add bacon or lobster or try something wacky like frying it up but when it comes down to it, mac and cheese is pretty much perfect as is. Or so I thought. Frito Lay just announced their new line of Cheetos flavored Mac 'n Cheese and I take back everything I just said.
The dangerously cheesy new line is exploding into pasta aisles with three exciting flavors all "made with authentic Cheetos cheesiness using Chester's Top-Secret Seasoning." You'll be able to choose from Bold and Cheesy, Cheesy Jalapeño and Flamin' Hot. Oh choosing just one is practically like Sophie's Choice. Of the new product line Rachel Ferdinando, SVP, CMO Frito-Lay North America said "We've seen incredible culinary creativity from our Cheetos fans through the years, taking our product and using as an actual ingredient in recipes—whether at restaurants, or now more than ever, at home. Cheetos Mac 'n Cheese borrows that culinary inspiration to provide a mischievous mashup of an ordinary fan favorite. We're putting our orange-dusted fingerprints on an at-home staple at a time when home mealtime occasions are on the rise."
To get your fingers, which ironically won't be covered in Cheetos dust after eating this, on a box of Cheetos Mac 'n Cheese simply head to your closest Walmart or order online here. All three flavors come in either 5.7 ounce boxes or a smaller, single serving cup. Although, whoever can simply have one single serving cup deserves a medal to be honest.
Like what you read? Follow me on Instagram
Socially Distant Food Fest Will Bring You Chicken Wings From Tyra Banks, Snoop Dogg, Anthony Anderson And More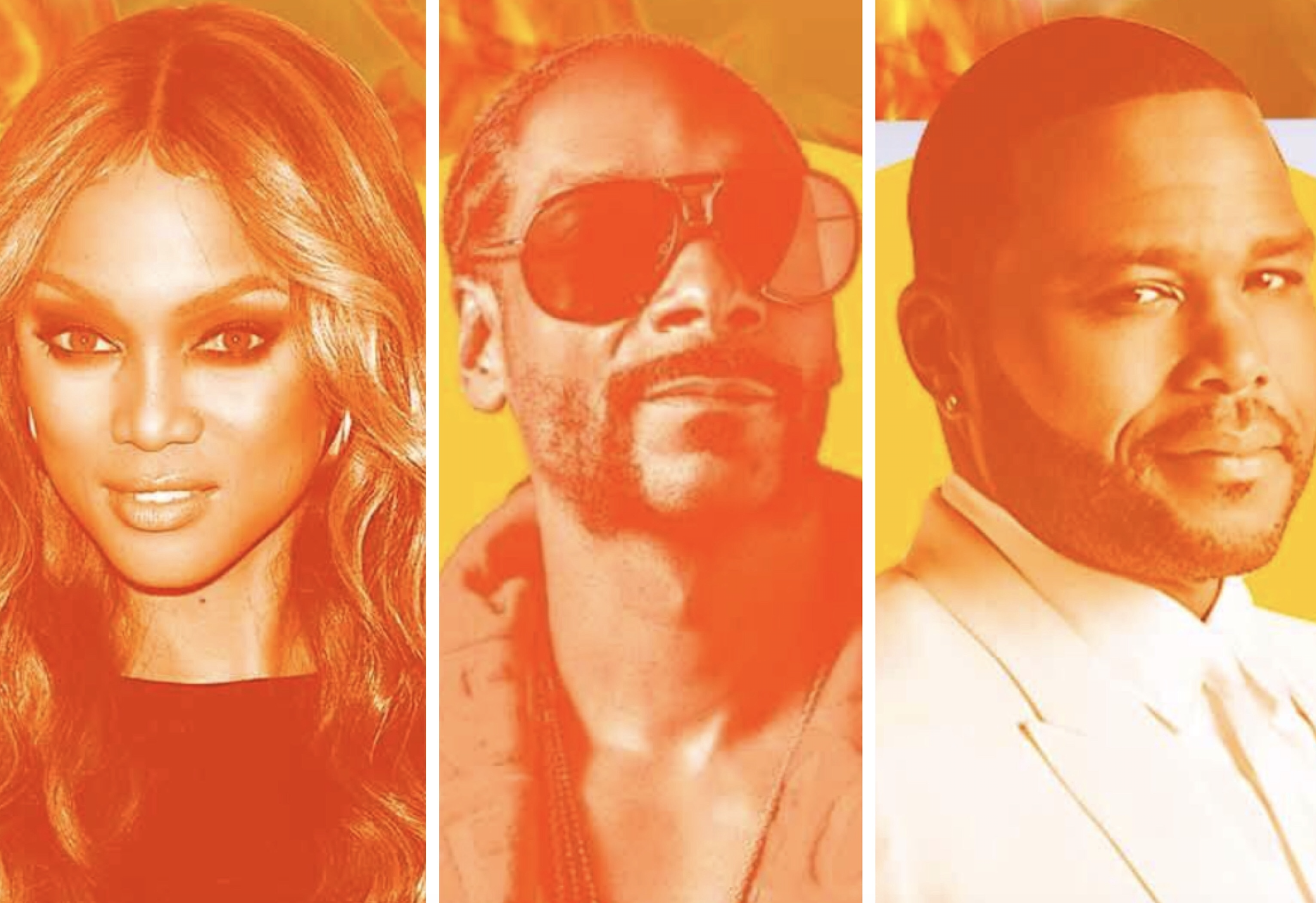 Can't host a food fest this year? Ain't no thing but a chicken wing.
The annual Wing Fest, hosted by Off The Menu, had to get creative when it came to this year's food festival. Since 2020 has just been one giant epic fail after another the public cannot convene in one space to enjoy the scrumptious snack that is the chicken wing. Rather than canceling or postponing the event, Off The Menu has partnered with Uber Eats to create the Wing Showdown: a fundraising event where consumers vote for the wings that belong to their favorite celebrities.
Beginning on July 29th and running through August 2nd, celebrities like Tyra Banks, Snoop Dogg, Anthony Anderson and Haylie Duff will partner with restaurants so their wings can be delivered straight to your door. Each celebrity contestant will also post a video sharing their recipe on the Showdown siteso you can make each variation from home if you prefer a truly distant experience. Here's what each celeb has cooked up:
Shaquille O'Neal – Shaq's Big Chicken Hot Wings come coated in Nashville-style hot sauce
Haylie Duff – Haylie's Honey Buffalo Wings feature a Texas-style dry rub and a sweet-and-spicy buffalo sauce
Jessie James Decker – "Just Feed Me" Chicken Wings are Jessie James Decker's wings, which come grilled and spiced with Cajun seasoning
Tyler Cameron – Tyler's Tangy Wings, from Tyler Cameron, get smoked in a brown sugar dry rub, then tossed in BBQ sauce
Snoop Dogg – "Get Tha Chip" Fried Chicken Wings are Snoop's signature wings, and they're coated in potato chips and then deep fried
Phil Heath – Mr. Olympia's Cheat Meal Wings are Phil Heath's wings, fried and tossed in a honey Sriracha glaze
Anthony Anderson – Anthony's Sticky, Garlicky Salt & Pepper Wingsare Anthony Anderson's wings come twice-fried and doused in garlic sauce and three types of pepper
Zac Posen – The "Wingin' It With Zac" option is Posen's signature wings, and they're topped with a honey and soy sauce blend
Tyra Banks – Tyra's "Smize With Your Wings" are fried and tossed in a sweet-and-spicy maple glaze
Jo Koy – Koydobo Wings are Jo Koy's wings, and a take on his family's Filipino adobo chicken recipe
Once you've tried all 10 wings…ok I guess you don't have to try all ten but what else do you have going on in quarantine?!…then simply go to the Off The Menu site to vote. The wings range in price from $12-$16 with proceeds from the contest going to charities like the Center For Policing Equity. And don't worry if you're not based in L.A, the Wing Showdown spans over nine cities this year NYC, Atlanta, Houston, Chicago and Toronto.
To check out each celebrity recipe or to find out more information on where to get your wings, click here!
Like what you read? Follow me on Instagram