BREAKING PIZZA NEWS: What You Need To Know Before Having Your Next, Delicious Slice.
A new study is out that determines whether blotting a piece of pizza with a napkin to absorb the grease really amounts to anything. It does, much more than you probably imagine. My enthusiasm about this story is in part because I've been on an all-fresh/raw juice diet all day and this is suddenly the only thing I can think about. But let's get to the meat of the story. Ah…. pepperoni… Okay, I'm focused again… here goes:
A website called Labdoor (which I now will be reading regularly) brilliantly decided to see if it made any difference, and put together an infographic with the results. I'm posting PART of it here… but really to be fair, go visit the article in its entirety.
Researchers used slices from a 14-inch Domino's pepperoni pizza. Before dabbing, the slice was 117 calories. But after dabbing, it was 76.5 – cutting 40 calories and four and a half grams of fat. Pepperoni is a big grease producer, by the way… you've seen that swimming pool of grease collect when the edges of the pepperoni curls up – or in cases where the pepperoni stays flat – it just swims across the entire slice. I'm dying for pizza right now.
Americans eat about 23 pounds of pizza every year, amounting to about 87 slices! But if you blot, you're shaving off enough calories that it's as if you're 66 slices per year.
Count me in!
POP in the Kitchen! The Perfect Snack and Cocktail Pairings.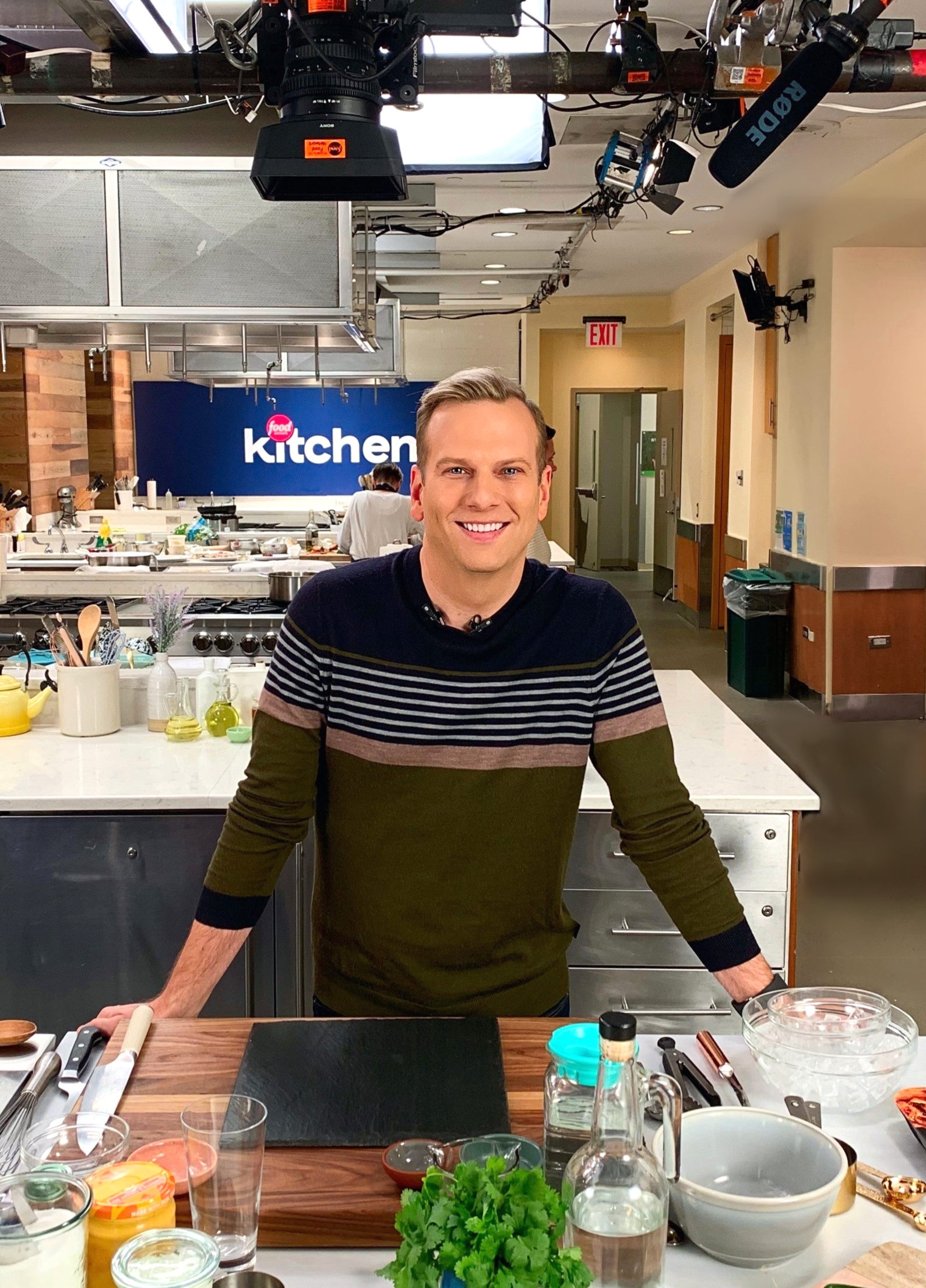 POP Goes The Week's Brian Balthazar is part of the all new Food Network Kitchen App! Cook LIVE alongside Brian as he makes get party food and the drinks that go perfectly with them!
Hey everyone! I'm so excited for this – I was thrilled to be a part of the new app, which is an all new way to cook with your favorite chefs and cooking experts. In the app, you can get the recipe and ingredients and recipe in advance, check the live class schedule, then cook at the very same time as your instructor!
I was fortunate enough to be invited to do a live snack and cocktail pairing, which you can still watch – and cook along with me! Trust me, these all start out as live, which means anything can happen! (I have an adventure with the broiler in one of them!)
For my recipes, I made a pulled pork toast with queso, sour cream radishes and green onions, along with a smoky mezcal paloma.
In another class, I make lavender honey that gets drizzled right on top of baked brie with herbs, then use that same lavender honey for my own interpretation of a "Bees Knees" cocktail that I call a "Bees Knees Breeze." I came up with the variation because the original recipe, simply gin, honey and lemon was just TOO strong for me and I found myself always getting plastered!
Check out the gallery of what I made, all available on the FNK app!
This slideshow requires JavaScript.
I hope you can check them out, AND all your favorite instructors like Bobby Flay, Giada de Laurentiis and Ree Drummond!
You Can Actually Pop The Pimples On This 'Dr. Pimple Popper' Inspired Cake
There is a good reason why the words "cake" and "pimples" rarely exist in the same sentence…
Over in Toronto, cake decorator, Mark Robillard, just created a cake that will have you bursting with excitement. After his husband asked for a cake inspired by the popular, new tv series Dr. Pimple Popper, Robillard took to his YouTube page to show off his gnarly creation. On his channel, Epic Confections, the cake decorator based his cake design on the board game "Pimple Pete," complete with POPPABLE PIMPLES! That's right, using fondant and Venetian cream, Robillard covers "Pete's" face in pimples that once squeezed, will ooze just enough to make you lose your appetite.
This acne-covered confectionary is just one of the impressive cakes that Robillard displays on his channel. The other's are more awe-inspiring than stomach churning, I swear. If you aren't too squeamish, click the video below to see just how this zit hit was made!
Like what you read? Follow @ChrisSiretz on Twitter and Instagram for more!
Have You Tried REAL Wasabi? Probably Not.
This 7 minute documentary will teach about more about wasabi than you've ever thought possible. What you're eating in restaurants probably isn't it. Creating the real thing is virtually a sacred process, and has amazing healing properties.