VIDEO: ET's Kevin Frazier Flawlessly Asks Brad Pitt The Tough Question Hosts Dread Asking But Every Entertainment Show Wants.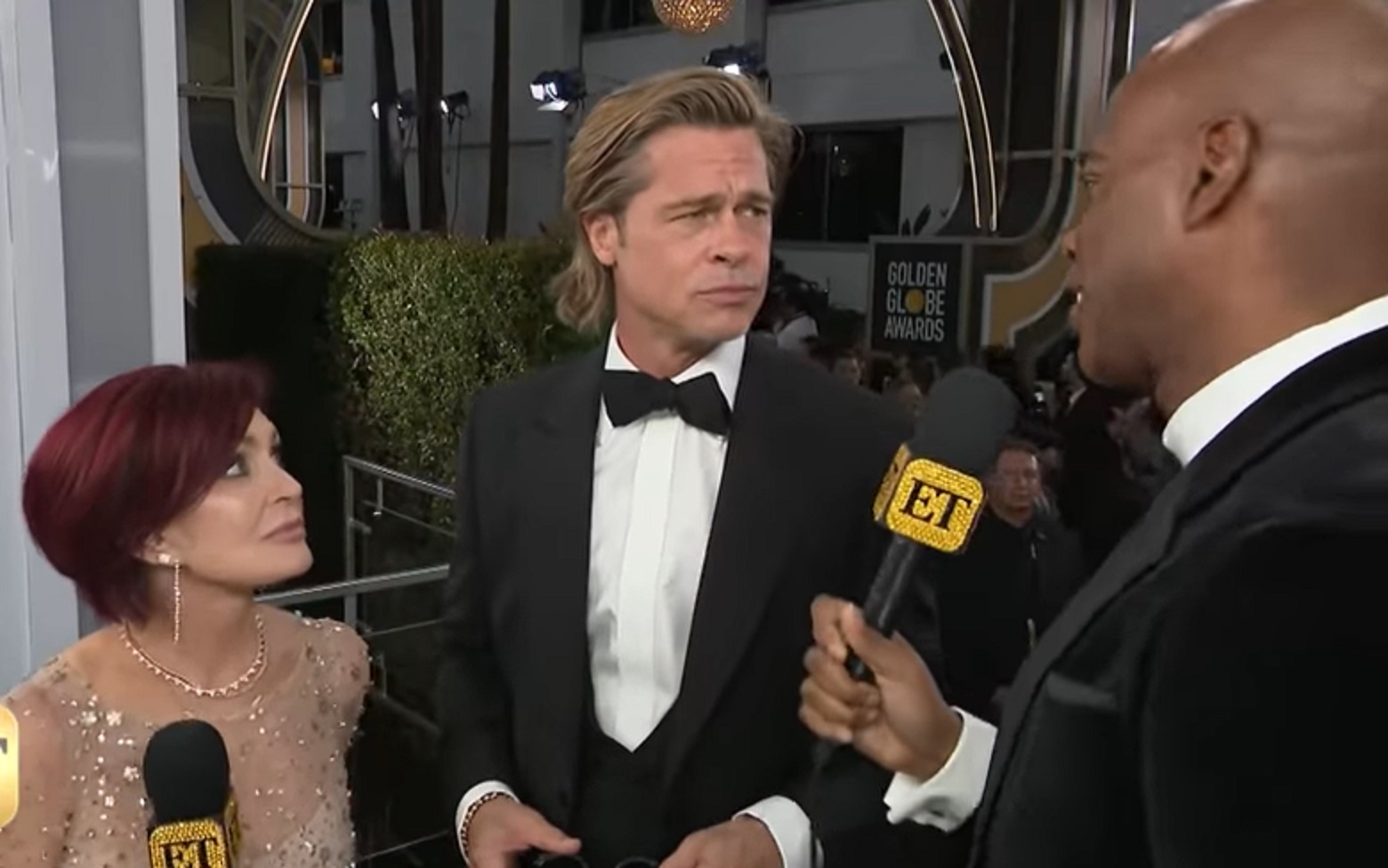 Frazier slid in with the Aniston / Pitt question, got his buzz headline, and moved on.
Here's the thing – working on a red carpet is HARD. All the entertainment outlets want some JUICY scoop, which means they want their hosts to ask often, icky, tough questions – usually with about 2 minutes or less to do so.
Unlike a long sit-down interview, where you can warm up the guest with pleasantries and ease into what is eventually the 'headline making' question, red carpet interviews, if you're lucky, will run about two minutes or so. (And that's if you're with a big network or syndicated show – far less if you're working the tough section of the red carpet where every other press outlet from newspapers and internet sites camp out.) There you may get one minute.
For Sunday night's Golden Globes, the 'big' entertainment story for entertainment shows was that Brad Pitt and Jennifer Aniston were both there. That's right, a now divorced couple in the same ROOM! But this isn't just any divorced couple – this is BRAD and JEN. Once married, the last time both were at the same GG ceremony was back in 2002 when they were still together. And while it's been established publicly already by Brad's attendance at Aniston's 50th birthday party in early 2019 that they are not only civil but friendly, nothing seems to get the entertainment news business more excited than a story about Brad and Jen, even 15 years after their divorce.
While celebrities understand that the shows want a juicy exclusive, they also lean in to publicists who do what they can to nip those kinds of questions in the bud. So a red carpet journalist is tasked with the near impossible: appease your bosses, who want you to ask THAT question, and keep high level publicists (who represent not just your target, but also ten other big stars) happy too.
Enter Entertainment Tonight's Kevin Frazier, who is by all indications, the most friendly, non threatening guy you could ask to be interviewed by, who along with Sharon Osbourne got Brad up to the microphone.
Frazier's honest, 'the obsession… the whole world is waiting' admission about what people are watching for, is a perfect approach. Literally, the first question, the potentially ickiness, diffused and addressed. Brad's answer, one of self awareness – he knows that's the deal, addressed it immediately and succinctly. (It's also likely he fielded the question earlier with a far more clunky approach from another journalist.
"I'll run into Jen, she's a good friend. Yeah." 
Clean, simple. and also, a headline. Watch Entertainment Tonight and I'm sure you'll see that in their show open. Up high. You'll know they got that byte, because it's exactly what an Executive Producer wants.
Pitt seemed okay with the questioning, willing and comfortable with the chat. Arguably, Sharon Osbourne slammed the brakes on the dialogue with "Excuse me, excuse me, what about me?" as Pitt was answering. (cue the producers screaming at the monitors.)
But that aside, from there Frazier has his byte, and can transition in to the next question you have to ask every nominee and try and find a different way in every time: "what would it mean to win." Another tough one, because there's not really an answer, but it has to be asked. That's why they're there, and you need to ask because he's nominated. (In Pitt's case, the good news is that he won.)
So in a sense, for young, aspiring entertainment journalists, this is sort of a case study in what you'll face on a red carpet for a big event. It's not always going to be as fun as it looks when you're watching it home. Frazier does it authentically, honestly, and briskly. You're done, you got your headline, and you can move on.
Amber Riley Performs Beautiful Tribute To Naya Rivera On 'Jimmy Kimmel Live!'
RIP.
Whenever Amber Riley and Naya Rivera combined their insurmountable talents on the hit show Glee there was an almost tangible magic that left fans in awe of the powerhouse duo. Playing Mercedes Jones and Santana Lopez respectively, the two characters may not have always seen eye to eye but when they joined you knew you were in for a memorable performance. It is sad to think that we will never get another "River Deep, Mountain High" or "The Boy Is Mine" moment after Rivera's passing last month but there is something special in knowing Riley will carry the torch for her fallen costar forever.
On Thursday night introduced by guest-host Lil Rel, Riley virtually appeared on Jimmy Kimmel Live!  to perform a new song from her EP entitled "A Moment" which was dedicated to Rivera. "Not too long ago we both lost a really amazing friend in a tragic accident and we both will miss her forever," said Lil Rel. The performance is displayed in black and white and features Riley singing in front of a montage of photos of her former co-star. It is truly stunning.
Check out the tribute below.
Like what you read? Follow me on Instagram
You Will Have Hearts In Your Eyes When You See Cardi B's New Hair Do
Wait till you see her WAP (Wonderfully Artistic Pigtails)
Cardi B has never shied away from a bold look and her latest hair do is proof of that.
The 27-year-old "WAP" singer…song of the year IMO…took to Instagram Tuesday night to show off her pink, heart-shaped pigtails and people are loving the look. In the short video Cardi asks fans if they would "go to the club with your hair like this" and I think we can all agree that this look would definitely turn heads at the clurb.
https://www.instagram.com/p/CEVgLpyAHCp/?utm_source=ig_embed&utm_campaign=embed_video_watch_again
The artistic hair do was crafted by Cardi's long time longtime stylist Tokyo Stylez and took at least three hours to complete. Fans commented about how beautiful the unique hairstyle is but questioned how the rapper was going to sleep that night. Let's hope those pigtails can be twisted off and be thrown on the nightstand.
Like what you read? Follow me on Instagram
Check It Out, Joe Jonas Has Shocked His Fans With His New Look
I'm a sucker for his new do.
It doesn't matter if you are more of a "Nick" or a "Kevin" or a "Joe" when it comes to loving the Jonas Brothers. All that matters is that you all agree with me that Joe is obviously the most attractive of the three brothers and that's just a fact. I'm sorry but I don't make the rules.
The 31-year old stunned fans today earlier today when he debuted a shocking new look on his Instagram. Sporting a black t-shirt and those signature dark, furry-Murray eyebrows, Joe flashed his new platinum blond buzzcut. I know I might be in the minority here but I do love when these Hollywood hotties switch it up and do the blond thing. I loved it on Adam Levine. I loved it on Zac Efron. I even found myself oddly drawn to the OG platinum stud, James Michael Tyler aka Gunther from Friends.
Perhaps the new do is a part of Joe's daddy-makeover as he and his wife, Sophie Turner, recently welcomed their first child, Willa. A source told ET "Sophie and Joe have named their daughter Willa. The couple's bond has gotten even stronger since the addition of their daughter. Although circumstances are different right now because of the [coronavirus] pandemic, Joe was there for the birth of his daughter. The couple is happy they now have time to spend at home with their daughter and get used to their new life together."
Be still my heart.
Like what you read? Follow me on Instagram