The Best Golden Globe GIFS That Keep On GIF-ing.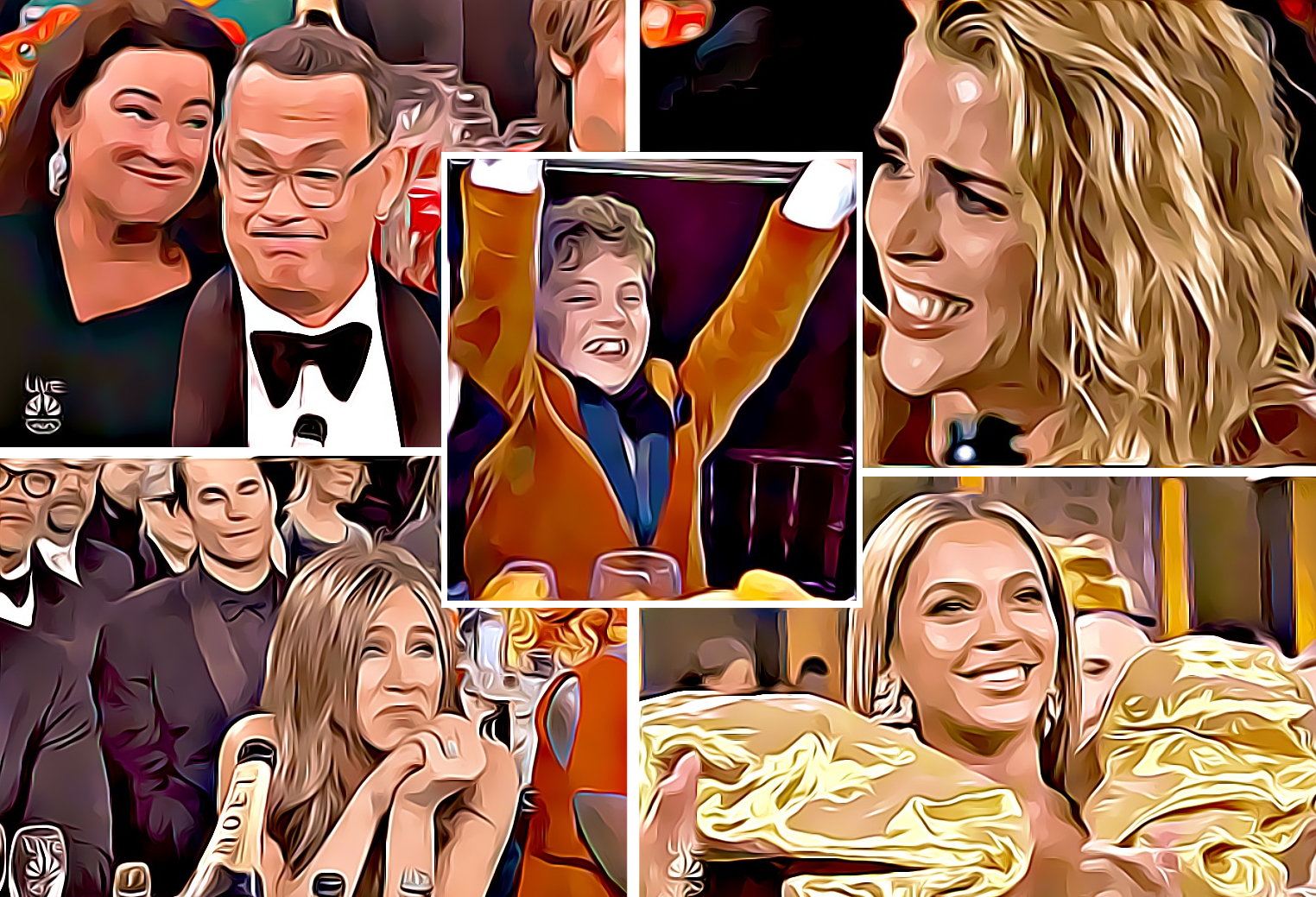 Sometimes an award show recap is best done with looping clips and no audio. Here are the best Golden Globe gifs making the rounds!
GIFS  via GIPHY  via NBC's awards coverage.
THE FIRST WINNER OF THE NIGHT,  RAMY YOUSSEF ADMITTED THAT MOST PEOPLE HAVEN'T SEEN HIS SHOW 'RAMY' ON HULU. BUT THANKS TO HIS HILARIOUS, CHARMING SPEECH, A LOT OF PEOPLE WILL BE CHECKING IT OUT NOW.

I WANNA BORROW GWYNNIE'S SHEER GOWN FOR LOUNGING POOLSIDE AND SMOKING A VIRGINIA SLIM. AND I DON'T EVEN SMOKE. IS THAT MACRAME? I AM NOT HATING ON IT. I THINK IT'S DARING.
BEYONCE LOOK TRAPPED. HERE SHE IS GIVING US THE GOLD SHOULDER…

TOBIAS MENZIES SUMS UP A LOT OF FOLKS' REACTION TO RICKY GERVAIS.

TOM HANKS FELT SIMILARLY.

WHEN YOU JUST WANNA FIND AN OPEN SPOT AT THE BAR…

BUSY PHILIPPS IS ALWAYS THERE TO SUPPORT BESTIE MICHELLE WILLIAMS. TONIGHT WAS NO EXCEPTION, AS SHE CHEERED ON MICHELLE'S SPEECH SUPPORTING A WOMAN'S RIGHT TO CHOOSE…
TIFFANY HADDISH AND SALMA HAYEK WERE FEELING IT TOO…

CAUGHT ON GIF: A MARRIAGE STORY'S ADAM DRIVER CAUGHT SMILING!

ONCE AGAIN, WHATEVER WILL FERRELL DOES IS HILARIOUS:

IF YOU DIDN'T FALL FOR ADORABLE ROMAN GRIFFIN DAVIS IN HIS MOVIE 'JOJO RABBIT,' YOU FELL FOR HIM LAST NIGHT…


WHEN A CAMERA IS TRAINED ON YOUR FACE FOR MOST OF THE NIGHT… WHAT'S YOUR GO-TO EXPRESSION? HERE'S BRAD'S:

AND HERE'S PACINO'S: LOOK CLOSELY AND YOU'LL SEE HE'S BREATHING.

AND FOR SOME REASON THIS IS THE ONE OF JEN THAT'S TRENDING. WE CAN DO BETTER.
EVEN IF YOU DON'T WIN, THERE'S STILL CHAMPAGNE.

AND THEN IT WAS OVER. LOOK HOW MUCH TIME YOU'VE SAVED!

FOR MORE OF THIS, OR SOMETHING ELSE, OR JUST BECAUSE WE LIKE YOU, FOLLOW @BRIANBALTHAZAR ON TWITTER.
Disney+ Series 'Muppets Now' Reveals Shocking Detail About The Swedish Chef
Bork, Bork, Bork?!
If you haven't taken the time to check out the new Disney+ series Muppets Now, stop reading and start streaming! The improv sitcom is an unscripted, segmented series in which our favorite fur-covered friends put together a digital show. Think The Muppet Show meets millennials. I watched the first episode, which became available for streaming as of July 31st, and I smiled through the entire thirty minutes. It's cute and campy and reminds us all why we love The Muppets so much. I was enjoying the childhood nostalgia of seeing Kermit the Frog, Fozzie Bear, Miss Piggy and the rest of the gang when suddenly our favorite gibberish-spewing chef came on the screen to partake in a cooking challenge. Of course I was prepared to giggle at the Swedish Chef's horrendous attempt at cooking but I was immediately distracted and could only focus on one shocking detail!
Did you see it? Can you see what I was distracted by?! The stached Swede is wearing a wedding ring on his left hand! The Swedish Chef is married?!?!
I mean, sure, it's not surprising with the sexy foreign accent and killer eyebrows but still, I would have never guessed the chef had someone waiting at home for him! Since the chef is one of the few Muppets to actually feature human hands, I first thought the ring might have belonged to a neglectful puppeteer who forgot to take off their ring. But I did a quick Wikipedia search and apparently the Swedish Chef has been donning the gold ring since 2010 and is known to be married!
I guess there truly is a lid for every pot.
Muppets Now is now available for streaming on Disney+.
Like what you read? Follow me on Instagram
Giant Asparagus Stalk Causes Quite The Stir On Social Media
Who would have asparaguessed?
Over the weekend, photos of a giant asparagus plant began circulating Twitter with many users stunned to learn that the plant can grow to be the size of a small tree. I was one of those users because I've never seen an asparagus stem longer than a fork…I've never seen a bunch that wasn't ridiculously overpriced either, might I add. The sad reality is that most of us eat things everyday with absolutely no idea as to how they are  grown and farmed. I can honestly say I was always more preoccupied by the thought of the funny smelling, post-asparagus-eating pee that it never occurred to me that these plants could become overgrown. And overgrown is a bit of an overstatement.
The stem in the picture looks to be over 8 feet tall. My pee would smell funny for a whole year after eating that. The photos have sparked a debate on Twitter with some saying the plants showcased are not asparagus but agave plants instead. While asparagus stems can grow to be about 5 feet tall, agave plants can grow much taller and even bloom flowers. I have zero interest in horticulture but plenty of interest in what's funny so I just collected a few of the funniest reactions to the asparagus/agave photo here:
— phil (@advicefromphil) July 25, 2020
when it's asparagus season pic.twitter.com/4pWg9WkcHj

— marsh of sleep (@marshofsleep) July 25, 2020
Me planting asparagus in my backyard to to see how tall it gets pic.twitter.com/hNRi0bbPa0

— Dolores Ball (@sauce4urawesome) July 25, 2020
It gonna be the asparagus from kids next door episode pic.twitter.com/J33pPom6Jc

— fred die (@freddie_hatch) July 25, 2020
Idk why this information is stressing me out but it is pic.twitter.com/z79UFZqOjn

— MaliTheeFeminist (@SomaliaGeorge) July 25, 2020
Like what you read? Follow me on Instagram
'The Late Show With Stephen Colbert' Parodied Dolly Parton To Create A Theme Song For All The 'Karen's' Out There
These "Karens" are workin' 9 to 5 on our last nerve.
By now you probably know that the term "Karen" is typically reserved for white women who throw tantrums over things that don't really require tantrum throwing. Amid the coronavirus pandemic, the "Karens" have been especially vocal about not wanting to wear a mask usually citing constitutional freedom as the reason. Over the passed few weeks we have seen headlines about these women coughing on pro-maskers, verbally assaulting eye witnesses and even destroying property all to prove the point that they can and will do whatever they want. It's annoying. Well, The Late Show with Stephen Colbert took the these suburban lemons and turned them into a hilarious pitcher of lemonade with a parody of the Dolly Parton classic "Jolene," appropriately renamed "Karen."
The PSA begins with actual news footage covering the stories of anti-maskers before cutting to a vintage clip of Parton in a pink jumpsuit with an anonymous singer belting out the altered lyrics which poke fun at all the angry scene makers. "You go on rants at Trader Joe's, sit on the ground at the Costco, say wearing masks is the devil's law," the unseen singer croons. "Karen, Karen, Karen, Karen, please just wear a mask you big dumbass" she continues to implore.
Like all good satire, the video is hilarious but also contains an important message. The CDC as well as countless medical professionals have all agreed that wearing a mask is the best way to prevent the spread of the ongoing coronavirus pandemic.
Wear a mask! And check out the funny video below!
Like what you read? Follow me on Instagram