Dolly Parton Recites Hilarious Poem That Perfectly Captures How We All Feel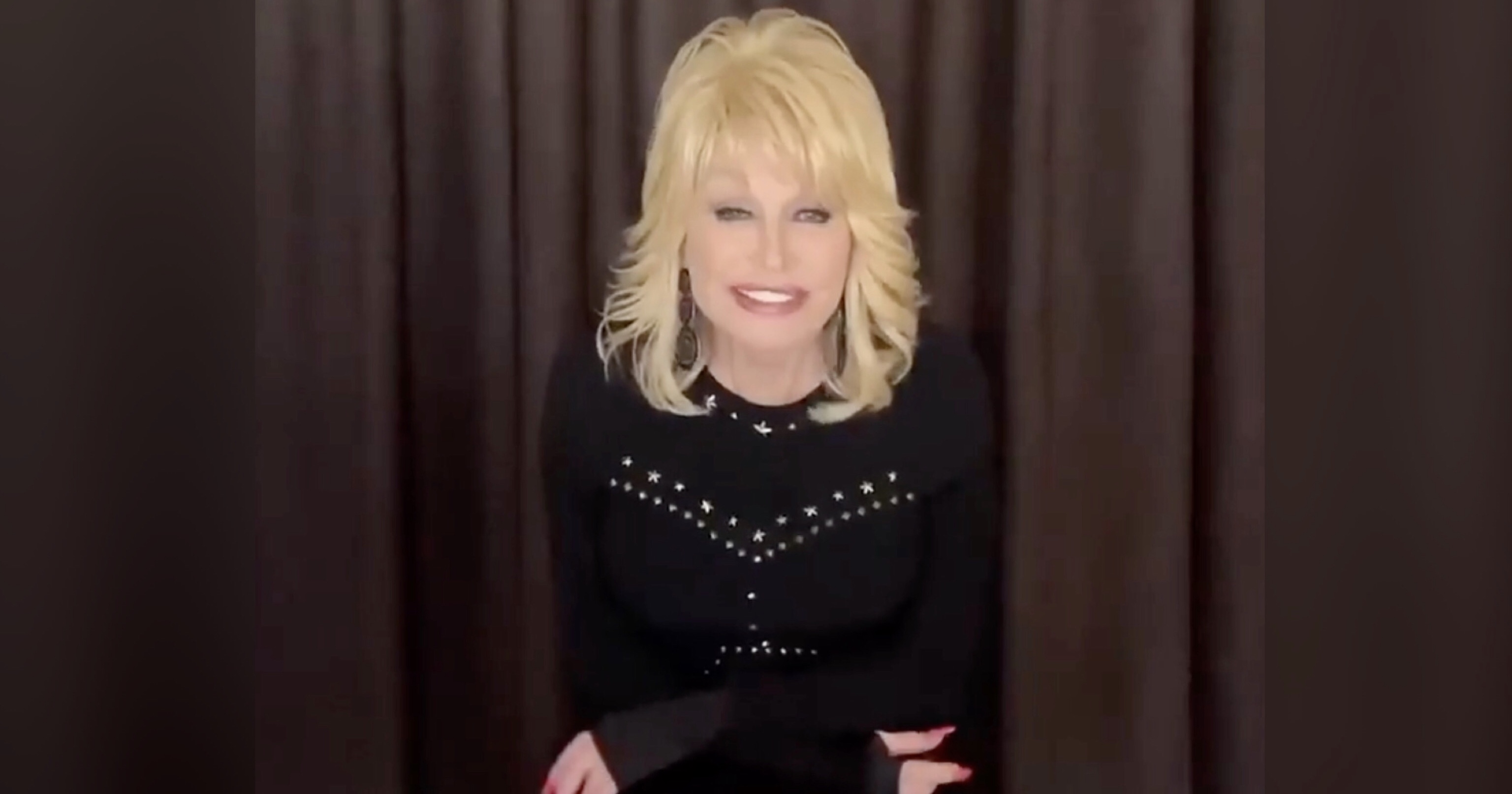 Dolly Parton? More like Dolly Seuss.
Earlier today, Dolly Parton took to Instagram to recite a poem she wrote and I can honestly say I haven't been this excited about poetry since One Fish, Two Fish, Red Fish, Blue Fish. 
The 81-second video begins with a whirlwind of calamity as the country singing icon recreates what some of our homes have been sounding like amid the coronavirus quarantines. "My accountant is calling? Tell him to kiss my assets goodbye because they're dwindling to nothin'" she yells before protesting "no, you can't put a mask on a turtle!" It is so eerie that Dolly has managed to replicate two exact scenarios that occurred in my home just moments ago. The ever wise Dolly-Lama then turns to the camera to share a funny, little poem she wrote to remind us all that this too shall pass.
The poem might not be as lengthy as Beowulf but I can assure you it is definitely as epic. Dolly tackles all quarantine grievances like bored children, mean teens and those couples who are arguing like "Donald and Pelosi." In true Dolly fashion, the country singer keeps things lighthearted though and ends the poem with a desperate plea, "And Lord, please find a vaccination in the form of a shot or a pill…'Cause if the virus don't kill us, the staying home will!"
Get yourself a much deserved smile and watch the video below!
View this post on Instagram
Liked what you read? Follow me on Instagram
Celebrate The Last Day Of Pride Month With Megan Hilty's Beautiful Rendition Of 'The Rainbow Connection'
🎶For all the lovers, the dreamers and LBGT.🎶
With only a few hours left to celebrate the magic of Pride month, the LBGTQ+ heavens opened up and sent down one more gift. Megan Hilty.
The Smash star gave a special Pride performance of the appropriately-themed classic "The Rainbow Connection" for ABC's LA! Pride and of course she crushed it. The song was first sung by Kermit the Frog in the 1979 film The Muppet Movie and shares a message of hope and inspiration which obviously resonates strongly with the LBGTQ+ community. The only way Hilty's rendition would be better is if she was covered in Muppet fur honestly.
The Broadway belter captioned the post with a sweet sentiment which read "Happy #pride🌈 kids! It doesn't end today. Be proud of who you are every day of the year, and find your rainbow connection. 💕✨" And she's right, every day should be filled with Pride!
Check out the moving performance below and Happy Pride y'all!
Like what you read? Follow me on Instagram
Here Are Some Of The Funniest Reactions To Kim Kardashian's New Horse
She ain't no pedestrian equestrian.
Kim Kardashian West is so rich. How rich is she? Kim Kardashian West is so rich that even her horse has a perfectly laid hair do.
On Monday night, Kim shared a series of photos from North's 7th birthday party which was celebrated "Wyoming style." The cowboy themed party included such extravagances as a cowboy hat shaped cake, customized ATV's and a race around the family's go-kart track because of course they have a go-kart track on their ranch. None of those things received nearly as much attention as Kim's tweet about North's brand new "Freesian" horse however, and let's just say the internet never disappoints.
The Tweet:
Meet North's Freesian horse. We have 14 gorgeous Freesians on the ranch. pic.twitter.com/TO87I25YKJ

— Kim Kardashian West (@KimKardashian) June 29, 2020
The spellcheck.
Kim…It's Friesian.

— Oopopotanus (@oopopotanus) June 30, 2020
The probable.
That horse is wearing a fucking wig!

— David Alan Grier (@davidalangrier) June 29, 2020
The ingenuity.
https://twitter.com/Rizzy_ZA/status/1277818704223502336
The observant.
Kim that hair looks awfully familiar… pic.twitter.com/mMCuEJ5Cou

— Michael Puente (@Michael_Ray3) June 30, 2020
The relatable.
The sad truth.
This horse looks like it
only drinks sparkling water.

— Fluffy Cat (@Erik_Allen) June 30, 2020
The reason I love the internet.
Meet my Freesian horse. I have 14 gorgeous Freesians in my apartment. They're my roommates and I hate them. pic.twitter.com/jUQuOgv1ZJ

— Robby Slowik (@RobbySlowik) June 30, 2020
Like what you read? Follow me on Instagram
The Trailer For The Aretha Franklin Biopic 'Respect' Will Leave You Singing Jennifer Hudson's Praises
She deserves all the R-E-S-P-E-C-T.
Everything written below is riddled with bias because I love Jennifer Hudson and think she can do no wrong and if I had a genie's lamp one of my three wishes would be to have her record the outgoing message on my voicemail. The other two wishes are not important right now.
The official trailer for Respect, the Aretha Franklin biopic, debuted during the BET Awards last night and it looks like we are all in for a treat. In the trailer, the incomparable Ms. Hudson is transformed into Aretha and soundtracks the preview with a powerful cover of "Respect." The Oscar-winner's voice is not the only notable talent worth mentioning. The trailer shows off Hudson's acting chops too as she demonstrates Franklin's growth from insecure songstress to the powerhouse Queen of Soul. The film's description reads "following the rise of Aretha Franklin's career from a child singing in her father's church's choir to her international superstardom, RESPECT is the remarkable true story of the music icon's journey to find her voice."
Hudson is joined with a cast filled with heavy hitters like Marlon Wayans, Audra McDonald, Forest Whitaker, Mary J. Blige and Marc Maron. Now, the only bad thing I saw in the entire 90-second trailer was the release date. The film was originally expected to hit theaters in October but due to COVID-19 we now have to wait all the way until December! At least I know what the soundtrack to this year's Christmas will be.
Check out the amazing trailer below!
Like what you read? Follow me on Instagram