Six Things I'm Loving This Summer – By Trendlover, POP Culture Expert And TV Pundit Brian Balthazar.
We're continuing our new recurring feature of favorite things, guilty pleasures, style picks and overall obsessions from all sorts of people. Today's SIX THINGS I'M LOVING is from yours truly.
We're continuing our new recurring feature of favorite things, guilty pleasures, style picks and overall obsessions from all sorts of people. Today's SIX THINGS I'M LOVING is from yours truly.
In my running around the NYC area covering pop culture, chatting about entertainment news, eating like a madman, trying to look sufficiently stylish, and remaining calm in the urban jungle, here are some of the things I'm enjoying right now. Some of them are trendy, some are offbeat, but they're all me.
BOW TIES (ESPECIALLY TWO-SIDED REVERSIBLE ONES!)
When you wear a bow tie, people notice. And they tell you! ('Nice bow-tie!' they say. Trust me. It will happen.) People seem to appreciate the notoriety of something simple, classic and fun that somehow is still an unusual occurence. (Kind of like an eclipse – but you can actually look directly at them.) Bowties aren't just for seersucker suits – you can wear them with virtually anything, and suddenly your whole outfit is 'amped up.' A white shirt and plain khaki knee-length shorts are taken to a 'Hamptons croquet match' level when you add a bow-tie. With a navy blue jacket you're full-on snappy.
Mind you, if you're new to wearing them, allow for extra time tying one. My arms actually GOT SORE in my first attempt, just from holding them up at neck level. Unlike a regular tie, you can't tie it in advance and then take it off loosened up for later use. It all has to happen when you're in the shirt. I recommend this youtube video, (1.5 million people agree with me) with ample pausing, to really get the gist of it.
You can go full-on Brooks Brothers (around $65 for a reversible one, which I love), Macy's has em for $45 but I always manage to get them on sale, and then there's the Marshall's route, which always have beautiful ones for 10 dollars or less. Dress them up, dress them down, but don't get a clip on!
AUDIO BOOK AWESOMENESS… BossyPants On CD
Tina Fey has no shortage of fans. Her recent book "Bossypants" is hysterical. But I cannot stress this enough… you NEED to get her audio book! Perfect for a road trip or long flight, Fey once again establishes her comedic genius, doling out perfectly ironic delivery as she sarcastically provides details of her beauty regimen. She also does a mean Paul Lynde impersonation, shares an iconic audio clip from SNL , and gives both an endearing and remarkably conversational tone when discussing her feelings about fame, Sarah Palin, wealthy judgemental moms, the world of SNL, showbiz and 'the gays'. You'll be glad you heard Tina tell her story in her own words.
ECSTASY FOR LESS THAN TEN BUCKS. WIRE HEAD MASSAGER
I'm not saying this head massager is better than sex. But I'm not saying it isn't either.
Kikkerlander makes this marvel of modern technology. There are two kinds of people… those who find the 12 tiny tines of this handheld device exhilarating, and those who get the chills in a not-so-good way. I'm one of the former.
Find someone you know who loves it too, and go to town. Few words can describe the feeling. It's so awesome, evoking such illicit responses, it borders on inappropriate for office use. That said, I have one at the office right now. I would pay someone cash to use this thing on me. Cold hard cash. Consider this an offer. My email can be find on the "About Brian" page.
MIO LIQUID could GET ME OFF SODA. OR AT LEAST COME CLOSE.
It's the classic 'how come no one thought of this before?' idea. Simply put, it's liquid flavoring that you can squirt at your discretion into glasses or bottled water – with zero calories. Essentially a concentrated liquid version of Crystal Light (sorry Crystal Light – you should have done this years ago) that lets you control the intensity and sweetness of your drink. Diet drink makers seem to think we're so desperate for sweetness that they wallop you in the face with that fake sugar taste. Here, you're in control, and while they may initially seem pricey (around $3.99 for just under 2 ounces)- you can save a lot of money in the long run compared to buying bottle after bottle of other drinks. They say it yields about 24 servings, but I'm convinced that my fondness for a lighter flavor has resulted in more, which in bottle form would have cost me an average of 40 bucks. Delish.
AMAZING "EASY ROLL" GARLIC PEELER
This product has been around for a while, but if you don't have one, it bears repeating. Take one crack at using this Garlic peeler, which is basically just a flexible plastic tube, and you'll be hooked. It is shockingly – yes shockingly easy to peel garlic with this thing. And for anyone who has tried to do it without one, you know this is a big deal!
Just shove a few cloves inside and use your palm to roll it on the counter… you'll hear the skins crackling and peeling off, and when you tip the tube on it's side, the beautifully naked cloves of garlic are at your bidding. Do what you will with them, and let the flavoring begin.
Never has a 7 dollar plastic tube been so priceless. Available on Amazon.com or Williams Sonoma.
HOT AIR BALLOON RIDES – CHEAPER THAN YOU THINK, EVEN MORE EXHILARATING THAN YOU IMAGINE!
I was fortunate enough to celebrate my birthday this summer with a hot air balloon ride. It was absolutely amazing! (Was it scary? Just enough that it was thrilling without it being terrifying.) At about $220 or so per person, depending on where you live and travel, it really can't be beat. The flight was about an hour long and was completely breathtaking. And because these balloons are at the mercy of the wind, you never really know where you're going to land! (The people at Dancing on Air had amazing pilots.) Not only was the ride itself captivating, but there's also something beautiful about the look on people's faces when they stare up into the sky at a hot air balloon… especially when they're lucky enough to see it land. It was an almost universally revered vision. The flight was serene, the landing was soft, and ended with a casual celebration with champagne and snacks. If this has ever been something you've wanted to do, don't wait. You'll never regret it. Here's video from my trip. I took it with my iPhone, and while it looks pretty amazing, it doesn't do it justice!
AWWW: A Rescue Team Of 9 Was Needed To Rescue 1 Adorably Chubby Rat
Over in Bensheim, Germany a rotund rodent got herself into a jam when she tried to squeeze through a hole of a manhole cover only to get stuck…and honestly, I can relate. When I was 8 years old I tried to squeeze my thunder-thighs-in-training into a children's swing and it took my dad and three other grown men to get me out. I am the German fat-rat!
Volunteer firefighters were called when a young girl noticed the fat rat was stuck and no time was wasted to help the poor critter. Eight firefighters and at least one animal rescuer appeared on the scene to safely extract the chubby critter. Animal rescuer Michael Sehr told BBC "She had a lot of winter flab and was stuck fast at her hip. There was no going forward or back." When asked why anyone would even want to save something so many are repulsed by Sehr said "Even animals that are hated by many deserve respect."
Alls well that ends well! Hopefully no authorites will be needed to help me shimmy out of these skinny jeans I thought looked cute this morning…in the meantime, check out the entire rescue below!
Elton John And Taron Egerton Performed A Fantastic Duet Of 'Tiny Dancer'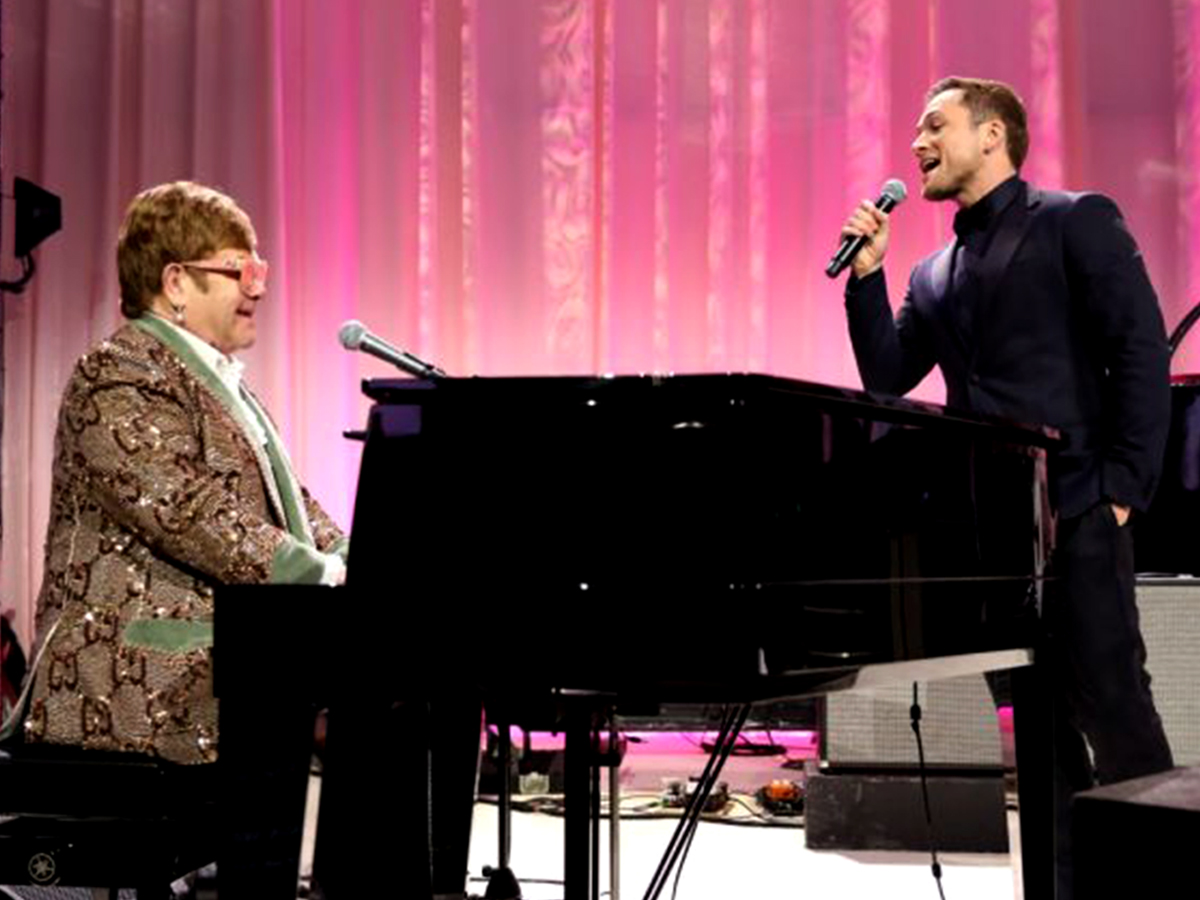 The dancer may be tiny but the talent on stage was massive! Taron Egerton and Elton John gave a fantastic performance of "Tiny Dancer" last night at the 27th Annual Elton John AIDS Foundation Academy Awards Viewing Party.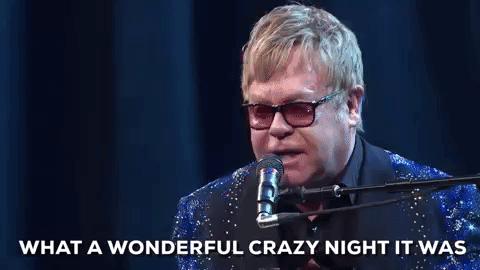 If you've been looking for a reason to toss on your bedazzled cape and brightly colored sunglasses then boy do I have good news for you. An "epic musical fantasy" about Elton John's life, entitled Rocketman, is expected to hit theaters in May 2019. Taron Egerton, from Robin Hood fame, plays the musical legend and judging by his performance last night, we are all in for a treat. The audience of the charity event felt like a candle in the wind when Taron suggested an off-the-cuff performance of "Tiny Dancer." There isn't even a pun creative enough to embody what the audience must have felt when Elton John himself volunteered to accompany Taron on the piano!
In addition to a truly moving performance, the 27th Annual Elton John AIDS Foundation Academy Awards Viewing Party raised more than $6.3 million for an effort to end AIDS.
Click below to take a look at the magical performance from last night!
VIRAL: There Is No Room For Love When This Dog Protects His Barney
I think this dog missed the whole "I love you, you love me" message Barney was trying to teach all those years ago…
In this viral video posted to Twitter, an adorable pup channels his inner Cujo anytime his owner gets close to the Barney the Dinosaur stuffed animal. While the frenzied attacks are comical in themselves, this video should definitely be played with the sound up. While we never see more than the dog owner's hand, we hear his high pitched screams of terror every time the dog take a lunge.
Click below to laugh along!