POP VIDEO: Your Flying Car Is Almost Ready
I crave a life like the Jetsons – with flying cars, dog-walking treadmills suspended outside, and a robotic maid that is both functional and adorable. We're two steps closer to the flying car.
I firmly believe that we won't be able to have flying cars until they're cabable of doing all the navigating for us. I mean, look at how crazy people are on the ROADS – imagine what it would be like when the whole SKY is an option? Nonetheless, I crave a life like the Jetsons – with flying cars, dog-walking treadmills suspended outside, and a robotic maid that is both functional and adorable.
We're two steps closer to the flying car. (SCROLL DOWN FOR THE VIDEOS!)
Not one, but TWO companies have announced that they've got a flying car ready for your driving/flying pleasure.
A company in the Netherlands called PAL-V (Personal Air and Land Vehicle) reports that it has completed some crucial test runs on the ground and in the air – now they're looking for investors to get on board. (That's the first video, show below.) If the project gets, ahem, 'off the ground' it will sell for 300,000 bucks.
Meanwhile, U.S. flying car company Terrafugia has also completed a successful test flight of its own flying car market prototype, the Transition. It will debut Friday at the New York International Auto Show, and will be available to buyers by the end of the year. It will cost $279,000, and according to the LA Times, the company said it has already received 100 orders.
Besides sharing the ability to drive on a road and fly in the air, the two vehicles don't have much in common.
The Transition's flying range is about 400 miles and can reach 105 mph in the air, but is reportedly more sluggish on the ground. (Think of it as an airplane that can drive, but you might not enjoy the driving part so much.)
The PAL-V flies in the air like a gyrocopter and can reach speeds of up to 110 mph on the ground and in the air.
Mind you, they're not quite to coolness level of The Jetsons,  but we're getting closer! Okay, the filthy rich are getting closer… but closer still!
For more viral videos, follow @BrianBalthazar on twitter!
This Cellist's Rendition Of The 'Inspector Gadget' Theme Song Is So Good!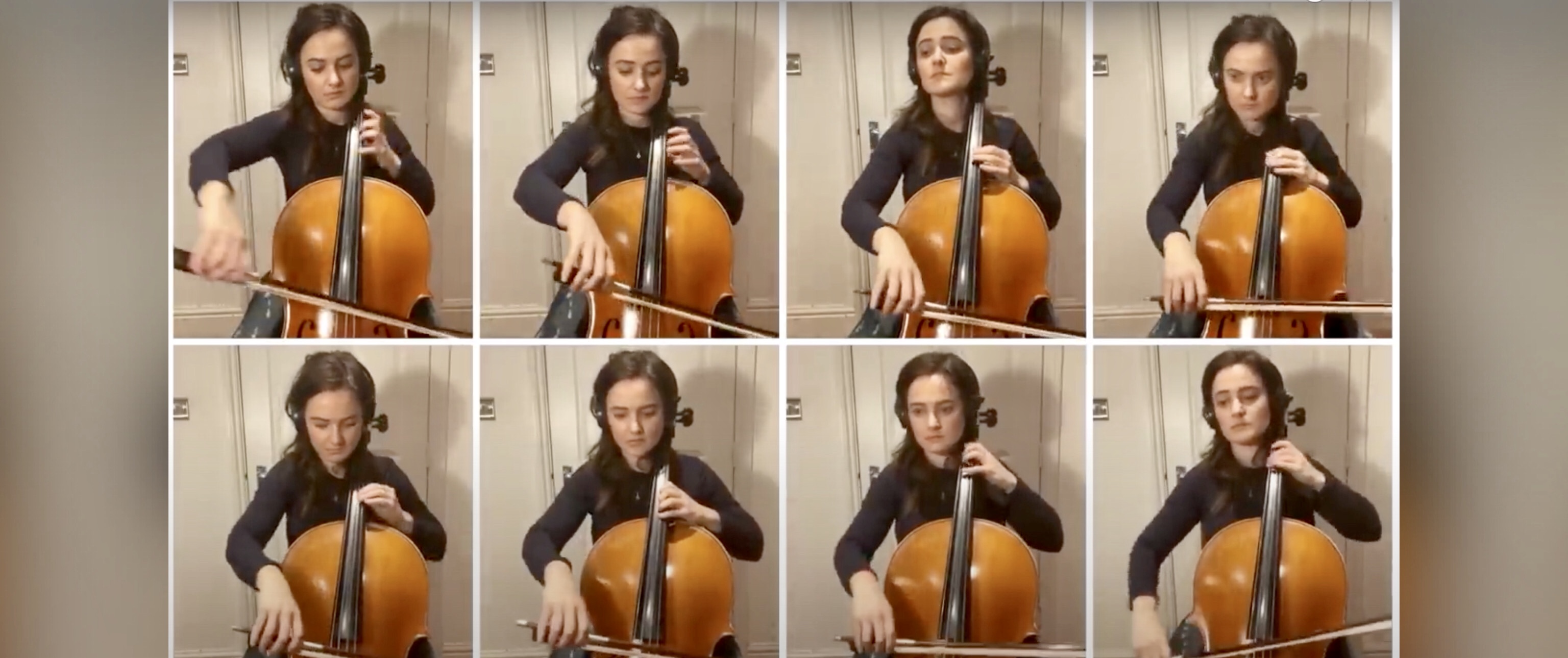 You don't need Go-Go-Gadget-Hearing-Aids to hear how cool this cover is.
There are a few theme songs that are instantly recognizable and one of them definitely belongs to Inspector Gadget. YouTuber, Samara Ginsberg, not only shared her cello composition but also played all eight parts needed to perform the cover perfectly. The sound of eight cellos working together enriches the cartoony tune of the original, making the cover feel more appropriate for someone like James Bond. Talk about an epic mashup idea!
Check out the amazing talent below!
Like what you read? Follow me on Instagram
Folding Phones Are Now A Thing! Check Out The Samsung Galaxy Fold
It's really happening. Could the days of mocking people with flip phones be over? But wait – there's more. This phone as SIX cameras — three on the back, two inside, and one in the front for when it's folded. I can't even count how many selfies that adds up to.
It's almost two thousand bucks. For now. But it expands from nearly 5 inches as a phone to a 7 inch tablet. Will it make me breakfast???
It sounds cool but I'm worried that eventually I'll be too old to figure out how to use anything anymore. I've already stopped trying to program my favorite TV channels into cable system because it just seems to complicated.
WATCH:
MUST WATCH VIDEO: "How Spies Use Disguises" Is The Most Fascinating Video You'll Watch All Day.
This is CRAZY, COOL, and completely COMPELLING. The former CIA "Chief Of Disguise" (yes, that exists) shows just how sophisticated the process of disguising an agent has become.
Jonna Mendez once held that title. Here, she shows how she transformed agents' identities with nuances both subtle and dramatic. She even shows how she once brilliantly demonstrated a lifelike mask to a former President. It turns out all the crazy stuff I saw on Scooby Doo as a kid was really possible!