Colin Quinn's Comedic Jabs At Will Ferrell Turn Into A Series Of Bizarre Tweet Rants
It was the war that wasn't (or was it?) – a series of jabs against Will Ferrell, unleashed by fellow SNL alum Colin Quinn on Twitter went viral. Before you know it, the Hollywood Reporter was reporting the swipes, and people started wondering if maybe Quinn was seriously jealous. Then Quinn went into strange stream of rants about his career.
It was the war that wasn't (or was it?) – a series of jabs against Will Ferrell, unleashed by fellow SNL alum Colin Quinn on Twitter went viral. Before you know it, the Hollywood Reporter was reporting the swipes, and people started wondering if maybe Quinn was seriously jealous. Then Quinn went into strange stream of rants about his career.
Ferrell has been receiving accolades from members of the comedy community (many of them deliberately fond, but some deliberately tongue-in-cheek in a funny way) since receiving the Mark Twain Prize for comedy. So it stands to reason that some comics might be misinterpreted as sincere when making smart-ass remarks. But while many comics made video tributes, Quinn's statements on twitter must have been left to interpretation, because fans and even the media took notice in a not-so-positive way.
On Tuesday Quinn started his twitter stream of snark in a series of tweets:
Anybody see Will Ferrell at Mark Twain awards last night? Great for him I guess … No,I'm happy for Will….we never really got along at SNL because he took so many of my ideas, but…
He went on: 
Will was into a lot of bad drug stuff and I don't know if he still is. Actually, not true I happen to know he still is very much so.
Yikes. Is this a joke?
We can all learn something. Heh, heh. And as far as who came up with anchorman or ran SNL, who cares anymore?
Twitter followers jumped on the comments, ridiculing him for sour grapes. When folks accused him of jealousy for Ferrell's successes, Quinn started backtracking, but still unable to resist a few more jabs.
 Tweeted Quinn:
 
Feel bad about the Will Ferrell comments. I'll never mention him again if he pays me my residuals for the WHOLE ANCHORMAN CONCEPT!
 
Then he tweets again.
 
If success is measured in awards and that jazz, I guess it's true, I'm not where I want to be. ( still hoping lol ) but it is what it is.
 
More twitter followers attack…. telling him he sounds sad and pathetic. Five hours pass. He tweets some more.
 
To all media etc.. Will Ferrell was not on drugs at snl! I never even saw him smoke a joint! Is this what it's come to???
 
He apparently sleeps on it. 13 hours pass. He tweets some more.
I learned a good lesson yesterday. When it comes to being funny, stick to the literal. That's the way to go.
 
Sometimes you get lost and you think irony and sarcasm are funny.
 
He pauses. Tweets some more. Again back to the Anchorman concept:
 
Sometimes, heh heh, I guess we can all learn something. Heh, heh. And as far as who came up with anchorman or ran SNL, who cares anymore?
 
He's not done:
 
I used to walk around the office saying keep it classy, San Pedro. That was my whole thing!
 
Then I had weights in my office just like he did. Only mines were 30 pounders and we used to joke like hey, I just did a hundred curls.
 
Just heard from Will. He just drove up to my place on a ducati streetfighter S and apologized. It's all good.
 
Now he seems to be going crazy with the tweeting. Stop! Stop!
 
Actually truthfully yesterday was just a publicity stunt to see if I could get nominated for some awards myself. I'm not ashamed to say it.
 
more…
 
Yesterday was a publicity maneuver so I can raise my profile and possibly get some sitcom work. And I think it's going to pay off!
 
If I can get a couple of guest parts on some of the popular shows that are out there, I feel that could raise my "profile" in the industry.
 
I hate to use Will Ferrell's name but he would probably do the same thing if our roles were reversed so I don't even feel bad about it.
There's more tweets:
I could've been on the Office. I would've been the new guy that replaces Michael. And I'm like him only more so. LOL.
I show up with a red polo shirt instead of white shirt and tie.
 He tweets more…
 I could be on two and half men. The repairman that's always over and he worships Ashton getting all the girls. "how does he do it?"
my God. stop! If this works I'm going to totally start doing this.
On the Office I'm the new boss and I invite the other guys in my office and we sing Afternoon Delight.
 If I could go on how I met your mother, I'd be the bartender that tells stupid stories. They all roll their eyes at me. Running joke.
And he goes on about a sitcom idea he has. And now we wait. Is it over? Will the rant pay off? Quinn has friends in high places. Jerry Seinfeld is a close friend. He's tight within the comedy community. Twitter streams have become books and sitcoms before. Maybe Quinn is onto something. Or maybe he needs to step away from the laptop.
Cher Slapped, Sang And Lip-Synched Her Way Through Her 'Tonight Show' Takeover
If I could turn back time, I would watch Cher take over The Tonight Show again and again.
Give me a rapid vibrato and a strong hair flip and I am just about the happiest man on earth. There isn't much the iconic Cher can't do as proven by her lengthy career as an actress, singer and now broadway producer, so it was no surprise when she became one of The Tonight Show's most memorable guests in history last night. Cher wasted no time diving into the fun, giving host, Jimmy Fallon, a helping hand with his opening monologue. And by helping hand I mean she slapped him…not once but twice! I am now twice as jealous of Jimmy Fallon. The slap was of course a recreation of Cher's legendary slap from her Oscar-award winning role in Moonstruck. All these years later and it is still a very effective way of shutting people up.
The Cher-takeover didn't stop there! Cher hit the couch to answer some burning questions that fans (me) wanted to know about life as a living legend. During her chat she opened up about how painfully shy she was and is despite growing up in show business. She revealed that she was actually so afraid to sing in intimate settings that she lied about disliking "I Got You Babe" when Sonny Bono first introduced it to her just so she wouldn't have to sing on the spot. It's hard to imagine the showgirl being so shy but she confirmed that "it was really terrible, I was so shy." During the chat Cher also confessed that she's never actually heard a good impression of her! Even though she has to be one of the most impersonated celebrities of all time, she said she struggles to find any inkling of herself in all of the weird facial expressions and "bullish*t"!!! God I love her. The hour then segued to Cher's new, autobiographical, hit Broadway musical The Cher Show which prompted a performance of "I Got You Babe" by the musical's Sonny and young Cher, Jarrod Spector and Micaela Diamond. The audience nearly fell out and I audibly gasped when Cher herself joined Spector to finish the performance.
Of course a Tonight Show takeover would not be complete without a little lip-sync battle. This lip-sync battle was different than any other, however, as both Cher and Jimmy lip-synched to drunk bar patron renditions of Cher's "Believe." That's right, Jimmy sent a camera crew to a karaoke bar at 1am and filmed their takes on the classic hit and used those vocals as the source of the lip-sync! Everything about this is hilarious!
The hour seemed to fly by and things only got more exciting as Jimmy brought the three leads from The Cher Show to the couch. Stephanie J. Block, Teal Wicks and Micaela Diamond cozied up next to Cher and gushed about what an incredible experience it has been working with such an icon. All four ladies closed the hour with an incredibly performance of "If I Could Turn Back Time" and how I wish I could just to be able to relive this hour over and over! I do believe this hour will go down in books as one of the best Tonight Show moments in history.
Like what you read? Follow @ChrisSiretz in Twitter and Instagram
Lori Loughlin Shockingly Pleads Not Guilty In College Bribery Case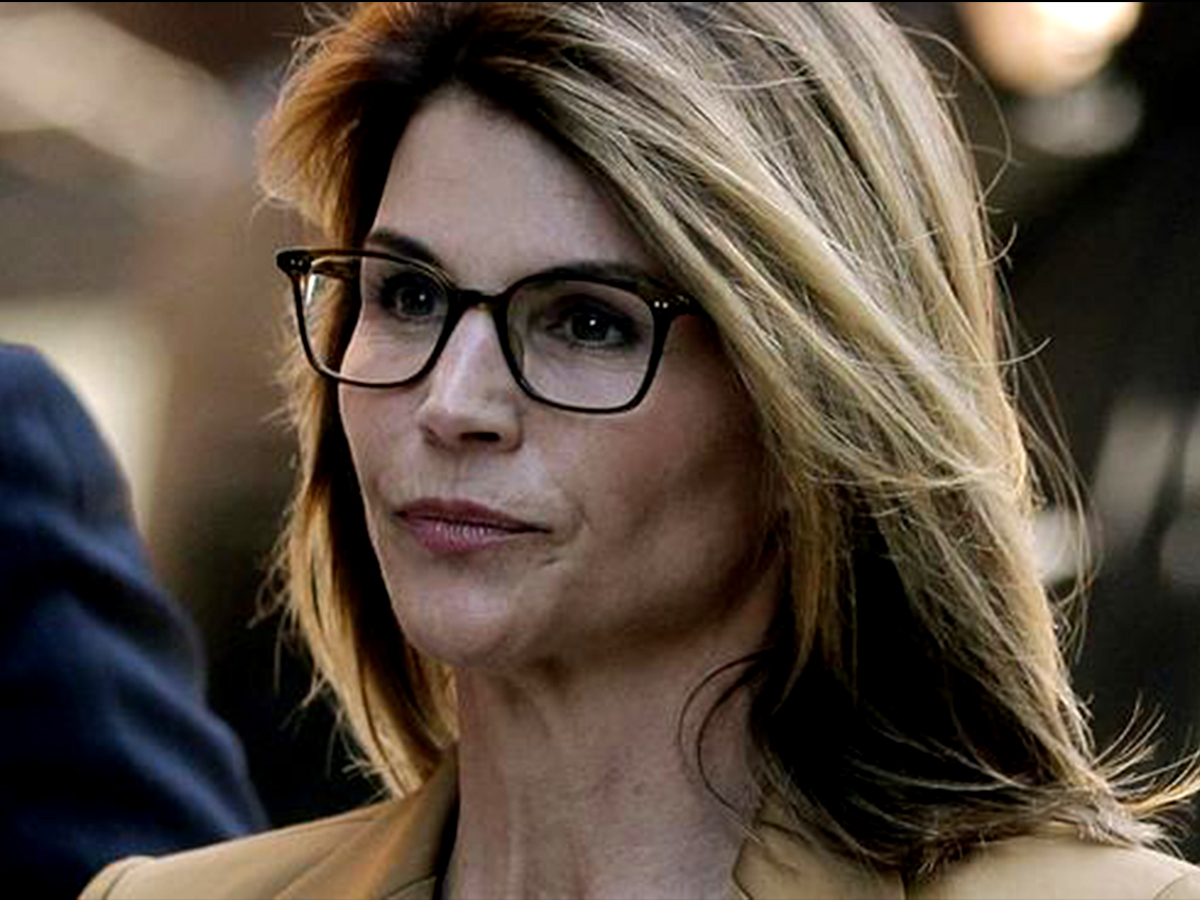 After Felicity Huffman pled guilty to her part in the college bribery case, it was assumed Lori Loughlin would do the same.
As if the college bribery case wasn't already filled with shocking twists and turns, Lori Laughing and husband Mossimo Giannulli have just pled not guilty on all charges of conspiracy to commit mail and wire fraud and honest services mail and wire fraud, and conspiracy to commit money laundering. The couple face a minimum of 4 years and 9 months in prison for allegedly paying $500k to get their daughters into the University of Southern California. As if things weren't sticky enough, the Full House actress and her fashion designer husband were indicted by the federal grand jury last week for an additional charge of money laundering. The couple waived their right to appear in court and instead entered their plea via court documents filed by their attorney.
The entire scandal revolves around 13 wealthy parents who used money to bribe college coaches and standardized test administrators to grant their children admission into USC. Prosecutors say that some of the parents went so far as to facilitate cheating on the SATs and ACTs for their children, while others used the money to coax the administrators into smoothing out the children's paths into college.
Felicity Huffman, the other high-profile actress embroiled in this scandal, entered a guilty plea last week for paying $15,000 to have her daughter's SAT test rigged. After insisting that her daughter had no knowledge of the wrong-doings behind the scenes, Huffman faces a minimum of 4 months in prison.
Like what you read? Follow @ChrisSiretz on Twitter and Instagram
Sara Gilbert Announces The 'Extremely Difficult' Decision To Leave 'The Talk'
Sara Gilbert is calling it quits after nine seasons on the popular daytime talk show.
At the start of Tuesday's episode of The Talk, original co-host Sara Gilbert announced her plan to exit the show at the end of this season. The actress, exec producer and panelist credits her exit to the amount of work she has taken on. Aside from appearing on the talk show, Gilbert is also the executive producer and star of the popular sitcom, The Conners. Working so many jobs has cut into other aspects of Gilbert's life, so she decided to make the difficult decision.
"I obviously love it here, and like I said, this was extremely difficult. Last season, I did 'The Conners' as you know and was also producing and here. I loved it and felt totally empowered, but also, if I'm being honest about it, I think my life was slightly out of balance. I wasn't able to spend as much time with my three kids as I'd like, or time for myself and as I've continued on, I'm starting to develop more things to produce and I'm having opportunities to act and feeling like I don't know how I'm gonna do it all."
Gilbert assured the distraught audience that she wouldn't be leaving the show high and dry, and will remain at the table until the seasons end.
"I'm not going anywhere yet, I'll be here the rest of the season, I'll guest cohost, You're not going to get rid of me."
You can see Gilbert's entire farewell below.
BREAKING NEWS: Sara Gilbert Announces She's Leaving 'The Talk' After Season 9; 'This is hard' pic.twitter.com/iBA0az9FyB

— The Talk (@TheTalkCBS) April 9, 2019
Like what you read? Follow @ChrisSiretz on Twitter and Instagram